5 most common digital marketing consultant problems you'll face
If you're a growth-focused organization with aggressive digital sales and marketing goals, there is a good chance you've considered hiring a consultant or a consulting agency. But is it the right move?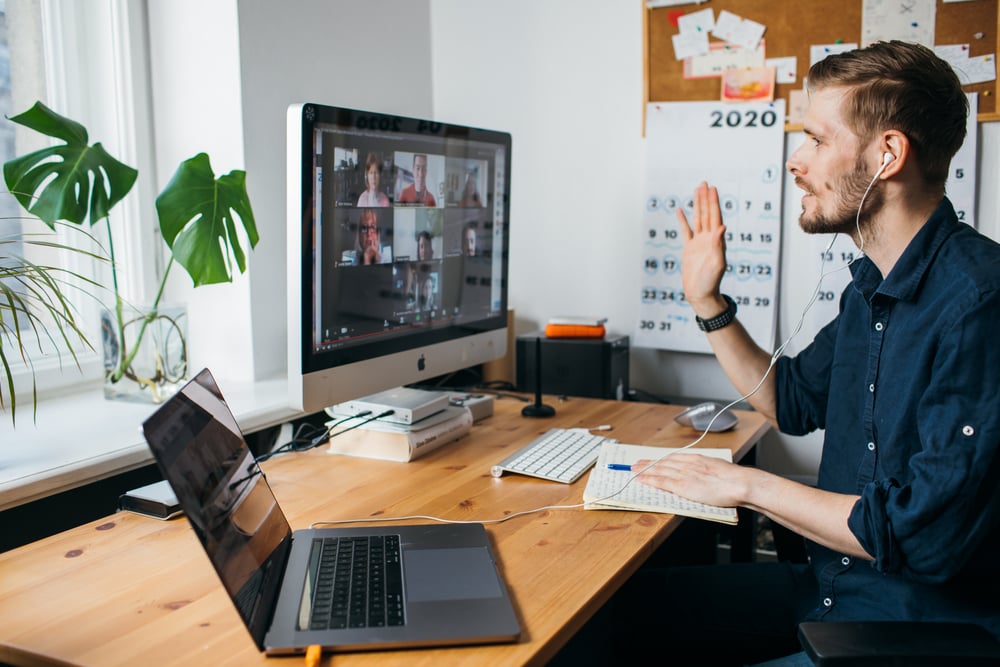 Top digital marketing consultant problems for companies
Feeling confident that your digital marketing consultant will really understand your business.
Concerns that your digital marketing consultant will be able to dedicate enough time to your company with all of their other clients seeking attention.
Understanding how your digital marketing consultant will clearly track goals and objectives, while also holding everyone accountable.
How quickly you will begin to see the results you want after you start working with a digital marketing consultant.
Finally, will you be able to show a definitive return on investment (ROI) from your work with your digital marketing consultant?
A few years before I became a digital sales and marketing coach at IMPACT, I worked on a small in-house marketing team at a nonprofit in Washington, D.C.
Like many in-house marketing teams, our resources and staff capacity were limited, but we accomplished a lot with very little.
We all wore many hats, took on projects that were nowhere to be found on our job descriptions, and helped each other when our capacity tanks were running on fumes. And believe me, those tanks were constantly on empty.
As a small team trying to juggle multiple tasks, we knew we couldn't do it all.
In order to be proactive and drive results for the organization, we had to hire consultants and agencies to help.
Join the IMPACT coaches for a deep dive on a new topic every month in our free virtual event series.
We hired them for website upgrades, content writing, video production, graphic design, print production, and pretty much every subcategory under "marketing and communications."
🔎 Related: Should you be creating your marketing content in-house?
However, as we weighed our options and read through scopes of work (SOWs) from different consultants and agencies, there were always a few concerns, worries, and problems that were top of mind for our internal team.
Each time we would meet to discuss a new opportunity to engage a consultant, no matter the specific project, the concerns would always be centered around the same few potential problems:
Will the consultant really understand our business?
Will they be able to dedicate enough time to us, considering all their other clients?
Will they be able to track clear goals and objectives - and hold us accountable?
Will we move fast enough - when will we see results?
Will we be able to show a return on our investment?
Fast forward to 2020, and these are still the same concerns I hear from clients when they first begin their digital marketing coaching and training with IMPACT.
Why are these problems and concerns so consistent?
In true They Ask, You Answer fashion, let's unpack these problems and address the elephant in the room.
We'll dive into each potential problem, identify the concern, understand why it exists, and with full transparency, talk about what we're doing at IMPACT to solve the issue before it arises.
🔎 Related: Wait, what the heck is They Ask, You Answer?
If you've worked with a consultant or agency in the past, most of these questions have probably crossed your mind at some point during the relationship.
And if you have avoided working with a consultant in the past, it's safe to say some or all of these potential problems were the reason you decided to keep things in-house.
Whether your business contacts are filled with previous consultants and agencies or this is your first engagement, here are five consistent problems you might encounter when working with a digital marketing consultant.
1. Understanding: "Will the consultant really understand our business?"
You're likely asking the consultant to solve a problem that feels specific and unique to you. If the consultant has never worked with a company like yours, will they really understand how your business works and what makes your customers tick?
This is something I used to worry about a lot.
At the nonprofit I worked for, the marketing and leadership teams considered our business needs to be vastly different from a consumer-based organization.
We had members, not buyers. We didn't sell "products" and many of our partners were government agencies, so there were lots of regulations and red tape.
Whether your organization is B2B, B2C, B2G (Business to Government), or some hybrid of the three, here are two ways we tackle this problem at IMPACT:
Coaching and training you to own your sales and marketing future
No one knows your business better than the people within your organization.
Our goal at IMPACT is not to do the marketing implementation for you, but more importantly, to teach, coach, and train you and your team to take ownership and do it for yourselves.
A lot of agencies would write your blog posts for you and charge you based on hours spent writing, researching, and publishing.
🔎 Related: Why doesn't IMPACT write content for its clients?
At IMPACT, we recommend you hire a content manager to own your content creation internally.
We'll then train them on how to write content that is proven to drive traffic and sales for your company, and give them the tools they need to be successful for the future.
In this process, your content manager becomes ingrained in your culture and the way you do business, much better than any agency consultant ever could.
🔎 Related articles:
After interviewing your sales staff and subject matter experts for numerous articles, the content manager will, ultimately, become a leading authority on your products and services.
Accepting the truth: Your company is not that different
Marcus Sheridan, author of They Ask, You Answer, does a great job of broaching this subject to business owners all over the world.
In many of his keynote speeches, he'll take a poll of the crowd and ask them "What percentage of businesses in the world truly believe they're different?"
The resounding answer is always "100%" and on the surface, it makes sense.
No one wants to admit they're exactly like their competitors. Plus, when we look at the psychology of buying behaviors, we find that no matter what product we sell or service we promote, there's one single element that ties every business together.
It's the element that makes somebody say "here is my money" — and that thing is called trust.
Our trainers and coaches understand this core philosophy, focusing their efforts on helping your organization build trust, faster, with your customers and buyers.
2. Time: "Will the consultant be able to dedicate enough time to us, considering all their other clients?"
If a consultant is hard to reach because they're bogged down with too many clients, that can be extremely frustrating. When I was a client myself and managed our marketing team's consultant relationships, I wanted to feel special, like I was their only client.
Obviously, that wasn't true — they still needed to make a living — but it was important to know the consultant made the time for my questions and concerns.
No matter what consultant services our clients work with at IMPACT, we meet this problem head-on with three thoughtful solutions:
Asynchronous communication through Basecamp
The first communication our clients receive from IMPACT is a welcome message and video in a highly-organized Basecamp page.
Whether we're sharing documents, sending direct messages, or posting homework assignments in the "To-Dos" section, we understand the importance of maintaining an asynchronous communication portal.
With so many real-time communication platforms out there, from Slack, Microsoft Teams, and Zoom to everyday email, it's hard to keep track of everything; to know where to find a document or conversation, remember who sent what, and to where.
Plus, not every bit of information needs to be seen and responded to instantly as these platforms are designed for.
That's why it's important for us to maintain a single, asynchronous forum for our teams to collaborate.
We use Basecamp for all our communications that do not require "right this moment" attention to cut through the clutter and confusion that can come with using multiple platforms.
A maximum 24-hour response time (almost all the time)
We want our responses to be expeditious, as best and most frequently as possible. I used to get annoyed when I would have to ping consultants multiple times to respond to one simple question, especially things that were time-sensitive That's why we make an effort to respond to all clients within 24 hours through our Basecamp pages.
I say "almost" because the truth is we're human. Life gets in the way sometimes and we recognize we're not going to be perfect, but that doesn't mean we can't strive to be great...most of the time.
We restrict our number of clients
Juggling too many clients is not good for either party. The client gets annoyed because they feel like they're not getting dedicated attention, and the consultant is a ball of stress trying to do too much at once.
At IMPACT, all consultant teams have a capacity number they cannot exceed.
Not only does this capacity ensure enough time is allotted to each individual client, but it also provides consultants the ability to provide the highest level of service.
For example, our digital sales and marketing coaches are restricted to no more than 12 clients. Here's Jennifer Munoz breaking down the importance of limiting clients for our coaches:
"Often, coaches at other organizations may be juggling too many clients. They end up losing track of progress and failing to stay up to date on industry trends.

This is why IMPACT restricts the number of clients to 12 for each of their digital sales and marketing coach portfolios.

This limit gives each digital sales and marketing coach ample time to perform duties to clients as needed, be accessible, and provide valuable insight."
3. Accountability: "Will the consultant be able to track clear goals and objectives — and hold us accountable?"
"A goal without a plan is just a wish" — Antoine de Saint-Exupery
With some consultant relationships, you simply ask them to do things, and they go do that thing. That tactic works for some organizations, but how does it help those client teams learn and get better?
At IMPACT, we consider ourselves teachers, not taskmasters.
We begin our conversations with each client by setting annual goals, quarterly objectives, and key priorities that guide the rest of our work together.
We establish "who does what and by when" to hold our client teams accountable and when people are underperforming, our consultants approach those conversations with empathy and education.
Once set, clients along with their coach will track these goals and objectives in their one-page strategic plan. This becomes a working document used to keep track of priorities, set action items, and move the needle closer towards each goal.
4. Speed: "Will we move fast enough? When will we see results?"
This was always one of the first questions I used to ask consultants: How long will it take for us to do the thing you say we're going to do?
With digital sales and marketing, this all begins with commitment, especially with They Ask, You Answer.
The more time our clients invest in learning and growing, along with investing financially in hiring the right internal team members, and training services, the faster they'll move towards success as an aligned organization.
Even then, there needs to be some patience to wait to see content get indexed and rank in search engines.
Companies that want to move quickly with IMPACT should begin with three critical building blocks:
Producing, at minimum, two to three new content pieces per week.
A willingness to address the most common buying questions from your prospect or customer, including cost, problems, comparisons, reviews, and more.
Sales, marketing, and leadership are involved and bought in.
When these three elements come together, client relationships with IMPACT coaches and trainers will be set up for success.
The absolute quickest results come when a company has a person on staff whose sole responsibility is to produce and publish quality content.
If that content manager is working with the sales team to come up with topic ideas around The Big 5 such as cost and comparisons and ultimately integrating that content into the sales process through assignment selling, clients can see results within the first 90 days.
5. ROI: "Will we be able to show a return on our investment?"
For many digital marketing consultants and agencies, return is typically measured in things like website traffic, click-throughs on your calls-to-action, and top-of-the-funnel leads.
Internal marketing teams can use those numbers on their quarterly reports to share with leadership, and brag about things like "increased brand awareness" and "customer engagement," but the reality is, it's very difficult for marketers to prove that their company's heightened brand awareness directly impacted revenue.
At IMPACT, we believe every article and video created by your internal marketing team is an opportunity to drive revenue for your organization.
Marcus Sheridan shares a great example of how quality content can drive revenue in They Ask, You Answer.
🔎 Playbook: How to create content that drives revenue for your company
After writing an article for his pool company (and IMPACT client), River Pools & Spas, titled "How much does a fiberglass pool cost?" Marcus and his team were able to use HubSpot to track user engagement and behavior on that particular article.
To this date, that single piece of content can now be attributed to over $3,000,000 in sales.
This is a focus for IMPACT's digital sales and marketing coaches, and a key pillar to every client conversation.
Yes, we want our clients to generate traffic to their site, bring in more leads, and landing page conversions, but the true return on your investment comes when you can showcase increased revenue for your company — something everyone at your organization will support.
Never stop growing
I think back on my time at the non-profit and remember spending way too much energy stressing about these five concerns (and many others).
It was filled with hours of whiteboard sessions weighing pros and cons for potential consultants, and ultimately taking a leap of faith that whoever we hired was going to calm our fears and help us find results...quickly.
You might nod your head in agreement at some or all the problems listed in this piece, but you probably have additional concerns that weigh on you when considering hiring a consultant or agency.
And that's the beauty of the simple principles with They Ask, You Answer.
We know our clients and prospects will continue to have new questions, issues, and problems that arise.
Not unlike your own company's customer questions, it's imperative that we listen and address them head-on and approach our answers with honesty, transparency, and empathy.
Join the IMPACT coaches for a deep dive on a new topic every month in our free virtual event series.
Published on July 14, 2020