Success with They Ask You Answer: How Baron Payroll rebuilt their team for success
In this membership spotlight, discover how Larry Kagan and his team at Baron Payroll are changing their organization and their industry with They Ask, You Answer.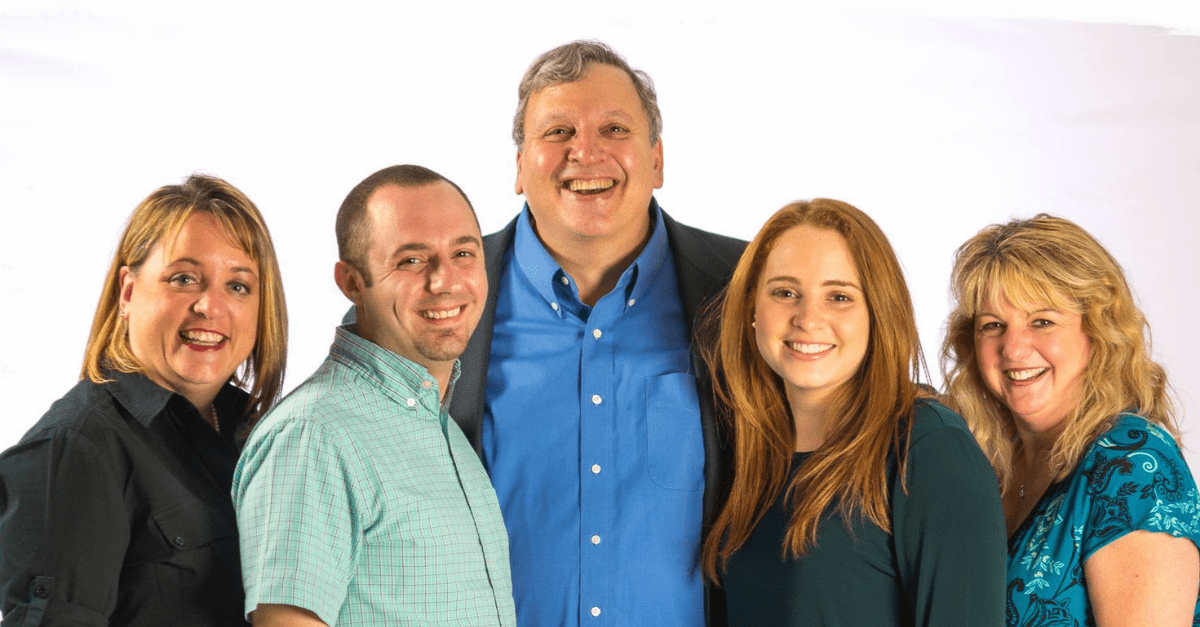 IMPACT+ was created to help businesses large and small learn, apply, and succeed with They Ask, You Answer through courses and lessons, events, mastermind groups, community forums, and more.
Join the IMPACT coaches for a deep dive on a new topic every month in our free virtual event series.
Members of our community are doing amazing work with IMPACT+ to mold their own journey with They Ask, You Answer. And their journey can be yours, too.
Need a bit of inspiration? Here is the They Ask, You Answer success story of Larry Kagan, founder and CEO of Baron Payroll.
An introduction to They Ask, You Answer
Think back to when you first heard about They Ask, You Answer. More likely than not, you didn't just randomly stumble into it. Instead, I would guess you were introduced to the methodology by someone, either through word of mouth, through our website, a list of best marketing books of all time (it's No. 1, no biggie), or even at an event.
That's exactly how Larry's story began. He got a call from a close friend in the payroll industry who was raving about a speaker named Marcus Sheridan whom they saw speak at a recent conference.
Larry picked up a copy of the book and fell in love with it. He knew immediately it was right for his business.
Given everything his company and the world were managing, the timing felt right for his company to dive into doing They Ask, You Answer.
"The biggest thing for me was that it came at a time where the world changed. It came at a time where COVID hit and the traditional method of knocking on doors and meeting face-to-face with prospects was not possible. … I saw that as forever changing. So I was looking for a new technique, specifically to generate qualified inbound leads."
Sounds like a perfect fit, right? Turns out it wasn't going to be that easy.
Discovering the right opportunity for learning and doing
After chatting with Melissa Prickett on IMPACT's advisory team, Larry's journey with They Ask, You Answer encountered its first detour.
Although Larry was looking to move quickly, he realized They Ask, You Answer Mastery wasn't the right fit for his business's current needs.
Instead, he was advised to check out IMPACT+, and he signed up. Larry and his team were ready to take on the journey themselves and use the community to guide them.
"It's awesome that you even had IMPACT+ as an option, and I didn't have to walk away with my tail between my legs and not be able to do this."
Soon after signing up for IMPACT+ and taking some of the recommended courses, Larry upgraded to IMPACT+ Pro, giving him access to all of the course and event content, as well as, most importantly for Larry, the IMPACT+ mastermind groups.
Beginning in the content manager's mastermind group, Larry set out to learn how to build up his content strategy to drive more leads. But the learning was just getting started.
After attending one content manager's mastermind session, Larry signed up for the video creators and HubSpot users masterminds to continue learning what he and his team needed to do next.
What soon became clear after joining these masterminds was Larry was not the right person to do the day-to-day work necessary to succeed with They Ask, You Answer. Instead, to do so successfully he needed to build and orchestrate his team, starting with a content manager.
Creating the right team to succeed
Before starting with They Ask, You Answer, Larry had a pretty straightforward team structure. His operations team was implementing and managing the day-to-day and his one sales executive was, in all fairness, pretty tired of cold calling and early-stage prospecting (yeesh, same here). Instead, he wanted to create a sales funnel of qualified inbound leads.
So the Baron Payroll team set out to scale up to succeed with They Ask, You Answer, starting with a content team. This is where the non-traditional They Ask, You Answer journey of Larry and the Baron Payroll team begins.
Larry brought on two content managers, each part-time, to begin writing the Big 5 content topics. Each of these writers is producing 1-2 blog articles per week, interviewing Larry and his team to produce them.
Next, Larry hired a full-time videographer to begin building out his YouTube channel and creating Selling 7 videos for his website.
After that, he hired a part-time web developer AND a part-time graphic designer to manage the design and development of his new website (more on this later).
Finally, and in perhaps the most unique hire for the team, Larry hired a retired TV producer to help build a video production setup and strategy to produce great, consistent video content.
Finding motivation and early success
As we've heard Marcus Sheridan say repeatedly, you don't need to create tons of content or drive tons of traffic to see success with They Ask, You Answer. Instead, you just need to create content your sales team can use.
For Larry, the first successes started with video content.
"Some of the quickest wins have been through the video content that we've developed: The way we are distributing it, the prospects who say they are seeing our content, and the value the content is bringing them. In particular, we've had immediate wins with our tutorials and one-on-one videos through Vidyard.

"Anything that's a repetitive piece on the implementation side, we can now speed up with our tutorial videos ahead of time. As for prospecting and operations, we're creating one-on-one videos with Vidyard from our operations and sales team, so customers get a chance to meet the team before they actually sit down and get started."
On top of that, Larry and the Baron Payroll team started with They Ask, You Answer at a critical time. COVID-19 was forcing companies to drastically change. The biggest individual win his team has experienced was by his sales executive, who is producing results without stressing about leads or having to do the traditional sales strategies in a virtual world. Instead, his sales executive has prospects knocking on their door (metaphorically speaking) looking to do business with Baron Payroll.
Compared to his competitors, his team is "built for COVID and virtual, and competitors are falling further and further behind."
Challenges are going to happen
As a leader of his organization, Larry currently faces two challenges that any executive and team new to They Ask, You Answer will encounter:
Building a team that can be efficient and effective in doing They Ask, You Answer on their own.
Continuing to learn and improve his understanding so he can continue to be the guiding light for his team.
As with building any successful team, there's a delicate balance between guidance with an opportunity to discover and just following the leader. Succeeding long-term requires buy-in and understanding of the common goal to deliver the results the organization wants.
The next challenge is getting their updated website live. As you know, your website can be the greatest asset for your organization. It works 24/7, 365 days a year marketing, selling, and supporting your business.
Without a website, all the great They Ask, You Answer content you are creating, from blog content to video to downloadable offers, doesn't have a home. But getting that website right can be – and for Larry, is – a huge piece of the They Ask, You Answer puzzle for his team.
Although those larger traffic and sales-driving wins from the website haven't come around yet, the Baron Payroll team couldn't be more excited to get it live and start seeing the results come in.
What's next for Baron Payroll?
Although many of the challenges above are clear and require attention, the biggest challenge moving forward is figuring out exactly what moving forward looks like.
This is where Larry is continuing to look to IMPACT+ for guidance.
In particular, he aims to:
Enhance the website and its SEO performance to drive more engaged, interested prospects to the sales team, in particular using self-service tools.
Better utilize HubSpot tracking and reporting tools.
"Ultimately, I want to get a nice return on my investment that I can keep plowing back into this to continue making it bigger and better for this company."
IMPACT+, whether through course content, events, or mastermind group meetups, is going to continue to grow and scale as Baron Payroll scales with They Ask, You Answer. Our job is to keep Larry on the right track and to continue to provide guidance and clarity.
For those getting started with They Ask, You Answer
If you are new to They Ask, You Answer or have tried to use it before but don't know exactly how to get started, Larry shared his advice for replicating what he and the Baron Payroll team have created.
"They Ask, You Answer doesn't appeal to everyone because not everyone has the stamina to make it happen. I think it's a matter of breaking it into small steps. Maybe the first step is to hire a content manager so you can develop content, [and] then begin publishing. Or perhaps the first step is to start creating testimonial videos for your company.

"Either way, if you are looking for qualified inbound leads for your business, then just find a way to get started because They Ask, You Answer is the way forward."
I couldn't have said it better myself.
To connect with Larry Kagan and the Baron Payroll team and follow their They Ask, You Answer journey, sign up for IMPACT+ and follow Larry Kagan to see what he and his team are up to next.
Master They Ask, You Answer with coaching and training from IMPACT
Curious about doing They Ask, You Answer at your organization? Talk with a They Ask, You Answer advisor to start developing a plan, and let's get your journey started.
Join the IMPACT coaches for a deep dive on a new topic every month in our free virtual event series.
Published on September 1, 2021