What to Include In Your Marketing Budget [Part 1]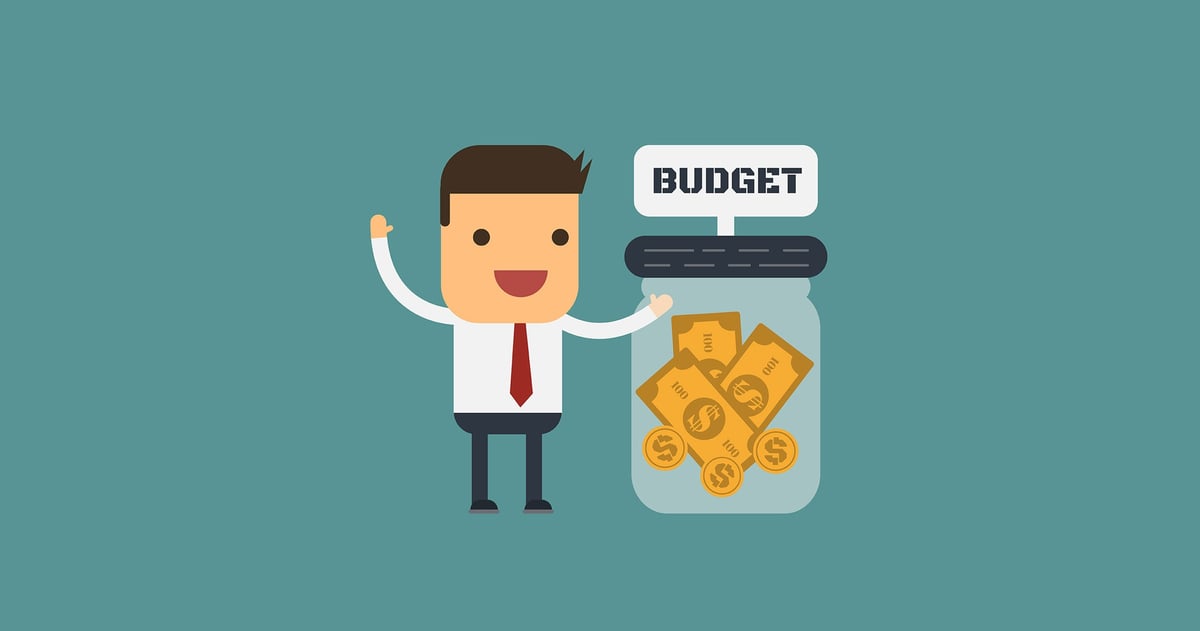 I'm an HGTV geek. Anytime there's a home renovation show on… I'm glued.
For me, it's about seeing the dramatic change from the dated, sometimes dilapidated and low- value house to the modern, efficient, and high-value home.
One of the most fascinating elements of these shows is the return on investment (ROI) they see from each renovation (albeit a little inflated for TV), but the question that's consistently in my mind is "how did they do it?"
What tools, services, and or outside help did they need to achieve that result and at what cost? Having worked in the contracting space for a number of years I'm able to draw some comparisons to life in the marketing and sales world.
The simple conclusion is that there's a lot that goes into renovating a home AND renovating your marketing. Both longer-term plays, they not only require a great deal of your time, but a wide and deep knowledge when building a budget.
This is the first of a series of articles that will take a detailed look into what types of software, talent, tools, strategies, services, etc. you should be including within your digital or inbound marketing budget for a small to mid-sized business.
Where to start?
The traditional method of building a marketing budget usually starts by setting aside a standard percentage of revenue - usually 3-5%. This top-down approach makes it easy to figure out what you CAN fit into a budget, but doesn't provide guidance for what you SHOULD include as part of your budget.
In order to align with the rest of your company, the foundation or framing (to use contract-y terms) of your marketing budget should be built around your organizational objectives.
This means, for example, having clarity around how much the company needs to grow in the next year and an understanding of how many new clients that might equate to.
I call this the top-down-top approach because you're starting with high level goals, then looking at the low-level components you'll need to achieve that goal, and working back upwards to a realistic spend.
What SHOULD I include in My Marketing Budget?
Because each organization's objectives are unique, the marketing budgets that are set will vary to some degree. However, after speaking with hundreds of businesses over the years, it's very clear that most organizations usually share one objective: GROWTH!
While that desired growth may vary as well, we've found that amongst of a sea of endless options, there is usually a critical set of "things" that should be factored into a growth-focused marketing budget.
Let's review them together. For part 1 of this series, we're going to focus solely on the softwares, platforms, or tools that most organizations leverage as part of a holistic marketing program.
The Softwares, Platforms, & Tools
I'm starting this series with software because in many cases, it will require the most due diligence. There are literally thousands of options (free and paid) when it comes to choosing software.
I'm not going to list all of them with their associated costs; just understand that to effectively execute and measure your marketing activities online, you will need specialized and / or all-in-one software for the following:
Website
The majority of modern websites are run on a Content Management System (CMS) and while the most-used CMSes are typically free (WordPress for example), there are some premium platforms (SiteCore and the HubSpot Website Platform for example) that offer more robust capabilities such as gated content, eCommerce, enhanced security, or built-in reporting tools.
As part of any website build, domain registration and hosting should also be factored into the budget.
Selecting a website host should be an exercise of matching the CMS you're using to the type of performance and protection you need online. For those using a free CMS such as WordPress, consider budgeting for WPEngine's specific WordPress hosting versus Godaddy's standard hosting package.
For those using a paid CMS, hosting costs are typically built into your subscription.
Design & Development
The creatives on your team will need a suite of tools such as Adobe's Creative Cloud to create compelling designs and bring those designs to life on the web.
During the process of transitioning from design mock-up to a fully developed web page or eBook, a proofing software such as Invision should also be considered to centralize the revision process and keep rogue PDFs from getting lost in your inbox.
File Management
In sticking with the "streamline" and "centralize" theme, all documents and communication should be managed in a single place to keep teams aligned should anyone be absent, leave, or come onboard. Business continuity!
Basecamp is an effective tool because it not only gives you the ability to host files, but you can also create documents and discussions right within the platform, minimizing the amount of emails each party is receiving. We use this a IMPACT.
Communication
Communication is broken down into three lines: Internal, prospect, and client communication.
Communicating effectively within each line typically requires the use of unique softwares.
Chatter between colleagues in the office is easily managed through Slack, while Olark, an IMPACT client, is an industry standard for live chats between website users and your team.
Finally, when inviting your clients to a virtual conference, consider leveraging a meeting tool such as join.me.
Email Marketing
Email isn't dead; however, it's effectiveness will be determined by the health of your contact database, relevance of your content, and the compliance of your design with your contact's email client.
Sending great emails requires the use of a software like MailChimp or Campaign Monitor, giving you the ability to easily segment your contact database, preview email designs within all the major email clients, view reports on emails effectiveness, and even nurture prospects based on their actions.
Analytics
The majority of decisions you make as a business owner, marketer, or salesperson should be governed by data.
Collecting such data is a matter of having the right analytics tools in place to capture it. While there are countless data points that can be captured, we've found that there are "buckets" of data that should be captured as part of all marketing programs.
Comprehensive web traffic reporting:

Install

Google Analytics

on your website to

track value metrics

like the source, volume, and interest of your traffic as well as the portion of your traffic that converts into leads and customers through your website. EVERY website should have Google Analytics!

Heat mapping:

Optimizing your website for UI / UX and lead conversion requires more than just numbers within a spreadsheet. Include a tool such as

Hotjar

in your budget to visualize how your site visitors are interacting with your site elements or pages. Heat mapping software like this can show you how far down a visitor is scrolling on your page, where they click, where they don't click, and even how they use your site on a mobile device as compared to a desktop.

Competitive Intelligence/Keywords:

Understanding the exact keywords your competitors are using and the success they've experienced in relation to those keywords gives you insights on how best to outrank them in search results. Tools like

SEMrush

, allow you to dissect any website's URL to learn about their keyword spending habits, giving you a competitive advantage.

Video:

Let's talk more about this below...
Video Marketing
As written content becomes more noisy and bidding the time of your prospects becomes even more difficult, video marketing will become the tactic that must be leveraged as part of every marketing program.
With YouTube being free AND the World's second-most popular search engine, it should be the first consideration as your video hosting platform, however, understanding how effective your videos are at keeping a viewer's attention or converting them as a lead requires a video analytics tool like Wistia (which is available both free and at a premium).
Social Media
While Social Media Marketing can technically be managed directly from within each social platform, there are nice-to-have social media softwares like Buffer, SproutSocial, and HootSuite that make it easy to manage all your social platforms in one place, measure your post's effectiveness, reduce time-to-market, and allow you to make better decisions about how to engage with prospects and customers.
Landing Pages & Lead Forms
Landing pages, coupled with lead forms, are the conversion mechanism most commonly used to generate inbound leads from your website. Although many website CMSes allow you to piece together these elements through custom coding or plugins, there are more efficient and cost effective tools available.
A platform like Unbounce is specifically designed to build and launch landing pages quickly, capture leads from your website, and pass that lead data to any CRM, email or contact list for further interaction from marketing or sales. This is an essential piece of software for every marketing budget.
Marketing Automation
Once a lead has been generated via a landing page, blog post, or other marketing activity, the objective is to move that lead through the funnel until it becomes sales-ready. A marketing automation platform like HubSpot, gives marketers control over the communication and engagement process with every lead, allowing certain lead activity to automatically trigger other actions that help the lead move closer to a conversation with sales or a buying decision.
Customer Relationship Management (CRM)
Typically, a CRM might lie within a sales team's budget as they're generally used by salespeople to track and manage prospect communication and deal flow. As the lines blur between marketing and sales departments, however, it becomes even more important to make sure that your sales team has a CRM such as HubSpot Sales that can integrate your marketing and prospect data from other sources, with the CRM.
This ultimately gives salespeople the information they need to have timely, relevant conversations with inbound leads and gives marketers insights into which activities are leading to closed deals.
Integrations
Using disparate softwares and systems means that the data within them is typically siloed until they're integrated with one another. This can be a challenge for marketers (and salespeople) as it often means you have to develop your own reports to compare and contrast lead data and make decisions on what's truly working (or not working).
Luckily most of the softwares mentioned above have some capacity to integrate with one another via services like Bedrock Data. There, you can search through hundreds of plug-n-play integrations to create one version of your data.
All-in-one
For companies that want to consolidate their amount of software and billing, while still maintaining an incredibly robust toolset, consider setting aside budget for an all-in-one marketing platform. HubSpot is the platform of choice for most inbound marketers (including us) to execute, measure, and compliment the majority of activities listed above without needing a vast amount of integrations or customizations.
If you're debating whether or not it's right for your business, check out The Ultimate List of HubSpot Pros & Cons to help you deliberate.
Key Takeaways
With the vast amount of softwares on the market, costs can range from $0 - $20 per month by leveraging freemium versions of some of the tools listed along with a hosted website, all the way to $2,000+ per month with an all-in-one platform complimented by other softwares.
This makes it increasingly important to maintain a top-down-top mindset as you're deciding which technologies are going to allow your marketing and sales teams to close the gap between where the organization is now, and the objectives that need to be reached.
In part two of this series, we'll go what you should include in your marketing budget pertaining to talent and people. Stay tuned!
Free Assessment:
How does your sales & marketing measure up?
Take this free, 5-minute assessment and learn what you can start doing today to boost traffic, leads, and sales.