What to Include In Your Marketing Budget [Part 2]: Talent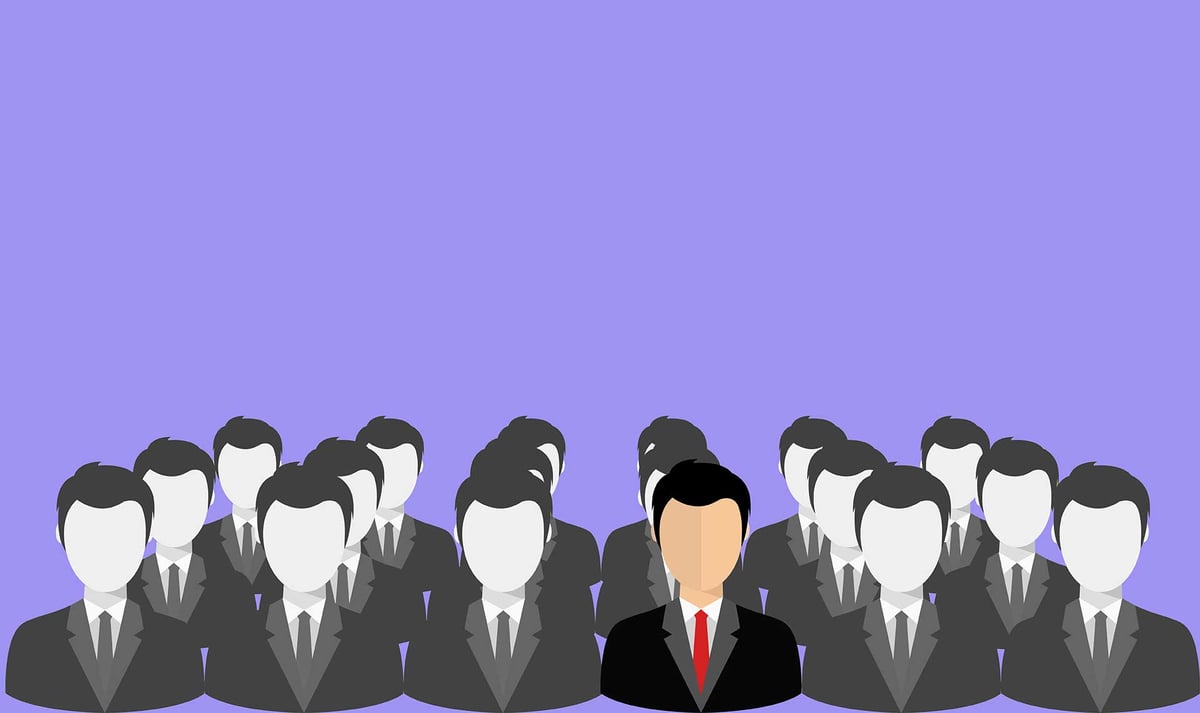 In Part 1 of our series, we explored the tactical philosophy of how to approach building a marketing budget for a small to medium-sized business and what to include in that budget.
We learned that a top-down-top approach helps us to build a marketing budget in a more strategic way, which is in contrast to the traditional "allocate 3% of total revenue for status quo, and 5% to grow."We start with the end in mind - the top-level, organizational goals. We then hypothesize the software, talent, tools, strategies, and services we'll need in order for us to work towards those goals, and then, finally, work backwards to understand what the total investment would be.
Once we had that foundation, we began reviewing the software and technical components that would typically be included within the marketing budget of a small to mid sized company.
Our next stop is Talent.
In Part 2 of this ongoing series, we're going to uncover the "who" of our marketing budget. With the right tools, software and platforms in place, who do you need to account for leveraging those components to produce measurable results AND... about how much do they cost?
Buy or Build?
After your leadership team gathers to identify the organizational growth objectives for the next 12 months and have evaluated the capabilities and capacities of the internal team, the next question that needs to be answered is, "should we buy a team or build it?"
As Shakespeare would put it, "To build or not to build: That is the question."
But anyway…
This is often a topic of discussion in many of the conversations I have with organizations. Two very different paths to the same end goal and each direction has their advantages and disadvantages.
Keep in mind that this article is not intended to help you decide which path is right for your organization, nor is it designed to evaluate those advantages or disadvantages of each.
Rather, it is intended to inform small to medium-sized companies how to account for and potentially include bought or built talent within their marketing budgets.
The next few paragraphs will outline the different people and roles we believe should be considered for inclusion in your marketing budget.
Build: Hiring Internally For Your Marketing Team
This is often a trend we see within funded SaaS companies looking to scale. They may choose to leverage outside talent initially to keep overhead under control, but ultimately work towards internalizing the majority of marketing activities.
Executing your digital marketing efforts internally requires talent in very specific roles that can not only manage the tools, but can also think strategically and create alignment between departments.
Now, most smaller companies will have someone who owns marketing - perhaps a VP of Marketing or a Marketing Director.
If the company is larger, they may potentially have one more person on their team such as a Marketing Coordinator, Graphic Designer, or Web Developer, all of whom would be more tactical in their role.
For companies looking to scale efforts internally, this becomes a challenge as each of those team members are most likely wearing many different hats.
So, who beyond the VP of Marketing are the people many companies will include on their team to accelerate their lead generation efforts, go-to-market speed and scale their growth?
Let's look at some of the roles that make up a comprehensive, well-rounded, in-house marketing team below.
The Strategist
This role is typically held by the person already owning marketing such as your VP of Marketing. Depending on the size of the company, they'll leverage the c-suite for strategic direction as well. This is a role that is most likely already part of your budget.
Content Writer (or Brand Journalist)
The success of any content or inbound marketing program relies on the consistent publication of remarkable, insightful, and thought-leading content. It's a full-time job that VPs of Marketing don't typically have time to do consistently or all that well.
I've talked with many companies that still have yet to fully invest in someone who truly understands the brand, the industry, and customer's challenges, and can write about those elements effectively.
When building an internal team, that is a huge missed opportunity. Plan to budget $50k - $75k per year to hire a skilled, experienced content writer on your team.
Marketing Coordinator
This again may be a role that is already accounted for within many organizations, however, there are still many that have the marketing owner managing all of the tactical marketing activities which means that less effort is going into strategy, and time-to-market is lagging.
Plan to budget $35k - $55k per year to bring on a Marketing Coordinator to execute the majority of your digital marketing activities.
Graphic Designer / Web Developer
Creatives are also an integral part of any team that is looking to reduce their external hiring footprint and, again, increase their time-to-market and internal efficiencies.
To achieve the most, you'll want to hire both a designer and a developer and allow them to focus on their core skills. Consider that designers often have valuable input on overall visual strategy while developers can work across departments to solve integration or technical challenges.
Hybrid des-devs do exist, but are very difficult to find and often struggle to meet the best standards of brand and code.
Who and how many you hire are all commensurate of your particular organization's needs and the amount of creative work that needs to be executed, but if you're going to be hiring one of each, plan to budget $110k - $150k per year.
Engagement Manager (or Business Development Representative)
As marketing and sales teams create further alignment and the line between the two departments blurs, it's important to consider the job roles that are emerging to facilitate online or inbound lead generation.
I'm defining the Engagement Manager or Business Development Representative (BDR) as the person who manages leads at the bottom of the marketing funnel and the top of the sales funnel.
This is the person who is prospecting the database of leads your marketing team is generating, and helping them into conversations with your sales team. They are the middleware of your sales and marketing departments. Plan to budget $50k - $80k for this position.
Adapting Your Team
It should go without saying that building a marketing team internally requires more than just the salaries of individuals. Desk space, equipment, benefits, and other costs should be included as part of your budget as well, but it doesn't stop there.
Every in-house team must evolve and grow with the industry around them. New marketing techniques or tools or strategies are being introduced every day and as such, your team will need the education and resources necessary to keep up.
As you're putting together your budget, consider adding a line item for professional development. This may include a subscription to an online educational site like DigitalMarketer, or perhaps travel and attendance to specific industry workshops or events. Your team should never stop learning.
Buy: Hiring an Agency, Consultant, and / or Freelancers
Now, when trying to accomplish your marketing (and even organizational) objectives at-scale hiring an internal marketing team may not be the best option.
Taking into account the time needed to find someone qualified, resources required to house/train, and monetary implications of building your own marketing team, you may be looking a more out-of-the-box alternative.
On this side of the coin, we'll talk in more detail about what it looks like and means for your budget if you're buying a marketing team versus building it -- in other words, outsourcing to freelancers/consultants or hiring an agency.
When companies are looking to buy additional help, they still usually have someone in a role that can own marketing for the organization - a Director, VP, etc.
As they begin to understand the capacity, capabilities, and limitations internally as it pertains to what their department is responsible for achieving in the long and short-term, they might decide the right path for growth is to buy the help.
This is where things begin to differentiate dramatically from a budget inclusion standpoint.
Hiring an Agency
When hiring an agency or an outside partner, there's a major shift in the initial process.
Instead of running recruitment ads and interviews, it becomes more about researching, sourcing and vetting in order to find the right partner.
I say partner here because for those marketing departments that have far reaching growth objectives over the long-term, it makes much more budgetary sense to have the agency tightly integrated into your organization (much like an employee) versus having them complete here-and-there transactional activities.
The goal and outcome of bringing on an agency is generally to fulfill all of, or at least complement some of, the critical roles listed above.
In working with an agency, like IMPACT, you'll typically be assigned a main point of contact who will be the liaison between your organization and a team of strategists, content writers, coordinators, designers, and developers.
This team, in many cases, will have talent and capabilities even beyond their given roles. For example, a coordinator within the agency organization may have a keen grasp on building and executing a paid social media strategy or a developer may be able to act as a technology consultant for other complex business needs.
Agencies also usually come prepackaged with much of the software, technology or platforms in place that you would typically have to buy your in-house team. Agencies with designers and developers, for instance, will have a creative suite of software, while project management and communication tools are usually standard-issue.
Furthermore, most agencies have robust internal education and training resources, eliminating or at least, reducing yet another cost on your end.
Without comparing all the different types of agencies and the pricing variables, when working with an agency, it would be safe to consider including between $60k - $200k per year for your budget sheet.
*Note: Again, this is not a "which path is better" article, rather I'm looking to point out that there are notable differences in what needs to be allocated within a marketing budget depending on the direction that you must choose. If you're looking for more of a comparison give this article a read.
Hiring a Consultant
Leveraging a consultant is a great way for organizations to create laser-like focus in one particular area of the business. Consultants offer expertise in specific areas and will help your team put the processes and behaviors in place to eventually perform them without their help.
They can also be a great way to accelerate the growth and learning of complimentary departments.
For example, a high-functioning marketing department that's delivering a ton of leads to sales may expose that the sales team needs better coaching in the areas of communication, gaining buyer commitment, and working towards the close.
As such, the organization may decide that a sales consultant or coach is the ideal way to close the loop on success.
Consultants come in all shapes and sizes, but generally, within the marketing space, former CMOs or business experts can be leveraged as such. Bringing on a marketing consultant is certainly an investment that may even be made on top of building a team and/or buying a team, but can pay dividends with their unique perspectives and guidance. Plan to invest between $50k - $100k per year to hire someone in this area.
Hiring a Freelancer
In cases where companies already have much of the bought or built team they need, but occasionally require some support, hiring a freelancer becomes an ideal solution.
In the marketing world, freelancers typically take the shape of Content Writers, Graphic Designers, and Web Developers. Consider factoring into your budget $15k - $50k per year for on-demand help from perhaps a multitude of people.
Key Takeaways
A great inbound marketing strategy and the most sophisticated of tools are nothing without talented people to execute and implement them.
Whether your team is in-house, a freelancer, consultant, or an agency like IMPACT, people are an integral component of any marketing program's success.
When determining what to include in your marketing budget, use the information above to gauge how much you should be allocated towards talent as well as perhaps, which option may be most cost effective.
Stay tuned for the third and final part of my series, "What to Include in Your Marketing Budget" -- Tactics.
Free Assessment:
How does your sales & marketing measure up?
Take this free, 5-minute assessment and learn what you can start doing today to boost traffic, leads, and sales.