Instagram marketing in 2020: The do's and don'ts of posting and driving engagement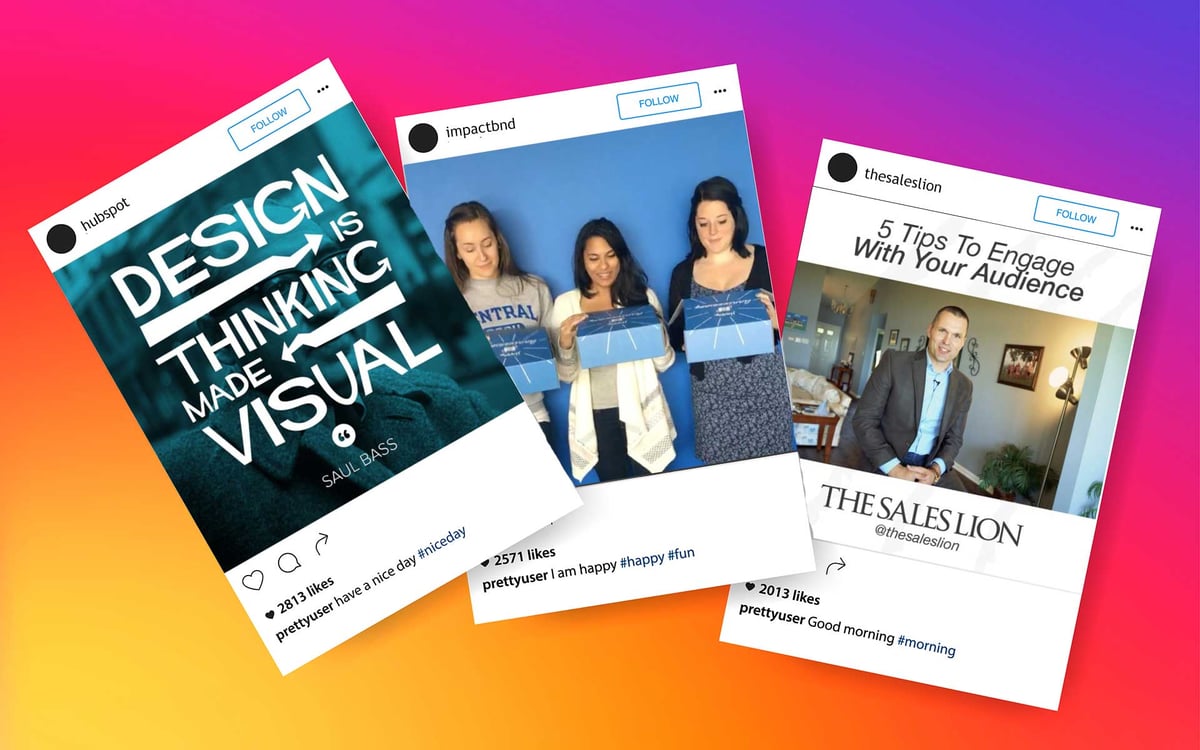 If you think Instagram is just for sunsets, selfies, and staged shots of food, you are sorely mistaken.
With Facebook at its helm, the number of active users growing every month, and 85% of top brands adopting the social platform as an avenue for reaching their audience, there is no better time than now for your company to get on board with Instagram as a marketing platform for your business.
There are over one billion active monthly users on Instagram, over 95 million photos and videos are shared each day and those images and videos garner more than 4.2 billion "likes."
Imagine if your posts were able to generate even a fraction of that kind of engagement.
With users so actively involved with your brand, you have a greater opportunity to reach and be heard by them, and ultimately, generate more sales.
So how do you do it right?
Here are some of the essential do's and don'ts of using Instagram for marketing your business in 2020.
The do's and don'ts of Instagram marketing in 2020


Do post regularly
As with any social network, if you're going to bother with having a brand presence, you need to commit to at least posting regularly to your account.
Having an Instagram account with nothing on it — or with no posts for weeks or months — is worse than having no account at all.
How many times should you post to Instagram per day?

Consistency is key with Instagram. Data shows that brands that post between two and 10 times per day get the best results with their Instagram marketing efforts.
The exact number of posts that you make should depend upon how much you have to say and your audience.
Better to post fewer updates with great photos and videos than a larger volume that aren't going to capture the interest of your audience.
Do use Instagram Stories to boost engagement
With 500 million people using them everyday, Instagram Stories are especially valuable for boosting engagement. Here are some of the most effective features.
Instagram Stories Polls
If you're looking for a quick way to boost engagement, using polls on your stories is a great way to do that. In the image below, the poll is simple but gets the followers involved in the content that will be produced.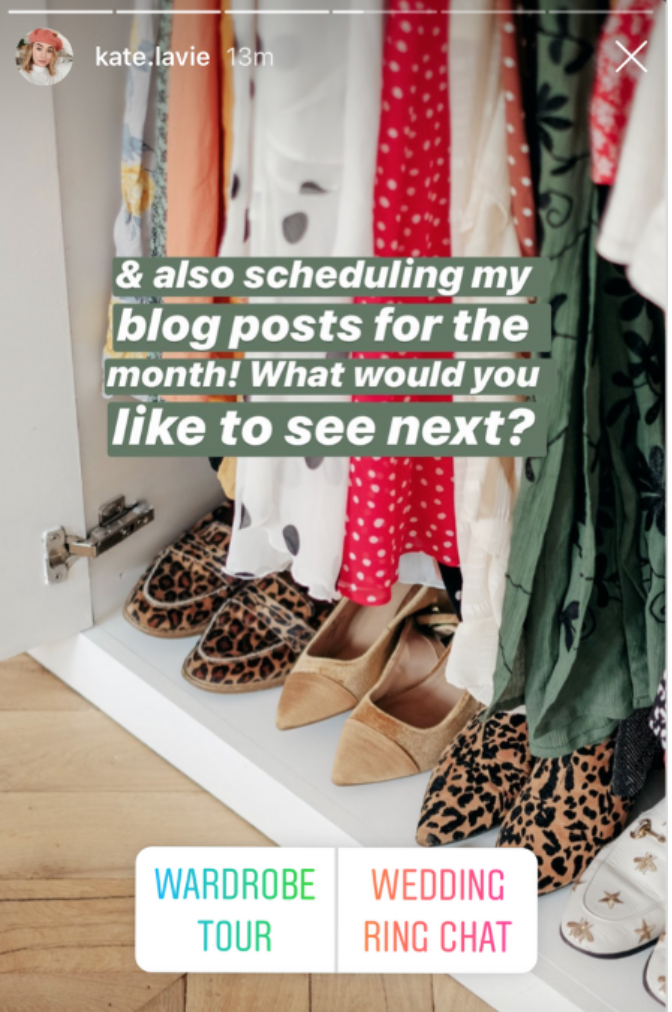 Not only will the people who vote be more likely to tune in to see the decision, they'll feel a sense of trust and community because they were a part of making it.
Brands can ask similar questions about future content, put two products up against each other, pitch new features, and more.
Emoji Slider Stickers
Another quick way to engage your community is to use emoji slider stickers. As shown below, these sliders allow brands to post a simple poll where people simply have to slide the emoji along the slider to respond. This helps gauge emotion from your audience and gives them a playful, easy way to interact with you.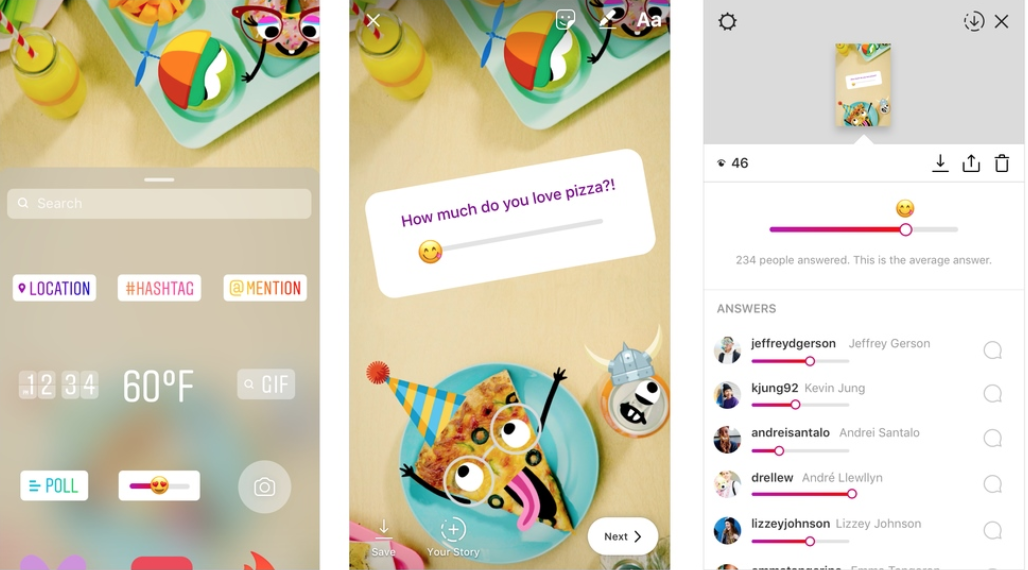 As a brand, maybe you'd want to see how much they like the design of a new product, test out a logo revamp, or even post something fun like the pizza poll above just to get people talking.
Questions Stickers
With the Instagram Stories Questions Sticker, brands are able to field long-form questions and answers or have an informal two-way conversation with followers.
As seen below, you can prompt questions about certain products to get opinions or feedback from your followers and post responses straight to your Stories.
This helps to create a positive brand experience for the people who want quick answers before making a purchase.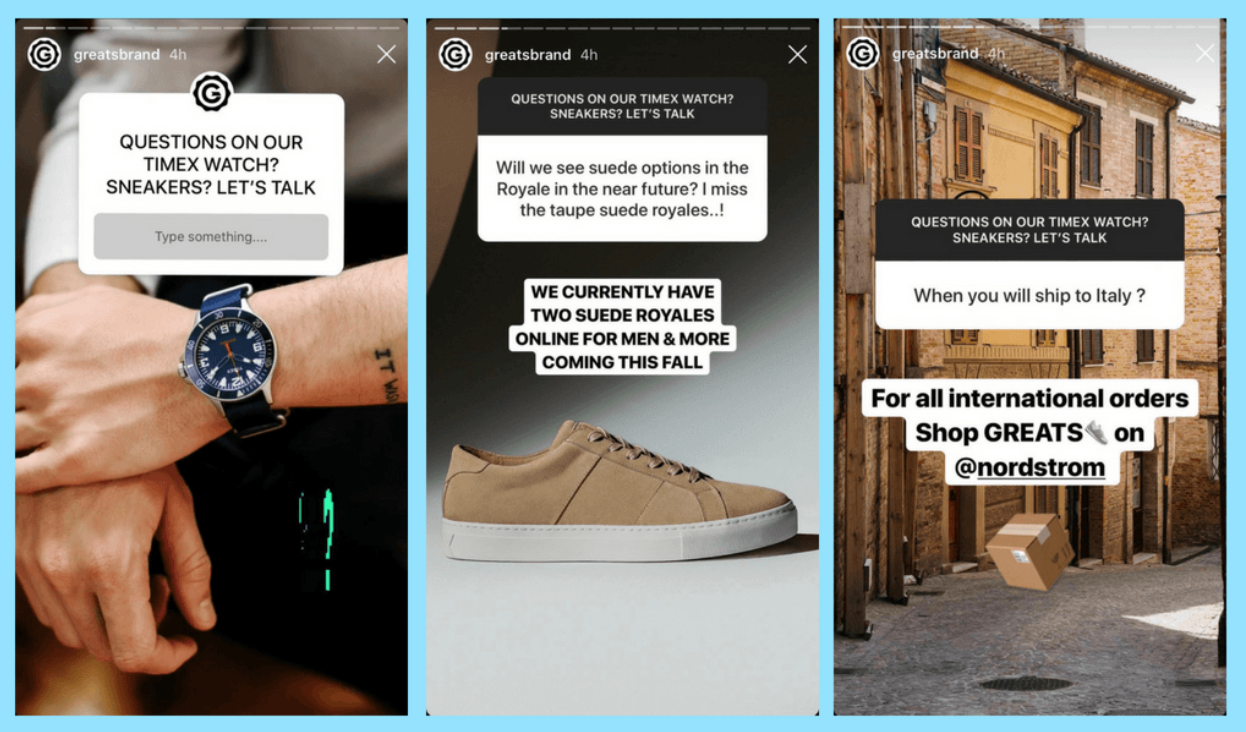 Other ways your business could use the questions sticker could include a live AMA, a brand feedback session, fun questions just to get a conversation going, etc.
Quiz Stickers
If you have ever doubted how much people like quizzes or trivia, simply look at the success of Buzzfeed quizzes.
These quizzes, like Instagram Quiz stickers are an entertaining way to educate people on anything about your brand or products or again, get opinions.
In the quiz below posted by clothing brand missguided, they're not only educating people about their brand, but they're giving people a reason to go on their site to find the answer to the first question.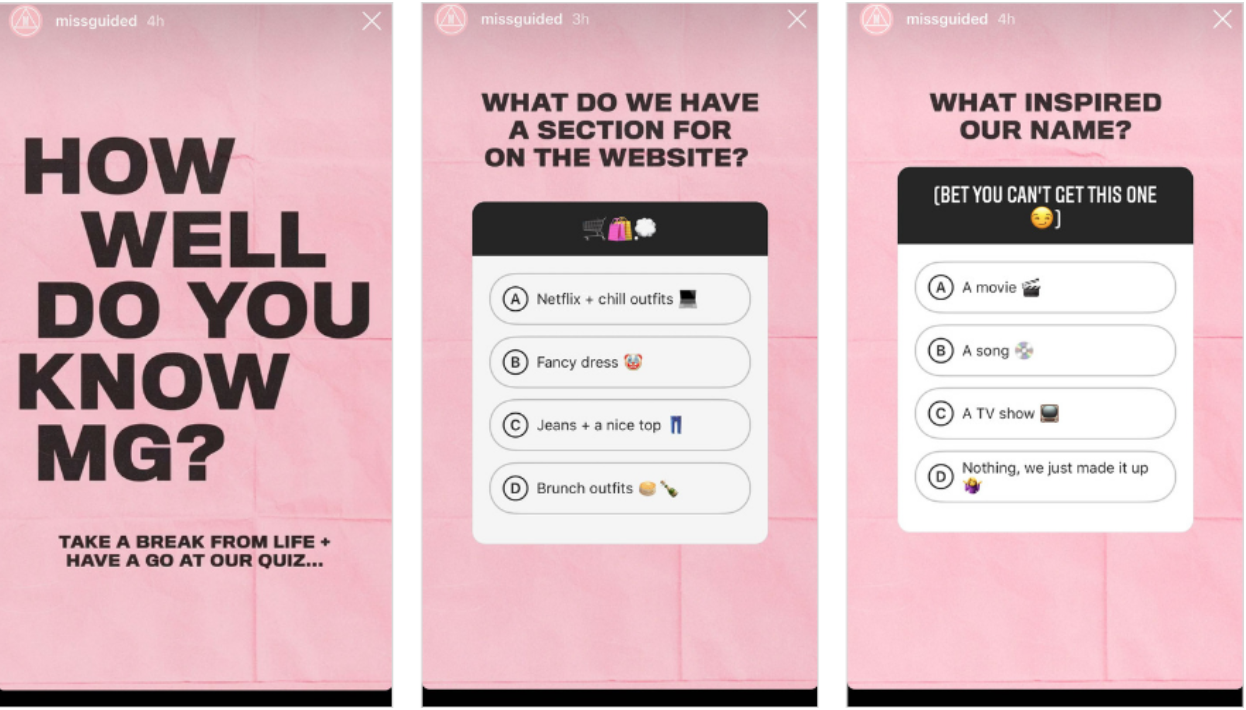 With all of the added traffic to their site because of this question, odds are they'll have a boost in sales simply because of this simple Instagram quiz.
Mentions and Re-shares
Last, but not least, like a share on Facebook or retweet on Twitter, Instagram Stories enable brands to re-share posts they have been tagged in by their followers or mention fans if they share something interesting.
Start-up makeup brand, LiveTinted does a great job of this, posting stunning shots of their products from customers as well as tutorials and unboxing videos:
Do get your customers involved in content creation
While limited in the types of content, you can share compared to other platforms, Instagram has some of the most robust catalogs of engagement opportunities. These include:
Likes
Comments
Private messages
Tags
Re-grams
Stories (which enable polling, questions, etc.)
Despite all these options, there is really no better way to create engagement with your brand than to encourage your customers to create content for it.
User-generated content (UGC) is authentic and shows loyalty to your brand, so capitalize on it!
Consider creating a unique hashtag, asking your followers to post a photo using it, and then posting your favorites to your brand's account.
By doing this, fans will feel more connected to your brand, you'll create buzz and engagement, and perhaps their content will help you to generate your next big idea.
Instagram itself does a great job with this.
For instance, they used to do something called the "weekend hashtag project" (WHP).
If you followed their account, you knew that every weekend, the team would challenge their community by asking users to create photos around a designated theme, with the incentive being a chance at getting featured as one of their favorites on their profile throughout the week.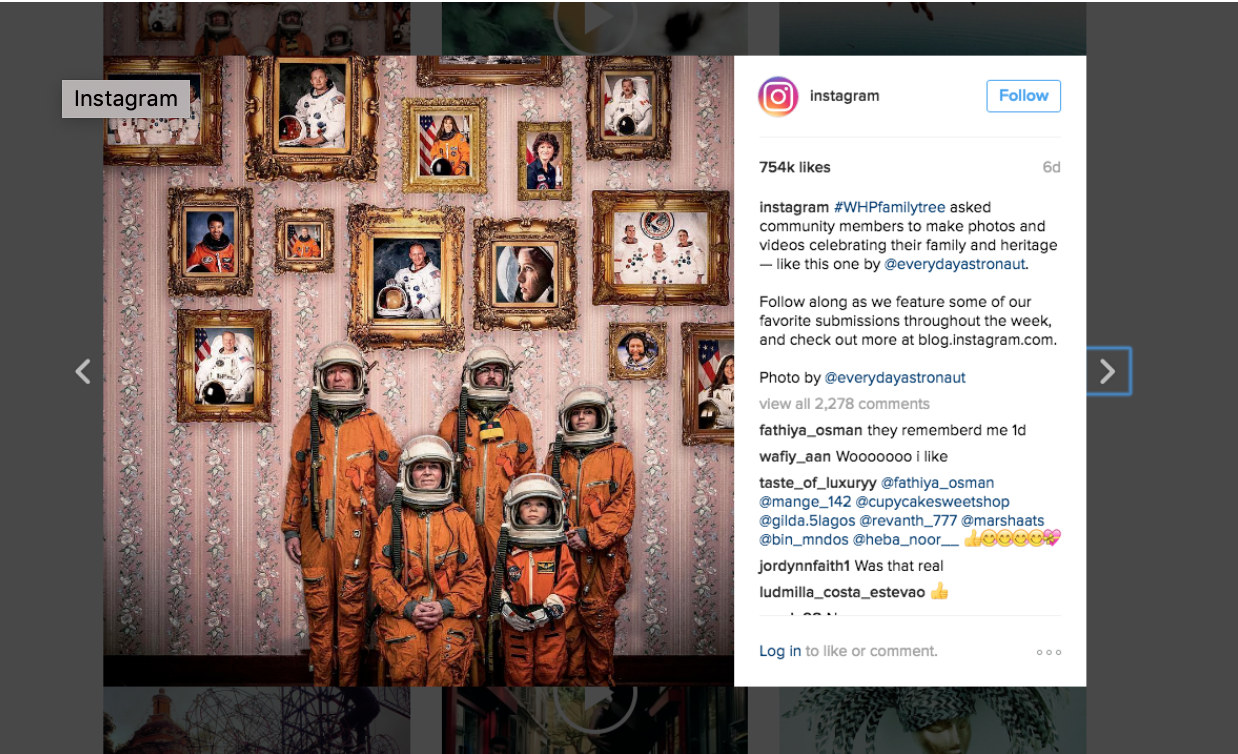 WHP was discontinued in April 2019, but that doesn't mean they've stopped getting their audiences involved.
One of their current regular posts is their #WeeklyFluff where they post a photo or video of animals doing something funny, adorable, etc. from users. (Who doesn't love that?)
Because animals are so popular on Instagram (the top 10 pet influencers have a combined total of 22 million followers) each post is always flooded with likes and comments about the content.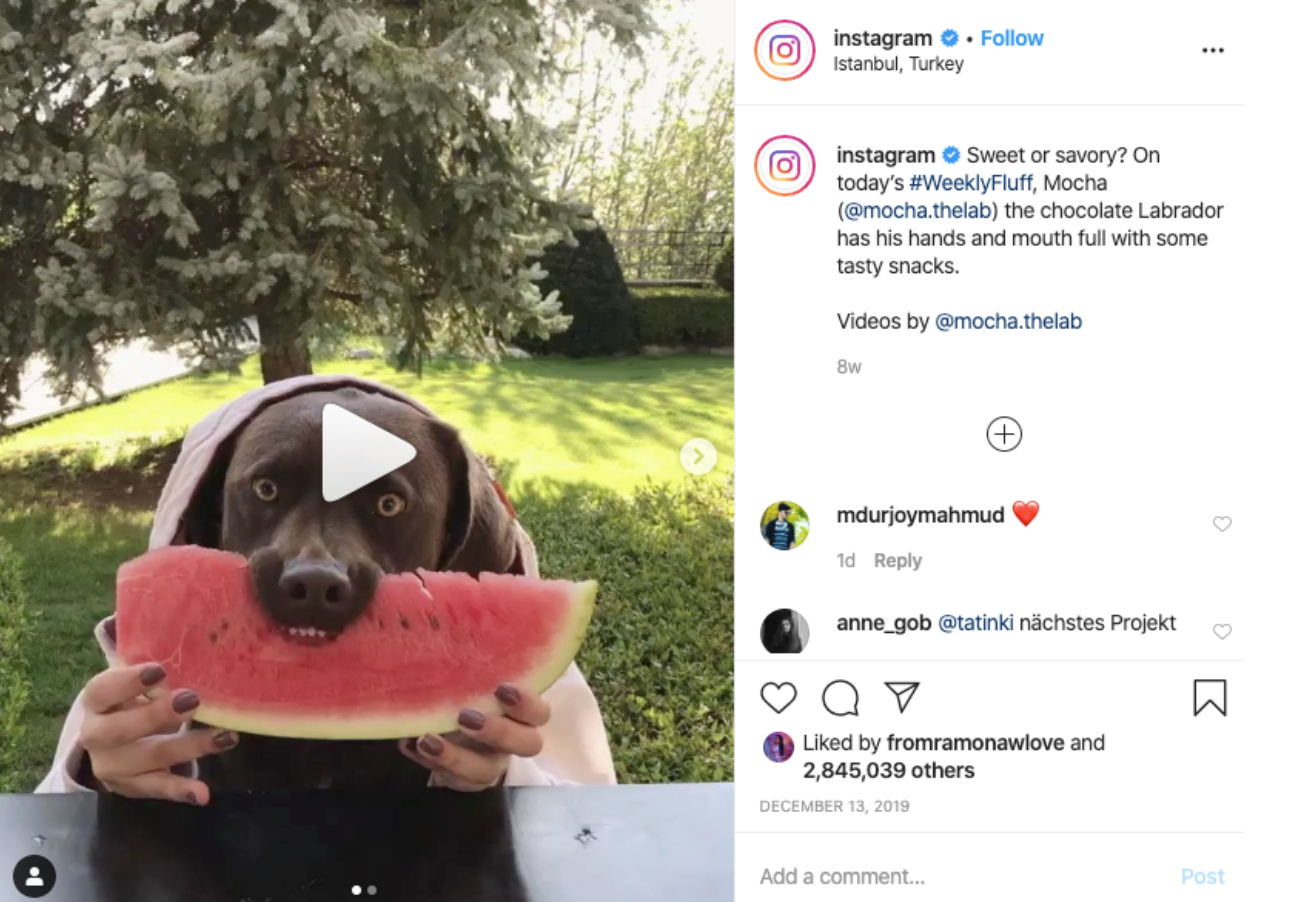 Another way your business could generate photos and interact with your audience is by creating a dedicated hashtag where users can share their photos with you.
Ulta Beauty does something similar this by including the hashtag #ultabeauty in their bio and encouraging people to share pics for the chance to be featured on their feed.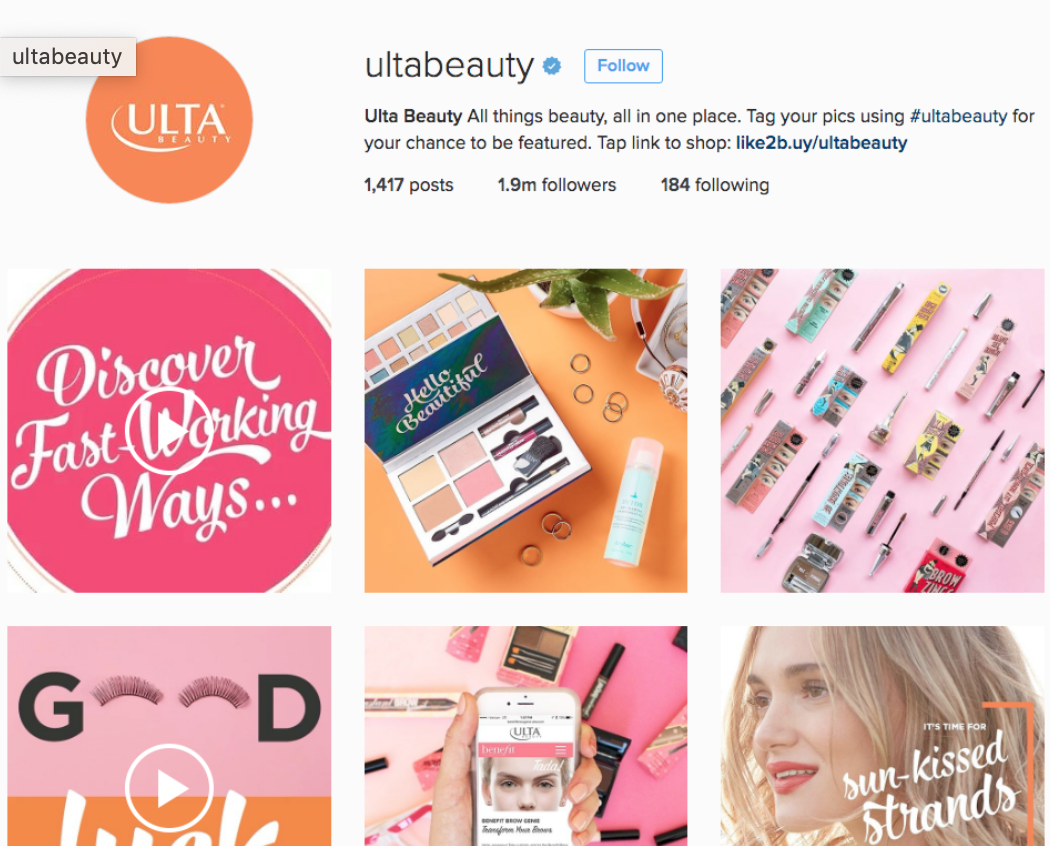 Another great example of a brand that routinely leverages UGC for its marketing is ipsy.
The ipsy team has created a vibrant community on Instagram where "ipsters" can creatively show off goodies from their subscription box along with their ideas and experiences with them.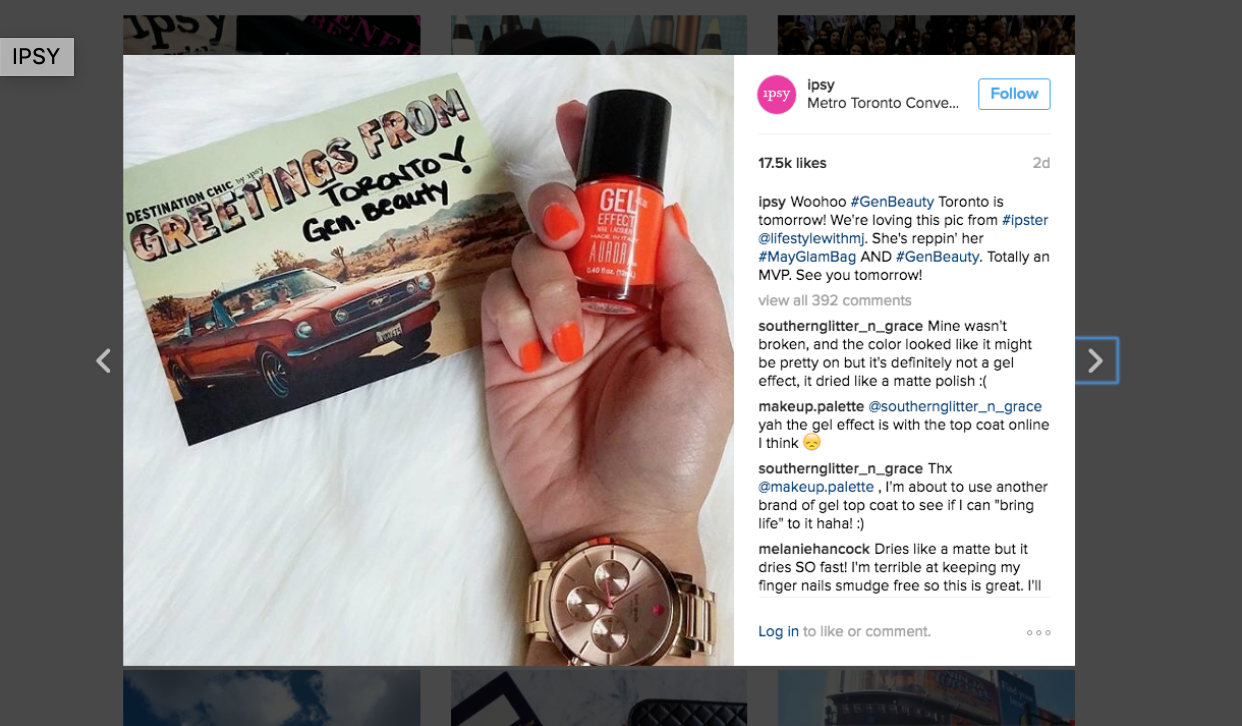 The brand then regularly re-grams their favorites, tagging the user, and giving them their fifteen minutes of fame.
Do tell a human story
Instagram isn't the place for stock photos. In order for you to effectively tell your story, your images need to be visually appealing yes, but also authentic, original, and relatable.
Consider sharing the login information to your account with members of your team so that they can share their photos as soon as something memorable happens (but do also set guidelines around what can — and cannot -— be posted on your brand account).
If you follow StarbucksJobs on Instagram, you'd see that they regularly highlight real employees and tell their stories about their families, their upbringing, and how Starbucks College Achievement Plan has influenced their life.
Not only do you get a better feel for the Starbucks team, but you get to see the company's positive and emotional impact on those who work there.
Providing your audience with a story like this will keep them coming back daily by adding a more personal connection to the relationship they have with your brand. They want to know about your company, but also the people behind it.
Do use video
Over the years, Instagram has made significant improvements to their video features, expanding just from in-feed video to Stories, live streaming, and even IGTV for long-form videos, and with good reason.
Video adds new dimension to the content you share and three times as many comments are garnered by sponsored Instagram videos as sponsored Instagram photos.
So, expand your brand's storytelling experience by using video to capture funny team moments, walk people through your office, highlight how a product works, create a tutorial, host an interview, or answer audience questions.
A brand that does a great job of mixing video into their strategy is Samuel Adams.
In this video, they feature Jim Koch, co-founder and chairman of the Boston Beer Company, the producers of Samuel Adams beer. He's doing a special #ValentinesDay post and talks about how he met the love of his life.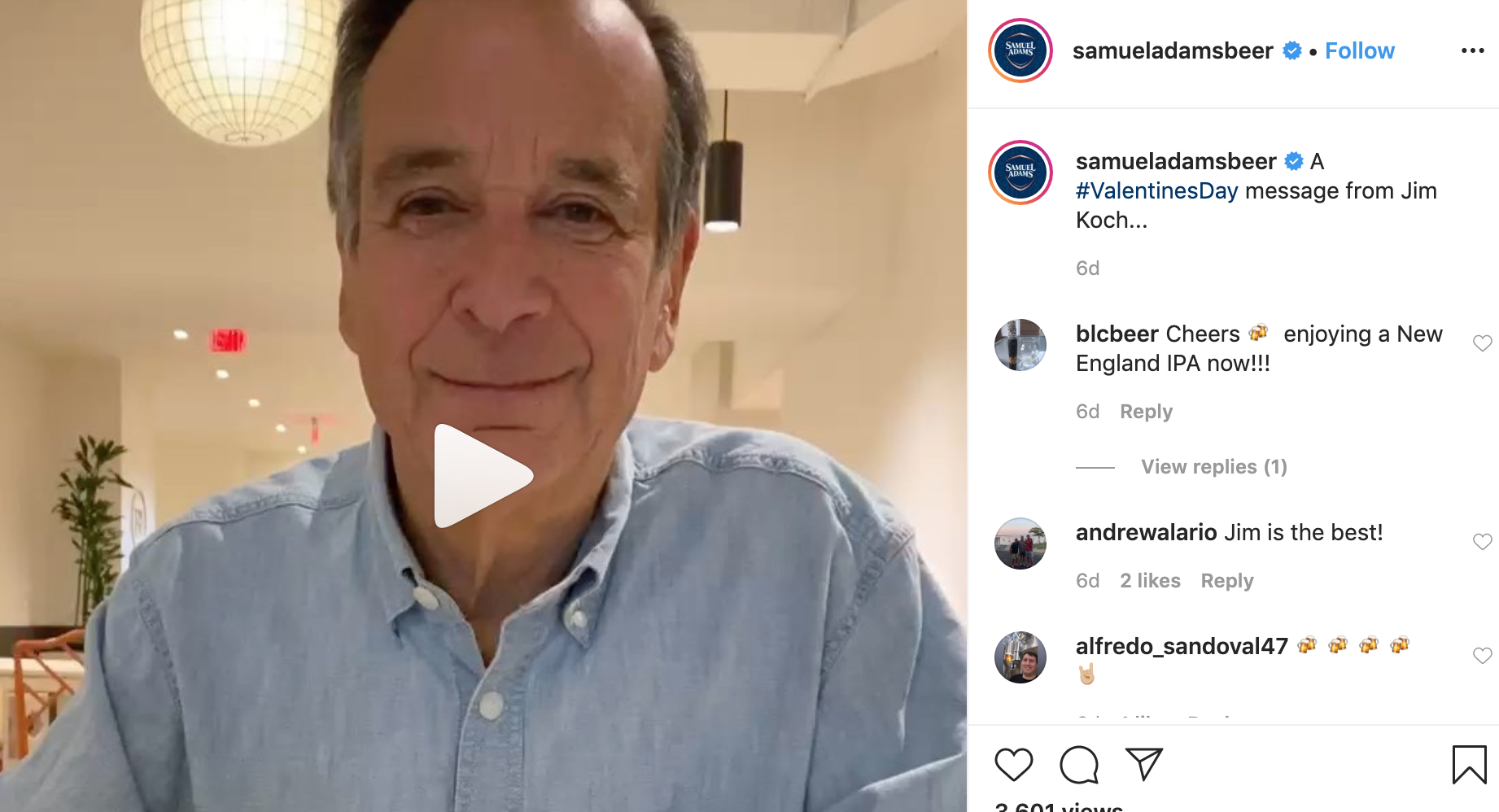 Posts like this show the human side of a company, making them more likable and relatable.
Instagram Live Video
As mentioned above, in addition to uploading videos to your feed, Instagram gives the option of streaming live videos to your audience.
According to AdEspresso.com, "live video is more appealing to brand audiences: 80% would rather watch live video from a brand than read a blog, and 82% prefer live video from a brand to social posts."
If you want to give your audience what they want, it sounds like mixing in some live videos is the way to go.
Some ways that brands use Instagram live video include:

Hosting a debate
Giving a tour of the office
Launching or previewing a new product
Interviews with executives, employees, influencers, etc.
Q&A Session
Tutorials
Product demos
And many more!!
In addition to the many options for ways to use Instagram Live
Do direct people to your bio
Your bio is prime real estate for telling users what to do and where to go. Use those precious 150 characters to create a strong call-to-action and guide people to what they can do next with your brand.
One major difference between Instagram and other social platforms like Facebook, Twitter, and LinkedIn, is that it doesn't allow links in comments or captions. As a result, the link in your bio is your only chance to get people to click through and visit your website.
Use your Instagram posts to tease an offer then direct them to the link in your bio to follow through.
Make it a practice to tell users how they can sign up or purchase something by clicking on the link in your bio. It's common to see brands change this link frequently as they share a photo with a new offer.
Victoria's Secret, for example, gives their audience a clear and concise call-to-action within their Instagram bio. Check it out below: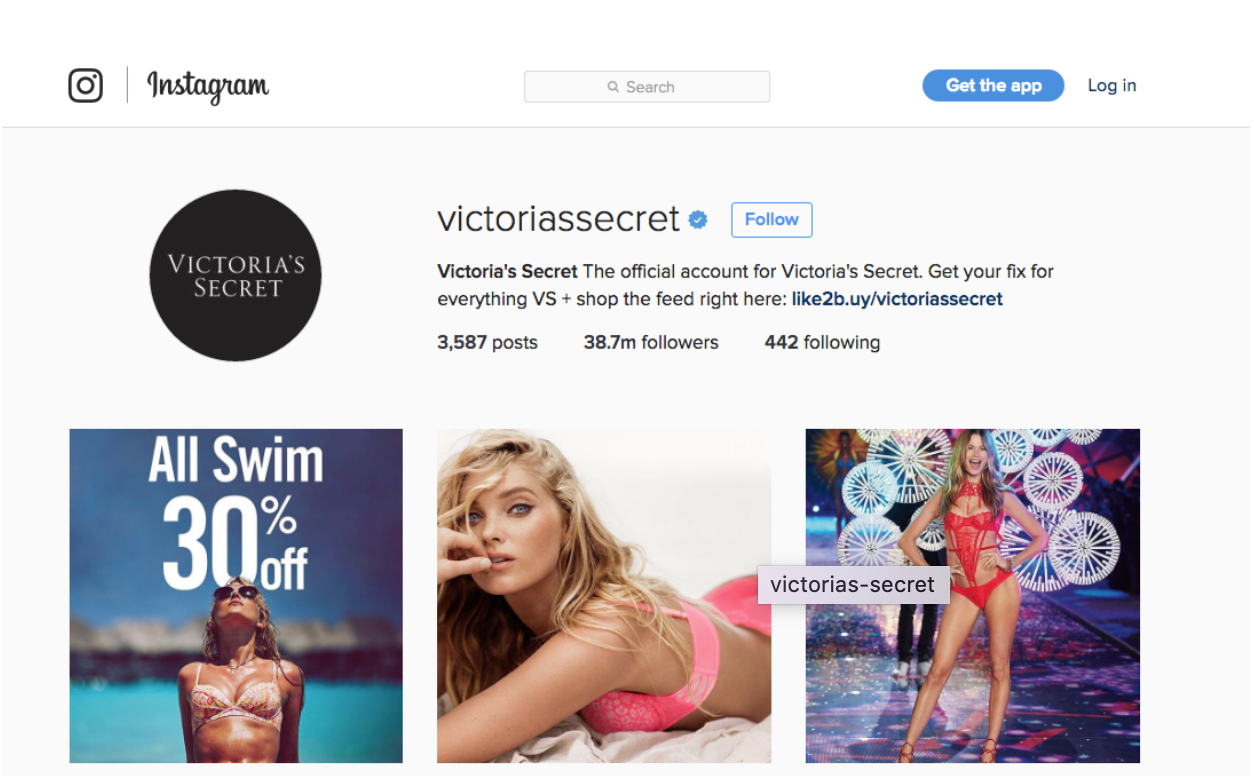 There are also a number of tools available to help you include more links or maintain even an archive of links in this space.
LinkTree, for example, allows you to link to a profile with several calls-to-action and track analytics, while Linkin.bio by Later, duplicates your feed and enables you to attach a link to each photo.
Do use carousel posts
Previously, Instagram only allowed accounts to share one photo or video at a time.
With the rollout of carousel posts, users can now select up to 10 photos/videos in one post, allowing followers to swipe to browse through the different pieces of content.
Not only does this enable you to tell more of a narrative story with each post, but studies show carousel posts have received a higher engagement rate per post (up to 5.13%) than video or photos alone.
A few things businesses might want to show with carousel posts include:
Different angles of a product
Different colors of a product
Before and after pictures
Step by step instructions
Customer reviews
Do consider Instagram sponsored ads & shoppable tags
Since it was acquired by Facebook, Instagram ads are far more comprehensive than they ever have been. If you are a particularly visual brand or market a consumer product, consider using these to get in front of more potential customers.
Not only will it expand the reach of your post (and bypass the algorithm), but it will enable you to link users directly from your photo or video.
A brand that does a great job with its Instagram Sponsored Ads is tuckernuck.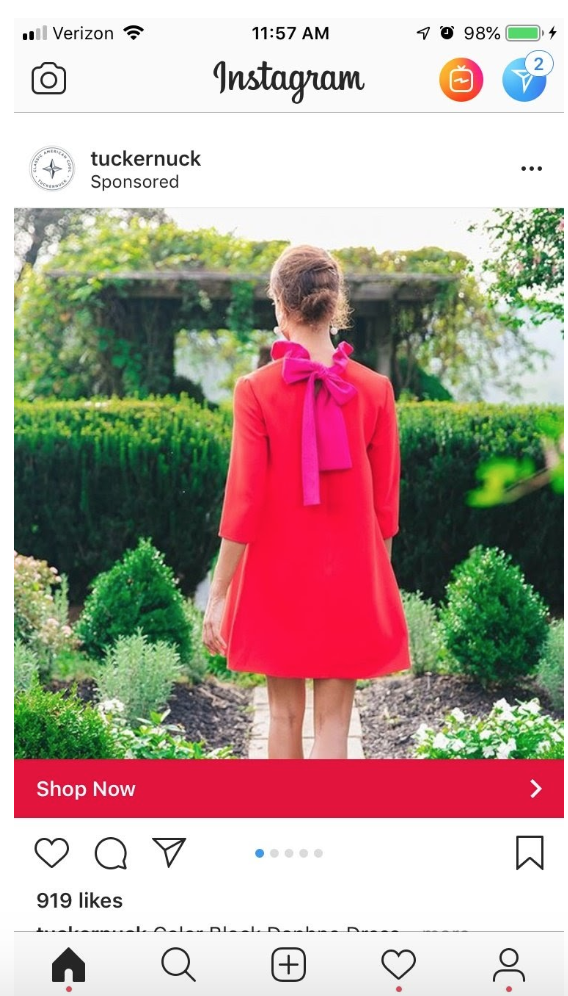 Shoppable tags
Another major business feature that Instagram has is the ability to create shoppable tags on posts. Shoppable tags allow businesses to sell the products in their posts directly through the Instagram app.
When viewing a post with a shoppable tag, details and pricing will pop up on the item if the post is clicked, as shown in the JackThreads post below.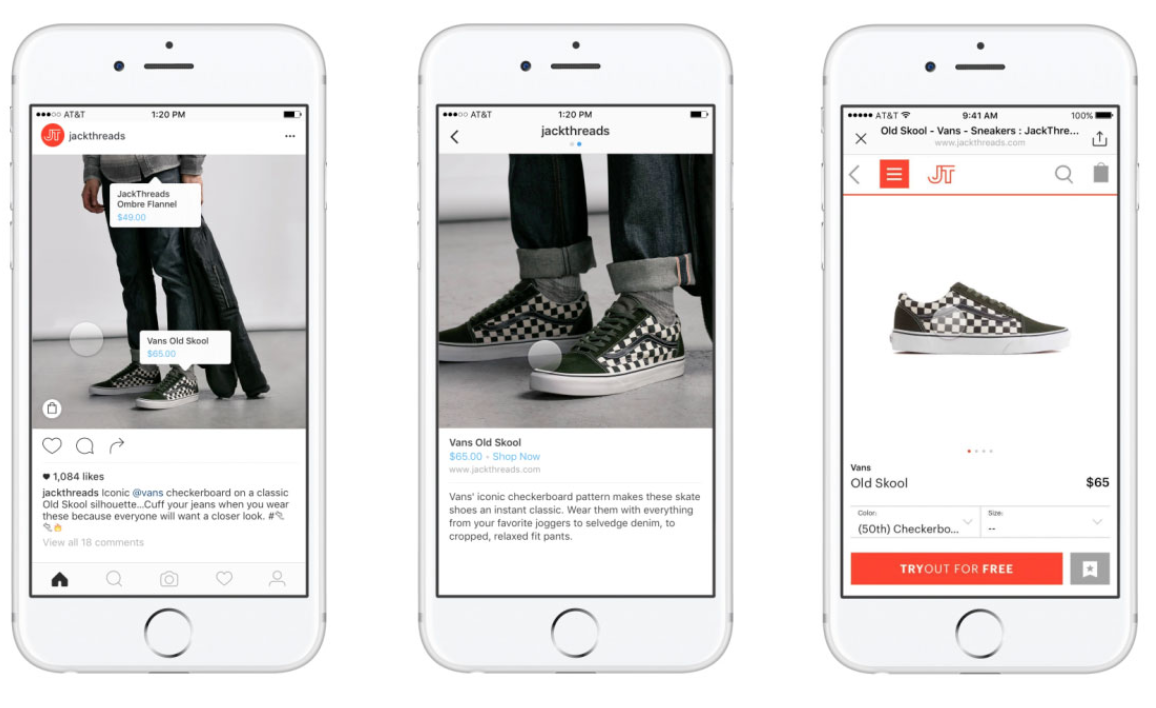 According to SproutSocial, "after seeing a product or service on Instagram, 79% searched for more information, 37% visited the retail store and 46% made a purchase." Cutting out the need to leave Instagram to make a purchase will only cause those numbers to rise.
Do use hashtags, but don't spam
Hashtags can be a great way to engage with and get found by your audience but do not abuse them.
While Instagram allows users much more freedom than Twitter and their strict character count, it's important to use hashtags that are specific to your brand or relevant to your industry or image.
#Catsofinstagram will get you in front of a lot of people, but you probably don't want to use it unless a friendly feline will be making an appearance.
Washington, DC-based antique and home decor shop Pillar & Post hits just the right notes with its use of hashtags.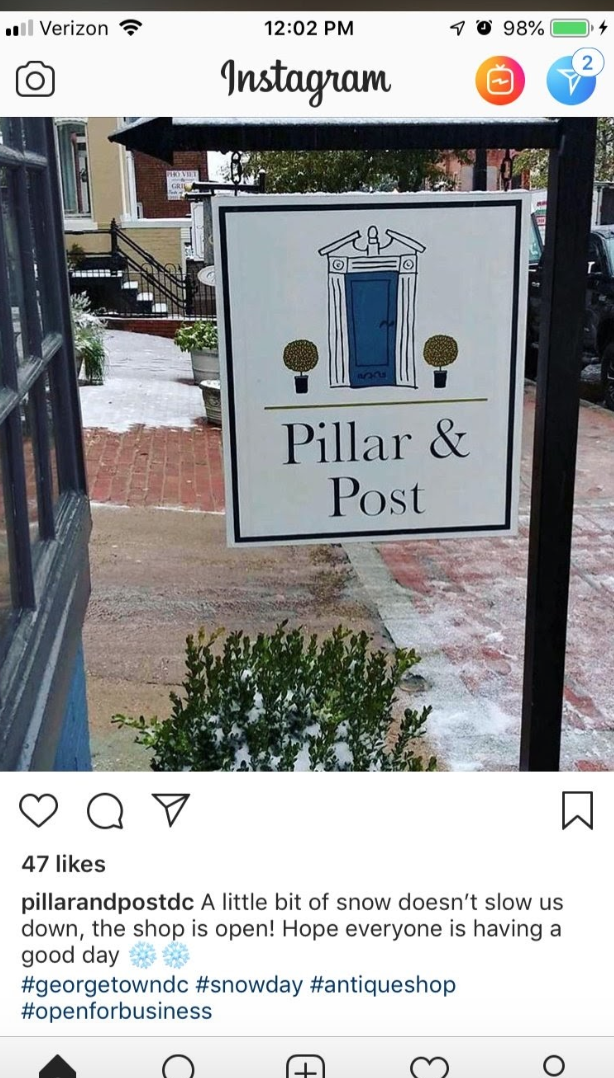 Do use emojis
Since emojis were first introduced, they've skyrocketed in use and popularity.
Not only are they fun to use and look at, but they drive quite an increase in engagements in posts that use them.
In fact, "Instagram posts that include emojis receive 17% more likes and comments than posts that do not include emojis."
In the post shown below by Tasting Table, they use emojis as a fun way to show all of the different foods included in that sandwich (I think you can call it a sandwich?).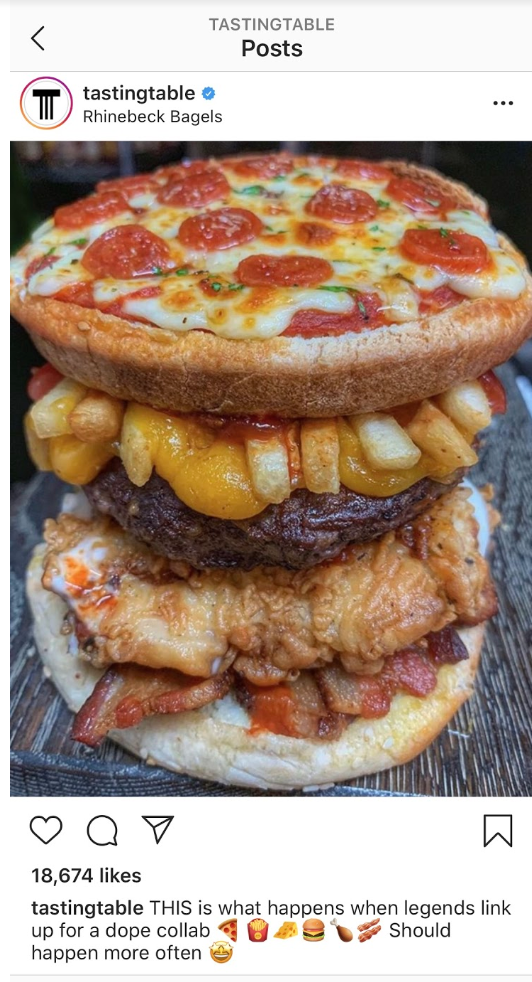 However, you don't want to use just any emoji(s) in your posts. As advised by Influencer Marketing Hub, "you shouldn't use too many emoji that your customers mightn't understand.
As with all communication, you want your social media messages to be clear to potential customers."
Before starting to incorporate emojis in your posts, determine which emojis will resonate with your audience and which ones to steer clear from.
Don't use Instagram solely for promotion
You should never over promote on any social network, but use extra caution on Instagram.
It may be tempting to post a lot of product photos or ads you'd regularly see in the sidebar of a website, but try to avoid this.
People on Instagram are looking for beautiful, striking images, not sales pitches.
If you are going to use Instagram Ads (the platform's official paid advertisements) make sure that your content is targeted to your audience and still feels natural.
Be creative, and post pictures and videos users will want to engage with.
Don't post generic or stock photographs
You want your brand to have some personality on Instagram. Don't post generic pictures that look to be carefully staged (i.e. a formal headshot). Show a little bit of a wild side.
Take pictures that show your brand's personality and office culture. The accounts and influencers that earn the biggest followings do so by being authentic and genuine with what they post. You don't want to come off like a stick in the mud on Instagram.
Be true to your brand
Regardless of the Instagram features you choose to use, everything your business does on the platform should accurately represent your brand.
From choosing what to post, like, comment on, or how to talk with followers, everyone who interacts as your brand should follow the same brand guidelines.
Once you have your business "voice" down, Instagram is the perfect place to show the human side of your brand and connect with people on a whole new level.
Free Assessment:
How does your sales & marketing measure up?
Take this free, 5-minute assessment and learn what you can start doing today to boost traffic, leads, and sales.