About Litchfield Builders
In business for over 20 years, the Litchfield Builders team combines high-quality construction and personal service to create lasting living and working spaces for their clients. With services ranging from residential additions, bathrooms, basements, kitchens, and exteriors, to custom millwork and large commercial renovations, they are proud to say they have won many local and national awards for demonstrating excellence in functionality, problem solving, aesthetics, craftsmanship and innovation. They have even been repeatedly recognized as one of the Top 50 Remodeling Companies in the United States in Remodeler Magazine's Big50 and was listed as one of Inc's 5000 fastest growing private companies in 2007.
7x
Organic Search Traffic
Established & Maintained Strong Inbound Lead Generation
The Way it Was
When Litchfield approached IMPACT, their business was primarily referral-based.
At this time, the "sales funnel" and buyer cycle were fairly unique. The cycle began with a Satisfied Current or Previous Customer who recommended Litchfield to a friend, creating a referral lead. This lead got in contact with Litchfield and depending on the project and price sensitivity of the prospect Kevin would follow up with an on-site consultation and quote.
The team, however, wanted to build awareness of their brand outside of this networks and attract new clients.

In addition, Litchfield Builders' website was static, acting as an "online brochure," with many broken links and images. This site was generating very little traffic and had no conversion points.
The Pain Points
The company's current site was outdated and the team knew that it needed to start adopting more digital marketing efforts. It wasn't doing much online and knew that's where a lot of its buyer personas were doing all of their research. Their site also had no effective conversion points at any stage of the funnel.
What They Decided to Do
Referred by a past client, Godfrey Hoffman, Litchfield decided to go full-force into an inbound marketing agreement with IMPACT to develop a completely new website and implement various inbound marketing best practices. This included:
A full website redesign

A strong focus on improving their current SEO and Local SEO efforts

Landing page creation for premium content offers and service offerings

Social media creation and optimization

Blog development and strategy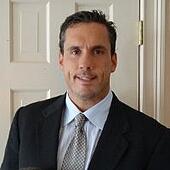 IMPACT's work on our website and their creative marketing strategies have made a significant "impact" on our site traffic, leads, and consultation requests.
Their creative vision has helped us showcase our residential and commercial remodeling projects for prospective clients, along with inbound marketing strategies to keep a steady pipeline of qualified leads and expand our reach beyond that of our existing clients.
Kevin Ahern President, Litchfield Builders, Inc.
How We Helped
Content Creation & Blogging: For the audience we are trying to reach, we try to stay away from instructional "how-tos" or "do-it-yourself" articles and focus more on general, educational tips for both blogs and offers. For example: "4 Tips for Planning Your Dream Kitchen," "When is it the right time to remodel?," and "3 Reasons Not to Skimp on Your Commercial Remodeling."
The goal of the content was to educate prospects about construction and remodeling best practices so that they will be better equipped to make informed decisions during their project and simultaneously showcase the team's expertise. Topics that accomplish this include: "Basement Finishing Ideas: Read this Before Your Basement Remodel," "How to Effectively Budget for Your Commercial Remodel," and "Preparing for Life Transitions: Everything You Need to Know About In-Law Apartments."
SEO: The new website and blogs were optimized for keywords that focused on
"remodeling," "new construction," "kitchen remodeling,", and "bathroom remodeling," as well as the more location specific keywords "CT remodeling," "Connecticut remodeling," "CT commercial construction," and "CT residential construction."
Location specific landing pages were also created and optimized for the counties and towns within their service area.
Social Media: We use social media not only as another outlet to share our blog articles and offers, but to drive traffic back to the Litchfield website, engage our prospects and existing clients in conversation, and encourage "recommendations" and "reviews."

Email Marketing was also an area of focus. Creating effective lead nurturing campaigns helped move top of the funnel leads down the funnel into sales opportunities.
The Way it is Now
Currently, Litchfield Builders has improved their organic traffic growth consistently year over year. Because of their strong local search growth, they consistently receive several highly qualified leads every month, especially in high-profit commercial projects.

Social media has also proven successful, building a strong presence in the community among popular platforms such as Houzz, Twitter, Facebook and LinkedIn. With the help of HubSpot, Litchfield is able to share their quality content with their social following 10-15 times a day, establishing strong and consistent engagement.
The Results
Impressive Organic Traffic Growth

While working with us, Litchfield Builders' organic traffic has increased by 700% and it's total monthly visits are 10x than when they started with us. A local business with a strict service area, this is a healthy amount of traffic the organization can be proud of.

Consistent Monthly Residential and Commercial Consultation Requests
Litchfield also enjoys consistent qualified monthly and residential consultation requests with its consultation pages ranging from 10-20% in conversion rates.
In general, the company's lead generation has dramatically improved. Their most popular premium offer, "How to Pick a Home Remodeling Contractor" has a 20% conversion rate.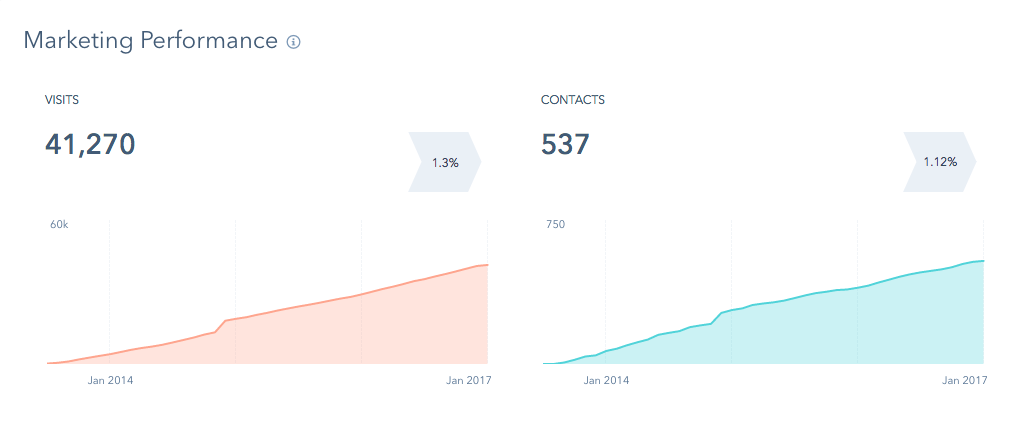 Strong Local SEO Presence in Connecticut
Thanks to our local landing pages, Litchfield now ranks within the top ten for several competitive search terms include. These include:
builders in hamden, CT - #1 (difficulty rating of 79)

time and materials service in connecticut #1 and #2

ct commercial contractors - #2

custom millwork new haven - #3

connecticut commercial remodeling contractor - #3

remodelers residential new haven county - #4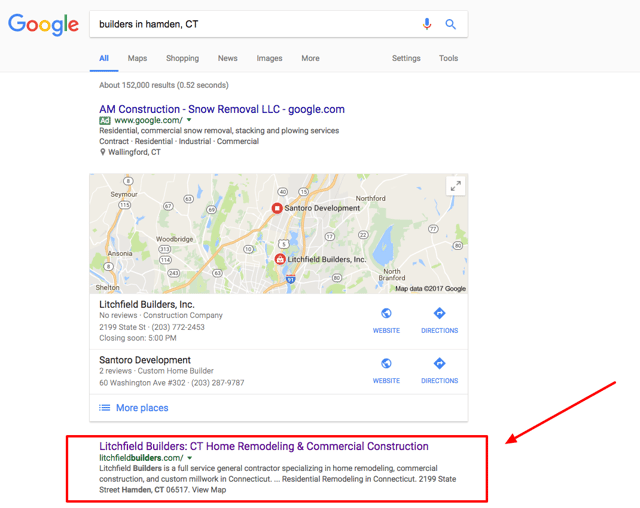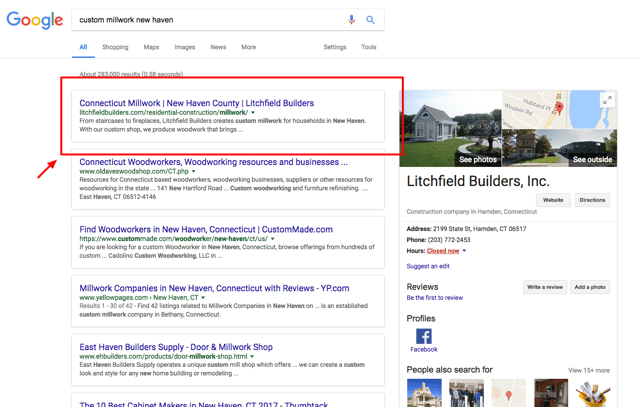 Take the guesswork out of your marketing in just one phone call
We respond to requests immediately, so we'll get back to you super fast to set up a time to chat.