About Company
FourV Systems is a leading cyber security startup located in the heart of Baltimore. In the face of the growing volume and severity of cyber security incidents, FourV's GreySpark platform provides organizations with a cyber-specific business intelligence dashboard that enables them to analyze, prioritize, and manage IT security risks.
450%
Lead Generation Growth, Month-over-Month
125%
Organic Website Traffic Increase
7
Deals Generated in Sales Pipeline
What We Did
The three phases of IMPACT's marketing strategy for FourV were short-term, mid-term, and long-term, with clearly-defined deliverables and objectives for each stage:
Short-Term
Defining FourV's four key buyer personas. Immediate "gating" of existing content, development of a centralized website knowledge center for the company's webinars, white papers, eBooks, and premium content offers, as well as an email nurturing strategy targeted at the company's current prospects.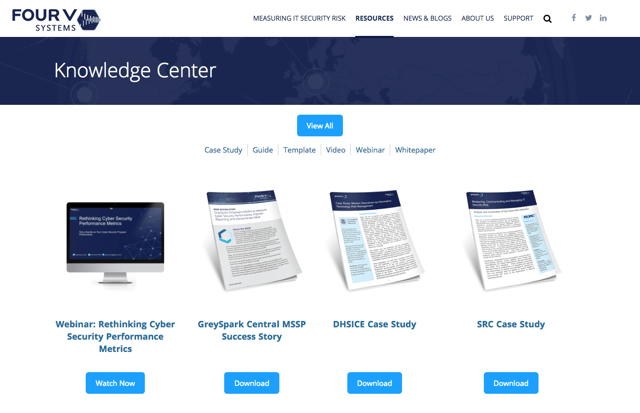 HubSpot Tools Used: Landing pages, personas, website platform, form builder, email marketing and workflows.
Mid-Term
Development of marketing and educational content, as well as a web-based resource center for channel sales partner and managed security services provider (MSSP) personas.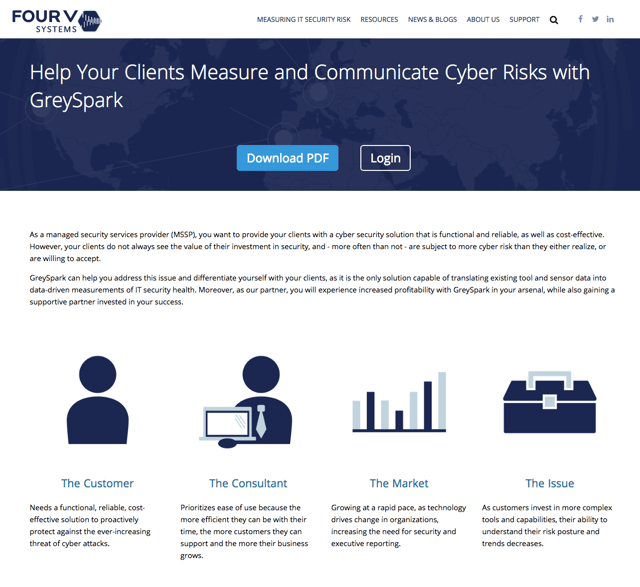 This included updating website pages, creating partner program materials (brochure, landing page, forms), related content offers and email nurturing workflows that supported the growth and expansion of the company's partner channel.
HubSpot Tools Used: Landing pages, website platform, form builder, email marketing and workflows.
Long-Term
Development of an SEO-focused blogging and content offer strategy to drive increased organic traffic and capture qualified top-of-the-funnel sales leads.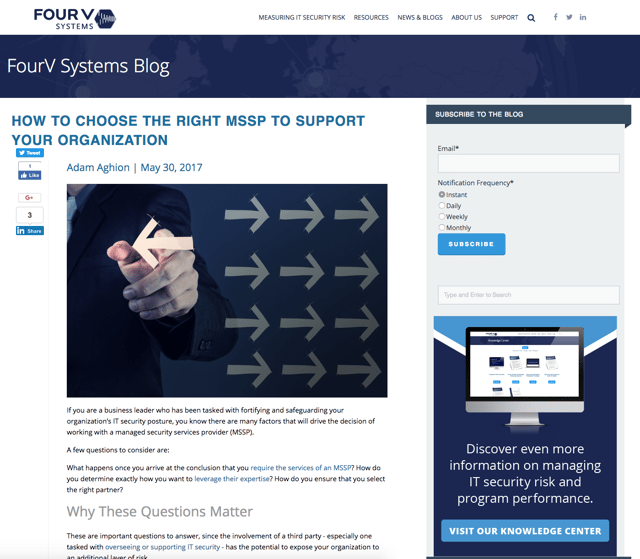 We combined this effort with a strong nurturing email marketing workflow strategy to help move new leads down the funnel once converted.
HubSpot Tools Used: Blogging, landing pages, form builder, email marketing and workflows.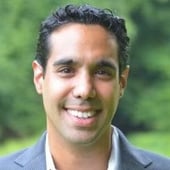 "I appreciate working with IMPACT because they are easily accessible and attentive to our needs. They balance respect for our calendars with the communication necessary to ensure timeframes are met and goals exceeded. Everyone on the team is always timely and well prepared.
Most importantly, although they guide us based on experience, they are willing to modify their deliverables based on our feedback. They take the time to ask the right questions and it's evident that they really listen to our answers. The quality of their work is truly top notch."
Adam Aghion Director of Channel Sales and Alliances, FourV
The Results
FourV saw outstanding results over the first 90 days in working with IMPACT and using HubSpot.
Pipeline:

7 deals in pipeline, including 5 marketing qualified, 1 sales qualified and 1 in progress.
Bottom of the Funnel Leads:

5 GreySpark demo requests and partner applications.
Website Traffic:

40% month-over-month growth in website visitors overall.
Organic Traffic:

125% increase in organic website traffic.
Leads:

450% month-over-month growth in lead generation.
To this day, they continue to see exponential growth in lead conversions, month-over-month:

In addition to bringing in new qualified leads, IMPACT empowered FourV to engage with 1,500 pre-existing HubSpot contacts in their database, through targeted re-engagement campaigns, that had been left out of previous marketing outreach efforts.
Take the guesswork out of your marketing in just one phone call
We respond to requests immediately, so we'll get back to you super fast to set up a time to chat.