About FourV Systems
FourV Systems is a leading cyber security startup located in the heart of Baltimore. In the face of the growing volume and severity of cyber security incidents, FourV's GreySpark platform provides organizations with a cyber-specific business intelligence dashboard that enables them to analyze, prioritize, and manage IT security risks.
2X
Increase in Visitor-to-Lead Conversions
250%
Increase in Blog Views
182%
Increase in Blog Subscribers
WordPress CMS vs. HubSpot Website Platform
Twenty-five percent of websites on the internet are built upon the WordPress framework. Accordingly, WordPress is supported by thousands of developers with custom plugins, themes, and other tools to help organizations execute inbound marketing-focused strategies through their websites and content.
FourV could have simply integrated the marketing and sales functionality manually with their WordPress website, but the level of effort required to configure a suite of plugins that would still only be a weak facsimile of what the HubSpot platform could do did not make sense.
Instead, the company wanted to take advantage of HubSpot Website Platform.
We often recommend the HubSpot Website Platform to clients who want a website that is more than a digital brochure, for the following three reasons:
An Easy-to-Use CMS, Built for Attracing & Converting Ideal Customers
Websites built on HubSpot are lead-generation machines thanks a seamless, full-stack integration with HubSpot's marketing and sales tools.


A Consumer-Focused, Mobile-First Approach to Design
In 2017, mobile had a 71%-share of total minutes spent online in the U.S. The HubSpot Website Platform, at its core, fully embraces a mobile-first approach to design, giving you a competitive edge.


Website Page Templates That Are Easy to Edit & Maintain
Whether it's team additions (or departures), product updates, or a couple of small tweaks in copy, business websites are always changing. The intuitive simplicity of the HubSpot Website Platform means organizations don't have to rely on their agencies to make every single update -- they're in control.
A 3-Part Plan of Action to Meet FourV's Goals
Understanding that FourV's objective was to launch a website that helped better communicate the value proposition of their products and brand -- and, ultimately, convert more visitors into leads -- we developed a comprehensive website and inbound messaging strategy in three parts:
Migrate the company's website from WordPress to HubSpot and relaunch 90 percent of their site pages with a more refined, modern look and feel;


Leverage HubSpot's Smart Content tool to create more tailored websited experiences for leads, with audience-specific messaging strategies; and


Implement the IMPACT Blog Optimization Package to transform their blog from an educational tool to a magnet for inbound leads.
FourV and IMPACT agreed upon two measurements for success. The company would see an increase in overall website visitor-to-lead conversion rates, and IMPACT would implement an improved, tailored messaging strategy on their website for specific audience segments that represented FourV's ideal customers.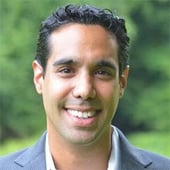 "I appreciate working with IMPACT because they are easily accessible and attentive to our needs. They balance respect for our calendars with the communication necessary to ensure timeframes are met and goals exceeded. Everyone on the team is always timely and well prepared.
Most importantly, although they guide us based on experience, they are willing to modify their deliverables based on our feedback. They take the time to ask the right questions and it's evident that they really listen to our answers. The quality of their work is truly top notch."
Adam Aghion Director of Channel Sales and Alliances, FourV
Then vs. Now: FourV's New Website
First impressions often make or break relationships -- especially those between businesses and desirable prospects.
That's why the FourV homepage underwent a substantial redesign that not only involved a more polished aesthetic, but also a more structured approach to self-identification and communicating the company's value proposition.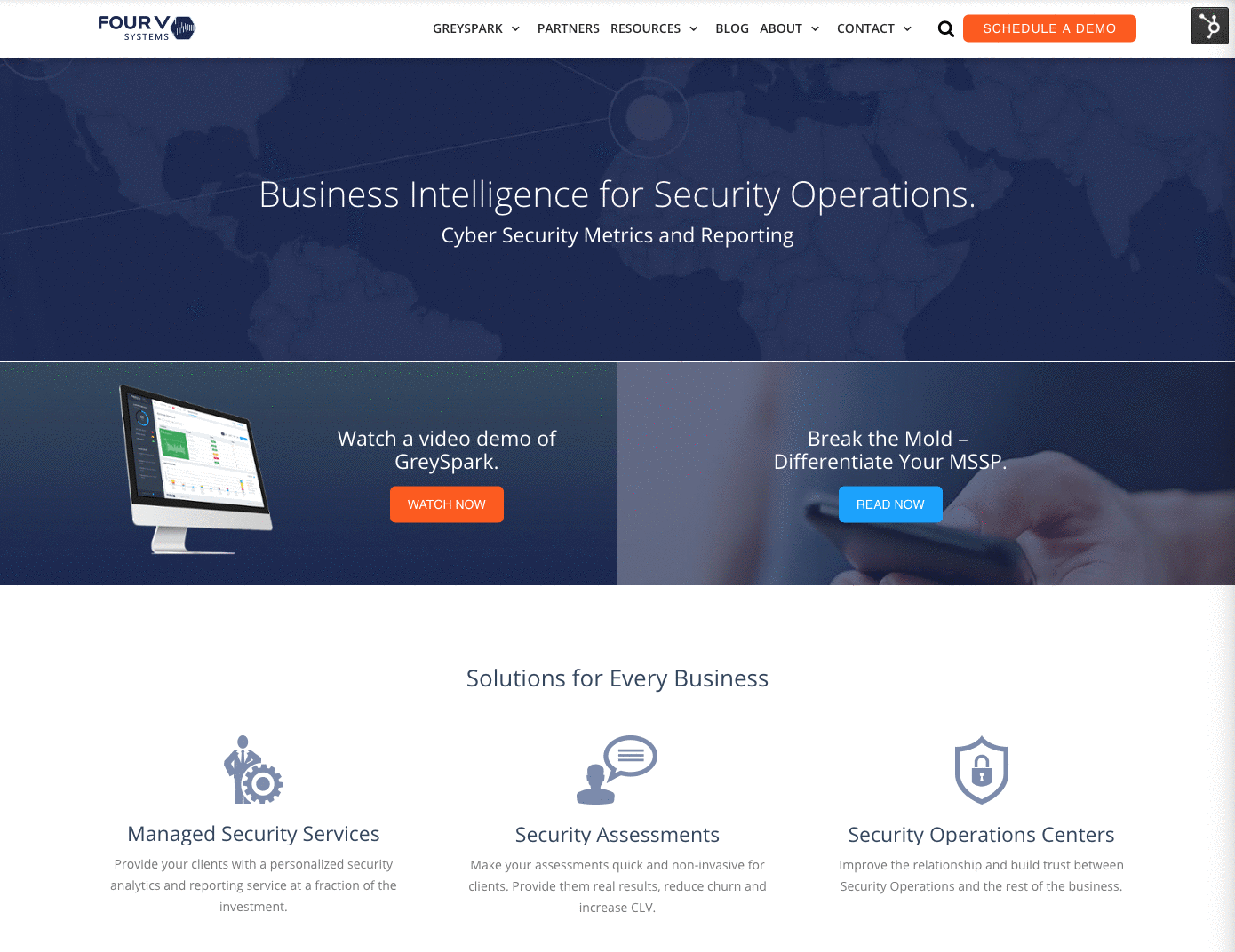 The new FourV Systems homepage design.
In the new version of homepage, the value proposition of FourV Systems is front and center -- "Business Intelligence for Security Operations."
Shortly thereafter, visitors have the option to learn more about their product -- GreySpark -- or, if they're managed security service providers (MSSPs), they have the opportunity to learn more about the value FourV can provide.
In addition, the homepage demonstrates a clear pivot in messaging from talking about solutions and what "FourV can do for you," to leading with the pain points and goals of their ideal customers, without mentioning FourV.
For example, "Improve the relationship and build trust between Security Operations and the rest of the business," is a solution articulated from the viewpoint of their target persona. It can be achieved with FourV and their GreySpark cyber security BI solution, of course,but the strategic choice was to focus solely on the concerns of their visitors until they had self-selected to learn more about how to achieve their goals or solve their problems.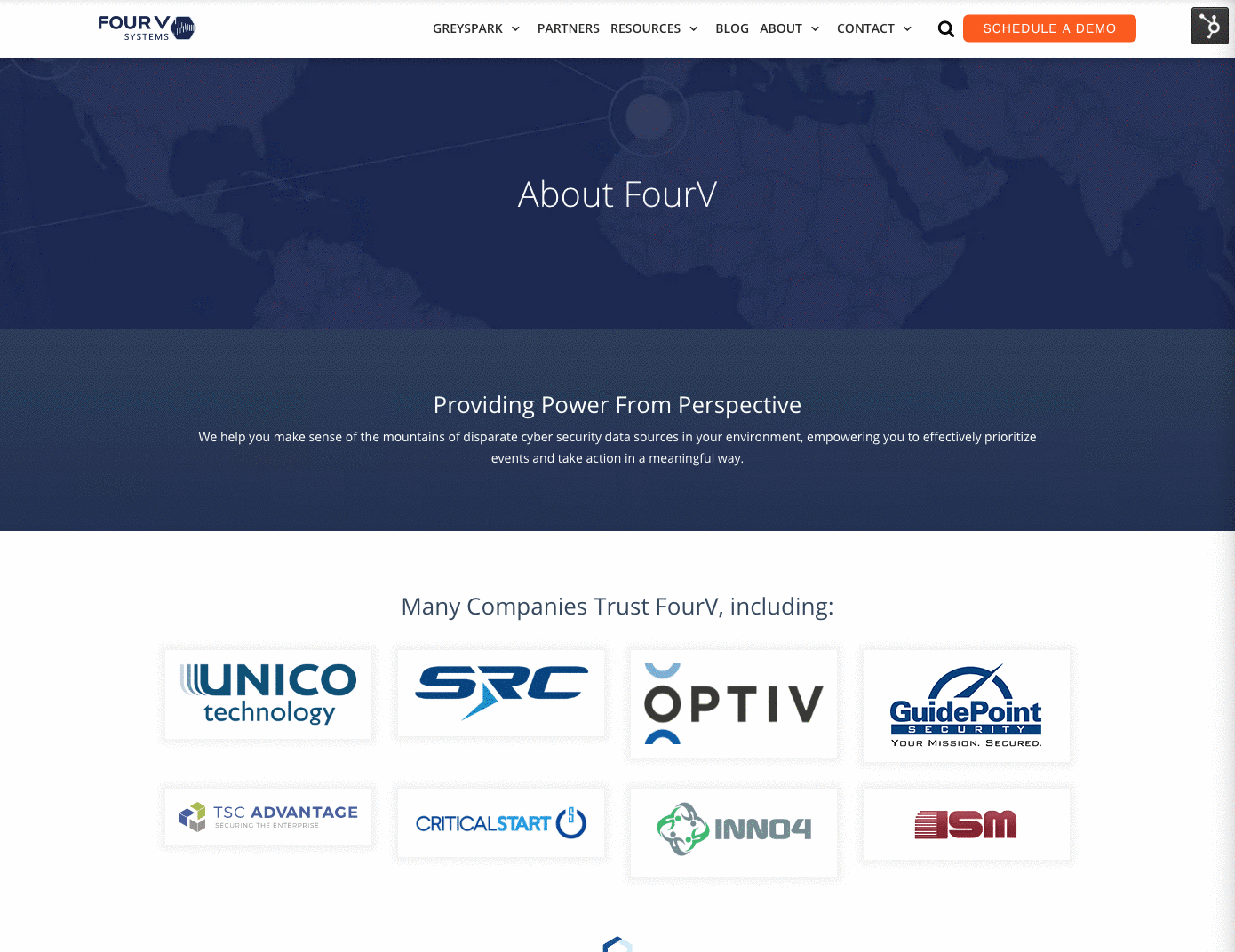 The new FourV Systems About Us page.
An About Us page can easily be treated as an afterthought during a website redesign. The approach we took at IMPACT, however, was to create an About Us page for FourV Systems that empowered visitors to validate on their own that the company was a trusted cyber security partner, and to either qualify or disqualify themselves as the right fit.
The original version of this page was text-heavy with messaging focused around how they use technology to calculate cyber risk indicators. Beyond that, it provided an opportunity to learn about the team or careers available at FourV.
Instead, we designed an About Us page with lead with the logos of organizations that already work with -- and trust -- FourV -- their core values, their mission, and vision. Finally, we strategically placed nods to their value proposition and solutions on the page, with calls-to-action that supplemented the narrative.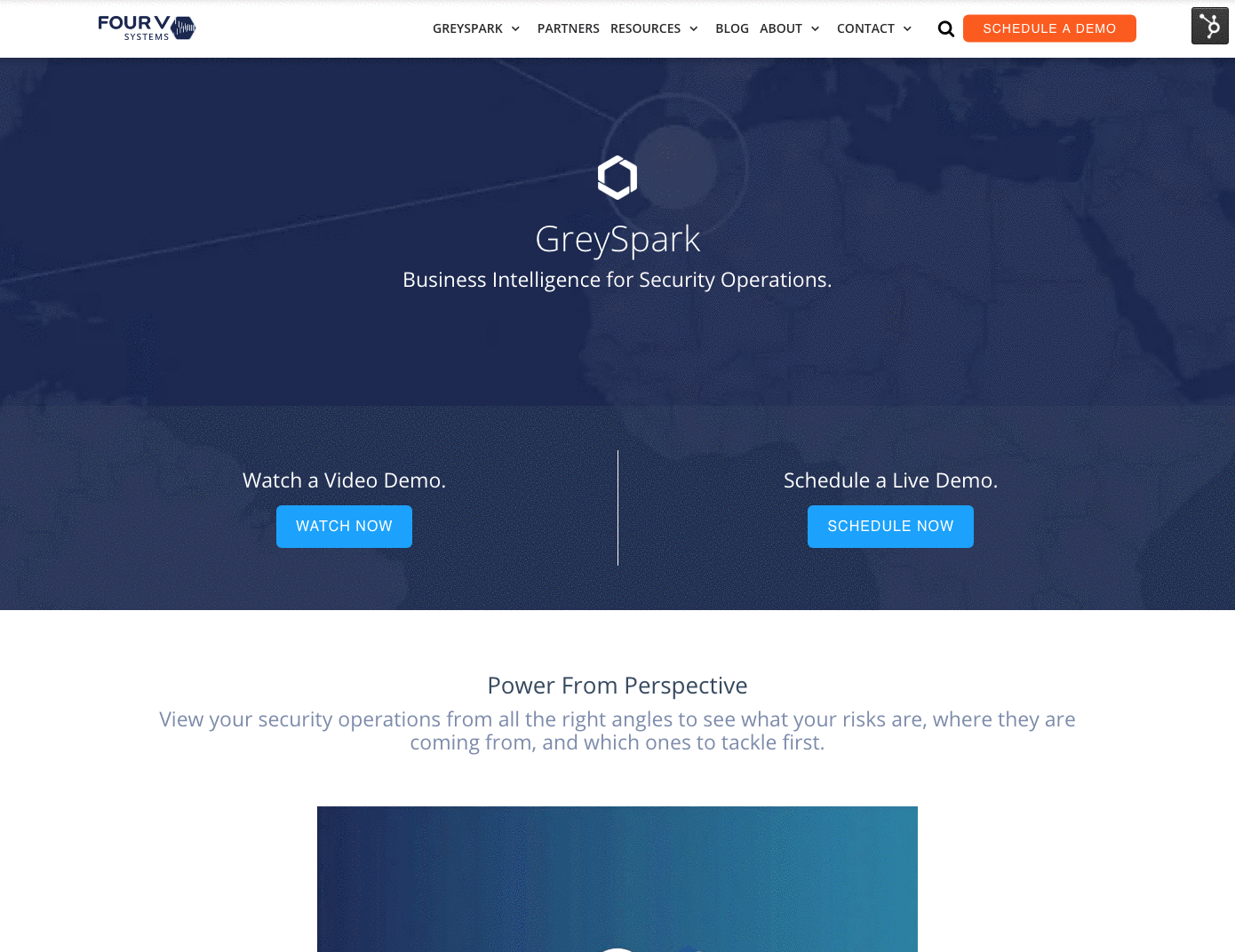 New page for FourV's GreySpark solution.
GreySpark is the platform developed by FourV to deliver on the promise of providing cyber security business intelligence for security operations.
In the previous iteration of their website, GreySpark's footprint was somewhat disjointed, with multiple pages devoted to explaining the product and providing demo opportunities. Additionally, the messaging around the product was an area where the company they knew required help.
Much of the original copy was technical, and they used static screenshots of the tool in action, but it still fell short of clearly articulating the power and value of GreySpark and conveying the proper amount of urgency to entice visitors to learn more about GreySpark.
Through the new website, the GreySpark footprint is centralized. The on-page copy and design is structured in a way that puts the goals and the problems of the visitor first, clearly explaining what GreySpark will enable them to do in the terms of FourV's ideal customers -- "make decisions faster, track tangible metrics, simplify reporting."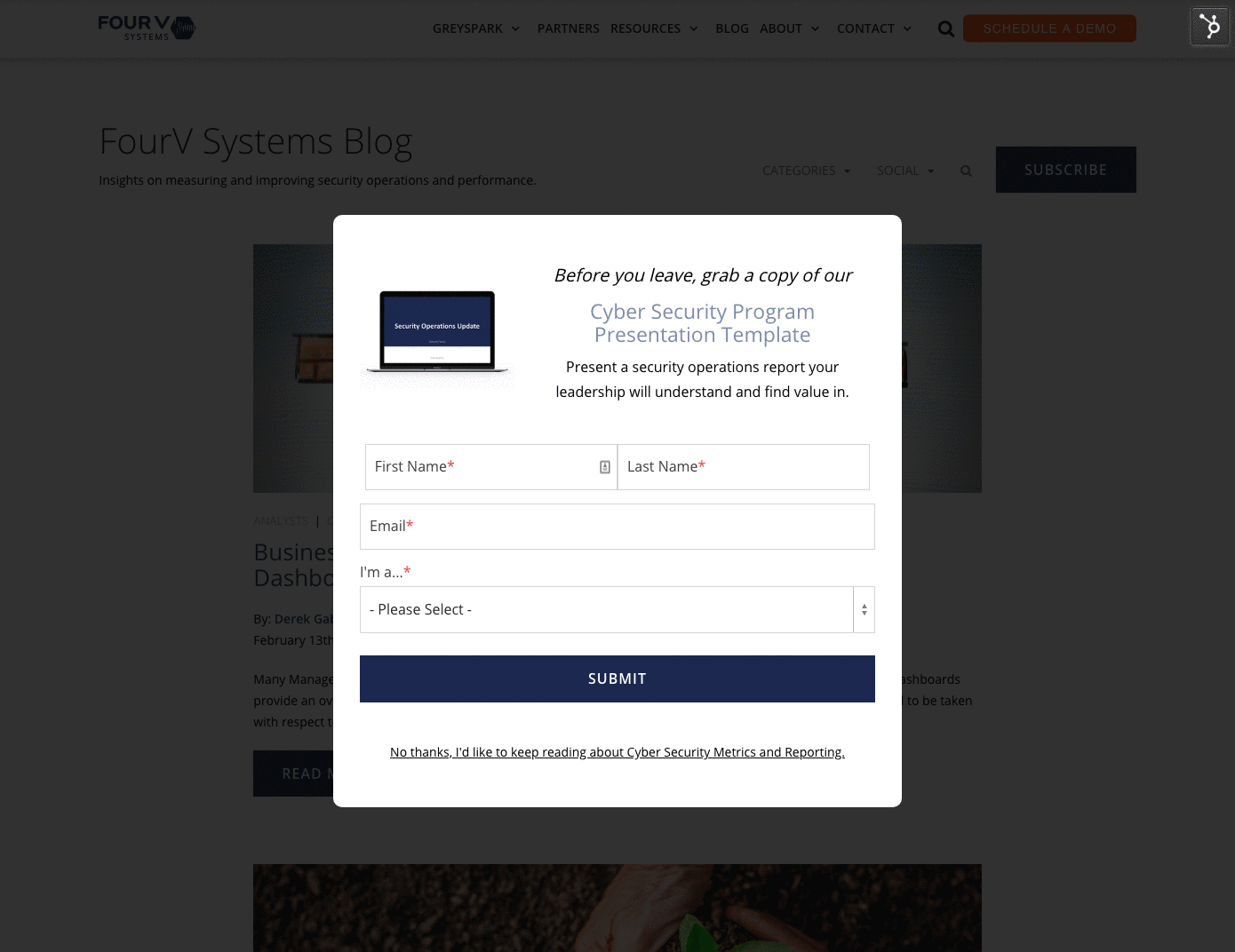 The final touch was their redesigned blog, which was designed to be more visual and provide more conversion opportunities with well-placed CTAs, as well as an exit intent-based pop-up for a content offer relevant to their visitors.
The Results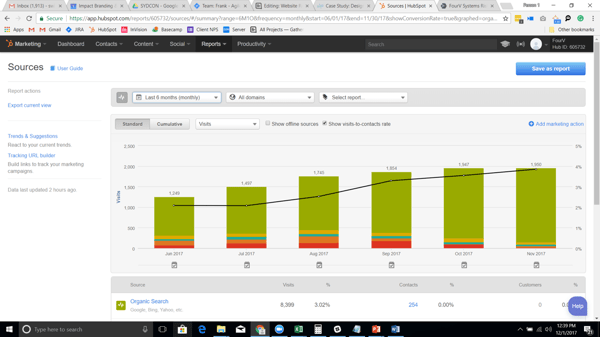 Following the launch, FourV saw a jump from 2 percent to 4 percent in their visitor-to-lead conversions, with continued growth expected.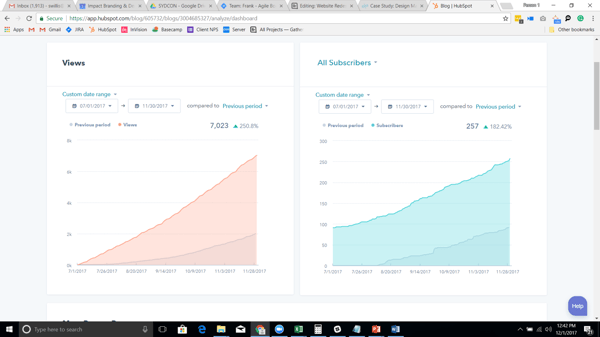 In addition, they've seen a 250 percent increase in blog views and a 182 percent increase in blog subscribers.
Take the guesswork out of your marketing in just one phone call
We respond to requests immediately, so we'll get back to you super fast to set up a time to chat.