Changes Coming to The IMPACT Show, Deceptive Design Practices Under Fire, & Facebook Ad Examples ...This Is THE LATEST!
I have a bit of honest-to-goodness vacation time coming up.
Not "I have to take the afternoon off for the doctor!" or "I'm going to a conference, so I'll be off for a few days!" time off. Starting on April 18, I will have 11 days for some long overdue, totally selfish "me time."
Well, OK, I'm moving in that timeframe into a new house, but still -- at least seven of those 11 days will be mine and mine alone to do whatever I see fit.
And for part of that time, I saw fit to book myself two nights at a Getaway House in the Shenandoah Valley of Virginia: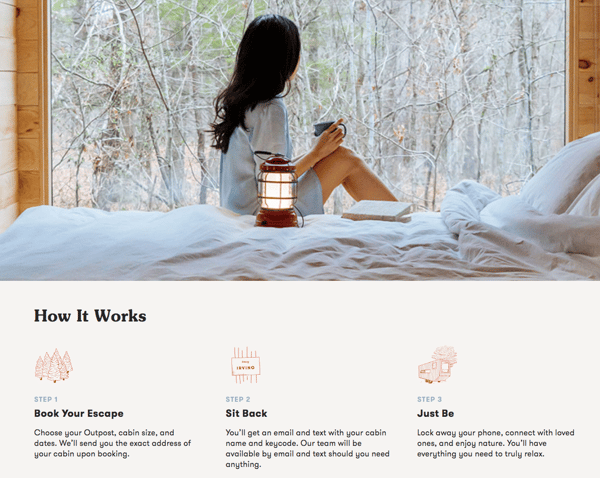 Along with my dog, Nugget, I will spend two days and two nights by myself disconnected from the world and recharging in a gorgeous tiny cabin in the woods: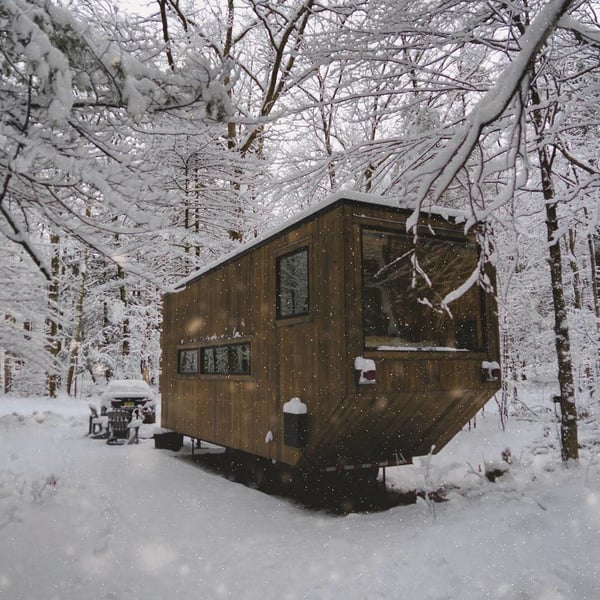 Twenty-something me is totally laughing at 30-something me right now.
"A tiny cabin in the woods with no internet? For two whole days?! Are you insane or just the most boring woman on the planet?"
First, I am both. I am strong enough to admit that.
Second, what I needed to recharge 10 years ago is not what I need to recharge today. This year, more than any other year of my life, I've become keenly aware of how I've changed over time.
There are some occasions where that freaks me out -- you'd better calm down up there, gray hairs! -- but, for the most part, I'm embracing what's changed. Change is good. Change is healthy. Change is often a signifier of growth.
It can be hard to say goodbye to the way things once were, but we can't spend all our time looking behind us at the past. At some point, you need to look ahead, embrace what has changed, and see what's possible down the road.
💥 There Are Some
Big Changes Coming to Season 3 of The IMPACT Show with Steph & Nick!
The IMPACT Show is (and always has been) a way for us to connect on a deeper level with our biggest fans, to share an early look into what IMPACT is working on and learning, and to try out new things. Although, it was originally envisioned as a 24-part limited series, and as of today, we've published 73 episodes. In this article, IMPACT Director of Audience Engagement & Community Stephanie Baiocchi shares what we've learned from The IMPACT Show in that time, how it's evolved already, and what you can expect in season three of the show.
🎨 "Dark Pattern" Design Practices Are the Target of New Senate Legislation
In the world of design, there is an unfortunate blurring of the lines between how we influence consumer behavior through design -- button placements, knowing how colors make people feel, and so on -- and straight-up consumer manipulation through "deceptive" online experiences that "impair user autonomy, decision-making, or choice." A new bipartisan piece of Senate legislation seeks to protect consumers from shady website design, and here is what you need to know about it -- including what types of websites are included in the bill and which design practices are being targeted.
📊 You Have a Ton of Marketing Data at Your Fingertips... Are You Making the Most of It? [Sponsored By ReachForce]
As marketers, we collect a wide array of data about our customers; from basic demographic information and buying habits, to preferences and products used. But once we have all this information, are we making the most of it? Probably not. You can take the guesswork out of creating more targeted marketing campaigns by more effectively leveraging the data you already have at your fingertips. This guide dives into the holistic state of marketing data as it is today, the challenges we all face, and how you can start using your data to its full potential.
🏆 Here Are 9 World-Class Examples of Facebook Ads That Get Results
When it comes to putting your money where your digital mouth is, how confident are you that you're saying the right thing, reaching the right audience, and spending your digital marketing dollars wisely with your Facebook and Instagram ads? We ask, because we've seen a lot of organizations waste thousands of dollars on Facebook ads. To help you make the most of your digital ad spend, Facebook Strategist Ali Parmelee has broken down the Facebook ad best practices you need to know, and nine real-world examples of those best practices in action.
👀 ... When You're All Ears (& Eyes)
⚠️ Save Your Seat!
⏰ Throwback Thursday
Video isn't the future. Video is here to shorten your sales cycle, help you build trust faster... and, for some of you, make your lives h-e-double-hockeysticks because you'd rather go through an IRS audit than be forced to sit in front of a camera.
Well, I was once that person who dreaded being on-camera. But I decided to make 2018 the year I conquered my fear of being "the talent" for marketing and sales videos -- and here are the five tricks I shared late last year for being comfortable and likable on video... from someone who used to hate video.
Later, squares!