Google-Approved Google Analytics Checklist, How to Get Started with Facebook Ads, & the Fears of Leaders ...This Is THE LATEST!
💯 Jump Right into the Good Stuff!


⚠️ What is one thing I can do to make this more valuable for you? This week, I'm asking you to take two minutes to provide your feedback on THE LATEST, so I can continue to make this email newsletter as helpful as possible.
While it's not always glitz and glamor, I do love that IMPACT affords me the ability to work from home.
But sometimes things go wrong.
For example, last night — within minutes of sending out an update to a few folks that I was (finally) going to be pushing a big project over the finish line — the power went out in a large part of Annapolis, Maryland, (where I live) due to an electrical fire.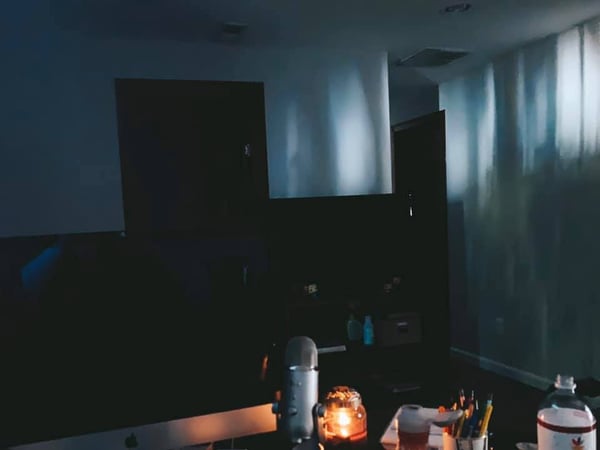 And since my home office is in the basement of my house, I definitely spent the first five minutes sitting quietly in my spooky cave trying to remind myself that I'm an adult who doesn't believe in ghosts.
Then I called the power company. First, the estimate was that power would be restored by 6:15 p.m. Then 7:05 p.m. Then 1:15 a.m. I wasn't ready to give up hope, however, so I drove to a local coffee shop.
Unfortunately, their power was also out. (Clearly, I had angered some sort of internet god. It was the only explanation.)
With a sigh, I went back home and tried to make the best of it by building a fire outside and milking whatever internet juice I could out of my iPhone's personal hotspot. But given the fact that it was 94 degrees yesterday, the mosquitos were out in full force, and my Macbook only had about 25% worth of battery life, that plan fell apart quickly.
Eventually, I flopped on the couch feeling frustrated and helpless. As if it was a shortcoming on my part that I couldn't mentally will the power back on, so I could finish my work — a completely idiotic and irrational notion, I know.
Of course, the power eventually came back in the wee hours of the morning. And the world didn't end because I had to hit the pause button on a project.
But I learned three valuable lessons last night:
Although romantic notions of reading by candlelight have always consumed me, when given the choice, I'll curl up in a ball on the couch and read Twitter by candlelight instead. Apparently, this is who I am.
I need to be OK with the fact that I can't be in control of everything all the time, especially when it comes to work. Sometimes something will break or not go as planned. And, as

Vin

told me last night over the phone when I called him,

"Don't kill yourself trying to make it work tonight. These things happen."
There is a boogeyman in my basement. You can't convince me otherwise.
And now, here's THE LATEST...
🔥 Your 6-Point Google Analytics Checklist for Clean & Accurate Website Reporting Data (Most Popular Article This Week!)
The very last thing you want to do is make important business decisions about your website based on data that isn't painting a true picture of how many people are visiting your website. (And what they're doing on your website once they get there.) Unfortunately, this is what's happening with many site owners, because the data in their Google Analytics is wrong. Thankfully, IMPACT Paid Media Specialist Dan Baum has created this simple, yet powerful Google Analytics checklist that is so good, Google shared it with their social audiences.
🔎 Related Articles & Resources
🤔 Our Facebook Ads Expert Shares Her Best-in-Class Strategy for Getting Started with Facebook Advertising

(IMPACT Exclusive)
If Facebook advertising is part of your current strategy or you're looking to integrate it into your marketing mix going into Q4 2019 and/or Q1 2020, this exclusive expert interview is for you. Facebook advertising holds a lot of promise for businesses looking to drive awareness, engagement, and revenue — especially as we get closer to the holiday season. In this exclusive expert interview, IMPACT Facebook Ads Specialist Ali Parmelee spills all of her secrets on how businesses should start their Facebook Ads strategy, as well as the best practices all Facebook advertisers need to know.
🔎 Related Articles & Resources
💥 From Google Ads to Facebook Ads, to LinkedIn Advertising and Instagram Campaigns, Our Paid Media Advertising Specialists Can Help.
⛔ How Honest Are We, As Leaders, About How Fear Influences Our Actions at Work?

(You Will Be Better for Reading This...)
As part of my duties at IMPACT, I act as a sounding board and editor for a few of our leaders and internal contributors. Then, one Saturday morning, I received a Slack notification via Google Drive that IMPACT COO Chris Duprey had shared a file with me simply entitled "Fear..." What I found was an open, vulnerable, honest retrospective on fear and its powerful influence on how actions as leaders. Whether you're a current leader or someone who aspires to be a leader one day, this radically candid, 5-minute read will change your perspective on fear, achievement, and unlocking your full potential as a leader.
🔎 Related Articles & Resources
🎧 Our Latest Shows & Podcasts
📆 Upcoming Digital Sales & Marketing Events
Heads up, Chicago! The next HubSpot User Group event is on October 8!

It will include a recap of the most critical updates from INBOUND19, and then Stephanie and Sarah (your fearless HUG leaders) will lead a discussion on how to plan inclusive holiday campaigns. You'll walk away with important e-commerce holiday dates to remember, key things to keep in mind when planning a holiday campaign, how to manage campaigns and reporting in HubSpot, and more. Reserve your seat for this event today, as Chicago HUGs fill up fast!
🌎 IMPACTers on the Move
Vidyard's Fast Forward The Video Marketing Virtual Summit returns on November 14!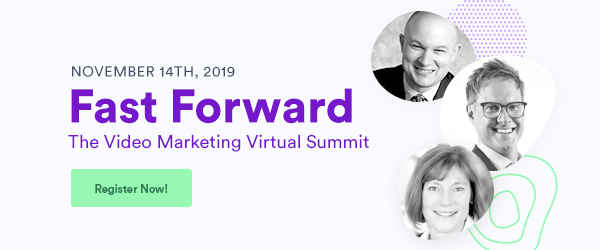 ...and our very own Myriah Anderson is part of the lineup with a can't-miss session on using video for sales:

(In case you're wondering, Myriah literally wrote the book on video for sales.)
⏰ Throwback Thursday
Look, if I can get over my fear of video, so can you. And to prove it, I got human about content marketing with the one and only Zach Basner on this week's episode of Film School for Marketers, which I invite you to check out:
🔪 One Last Thing
Maybe it's because I had no power and, thus, no other form of entertainment. But this comic made me laugh for about five minutes straight last night, and now I am passing those humor savings onto you: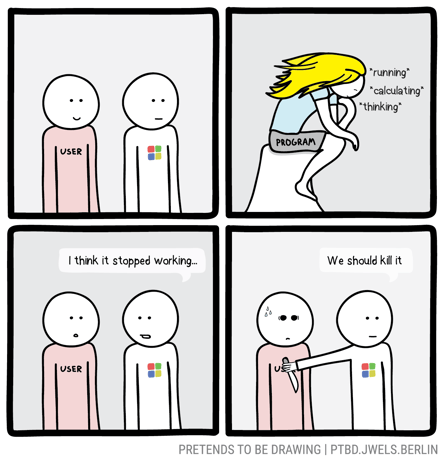 Oh, Microsoft humor...
That's all, folks! 🐷