10 essential 2021 marketing KPIs to track, 5 ways to kickstart your inclusive marketing efforts, and 6 logo design trends you can't ignore (and 3 to drop) ...this is THE LATEST!
🗞️ Extra, extra! Read all about it!
🔔 Ring in 2021 with our three brand new digital sales and marketing bootcamps! And you can

use promo code LATEST

get your tickets for only $140, instead of $399. Learn more about our upcoming bootcamps and register today!
I get it, there were a lot of big digital sales and marketing news stories this past year and there are numerous new trends we need to cover... but I'm interrupting your regularly scheduled "make smarter decisions faster" content programming for a very important announcement.
After a lot of thought and consideration — as well as an awe-inspiring moment of maturity and wisdom to realize I, in fact, cannot do everything all on my own — over the holidays, I made the decision to expand IMPACT's publishing team by hiring a new associate director of content: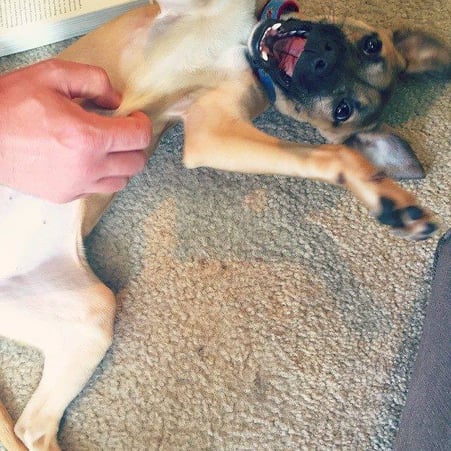 She will be living with me to guarantee streamlined, synergistic
communication and collaboration.
Nugget Moorehead comes to IMPACT with an extensive background in noms and running laps around coffee tables, as well as more than five years of experience in squirrel-chasing and trail-hiking companionship.
Although she doesn't know how to read or write — nor am I entirely sure she looks at They Ask, You Answer as anything other than a shreddable chew toy — I believe she has the tenacity, the moxie, and the out-of-the-treat-box kind of thinking that will propel our content strategy forward in 2021.
Please join me in welcoming Nugget to the IMPACT content team. And with that, here's THE LATEST...
👉 10 absolutely essential marketing KPIs you can't afford not to measure this year (9-minute read)
When it comes to setting and tracking your marketing KPIs, many marketers and business owners give all their attention to the usual suspects — sales revenue, leads, and cost per acquisition. But there are a number of other KPIs you should be tracking in order to execute a more successful digital marketing strategy — helping you to identify which campaigns and tactics are having the biggest impact so you can reach your sales and marketing goals. And in this tactics-filled article from IMPACT Talent and Office Manager Carolyn Edgecomb, you'll uncover the 10 exact KPIs you need to be measuring (no matter what industry you're in).
📚 Related reads and resources:
👉
5 quick but powerful ways to kickstart your inclusive marketing efforts in 2021
(5-minute read)
From a business perspective, diversity and inclusion isn't just a human resources initiative or social to-do. It's something that can grow your audience of potential customers and, ultimately, grow your profits when done well in your marketing. Diversity and inclusion in marketing are about questioning the assumptions you make about who uses your product or service and how they use it. And in this insightful, must-read from IMPACT Managing Editor Ramona Sukhraj, you'll discover your roadmap for getting started with inclusive marketing for your company.
📚 Related reads and resources:
👉

Here are the 6 logo trends you can't ignore, and 3 you need to drop like a bad habit this year (5-minute read)

Logo design is a tricky game, of course. Balancing trends with creating a timeless emblem of your brand is no easy task. You don't want to do anything too trendy so that you are quickly looking at a rebrand in a year or two. On the other hand, you don't want to be so safe that your logo is entirely forgettable. Lucky for you, awesome human and IMPACT UX designer Marcella Jalbert is here with the inside scoop on the must-know 2021 logo design trends and what you need to stop doing this year.

📚 Related reads and resources:
🏆 Level-up with our New Year's Bootcamps
To start 2021 off on the right foot, we're offering three bootcamps to help you kick off the new year:
IMPACT's bootcamps are a chance to dive deeper on these concepts in a more intimate setting where you can ask questions, share examples, and walk away with a plan in place for your next steps via our guided workbooks.
Get your tickets today for just $149 (normally $399) using the promo code "LATEST."
📅 Digital sales and marketing events
🌶️ Hot topics in Elite
IMPACT Elite is our exclusive Facebook group for the brightest minds in digital sales and marketing. Here's a recent discussion that caught my eye for those who work in non-profits:
👀 Weeklong nonsense
With everything going on in the world, you now get nonsense in every single issue of THE LATEST...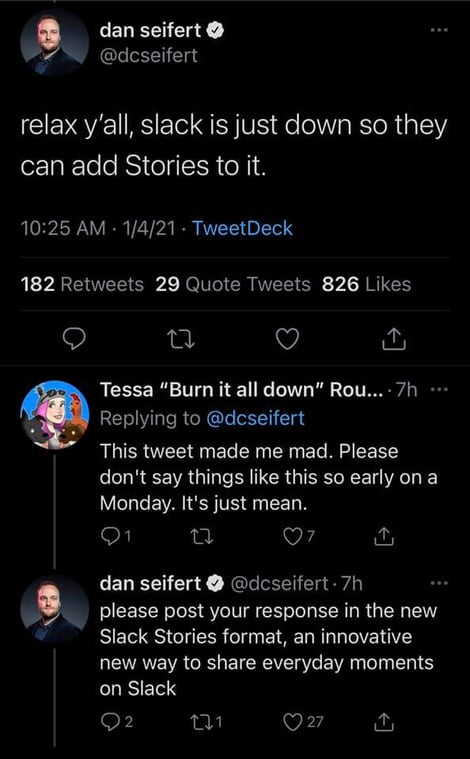 Honestly, I wouldn't put it past 'em...