Our top 10 digital sales and marketing news stories of 2020, how to run a revenue team meeting, and how to get your resistant sales team to use content ...this is THE LATEST!
🗞️ Extra, extra! Read all about it!


🔔 Get 40% off your IMPACT+ Pro membership through January 30th! Pro memberships include courses and lessons, past event recordings, virtual peer groups, future virtual events, and more! Snag your discounted Pro membership now to save.
One of my favorite feelings is learning how to do something new and then getting really good at it.
For instance, making a new cocktail. I recently attended a virtual mix-along where we learned how to make this drink: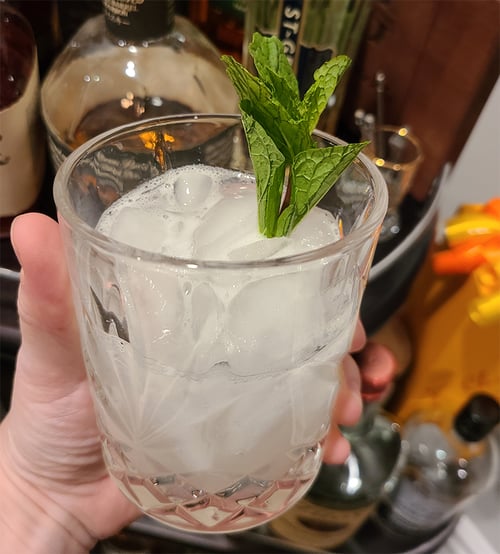 It's vodka, elderflower liqueur, lime juice, simple syrup, and mint. But like with most great cocktails, the proportions and method both matter.
I love getting so good at making a certain cocktail I can make it from memory with the perfect proportions so it turns out the same every single time. Then I keep it in my back pocket for someday when we can, ya know...have people over again.
Unsurprisingly, I tend to apply this same level of hyper-fixation to my professional life. When I started working on transitioning our in person event to a virtual one, I attended tons of other events, read articles and watched videos, joined communities of other event planners, and obsessed over learning about what others were doing in the virtual event space.
It was never going to be enough to settle for simply "putting on" a virtual event. I wanted to get so good at it that our events would be, hands down, the best digital sales and marketing events out there. I like to think I achieved this to some extent but "really good" doesn't mean perfect and it doesn't mean you stop learning or practicing either.
What's something you want to get really good at this year? Is it time management? A certain style of knitting? Maybe it's using video in your digital sales and marketing? (You didn't think I'd make it through this intro without mentioning this, did you?)
Well, if getting really good at using video in your digital sales and marketing happens to be on your list, you've got to check out our two new deep-dive bootcamps.
The Video Marketing Bootcamp is January 20th and while tickets are currently $249 you can get them for just $99 using the code STEPHANIE for the next 24 hours.
The Video Selling Bootcamp is February 3rd and for the next 24 hours you can get these tickets for just $99 as well. Just use the code STEPHANIE.
If what you're looking to get really good at in 2021 is not using video in sales and marketing, hit reply and let me know what IS on your list! I'd love to know.
Now, here's THE LATEST...
👉Our top 10 digital sales and marketing news stories of 2020
(4-minute read)
2020 was, to over-simplify, quite a year. Digital sales and marketing were certainly not immune to the madness or overwhelm, but thankfully, we have numbers on our side to offer a bit of clarity. What stories mattered? What could we filter out? What did we need to take into the new year? In this insightful round up, IMPACT Associate Director of Content Ramona Sukhraj pulled together the news stories that saw the highest traffic on our site last year and what you need to know as we charge into 2021.
📚 Related reads and resources:
👉
How to run a revenue team meeting (+example agendas)
(14-minute read)
A revenue team brings together key sales and marketing players within a company into one team that is centered around the shared goal of increasing company revenue, though the implementation of a content strategy. But, how do you actually successfully run a revenue team meeting? IMPACT Digital Sales and Marketing Coach Chris Marr dove into the nitty gritty of how to run a successful revenue team meeting complete with example agendas.
📚 Related reads and resources:
👉

Sales enablement content: How do you get your resistant sales team to use it?

(8-minute read)

You've produced great content, probably a bunch of it. But, when you ask the sales team to start using that great content? You hear crickets. You know how important it is for the sales team to embrace your culture of content and yet nobody is listening. Or, maybe they're listening, but they're not really hearing you. In this helpful article, IMPACT Director of Inbound Training and Video Strategy Zach Basner unpacks how he thinks about buy-in in stages and how this can help you get your resistant sales team using content.

📚 Related reads and resources:
🎧 Hot off the press podcasts
A couple new podcast episodes dropped this week and I wouldn't want you to miss out on them!
📅 Digital sales and marketing events
🌶️ Hot topics in Elite
IMPACT Elite is our exclusive Facebook group for the brightest minds in digital sales and marketing. Here's a recent discussion that caught my eye:
What's the best approach for building sub-brands under a parent brand in the HubSpot CMS?
Selfishly, I also started this thread. Wanna share something you're proud of? Need to vent? This is the spot!
👀 Weeklong nonsense
With everything going on in the world, you now get nonsense in every single issue of THE LATEST...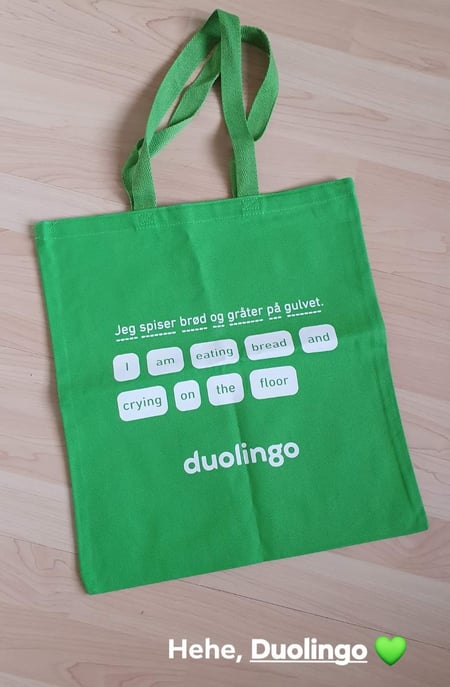 My friend Katarina got this tote bag from Duolingo. Pretty on point f you ask me.
Side note: I'm also trying to get really good at speaking French. And by that, I mean, I'm just starting to learn French.