3 powerful landing page conversion tips, Google testing short-form video carousel on mobile SERPs, and how to spend your monthly digital marketing budget

...this is THE LATEST!
🗞️ Extra, extra! Read all about it!


🔔 Get 40% off your IMPACT+ Pro membership through January 30th! Pro memberships include courses and lessons, past event recordings, virtual peer groups, future virtual events, and more! Snag your discounted Pro membership now to save.
As digital marketing nerds, we thrive on big goals, right?
Maybe you want to get more leads that, you know, are actually qualified for your products and services. Or perhaps you want to increase lead conversions on your landing pages, because those are kind of important to this whole inbound marketing thing.
That is, of course, unless you're where I am currently...
In the world of Ham (left) and Nugget (right) — which exists in the 2-foot radius around this desk — the only goal they have is to improve their hand-to-mouth treat conversion ratio.
As much as I hate to admit it, they do possess some of the traits we look for — e.g., grit and determination to reach their goals against all odds — in the digital marketing pros we hire. I'm just not sure they have the right goals and aspirations to survive in this industry.
Now, here's THE LATEST...
👉 3 super powerful ways to dramatically increase your landing page conversions (8-minute read)
By a show of hands, how many of you are sick and tired of blog articles and videos that promise to help you strike some sort of landing page conversion goldmine, so you can spend the rest of your days sipping on piña coladas in Bora Bora? Yeah, us too. (Although some hang time on the beach does sound nice right about now.) Thankfully, out-of-this-world IMPACT Account Manager Hannah Woods is here to make your life easier with these three simple, effective, and crazy powerful tips for boosting landing page conversions... and they actually work.
📚 Related reads and resources:
👉
Google is now testing short video carousels in mobile search results page listings
(2-minute read
)
Consumers' insatiable appetite for short-form video has spawned Google to get in the game, search-wise. Google is now testing a new mobile search-dedicated carousel in the search engine results page (SERP) for short-form videos that will include TikTok and Instagram clips. So, what do you need to know about this new potential Google SERP feature? IMPACT UX Designer Joel Waggener has you covered with this article, which lays out what Google's new mobile search video carousel means for digital marketers and brands.
📚 Related reads and resources:
👉

When it comes to your monthly digital marketing budget, how should you be spending it?

(9-minute read)

Planning out your marketing budget can be a daunting task. No matter when you start the planning process — whether you're wrapping up the fiscal year, at the end of the calendar year, or in the first few weeks in January like we are now — planning your monthly digital marketing spend can feel like a crapshoot. So, where do you start? Well, IMPACT Digital Sales and Marketing Coach Eric Dunn is here to save the day with this super comprehensive rundown about how the most successful businesses spend their digital marketing dollars each month.

📚 Related reads and resources:
🏆 Want better results? These bootcamps will help!
To start 2021 off on the right foot, we're offering three bootcamps to help you kick off the new year:
IMPACT's bootcamps are a chance to dive deeper on these concepts in a more intimate setting where you can ask questions, share examples, and walk away with a plan in place for your next steps via our guided workbooks.
Get your tickets today for just $139 (normally $399) using the promo code "NOMS" in honor of Ham and Nugget's never-ending pursuit of noms. This is the LOWEST price you can get for these super-interactive, hands-on learning events.
📅 Digital sales and marketing events
🌶️ Hot topics in Elite
IMPACT Elite is our exclusive Facebook group for the brightest minds in digital sales and marketing. Here's a recent discussion that caught my eye:
☄️ Weeklong nonsense
With everything going on in the world, you now get nonsense in every single issue of THE LATEST...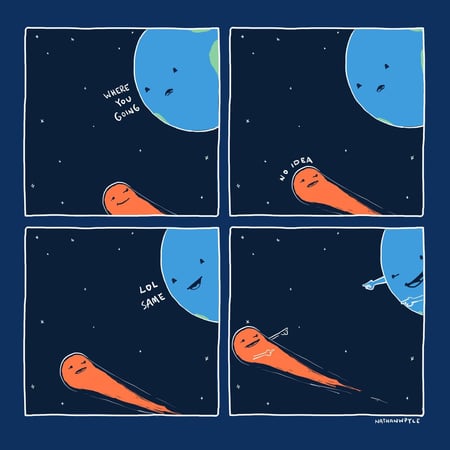 FYI, Connor and I have this exact conversation with each other every day. So, you're in good(ish) hands, everyone! Don't panic!