Our 4 favorite personal productivity tools, common Salesforce to HubSpot CRM migration problems, and our new video for sales strategy course ...this is THE LATEST!
🔥 Hot off the presses


💰 Virtual Selling Summit. June 23. Be there. As a sales professional in today's virtual world you must adapt quickly to keep driving revenue. At this full-day virtual event, you'll equip yourself with the tools, strategies, and expert insights you need to get ahead of the competition and thrive in our new virtual sales-driven reality. Learn more and register now.
"Liz, you charming, word-slinging little so-and-so, how was your Friday?"
Aw, how sweet. I'm so glad you asked. My Friday was, indeed, quite outstanding. Want to know why?
I spent it here, in front of the camera...
...under a giant boom mic.
...filming a new course for IMPACT+, just for y'all.
...at the direction of this dapper gent, IMPACT Creative Director Alex Winter.
Sorry, kiddos. I can't tell you exactly what my course is about yet — my lips must, for now, remain zipped. All I can say is that it's a topic near and dear to my heart. (No, not The Nicolas Cage Rule™.) Oh, and it also will feature a custom content creation tool I've spent more than a year building, testing, and refining!
If you can't wait, though, I've got some good news.
We have a new video for sales strategy course to tide you over. And that's on top of the scores of other free and premium IMPACT+ courses already available on content strategy, on-page SEO, creating sales and marketing videos, HubSpot reporting, and much more.
And now, here's THE LATEST...
👉 "What are some of the best personal productivity and organization tools out there?" (8-minute read
)
How has your focus and productivity been lately? Well, if you're anything like me or IMPACT Director of Digital Product Morgan VanDerLeest, you're struggling... at least a little bit. At the start of the pandemic and through most of April, I found myself supercharged by adrenaline. But as emotions have stabilized (as much as they can), how do we get back on track and ahead? Well, Morgan returns this week with his audience-favorite IMPACT Toolbox series, featuring four totally killer personal productivity and organization tools to help you overcome shortfalls in your workflow.
💬 You asked, we answered
💰 "Everyone says you can't break sales records in 2020, thanks to COVID-19? Is that true?" (Nope, they're wrong)
Watch this special message from Marcus Sheridan☝️
The last few months have been tough on businesses. As the economy came to screeching halt, you may have missed your March targets. Then April's. (Say, how's May looking?) Now, you're likely worried about what the rest of 2020 holds. It doesn't have to be this way. You can still have a record-breaking 2020.
Learn how at the Virtual Selling Summit on June 23. Ticket prices go up on June 1, so act now.
👉 "We're thinking about migrating from Salesforce to the HubSpot CRM — what are the most common problems we might encounter, and how do we avoid them?" (6-minute read)
No matter what platform, switching your CRM can be a tough task for your team. This pretty much goes without saying. You have to take into account your current process and database, and how that can be switched to a new CRM and improved on to make sure you are getting your money's worth. All on top of educating your team on how to do so. In this article from IMPACT HubSpot Trainer Joe Bachir, learn the most common problems teams encounter when switching from Salesforce to HubSpot for sales, as well as his top tips for overcoming them.
💬 You asked, we answered
👉 "We need to embrace virtual selling, so how do we build the right video for sales strategy?" (2-minute read)
It wasn't until coronavirus (COVID-19) smacked us all in the face that the vast majority of sales teams were forced to take their once face-to-face sales processes virtual. Now, as part of your IMPACT+ membership, you have access to a brand spankin' new online course that addresses this challenge. In this exciting announcement, learn all about Myriah Anderson's new IMPACT+ course, in which you'll unlock how to build your own video for sales strategy, so you can immediately start closing more deals faster.
💬 You asked, we answered
🎧 Latest shows and podcasts
🌶️ Hot topics in Elite
IMPACT Elite is our exclusive Facebook group for the brightest minds in digital sales and marketing. Here's the discussion that's caught my eye:
📆 Marketing events you need to know
❤️ Weeklong nonsense
With everything going on in the world, you now get nonsense in every single issue of THE LATEST...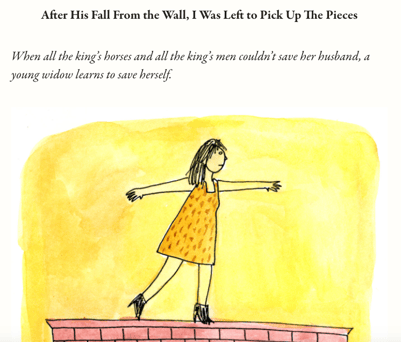 Modern love essays by nursery rhyme characters. So simple. So perfect.
Have a great weekend!