Every time someone suggests that I "optimize" my morning routine, I end up rolling my eyes so far back into my head that I fall down.
"Oh, it's so stinkin' easy! Before you sit down at your computer to start your day, all you need to do is wake up at dawn, perform a sun salutation in a yellow sequined ball gown, run 12 miles backward, write a memoir, eat goat milk yogurt, and make 378 origami paper cranes. Seriously, it'll change your life."
Yeah, hard pass. I will never do any of those things.
I prefer my morning routine to be headlined by bleary-eyed coffee-making, scrolling through missed Slacks and emails on my phone while leaning against the kitchen counter, nudging Pumpkin off my newspaper, and... sigh... filling out my gratitude journal.
OK, fine, you caught me.
I do one stereotypical, awful morning routine thing — I ask myself, "What are you grateful for today?" So, sue me.
However, thanks to IMPACT Digital Sales and Marketing Coach Chris Marr, I think about this question much differently than I used to. Not too long ago, he suggested rephrasing that question to, "What am I taking for granted right now?"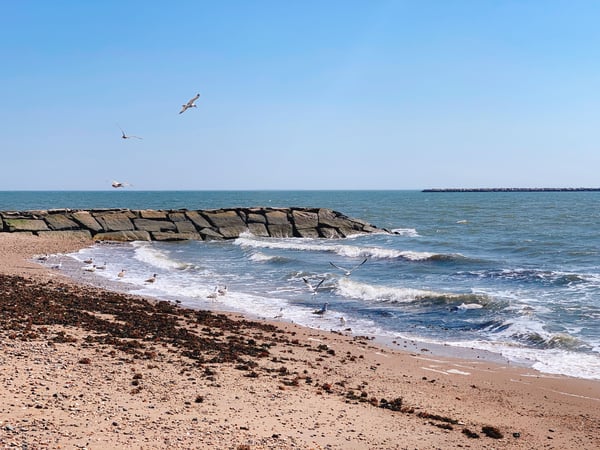 His subtle repositioning completely changed my outlook from that moment forward — but for some reason I found myself thinking a lot about his question today, while I was sitting on the mostly-deserted beach at Lighthouse Point.
For example, so many of us (myself included) complain about Zoom fatigue and how all sales calls have to be done on video instead of in person. But, if I'm being truthful, I shouldn't be complaining about this stuff at all — video is what's kept me sane for the better part of the last three months, as my primary source of human interaction.
As I sat there feeling the sand in between my toes this afternoon, I was reminded of the fact that yes, I resent much of this "new normal" and how a lot of things are much harder than they used to be. In teeny tiny and massively life-altering ways.
Still, it's always good to pause, take a moment, and ask yourself what you're taking for granted. There is still so much to be thankful for.
👉 "What do we know so far about Facebook testing email marketing for business pages?" (2-minute read
)
With the addition of email, Facebook business pages would be taking a major step forward in being a more all-inclusive marketing tool and platform and frankly, being a big competitor for bigger, paid platforms. It would also be extending Facebook's reach outside of its own website. In this article from IMPACT Head of Editorial Ramona Suhkraj, get the inside scoop on Facebook testing email marketing for business pages, as well as how it might be a game-changer for marketers trying to reach their ideal buyers.
💬 You asked, we answered
👉 "What are the most common problems or mistakes sales reps encounter on video sales calls, and how do you avoid them entirely?" (4-minute read)
Even as the most stringent restrictions of the COVID-19 pandemic begin to lift across the country, it's likely that the effects of the quarantine will be with us for the foreseeable future — and possibly much longer. I believe virtual selling is here to stay. So many businesses and industries that adhered firmly to handshakes and face to face meetings have been forced to shift to making sales over video calls. But how well these video sales calls go is all in the details. In this article from the one and only Marcus Sheridan, learn the six ways most video sales calls go horribly wrong and how to avoid those mistakes.
💬 You asked, we answered
👉 "Our business website is built on WordPress, so what do we need to know about updating our site?" (5-minute read)
WordPress is the world's leading content management system (CMS). Indeed, 35% of the internet is powered by it. WordPress is open-source and built by a community of developers, which also makes it more susceptible to attack. Due to it being an open-source platform, however, anyone can study the code and look for holes to figure out how to hack into a website. In this must-read article from IMPACT Senior Front-end Developer Melissa Smith, learn how to keep your WordPress-hosted business website secure with the right cadence of updates — and the knowledge of which updates are the most important.
💬 You asked, we answered
With everything going on in the world, you now get nonsense in every single issue of THE LATEST...
When I pretend I'm going to be that amazing, elevated human who doesn't bring their phone into bed this weekend, here is what I will be reading on my phone in bed this weekend... because I am weak-willed: