Consumers are ready to spend but the demand isn't there, should you hire in-house marketers or a marketing agency, Basecamp's launches HEY (their new email service) ...this is THE LATEST!
🔥 Hot off the presses




✂️

Business leaders everywhere are looking at their budgets so they can cut anything right now that isn't making them money.

That means you, marketers. Now, more than ever, you need to join forces with sales. So,

please listen to me

when I say you need to attend the

Virtual Selling Summit on June 23.

Use the code ONETEAMONEDREAM to get your ticket for

only $29.

At the behest (see: "badgering") of IMPACT partnerships and events steward Nick Bennett, I ordered Chinese takeout earlier, and I got this as my fortune: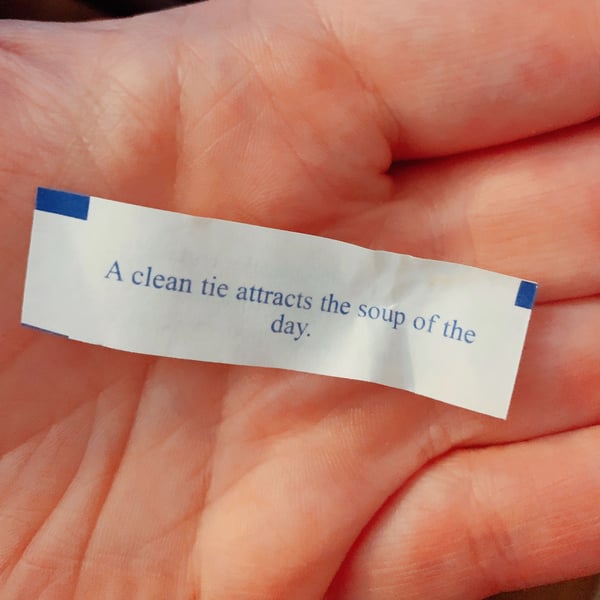 I guess... I won't wear ties going forward?
I was going to connect this odd, nonsensical brain-breaker of a fortune back to the fact that, like, the golden rule of websites — from UX to copy — is to never make a visitor think in any way. (They should know exactly what actions to take without thinking and should understand what all of your copy and messaging means without thinking, and blah, blah, blah.)
But, truthfully... it's the day before vacation. And I'm just confused.
So, no big lessons in this issue. No wild, hard-hitting truths. Tonight, I'm just a girl standing in front of a fortune cookie, asking it to make some freaking sense.
And now, here's THE LATEST...
👉 "After months of lockdown, how can businesses be short on product?" (4-minute read
)
The coronavirus pandemic has hit the supply chain hard for businesses across the board. According to INC, while consumers might be ready to buy, many are being met those same four words: Currently out of stock. The reality is that this level of demand wasn't anticipated by retailers. In this article from IMPACT Director of Demand Generation Kristen Harold, get the inside scoop on how coronavirus has impacted the supply chain and other areas of the economy, resulting in consumers unable to get the products they're looking for.
💬 You asked, we answered
👉 "Should we hire in-house marketers or work with a marketing agency?" (5-minute read)
For many SMBs, this is the age old question: What needs should I hire for, and what needs should I outsource? When it comes to marketing, you are not dealing with a monolith. Some marketing tasks make sense to outsource, while others are darn-near essential to take in house. In this candid interview with IMPACT Account Executive Marc Amigone, get an honest overview of what factors to consider when choosing the right marketing solution for your company — agency or in-house.
💬 You asked, we answered
👉 "What do we need to know about Basecamp's new email service called HEY?" (3-minute read)
Basecamp just introduced a new way to email called HEY, and for once, it really is different. Really different. The overall philosophy of HEY is that we should not be getting as many emails as we currently do and HEY makes it easy to have full control over that. Control is what sets HEY apart from other email services. In this article, IMPACT UX Designer Joel Waggener dishes out everything you need to know about HEY, Basecamp's game-changing email service.
💬 You asked, we answered
🌎 IMPACTers on the move
IMPACT CEO Bob Ruffolo joins Verblio CEO Steve Pockross in this episode of The Verblio Show to talk about IMPACT's story, how we're thriving during the COVID-19 pandemic, and more.
🎧 Latest shows and podcasts
🌶️ Hot topics in Elite
IMPACT Elite is our exclusive Facebook group for the brightest minds in digital sales and marketing. Here's the discussion that's caught my eye:
📆 Marketing events you need to know
June 23: Join us for IMPACT's Virtual Selling Summit, an all-day virtual event you won't want to miss. USE CODE "ONETEAMONEDREAM" TO GET YOUR TICKET FOR ONLY $29.
🛠️ Weeklong nonsense
With everything going on in the world, you now get nonsense in every single issue of THE LATEST...
Assembly is for quitters. I applaud this person for not bowing down to the man.
Be safe this weekend!