Pricing and budgets for Google Ads, what business leaders should focus on in Q3 and Q4, and outbound vs. inbound marketing in 2020 ...this is THE LATEST!
🔥 Hot off the presses




🎓It's time to get your learn on! This week we launched eight brand new courses inside our online education platform, IMPACT+. You can get started for free and for access additional course content and more by upgrading to pro for $49 per month. The prices goes up to $99 per month on July 1st.
Welcome back to THE LATEST! Your resident author of this newsletter is still vacationing by a pool in Nashville. But I'm Stephanie 👋 and I'm here with today's edition.
My birthday is this weekend! I'm turning 30 and my mom got me a unicorn piñata which I am SUPER excited about. So, what I'm about to say should come as no surprise: I don't know anything about mortgages.
My wife and I started seriously looking at buying a house recently and I quickly came to the terrifying realization that I know absolutely nothing about buying a house.
On our first call with a mortgage broker, he confidently said "the only stupid questions are the ones you don't ask" ...but I was still scared to ask some questions.
That's the thing about being new to something...not knowing is scary. Being uneducated about a topic is intimidating. Add money to the equation and it's downright terrifying.
However, once you start to learn, it's empowering. A few phone calls and some research had me already feeling informed and excited to start our home-buying journey.
While we may all be sick of hearing about COVID-19, there have been so many scary-unknowns lately due to the pandemic and its effects on society...and our businesses.
The way we do our jobs has changed. The way we shop has changed. The way we live has changed.
While the world may never go back to "what it was," we now have a unique opportunity to learn.
We can learn how to sell without a handshake or golf outing. We can learn to host events without gathering in-person. We can learn how to be more inclusive and add diverse voices to our teams.
Now is the time to learn, to change, and to grow. Even though it's scary.
That's part of the reason I am so damn proud of our team for taking the opportunity to teach sales professionals with the Virtual Selling Summit this week. I'm thrilled we put out eight new courses for you all to learn from in IMPACT+. I'm honored to work for a company so invested in helping others learn.
So whether you're looking to master how to sell virtually or are just getting started with the basics of digital sales and marketing, I hope you learn something new in today's edition of THE LATEST.
👉 "What should business leaders focus on heading into Q3 and Q4?" (4-minute read
)
While many of us have been waiting patiently for the day things "go back to normal," even if the virus were eradicated tomorrow, too much has changed for us to simply revert to the way things were. In this forward-looking article IMPACT's CEO, Bob Ruffolo, shares why smart businesses should prepare themselves to adapt to the new world we are entering, not the old world that we all miss.
💬 You asked, we answered
👉 "How much do Google Ads cost?" (11-minute read)
Money is tight for almost every business right now, but you still need to be generating leads, too. This means you need to be able to plan how much you should spend on your Google Ads to make it worthwhile (and worth the money.) Fortunately, IMPACT Paid Media Specialist Dan Baum is here with honest, straightforward, and clear answers about how much Google Ads cost and how Google Ads pricing really works.
💬 You asked, we answered
👉 "What's the difference between outbound and inbound marketing in 2020?" (7-minute read)
The concept of inbound marketing is about a decade old at this point (crazy, right?) and so much has changed since its introduction into the marketing world. You might be wondering where inbound even came from, if it's right for your company, and if inbound and outbound are mutually exclusive in 2020 and beyond. In this article, IMPACT Editorial Director Liz Murphy gets us up to date on all things inbound and outbound marketing and finally answers the age old question of which one is better.
💬 You asked, we answered
🎧

Latest shows and podcasts
🌶️ Hot topics in Elite
IMPACT Elite is our exclusive Facebook group for the brightest minds in digital sales and marketing. Here's the discussion that caught my eye:
Edward wants to create a personalized sales video that he can send to customers! What tool should he use to make it happen?
🛠️ Weeklong nonsense
With everything going on in the world, you now get nonsense in every single issue of THE LATEST... and this is nothing if not absolutely nonsense. And I am here for it.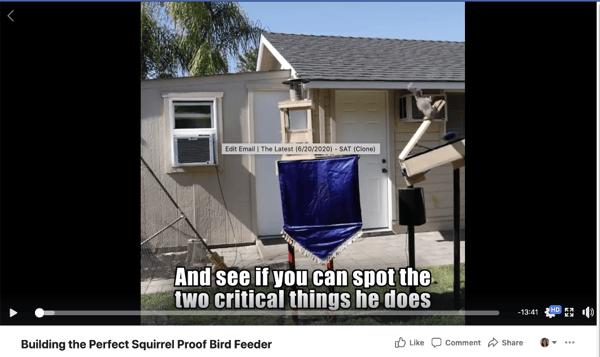 I almost made a "flying squirrel" joke here...but just before the 3 minute mark, the star of this video drops a pun so spectacular that when your usual author of THE LATEST, dad-joke-hater Liz Moorehead, reads this it will make her want to throw her computer across the room.
Fear not, no squirrels were harmed in the making of this video.