5 rockstar landing page video examples (updated for 2020), website strategy vs. website design, and 9 ways to make time for They Ask, You Answer
...this is THE LATEST!
🔥 Hot off the presses


🌎 We're all selling now in a virtual-first world. In this FREE IMPACT+ course from IMPACT Director of Inbound Training Zach Basner, Fundamentals of the Visual Sale, you'll learn how highly effective sales professionals can unlock the power of video and visual communication.
According to my #1 video communicator boo (and IMPACT Director of Inbound Training) Zach Basner, a landing page video needs to accomplish the following three things if you want to see the significant lift a video of that kind can provide:
Explain why a website visitor needs the solution being offered by the landing page.
Explain exactly what the specific solution is that's being offered on the landing page.
Finally, answer the question of "What happens next?" if they decide to follow through with opting into the solution offered.
But he didn't put any other restrictions or guidelines in place.
So, when I set out to make a new video for the landing page for THE LATEST — the secret project I teased in a previous issue — I knew as long as we checked those three boxes, we could do anything else we wanted. 😈
With that in mind, I'd like to present to all of you the new landing page video for THE LATEST (this little newsletter), with a very, very special thank you to IMPACT Paid Media Specialist Dan Baum.
Dan, even though you'll always come in second to me in Sorry!, you're definitely #1 at being an outstanding video costar: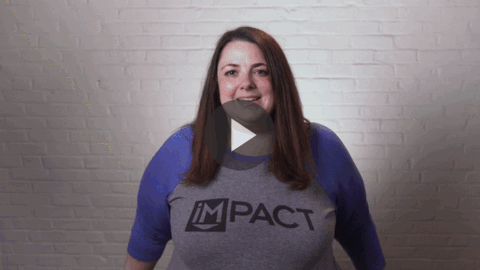 Oh, I'd watch all the way to the very end, if I were you. Trust me on that. In Zach's words, "This is a branding masterpiece." (True story.)
👉 "Landing page videos are proven to increase conversions exponentially, but do you have any great examples we should look to for inspiration?" (7-minute read + video examples)
Video has completely transformed the strategies all sales and marketing teams implement to generate more leads on our websites. Landing pages are no exception, which is why landing page videos are one of The Selling 7. The beautiful thing is landing page videos are some of the easiest to make yet also have one of the most significant impacts on lead generation. On top of that, they result in increases on conversions ranging from 80% up to about 250%. In this article from Director of Inbound Training Zach Basner, learn the precise landing page video framework you need to follow and get inspired by five of our favorite "in the wild" examples.
💬 You asked, we answered
🎬 "Do you have any trusted video scripts and email templates we can use?" (Our friends at Vidyard do!)
As sales teams revamp their sales process to stay current in the remote world they're faced with a number of challenges. New sales tools and processes can help, but how can sales teams actually use them effectively to reach their buyers? HubSpot, Vidyard, and a select group of Vidyard's agency partners have created 10 video scripts and email templates for remote selling that are proven to help reach more prospects, accelerate deal cycles, and provide the best customer experience possible throughout. Get your hands on the video scripts and email templates you need (for free!) right now.
💬 You asked, we answered
👉 "What's the difference between a website strategy and a website design — aren't they the same thing?" (3-minute read)
A website is one of the most powerful ways in which a business or individual can reach their audience. In fact, for most companies, their website has the capacity to become their #1 salesperson, attracting qualified traffic, leads, and sales every single day of the year — even holidays! With this in mind, it must be clear that a website strategy and a website design are conceptually different. However, both should always be involved in the process of redesigning a website. In this article from IMPACT senior developer Tim Ostheimer, get the inside scoop on the exact differences between a website strategy and a website design.
💬 You asked, we answered
👉 "We see the value and the power of They Ask, You Answer, but how do we make time for this new way of doing business to get better results?" (6-minute read)
We're pretty sure most of us can agree that we could use more time in the day to get things done. But what about the things that we know are important, essential even, but we just can't find the time to do them? For instance, when applying the philosophy of They Ask, You Answer in your business, you need to prepare for the time it will require to do it well, so you maximize the results you see. In this article from IMPACT VP of Talent Natalie Davis, we invite you to pull back the curtain on our nine battle-tested ways to make the time you need to see success with They Ask, You Answer.
💬 You asked, we answered
🎒 Go back to school with IMPACT+
Yes, you need an IMPACT+ account to access these, but you won't regret it:
🌶️ Hot topics in Elite
IMPACT Elite is our exclusive Facebook group for the brightest minds in digital sales and marketing. Here's the discussion that caught my eye:
👀 In case you missed it...
A few of my hand-selected, personal favorites from the IMPACT archives...
🌳 Weeklong nonsense
With everything going on in the world, you now get nonsense in every single issue of THE LATEST...
That's one pathway to world domination, I suppose.
Have a great Tuesday!