Why you need a content manager, could Google Chrome 'fast pages' rank higher in search results, and 5 ways to decrease the bounce rate on your blog articles ...this is THE LATEST!
🔥 Hot off the presses


👋 Your Google My Business listing is more important than ever right now. In this FREE IMPACT+ course, IMPACT Lead Content Trainer Kevin Phillips is here to save your bacon with his totally bada** How to Optimize Your Google My Business Listing course. (You'd be surprised how this powerful little SERP feature can make you lots of money.)
At IMPACT, we teach our clients that the highest quality content is created in-house — with a comma-slinging, subject matter expert-wrangling content manager at the helm — and doesn't send your ideal buyers running for the hills.
I agree with both of those points. You need the right person overseeing your content and your content shouldn't, you know, scare people off.
However, I would also like to humbly submit the following for your approval as an additional example of High Quality Content™: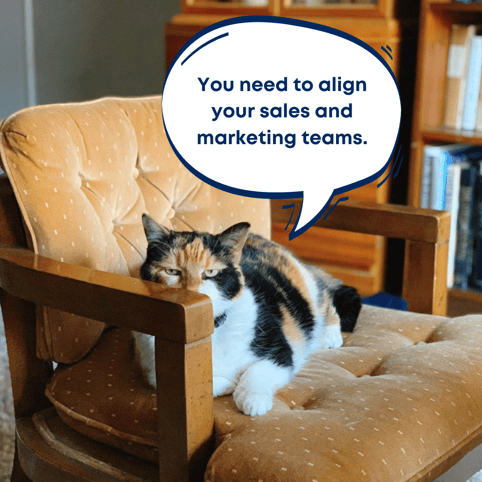 If this doesn't attract qualified leads, I don't know what will.
Yes, I created this epic masterpiece from a picture of my Bond villain-esque cat for a video about alignment for IMPACT — all will be revealed in time, I promise.
And yes, I'm pretty sure that screaming and swearing you're hearing somewhere off in the distance is IMPACT VP of Marketing Vin Gaeta "passionately" questioning whether or not I should still be trusted to be the brains behind our video and written content strategies.
So, while I'm still allowed to write this newsletter unsupervised, I will say:
"And now, here's THE LATEST!"
👉 "What do we need to know about Google Chrome 'fast pages,' and will they rank higher in search?" (2-minute read)
Word on the street is that Google has something big up its search engine giant sleeve. With the roll out of the Chrome 85 beta comes a "fast page" label for specific pages that meet or exceed all metrics thresholds included in Google's Core Web Vitals program. Google plans to help users identify those exceptional experiences by using fast page labels to — you guessed it — label fast links via the link context menu on Chrome for Android. Moreover, these labels may play a significant part in which pages rank higher than others. In this article from IMPACT Director of Operations Kaitlyn Petro, get the inside scoop on Google Chrome 'fast pages' and how much this new label will influence search rankings on results pages.
💬 You asked, we answered
👉 "Why do we need a content manager? Can't the other marketers at our company perform those duties?" (9-minute read)
OK, I'm going to forgo my usual antics, quips, banter, and inappropriate stories about my love for Han Solo, because today's topic is (a) too important, and (b) too near and dear to my heart to mess around. So, let's get down to business, shall we? If you're practicing inbound marketing, content marketing, or They Ask, You Answer to drive traffic, leads, and sales for your company, there is no other option. You need a content manager at your company. Full stop. In this totally honest article by yours truly, learn precisely why you need a content manager, what it looks like when you don't have one, and what you need to do to find the right one for your company.
💬 You asked, we answered
👉 "How do we make our blog posts stickier (not in the gross way) and decrease our content-level bounce rate?" (8-minute read)
Are you having trouble retaining the attention of visitors to your blog articles? Want to know how to decrease your blog bounce rates so that more people check out all of the other awesome pieces of content across your website? We're with you. It can be super frustrating to create a kick-ass blog article, watch it rise to the top of the keyword rankings, start to rake in traffic, but then see all of that traffic turn around and leave. Well, in this article from IMPACT Lead Content Marketing Trainer Kevin Phillips, learn his five favorite hacks and tricks for decreasing the bounce rate on your blog articles.
💬 You asked, we answered
🎒 Go back to school with IMPACT+
Yes, you need an IMPACT+ account to access these, but you won't regret it:
🌶️ Hot topics in Elite
IMPACT Elite is our exclusive Facebook group for the brightest minds in digital sales and marketing. Here's the discussion that caught my eye:
👀 In case you missed it...
A few of my hand-selected, personal favorites from the IMPACT archives...
🚀 Weeklong nonsense
With everything going on in the world, you now get nonsense in every single issue of THE LATEST...

No joke, I want to see this movie.
Have a great night!