Benefits of online communities during the pandemic, HubSpot workflow delay updates, and how dark mode impacts UX and web design ...this is THE LATEST!
🔥 Hot off the presses




👋 The "touchless buying experience" sounds pretty COVID-safe, am I right? Okay, horrible joke aside, today's buyer has changed and your business must too. In this FREE IMPACT+ course, IMPACT Chief Learning Officer Chris Duprey teaches you data and trends of self-selection and the touchless buying experience, how it applies to your organization, and how to get started on using your own tools.
Listen, sometimes you can plan, and plan, and plan, and the world still replies:
"Nope! Nice try, though."
Sigh. Hey, it's Stephanie. 👋
When Liz told me I was writing this week's Thursday issue of THE LATEST, I had the perfect plan. The pumpkin spice latte was returning to Starbucks this week and since I'm a bonafide Leaf Raker I knew my first #PSL would be the highlight of this issue.
I would cozy up with my warm drink and write this issue, while listening to my favorite ambient fall sounds. (Sounds nice, right?)
So, when the time came, I put on my favorite fall jeans and boots, a very autumn-appropriate yellow cardigan, and my coziest plaid scarf. Then, I ventured outside...
Only to find out it was over 90 degrees outside!
And, according to the little masked frog on my app...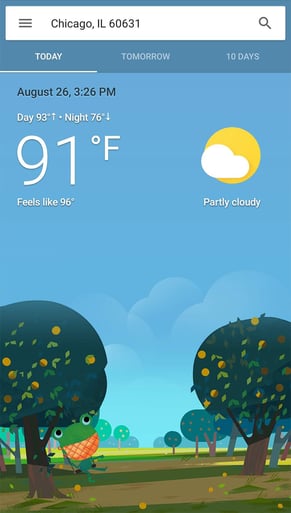 ...the heat index was 96 degrees and rising.
Are you KIDDING me?!
Look, I get that it's technically still August but there were already some cooler days here in Chicago — plus, the weekend had highs only in the 70s coming up. Also, when you work from home during a pandemic, you kind of stop looking at the weather before you get dressed.
Sometimes, no matter how well you plan the world will just decide it wants something different. Like when you design the perfect marketing email only to have dark mode make it look like complete crap. Or, you know, a global pandemic forces your entire business online.
Things just never do go according to plan, do they?
Nevertheless, I ventured out to get my first pumpkin spice latte of the year because blazing sun and suffocating heat be damned, I was going to get my fall on.
See how happy I am? I'm happy.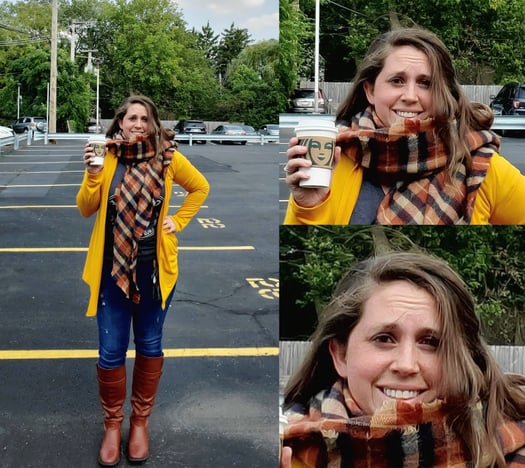 While the #OOTD may have been on point — you can't see it but my shirt says "call me old fashioned" with a picture of an Old Fashioned — clearly, there is only horror in my eyes.
But you know what they say..."even the best laid plans..."
WHATEVER. Here's THE LATEST.
👉 "What are the benefits of hosting an online community in the age of social distancing?" (8-minute read)
Online communities are one of the easiest and most effective options when it comes to building genuine connections with your audience. But add in a quarantine resulting in social isolation and people will crave the ability and infrastructure to connect virtually in a fun and safe way. How are you enabling your community to connect? In this article, IMPACT Community & Events Manager Connor DeLaney shares six main benefits of hosting an online community in the age of social distancing.
💬 You asked, we answered
👉 "Can I delay HubSpot workflows by events?" (2-minute read)
To quote Liz from the beginning of this article, "I wish you could have seen how our HubSpot team lost their minds on Slack when they found out about these two updates." It's true. I was SO excited to hear you can finally delay HubSpot workflows until a specific event happens. Plus, we'll soon be able to add internal comments into workflows as well! IMPACT Editorial Director Liz Moorehead covered exactly why HubSpot workflows now supporting delayed actions by event (with comments in beta) is such a ground-breaking update.
💬 You asked, we answered
👉 "How does dark mode impact UX and web design?" (6-minute read)
Over the past couple of years, the much-hyped aesthetic known as "dark mode" has taken the app and UI/UX worlds by storm. And while many users love it, implementing dark mode can impact a few key areas of your business and user experience. From branding to accessibility, IMPACT UX Designer Joe Rinaldi covers all the ways dark mode can impact your business and even provides some examples.
💬 You asked, we answered
🎒 Go back to school with IMPACT+
Yes, you need an IMPACT+ account to access these, but you won't regret it:
🌶️ Hot topics in Elite
IMPACT Elite is our exclusive Facebook group for the brightest minds in digital sales and marketing. Here's the discussion that caught my eye:
👀 In case you missed it...
A few of my hand-selected, personal favorites from the IMPACT archives...
🚀 Weeklong nonsense
With everything going on in the world, you now get nonsense in every single issue of THE LATEST...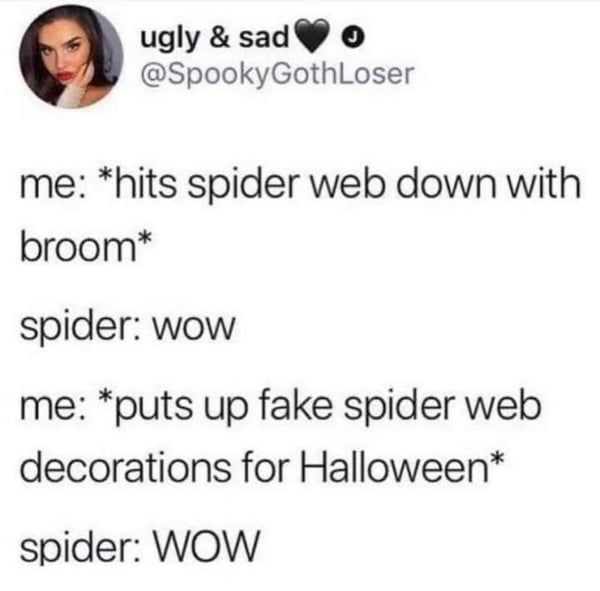 This made me chuckle but also got me a little more into the fall spirit.