Website redesign project factors that drive cost up (and down), inbound marketing vs content marketing, free in-house website specialist job description ...this is THE LATEST!
🗞️

Extra, extra! Read all about it!



So, we talk a lot about trust and how important it is to businesses trying to reach their ideal buyers in the digital age, and blah blah blah. But what about the trust we're supposed to have with our friends?
Specifically, "friends" we text with... 😐
For example, I received this lie earlier today.
Not too long after that, this untruth landed on my phone.
Oh, and here's a betrayal I received within the last hour.
Forget virtual selling and inbound marketing.
When is someone going to unpack The Big 5 topics — cost, comparison, best, reviews, and problems — for the subjects that really matter? Like the fact that I would bet $1 million you're not actually laughing out loud when you say you are via text, Susan.
"What is the true emotional

cost

of seeing a friend type 'ROFL' knowing they're not really rolling on the floor laughing?"
"LOL vs Haha: a head-to-head

comparison

of which lie you should use and when with those you pretend to care about"
"Best

practices for confronting laughter fibbers online (we love #3!)"
"2020

review

of LMAO: post-coronavirus, does this acronym still convince anyone you're laughing?"
"17 most common

problems

you'll experience when trying to convince Liz Moorehead that you're laughing by typing 'haha' in response to a funny meme she sent you over Slack, when she can clearly see on Zoom that you're not"
Look, I'm not petty. I'm just a stickler for the truth.
And now, here's THE LATEST...
💸 Website redesign projects can cost a lot, so what drives that price tag up and down? (11-minute read)
There are so many things to consider when looking at a website redesign that can affect the cost. The good news is that you can embark on a website redesign without breaking the bank if you are able to decipher your must-haves from your nice-to-haves. And in this super candid article from IMPACT Website Project Manager Melanie Moore, she dives deep into the top five factors that can really affect your website redesign budget.
🔎 Related resources:
Although many business websites today are built so that marketers and non-coders can update them, to handle more ambitious and technical website projects and maintenance, you will need an in-house website specialist. This may not always be the case, but if you find yourself needing to make frequent tweaks and alterations to your website, it's something you may want to consider. In this article from IMPACT Revenue and Features Editor John Becker, determine whether or not you need a website specialist for your team, and take advantage of our free job description template if you decide you do!
🔎 Related resources:
🎓 What is the actual difference between inbound marketing and content marketing, and how should that knowledge affect your strategy? (9-minute read)
Often, the terms "inbound marketing" and "content marketing" are viewed as synonymous. What's worse is that when you do a quick Google search to learn the difference, that's all you get. A quick definition of each of the terms and then a brief explanation of how they're different, but no real understanding of how those differences should impact your decision-making and strategic planning. Well, until now. In this article from IMPACT Lead Content Marketing Trainer Brian Casey, get the no-holds-barred, behind-the-scenes look behind the real differences between inbound and content marketing, how that impacts you, and how to see the best results from each.
🔎 Related resources:
💪Strengthen your content muscles on November 10
The Content Creation Bootcamp on November 10 is an immersive, hands-on virtual bootcamp that will teach you exactly what you need to do to bring the right customers to your business through inbound content.
Here's what the day looks like:
Marcus Sheridan will deliver an opening workshop on creating the exact content topics that drive traffic, leads, and sales
Our friends at SEMrush will discuss creating a content marketing funnel and how to find and answer the questions your buyers are asking
Kevin Phillips and John Becker will teach you how to maximize your subject matter experts (SMEs) to generate amazing content
And finally yours truly (yes me!)

will share the ultimate tool guaranteed to help you drive results with every piece of content you produce
Check out the full agenda and register using code CONTENTFITNESS to get your ticket for just $250! (The regular price is $599, so woohoo!) Not sure if the bootcamp is right for you? Check out this article: Content Creation Bootcamp: Who should really be attending?
❤️ Get to know my work family
(new feature alert✨)
I'm so lucky. I get to wake up every morning and work with the most passionate, focused, inspiring people in our industry.
So, even though we're living in a time when it's a little harder to forge new human connections, I thought it might be fun to introduce you to a new member from my IMPACT work family each week!
Meet Jen Barrell
When she first joined IMPACT, Jen and I bonded immediately over our love of The West Wing, writing, style guides, and mid-century modern interior design. Now we have a standing virtual happy hour every Friday night... during which we unsuccessfully talk each other out of buying stuff online.
But our clients love her for her content coaching ways:
"So I was dead set against content training at the start of my engagement with IMPACT, but I am so glad I gave it a try. Jen's content training has been game-changing for us and in helping us develop an organizational strategy around all of our content. Her advice is both innovative and really practical and, although I'm a good writer, her editing and stylistic changes have really added something to our content. Highly highly recommend." (Source)
Here are a few of my favorite articles from her:
📺 Tune into IMPACT on YouTube
That's right, folks. We're on YouTube, and it's a wild educational romp that you'll definitely want to subscribe to. I mean, just check this out...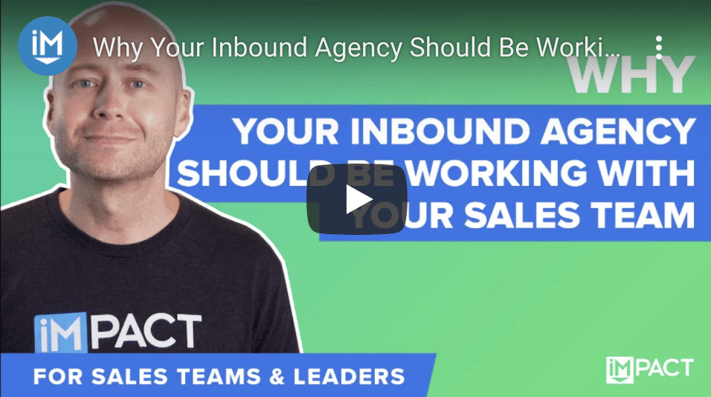 ⏰ In case you missed it...
Here are a few of my favorites from the archives:
🌶️ Hot topics in Elite
IMPACT Elite is our exclusive Facebook group for the brightest minds in digital sales and marketing. Here's a recent discussion that caught my eye:
🚗 Weeklong nonsense
With everything going on in the world, you now get nonsense in every single issue of THE LATEST...
I mean, that is true.
Until we meet again!