What a great inbound marketing website looks like in 2021, 74 new digital marketing statistics that will blow your mind, and 5 virtual event software options (updated for the new year) ...this is THE LATEST!
🗞️ Extra, extra! Read all about it!


⚠️ Our can't-miss, two-day virtual event Video Sales & Marketing World is happening next week! Do you have your tickets yet? Use promo code "VIDEOS" to get your ticket for only $45 (more than 50% off the standard ticket price)!
Much like these ducks...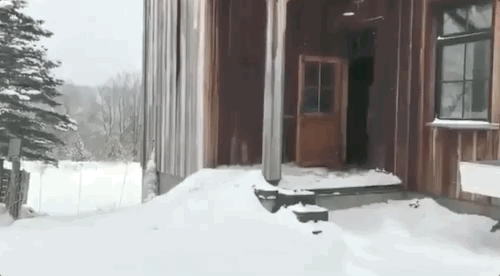 ...I reserve the right to change my mind at any time, for any reason, without having to explain myself to anyone.
For example, I spent 35 years hating cherries with an inexplicable, fiery passion. Now, I will engage in fisticuffs if some monster dares to besmirch the honor of that noble little fruit — especially if we're talking about the Luxardo Maraschino variety, which are straight up biblical in their decadence.
Why? No clue.
I also spent more than two years of my IMPACT career avoiding being on video. (For instance, I rescheduled a shoot with Alex six times over the course of a month last year, before finally being cornered.) Now, filming days are my favorite days of the week, and I'm teaching a whole session at Video Sales & Marketing World on how to be likable, confident, and trustworthy on camera.
Why? ¯\_(ツ)_/¯
Apparently, however, I'm not the only one in the business of changing my mind the way Puff Daddy changes his name. (Now, it's Sean LOVE Combs... legally.)
According to new digital marketing data, email marketing engagement is way up this year, consumers watch 52% more video online than two years ago, and mobile searches that begin with "can I" have also shot up 85%.
Look, change is inevitable, both in our personal lives and in business. I know years like this one make many of us long for anything stable and constant. But our heightened fear and uncertainty can't distract us from the fact that change has been (and always will be) a constant all on its own, in our lives.
And that's a very good thing. Because no one ever "won big" by playing it safe or clinging to the status quo like a life raft. Keep that in mind as you look ahead to next year.
Now, here's THE LATEST...
👉 What does a great inbound marketing website look like for a lead-generating business in 2021? (10-minute read + examples)
Everyone is looking for a company with a product or service they can trust will actually solve their problems. Especially, during the COVID-19 pandemic — when budgets are tight and so many people are feeling helpless — this trust is more important than ever. When it comes to your website, there are a number of ways of establishing and reinforcing this trust for 2021 — and no it doesn't involve animated GIFs. In this hot-off-the-presses, must-read from IMPACT Managing Editor Ramona Sukhraj, get the inside scoop in the nine critical elements your business website must possess going into the new year.
📚 Related reads and resources:
👉 74 must-know digital marketing statistics to help you develop the results-driving strategy you need for 2021
(9-minute read)
I think we can all agree that, in 2020, all of our digital marketing strategies have been put to the test. But while not everything works the way it used to, can we all agree that isn't that the case literally every year? Every day even? Sure, this year may have been a little more extreme than most. But, right now, the most important question we must ask ourselves is, "Where do we go from here?" Constantly asking this question, of course, is what makes us great marketers and leaders to begin with. To help you answer this question effectively, IMPACT Director of Inbound Training and Video Strategy Zach Basner curated this outstanding, thought-provoking list of 74 must-know digital marketing statistics you must read through before you finalize next year's strategy.
📚 Related reads and resources:
👉

Totally revised and updated, here's our list of the 5 best virtual event software options for businesses (11-minute read)

When we wrote our first version of this article back at the end of March, we had no idea that nearly everyone would pivot their in-person events to virtual ones due to COVID-19. There are now more virtual event software options than ever before as many organizations have added virtual or hybrid event capabilities in the past few months or improved on what they already had. That means there are literally hundreds of options to choose from and it can be hard to even know where to begin. Good news for you, though! Having run five virtual events this year (with two more on the way) IMPACT Director of Community and Events Stephanie Baiocchi is here with her totally revised list of her five favorite virtual event software options for companies.

📚 Related reads and resources:
🎬 What's new on the Digital Sales & Marketing Channel
5 reasons why you're not hitting your sales goals (with me and Tupac)
We're releasing new educational content for digital marketers, business leaders, and sales pros every single week on our YouTube Channel. Don't miss out and subscribe to our channel today!
🗓️
Virtual events calendar
Stay up-to-date with our virtual events in 2021 by signing up today for our event updates! But for now, here's what we've got...
🌶️ Hot topics in Elite
IMPACT Elite is our exclusive Facebook group for the brightest minds in digital sales and marketing. Here's a recent discussion that caught my eye for those who work in non-profits:
🚗 Weeklong nonsense
With everything going on in the world, you now get nonsense in every single issue of THE LATEST...
Earlier this week, someone who understands me texted me to let me know that Fast and Furious 6 was playing on TNT. I've never felt more loved.