13 Proven Strategies from High-Performing Marketers,

When You Don't Have a Content Manager Hired Yet, & How Much It Actually Costs to Be Successful with LinkedIn Ads

...This Is THE LATEST!
💯 Jump Right Into the Good Stuff!
🚨We are exactly two weeks away from IMPACT Live!

You won't want to miss out on this one-of-a-kind, immersive event for growth-focused business leaders and digital marketers.

Use code IMPACT20 to

take 20% off your ticket price.
It's not summertime in Annapolis, Maryland, if I don't get stuck at the small drawbridge crossing back into the Maritime Republic of Eastport after having lunch downtown at least once a week: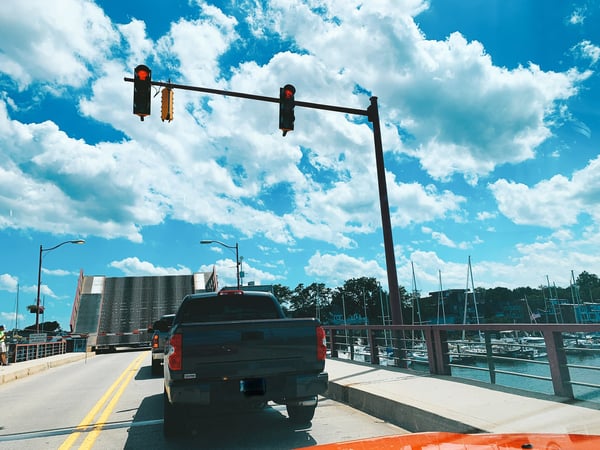 From within the air-conditioned confines of my car, the scene as I wait is absolutely beautiful. Big puffy white clouds across a sparkling bright blue sky. Sailboats gliding across shimmering water. The U.S. Naval Academy off in the distance.
But as soon as I step outside, I remember why I spend the vast majority of May through September looking (and feeling) like a grumpy, frizzy tomato:
This was the weather on Saturday in Annapolis. It was 96 degrees and felt like 114 degrees. But hey, for once we didn't have 70%+ humidity, so that's something to cheer for, right?
Look, I know some of you jokers just can't get enough of summer. And as I raise my arms to the heavens on the first day of fall in 62 days — but who's counting? — with tears of joy streaming quietly down my face, you'll tell me I'm crazy for being excited for the colder days ahead.
Which... well, that's fair. (My mother called me "creative" a lot when I was growing up, but with a tone that made me question whether or not that was the word she wanted to use.)
However, I'm willing to admit just this one time that there are a few redeeming qualities about summer:
Plus, I'll be going camping with friends the weekend after IMPACT Live. And then I'll be spending 72 hours exploring New York City solo before this merciless sweat lodge of a season comes to a conclusion. So, I guess those are good things I should be excited about.
Don't get too cozy with me saying nice things about summer, though — I'm still resolutely a fall and winter gal. In fact, if you tell anyone I said something nice about summer, I'll deny it.
I have a snow miser-esque reputation to uphold.❄️
⚡ Marcus Sheridan Explains Exactly How to Get Started with Content Marketing If You Haven't Hired a Content Manager Yet (Interview)
This is one of the most common questions we get from business leaders and digital sales and marketing teams. They're ready to get started creating revenue-generating content right now, but how do they do that effectively while they're still looking for someone to sit in that content manager seat? In this exclusive interview, IMPACT Editorial Associate John Becker talks to Marcus Sheridan about what companies should do while they're still in the process of hiring their content manager — because sitting around and waiting isn't an option if you want to get results.
⭐ RELATED CONTENT:
🎈 The Inbound Success Podcast Celebrates 100 Episodes by Recapping the 13 Proven Strategies High-Performing Marketers Use to Get Results
On August 28, 2017, IMPACT VP of Marketing Kathleen Booth published the very first episode of the Inbound Success podcast — and she hasn't missed a single week since. To celebrate this milestone, Kathleen decided to reflect on the almost 100 interviews she's conducted with industry thought leaders, business founders, digital marketers, and others. In this episode — which you can listen to or read — Kathleen shares the 13 themes she noticed in how today's rockstar digital marketing leaders are getting big results for their brands.
⭐ RELATED CONTENT:
💰 How Much Does It Cost to Actually Be Successful with LinkedIn Ads? And Who Shouldn't Be Advertising on LinkedIn?
"No matter what size your budget or business, LinkedIn ads can help you achieve your marketing goals." Or, at least that is what LinkedIn will have you believe. After years of running LinkedIn Ads for clients, IMPACT Paid Media Specialist Jason Linde can confirm that the size of your budget and the nature of your business absolutely do matter. So, he wrote this article, which covers who shouldn't be advertising on LinkedIn, the limitations of advertising on LinkedIn, and how much it really costs to get started.
⭐ RELATED CONTENT:
🎧 Our Latest Shows & Podcasts
📆 Upcoming Digital Sales & Marketing Events
🗞️ What I'm Reading Right Now
Finally, without preamble or context, here's what I'm reading:
Later, squares!