YouTube SEO mistakes that are costing you, how to pick blog topics that drive revenue, and Vidyard's new video selling certification

...this is THE LATEST!

🔥 Hot off the presses




🎬 Video is a win for both sales and marketing — but how do you actually start generating demand for your company with video? What are the most impactful videos you should be creating right now, and how do you create an in-house culture of video without blowing your budget? Join Marcus Sheridan and Vidyard's Tyler Lessard on February 26 for a free webinar that will show you how to generate more leads and sales with video.
Psst! We've got another exciting DSMW2020 announcement for you today — you'll find it at the very bottom of this email!
Earlier today, a college student majoring in communications interviewed me about my role here as IMPACT's content director.
It was a weird experience.
On the one hand, I felt awesomely authoritative and confident in what I was saying, as I (somehow) had a lot of well-formulated opinions and thoughts I could draw upon from my 15-year career.
On the other hand, I felt very old because, at one point, it dawned on me that the girl interviewing me probably couldn't have picked Zach Morris out of a lineup.
To be clear, I am not knocking her age in the least, because she is incredibly bright and talented, and a joy to talk to; I was just keenly aware in that moment of the passage of time.
For example, I am no longer someone who considers 11:30 p.m. an acceptable time for a night out to begin, you know what I mean?
Live footage of me... on most evenings.
Anyway, I digress.
One of the questions she asked me was:
"What does good content look like?"
My answer to her came flying out of my mouth, fully formed, before I could even think about it:
"Oh, that's easy. It's laser-focused on solving a specific problem for a specific person or audience, and the author does so in a way that's honest, thorough, and memorable. That's really all there is to it."
Genuinely, that's the truth. Good content comes in all shapes and sizes. And storytellers of all kinds have their own flair, personality, tone, and voice. That's the way it should be.
But when I look at what the best of the best content always has in common, it's those attributes, plain and simple. And I'm not just talking about written content. These are the same hallmarks of great videos and outstanding podcasts.
Bottom line, you don't have to be Chaucer or Hemingway to be a rockstar, revenue-generating content creator.
You just have to be laser-focused, honest, thorough, and so utterly yourself that no one else could ever claim ownership of your work.
I don't know who needed to hear that today, but I hope this little virtual pep talk helps out a few of you.
And now, here's THE LATEST...
👉 "What are the most common YouTube SEO mistakes we're likely making that's hurting our ability get found?" (7-minute read)
So, you're looking at your business YouTube channel and it seems as though something isn't really catching on. You know your content is valuable, but nobody seems to find it. Or, maybe some videos on your channel seem to do well, while others are a complete flop. "What am I doing wrong?" you're thinking to yourself. Well as it turns out, many of the mistakes you might be making are pretty common. In this intervention of an article from IMPACT Director of Inbound Training and Video Strategy Zach Basner, you'll learn the most common mistakes you're making with your YouTube SEO and how to fix them.
💬 You asked, we answered
🔥 "How do we get started with inbound right now, without having to commit to an agency that may not be the right fit for us in the long run?" (find out)
You're looking for an inbound marketing agency to help bring your business to another level. All too often, however, the sales process goes too fast. And it doesn't take long for you to realize your agency partner never made enough time to get to know your business or its true challenges in the first place, so as to help you achieve your most aggressive growth goals with inbound marketing.
Don't get stuck in a long-term contract and then find out what your business really needs to be successful with inbound in the long-run. With IMPACT's Fast Start Program, you can get your inbound marketing on the right path fast, while truly getting to know us as your agency partner, risk-free.
👉 THROWBACK THURSDAY: "How do we pick blog topics that will actually make money for our company?" (9-minute read)
Today, you can't build a digital marketing strategy that works without a solid blogging strategy. Without one in place, you won't be able to attract the right kinds of visitors to your website. Unfortunately, many businesses have little clue as to what kinds of topics their audiences are searching for and getting value from. And because of this, their websites either bring in very little traffic or, at best, the wrong kind of traffic. In this eye-opening, actionable overview from IMPACT Lead Content Marketing Trainer Kevin Phillips, you'll discover how to pick blog topics for your strategy that not only drive traffic to your site but also bring in prospective customers every single time.
💬 You asked, we answered
👉 "What do I need to know about Vidyard's video selling certification — is it really that valuable?" (2-minute read)
Video is no longer a "nice to have'' in business. In 2020, video is a "must-have'' and, because of this, this likely isn't the first time you're hearing that video is influential in the sales process. Leading the pack on ensuring teams are completely up-to-speed on what they need to know about using video in their sales cycle, is Vidyard, which just announced the rollout of its new video selling certification program. In this article from IMPACT Director of Client Success Kate Fodera, get the inside scoop on Vidyard's new video selling certification and why we think you definitely need to look into it for yourself and your company.
💬 You asked, we answered
📅 Upcoming events
🎧

Latest shows and podcasts
👋 Work for IMPACT
Wouldn't you love to call me a teammate? Well, here's your chance. We're currently accepting applications for:
👤 One last thing
We're creeping up on another big speaker announcement for Digital Sales & Marketing World 2020...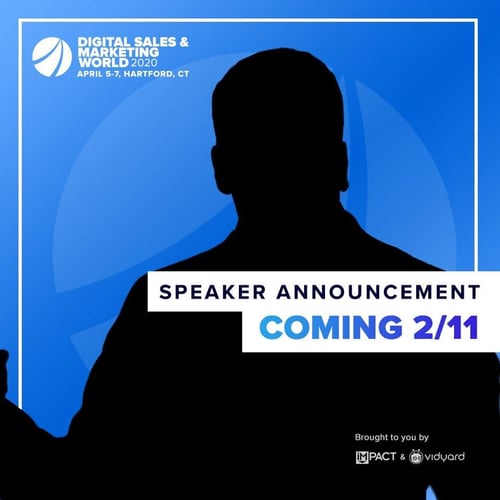 Got any guesses? Reply to this email and, if you guess correctly, I'll send you a copy of Marcus Sheridan's second edition of They Ask, You Answer!
Also, don't forget to follow DSMW on Facebook, Twitter, and Instagram to stay up-to-date on all of the latest announcements.
Later, gators! 🐊