Google's $57 Million GDPR Fine, Amazon's Game-Changing New Ad Metrics, and The Very Best Marketing Events of 2019... This Is THE LATEST!
This week, I tried a candlelit yoga class offered here in the gym of IMPACT HQ's new office building.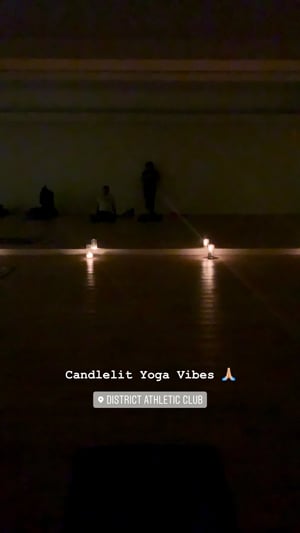 Looks ever-so sincere, right?
Having had a rough start to the new year and being in the often high-stress marketing field, I thought this would be a wonderful way to unwind and collect myself for the week ahead.
But then the instructor asked us to put our entire left leg in the air and rotate our foot, and my dreams came crashing down as I did onto the studio floor. Womp.
Not everyone de-stresses the same way. Some people do yoga. Others may need a glass of wine.
Personally, I need a few scoops of ice cream and a massage, but I know more than a few of you like curling up with a handful of exciting marketing headlines, so let me help you out:
💰
Google Just Got Hit with a Huge GDPR Fine That Shows The EU Means Business
It's been about seven months since GDPR went into effect and things have been relatively quiet on the fines front, but all that changed this week when Google got hit with a $57 million fine. This isn't the first fine to be issued, but it is certainly the largest and the first to an American-based business. Get all of the nitty-gritty details of the fine and what it could mean for brands big and small in this article.
📈
My Amazon Ads
Bring New Customers to The Yard -- And Now I'll Have the Metrics to Prove It
You've heard it time and time again: paid ads work, but proving that is hardly ever easy. This week, Amazon released a new set of advertising metrics (dubbed "New-to-Brand" metrics) to help advertisers understand if their ads on the platform are actually delivering new customers among other things. This is a HUGE step in helping marketers improve their Amazon ad strategies and ROI and we recently dove into why.
🎟️
Mark Those Calendars! These Are Our Top 9 Can't-Miss Marketing Events of the Year
I'm a millennial so I can't lie and say I don't avoid phone calls at all cost and prefer most of my interaction from behind some sort of screen, but there is something amazing to be said about live events. Attending live industry events is one of most exciting and effective ways to not only learn something new, but to meet and connect with your peers on a more personal level. That being said, our fabulous Director of Event Marketing, Jen Barrell, has put together a list of this year's 9 best marketing conferences to attend.
👀 ... When You're All Ears (& Eyes)
📅 Save The Date
East Coast HubSpot User Group Meet-ups Coming on Feb 5! Early February is a beautiful time to be in Hartford, CT, or Annapolis, MD! Ok, maybe not if you're outside -- but at our HUG meet-ups, the food is warm (and free) and the the conversation is HOT! Both of these East Coast meet-ups are all about audience participation and feedback with Hartford hosting welcoming Website Throwdowns and Annapolis, a Critique My Campaign night. Want in on the action? Sign up to participate or attend in either Hartford or Annapolis.

Learn How to Make Better Videos In-House This Valentine's Day: The role of video for business is changing, fast. To keep up, brands need to start producing multiple videos per week, in a way that is consistent, authentic, and affordable. But where do you even start? IMPACT and Wipster are teaming up to give you the tools to create a winning video strategy from scratch on February 14. Register for the webinar.
🔢 Weekly Number Crunching
According to Buffer's 2019 State of Social Report, 88.4% of marketers plan on investing in influencer marketing, this year.
88.4%.
When have you EVER heard such overwhelming support for a new strategy? No pressure influencers.
🎉

Weekend Nonsense

So, warning: This segment is certainly about to live up to its name.

This week, comedian Conan O'Brien returned to late night with a reformatted, 30-minute long version of his beloved talk show. His first guest was actor Tom Hanks and he spoke in detail about his habit of posting photos of lost gloves, shoes, and other belongings in weird places on Instagram.

I quickly went to his profile and he takes this VERY seriously. The photos are as odd and funny as they sound. You can check them all out on his profile, but here is one of my favorites: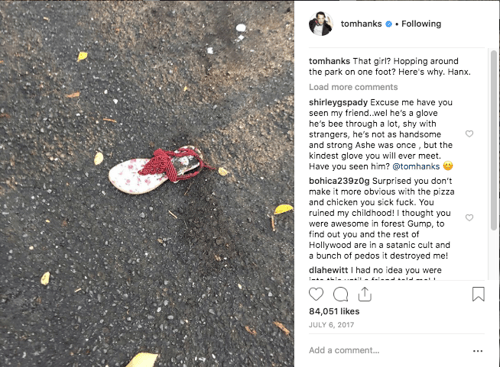 There you have it, my friend. I hope this kicks off your weekend right and the rest is full of relaxation. How do you typically de-stress after a rough week? Hit reply and let me know!
Now, as I return to child's pose, Namaste. 🙏