How to thrive in a recession, 8 top news stories from 2019, and off-camera interview style tips ...this is THE LATEST!
🔥 Hot off the presses




💪 Start off 2020 on the right foot! Join IMPACT Director of HubSpot Training on January 14 at 2 p.m. Eastern for a live webinar on how to clean up your HubSpot portal for the new year, as well as her top strategies for improving how you use the platform. Learn more and register today.
Real talk, the most fun part of beginning a new chapter in your life is the borderline theatrical, fortune cookie-esque approach you can take to how you unveil that news.
But then... reality sets in.
And your "embrace what's possible" mentality quickly transforms into "embrace the devastating explosion that has become your home, because it turns out you're basically a hoarder who masks a deep sickness with a love of cleaning products and fragrant candles."
That's right, folks. The great purge-and-pack fiesta of 2020 has begun in full force here at Casa de Moorehead, and right now I am losing a battle to my epic book collection...
I have four floor-to-ceiling bookcases I am currently sorting through and packing, and it's not going well.
...that's mostly because those bookcases don't even account for the books that never got unpacked in the first place. Sob.
I hate moments like this. I know what I have to do. I can't take everything with me as I embark on my next adventure. I have to learn to let go of bits and pieces of the past in order to be nimble enough to move forward. (And to be able to live in my new apartment comfortably, heh.)
"But they're just books."
To some, maybe. To me, however, those bookcases hold a great sense of comfort for me. They're books I've collected across different parts of my life. They're also how I keep my family with me, as much of it is made up of books from my mother, my father, my great aunts, and so on.
We all have these moments in life, though — whether as private individuals making the tough choices, or small business leaders who realize that economic downturns are a natural cycle of business — where we need to be agile, forward-thinking, and willing to welcome the unknown with open arms.
I just wish I could do that without all the cleaning involved. Seriously, moving is the worst, y'all.
Anyway, here's THE LATEST...
👉 What small business leaders really need to know to thrive in a recession (7-minute read)
In his book, They Ask, You Answer, Marcus Sheridan wrote candidly about one of the darkest times in his professional life. Before River Pools and Spas became one of the greatest inbound marketing success stories in the world, it was a hair's breadth away from becoming a fatality of the Great Recession of 2008. Almost overnight, Marcus and his partners lost a staggering amount of expected revenue, as customers decided to abandon their projects due to the sudden economic downturn. That's what makes this brutally honest, self-reflective piece from IMPACT partner, author, and speaker Marcus Sheridan on what small business leaders really need to know on how to thrive in a recession a must-read.
💬 You asked, we answered
👉 Here are the 8 most popular digital sales and marketing news stories from 2019 (5-minute read)
Here at IMPACT, we aim to cover the most important digital marketing and sales news. Sometimes we report on events and controversies like Facebook's loudly self-proclaimed victories against misinformation. Other times, it's product updates from places like HubSpot or Google, or cutting-edge research. Last year, we published 582 news reactions. From IMPACT Editorial Content Manager and News Editor John Becker, here are eight of the most clicked and most discussed news stories we covered from 2019 — may they help you recall the bizarre year that was.
💬 You asked, we answered
👉 Behind-the-scenes with our video team — what it really takes to produce a great off-camera style interview (1-minute read + video)
Off-camera interviewing is a technique used in all types of digital sales and marketing videos, wherein a videographer or video producer sitting off-camera prompts on-camera talent with questions. The answers to those questions are then cut together — with the prompting questions cut out — for a final, clean video that looks friendly and conversational. But what do videographers and on-camera experts need to know about how those videos come together? In this behind-the-scenes interview with IMPACT Creative Director Alex Winter, learn the most important tricks and best practices we swear by for fantastic off-camera style interview videos.
💬 You asked, we answered
🎬 Learn how to build trust and close more deals faster with video in less than 2 days (learn more)
Do you know what the most common obstacle organizations run into when adopting video into their marketing and sales process is? It's not the lack of understanding the "why" behind video, but rather "what" needs to be created and "how" those videos will actually help a company increase its revenue.In reality, video is a win for both sales and marketing.
With a one- or two-day on-site video sales and marketing workshop from IMPACT, we will help you overcome these challenges, and empower your team to master video marketing strategy, on-camera performance, and video production.
🎧

Latest shows and podcasts
👋 Work for IMPACT
Currently, we're accepting applications for:
📅 Upcoming events
😂 Weekend nonsense
In case you're wondering what happens to me every single morning at 6 a.m. and every single night at 7 p.m., here's what you're missing out on: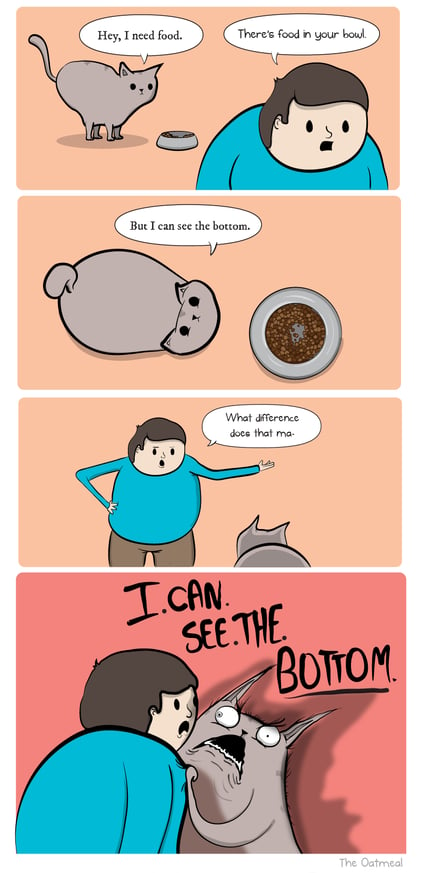 Yes, this is a cry for help.
☝️ One last thing
Who could it be? Reply to this email with your guesses...
See you later, alligator! 🐊