The Great Emojis in Marketing Debate, Passive Words Ruin Thought Leadership, & Twitter Unveils Massive Redesign to Users ...This Is THE LATEST!
💯 Jump Right Into the Good Stuff!
Get your ticket to

IMPACT Live 2019. You won't want to miss out on this one-of-a-kind, immersive event for growth-focused business leaders and digital marketers.

Use code IMPACT20 to

take 20% off your ticket price.
I should be exclusively focusing on finishing my IMPACT Live talk right now, since my slides are due in three days. (I'm not panicking, you're panicking.) But I'm going to be irresponsible and talk about something completely different instead.
As digital marketers and business leaders, we're no stranger to "heated debates" about different topics in our industry:
"If you don't want to be taken seriously in your marketing, go ahead — use emojis."
"What are you talking about?! Emojis get results. Period."
"Twitter is a useless social media platform and a waste of time."
"WRONG! Twitter is where news happens; brands need to pay attention!"
But if you want to see absolute anarchy, lob a somewhat controversial editorial style topic (e.g., the Oxford Comma) in front of a bunch of agency content managers and editors. It won't be long before those seemingly teamwork-focused marketing pros devolve into territorial, bloodthirsty warriors.
For example, one of the editors from AP Stylebook (from which we derive the vast majority of our own editorial style rules at IMPACT) recently conducted an "Ask Me Anything!" session on Reddit: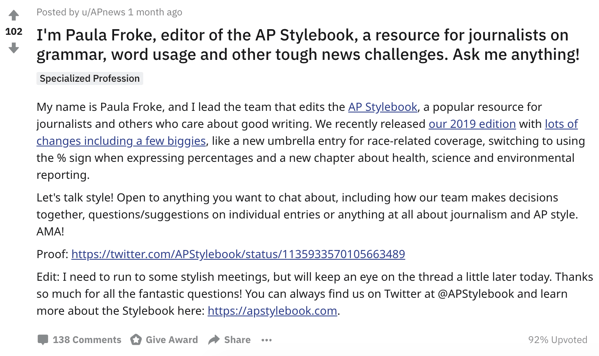 On the whole, most of the questions were fairly innocuous. But you didn't need to scroll far to see some serious "Hatfield vs. McCoy"-level of angst coming through: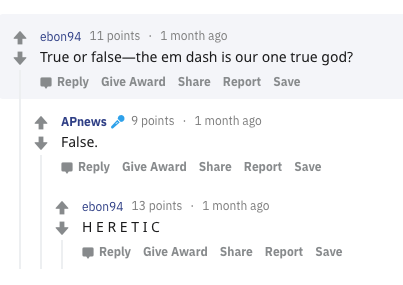 AP Stylebook, the choice of blasphemers?

Eesh.
Of course, I had to share this glorious gold mine of editorial insight and tribal warfare with my fellow IMPACT content nerds, Stephanie, John, and Jen.
And it wasn't long before they began to turn on each other.
Am I a monster who just wants to watch the world burn? Maybe. 😈
In reality, however, I love working at a company that hires ridiculously smart people who come from diverse backgrounds and don't always agree. I think that's the way it should be, though. Some of the best ideas and strategies we've devised were born out of disagreements, and (personally) I like being challenged to back up my beliefs.
Plus, think about how dull all of our jobs would be if everyone always agreed, no one fought passionately for their ideas, and everything stayed the same.
🦄 Are Emojis Juvenile Content Confetti or Game-Changing Engagement Drivers for Brands?
This past week, the internet celebrated World Emoji Day. Most big brands — like T-Mobile and U.S. Soccer WNT — joined in on the fun with emoji-laden social media posts. Others took the opportunity to innovate their product. For example, as of World Emoji Day, you can now use emojis to search for what you want in the Postmates app. Even with all of this fanfare, however, many marketers and business leaders are divided about using emojis. To settle the debate once and for all, IMPACT Digital Beat Reporter Iris Hearn wrote this article covering the role of emojis in modern-day marketing, and what the data says about emojis as drivers of engagement.
⭐ RELATED CONTENT:
💀 Passive Words Like "Ensure" Are the Kiss of Death If You Want to Create Thought Leadership Content
I do not like the word "ensure." Every time I catch myself typing it in a draft, I cringe. And every time I see it used in a blog article, I want to go out of my way to ensure the author knows how much they have wounded me. Why do I feel so strongly about it? I'm glad you asked. It's indicative of a much larger issue I see in a lot of content marketing — well-meaning thought leaders writing from a place of fear. So, I wrote this candid piece about why words like "ensure" undermine the big ideas in your content, and how to articulate opinions with authority without turning off your audience by being a bossy know-it-all.
⭐ RELATED CONTENT:
🐥 Love It or Hate It, Twitter Massively Overhauled Its Desktop Experience & We Are Big Fans of the New Design
It's been seven long years since Twitter's desktop had a facelift. So, for the past year, the Twitter team has been working to understand why people use the social network and how designers can make the platform better for its users. On July 15, they finally started implementing a new (and very different) layout for Twitter users. Is Twitter now easier to use and navigate? Well, early reports are positive. But for those who want the full scoop, IMPACT Talent Manager Carolyn Edgecomb has published a full, in-depth overview of Twitter's redesign, the new features that are now available, and everything else digital marketers need to know.
⭐ RELATED CONTENT:
🎧 Our Latest Shows & Podcasts
📆 Upcoming Digital Sales & Marketing Events
🤓 Weekend Nonsense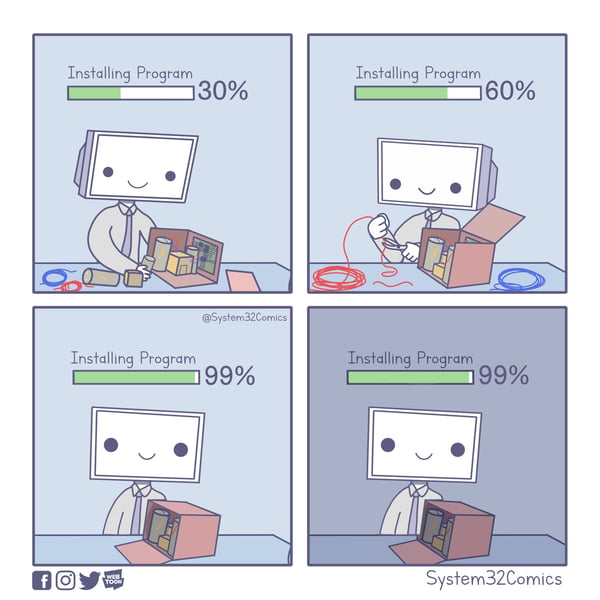 This gem from System32Comics is funny right now, but I was definitely that last panel (smiling and dying on the inside) at 7 a.m. yesterday morning, when I was trying to work on a draft for an article. Sigh.
OK, time to rejoin the real world and work on my talk for IMPACT Live. Wish me luck and have a great weekend, everybody!