23 World-Class Blog Post Examples, How to Reduce Customer Acquisition Costs, & Tips for Hiring Your Content Manager or Videographer ...This Is THE LATEST!
💯 Jump Right into the Good Stuff!


🔥 There are seven elements every business website should have — and not having them could cost you big-time. Learn what those seven elements are in this IMPACT-exclusive, 30-minute webinar with Marcus Sheridan this Wednesday, October 9. Reserve your spot today.
Story time. Recently, I moved my Keurig downstairs to my office, next to my desk:
This seemed great, in theory. But close proximity breeds dependency. What I mean by that is yesterday, while working on an article, I drank so much coffee that I could taste electricity.
Oops. ⚡
Anyway, here's THE LATEST...
✍️ 23 of the absolute best blog post examples for content marketers in all industries (+ expert tips and analysis)
In my role as IMPACT's content director, one of the most common requests I get is for blog post examples. For example, "I know I need to write a pricing article for [product/service]. Do you have any examples of great pricing and cost articles I can look at for inspiration of what I should cover in mine?" So, I spent hours pulling together this article featuring 23 blog post examples across eight different blog topic types that marketers in any industry can learn from.
🔎 Related articles and resources
💥 Eliminate the learning curve of content strategy and production with IMPACT's hands-on content marketing consulting services.
💰 Learn how to grow your bottom line by slashing your customer acquisition costs by 95% in 30 days
This week on The Inbound Success Podcast, Lead Hounds Marketing CEO and co-founder Jake Neill shares the accelerated growth strategy framework his team used to generate more than 5,000 qualified leads, while also cutting their customer acquisition cost by 95% — a framework, he says, that is agile enough that it can be applied to any business. Check out this week's episode to learn this battle-tested, universal growth strategy that will help you generate leads for your company and reduce the cost of bringing in new customers.
🔎 Related articles and resources
❌ No, your content manager (or videographer) doesn't need to have prior experience in your industry
One of the most common misconceptions business leaders have when looking to hire a content or video creator at their company is that they need to have prior relevant experience in their industry. While that may sound contrary to what many suggest for hiring other digital marketing roles on your team, content managers and videographers are "horses of a different color," so to speak. In this article from IMPACT Content Marketing Consultant Jolie Higazi, get the full scoop on why hiring content managers and videographers from outside of your industry is one of the best things you can do for your company.
🔎 Related articles and resources
🎧 Our Latest Shows & Podcasts
📆 Upcoming Digital Sales & Marketing Events
🌎 IMPACTers on the Move
Vidyard's Fast Forward The Video Marketing Virtual Summit returns on November 14!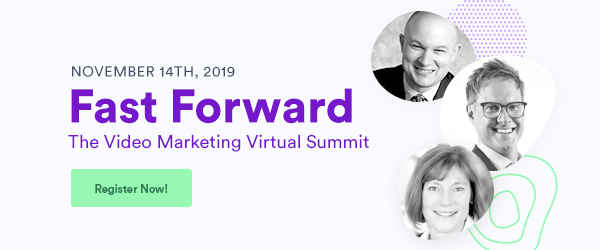 ...and our very own Myriah Anderson is part of the lineup with a can't-miss session on using video for sales:

(In case you're wondering, Myriah literally wrote the book on video for sales.)
🗞️ What I'm Reading This Week
Here are the long-reads, news items, and articles that have captured my attention going into this week:
📬 One Last Thing
IMPACT Director of Audience Engagement and Community Stephanie Baiocchi shared this on Facebook yesterday with "Me" as the caption:
Well, Stephanie, you are not alone. Hi, my name is Liz, and I am also an unrepentant email exclamation point abuser. ("Hi, Liz.")
Later, squares! ❤️