Behind the Scenes of They Ask, You Answer; "Above the Fold" Web Design; and How to Not Work While Attending Conferences ...This Is THE LATEST!
Most of my nonmarketing friends like to joke that I just attend meetings for a living. Part of me wants to say that this isn't technically wrong, depending on what day of the week it is.
But in reality, most days, I feel like the luckiest content nerd in the world.
For example, it wasn't until last week that I was able to let the cat out of the bag about a big "hush hush" project I had been working on. A project that, for the better part of two months, dominated every evening hour, weekend afternoon, and any other spare moment I might have otherwise had available...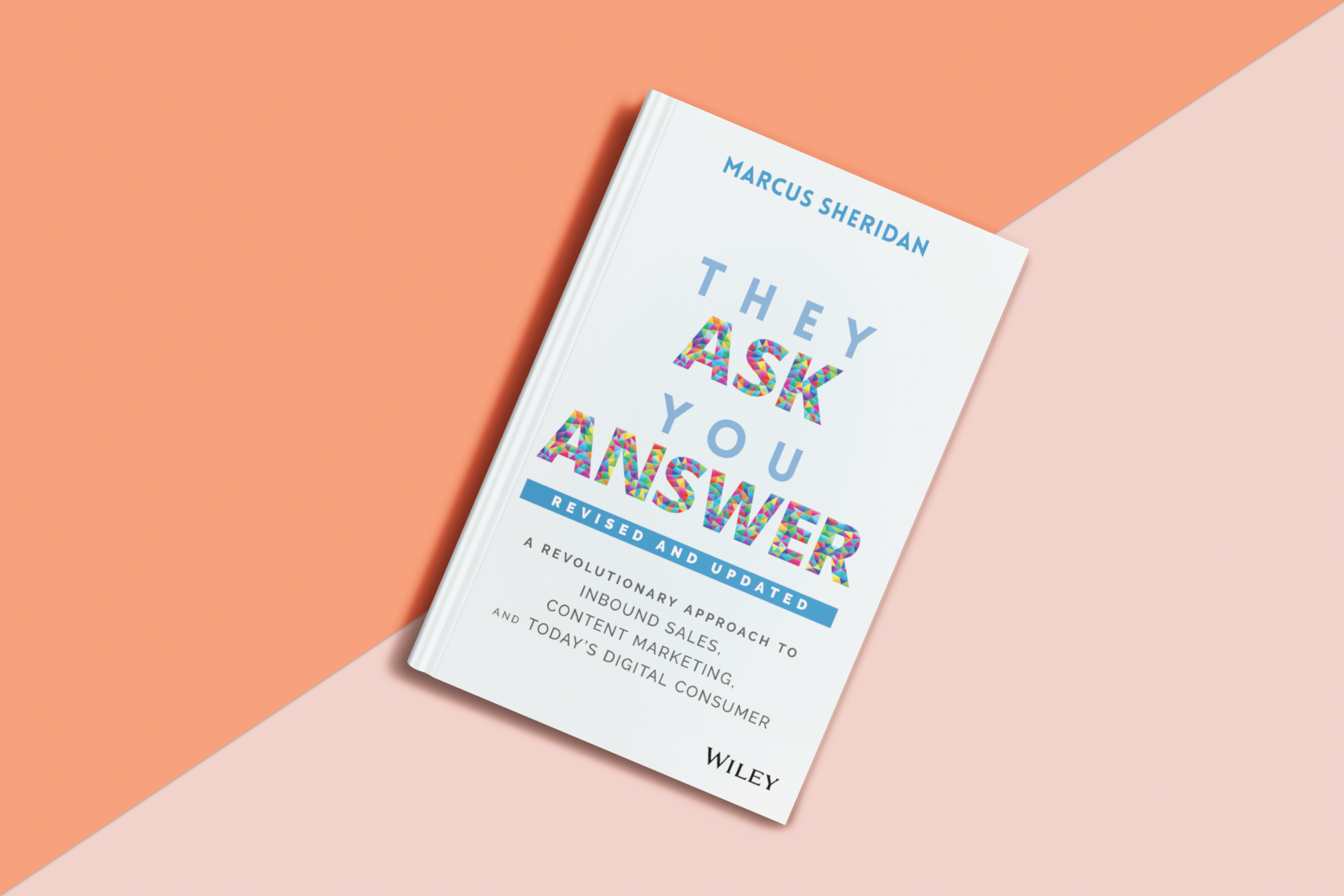 That's right, folks! As you might have already seen on Amazon -- or heard about during the most recent episode of The Hubcast -- a second edition of Marcus Sheridan's They Ask, You Answer will be released later this summer, just in time for IMPACT Live 2019.
And I was utterly humbled when Marcus and IMPACT CEO Bob Ruffolo asked me to help out as the internal editor and project manager for it. (Psst! Check out the first article below to learn more about my experience.)
It was a surreal project to be a part of, in my own tiny way.
Leaving aside the fact that I was getting to help out with an honest-to-goodness book, I was going to be a supporting player in revising a book that fundamentally changed my perspective on what I do for a living when I first read it in 2017.
I know I'm not alone in feeling that way, and it's been exciting to see companies around the world, across a wide range of industries, transform their own businesses through the philosophy of They Ask, You Answer.
Granted, I became closer to baristas at my local Starbucks than is probably healthy -- although those who keep us wayward editors caffeinated are doing sacred work that should not be undervalued -- but it was totally worth it to play a small part in this movement.
ALERT: Every IMPACT Live 2019 attendee will receive a copy of They Ask, You Answer (2nd Edition) -- and you can get $100 off your ticket through tomorrow ONLY with the code LATEST100.
📚 I Learned 4 Very Surprising Lessons as the Internal Editor of Marcus Sheridan's They Ask, You Answer (2nd Edition)
On the one hand, I was smart enough to recognize that I was about to embark upon a content adventure far outside the boundaries of what I considered, at that time, to be my comfort zone. On the other hand, I still had no idea how much of a learning experience it would be. There were late nights. There was dry-heaving. I also scared my dogs a couple of times. Without further ado, here is the "Real True Hollywood Story" of my experience as the internal editor of They Ask, You Answer (2nd edition).
🔥 Only 1 More Day to

Save $100

on Your Ticket to IMPACT Live 2019 -- Use Code "LATEST100" to Save!
There are only 40 days left before hundreds of business leaders, digital marketers, and sales pros descend upon Hartford, Connecticut, for IMPACT Live 2019 to learn the answer to the following question:
"What are the most important things I need to be doing right now with my digital sales and marketing to have the most bottom-line impact on my business?"
If you want to know the answer to that question, IMPACT Live is where you need to be. Over the course of two packed days, you'll learn the exact framework you need to apply at your company to get real results fast.
Join the movement. Use code LATEST100 to get $100 off your ticket to IMPACT Live today.
🎨 Is Staying "Above the Fold" Still Relevant in Modern Business Website Design?
If you're wondering what the business web design equivalent of talking about politics or religion at the dinner table is, it's how important (or not) "above the fold" real estate is for websites. For many, it's still considered the most important space on a site -- it's the first thing most of your visitors will see, right? Well, not so fast. IMPACT Senior Designer Joe Rinaldi shares this convention-challenging take all businesses need to read about designing "above the fold" for websites.
🤓 Here's How to Stop Being a Slave to Work While Trying to Be Present at Industry Conferences
IMPACT Live, INBOUND, and countless other industry events are just around the corner. If you're like me, you're slowly wrapping your brain around how you're going to balance attending these conferences without completely turning your world upside down, work-wise. Unfortunately, the usual solution is to work through a conference, "as needed." But we need to have a talk about that. If you want to make the most of your investment in attending a conference -- instead of working through it -- here is exactly what you need to do.
🎧 Our Latest Shows & Podcasts
📆 Upcoming Digital Sales & Marketing Events
OK, you know you need to be in Hartford, Connecticut, August 6th & 7th at IMPACT Live 2019, but we've got a special message to you from one of our speakers -- the legendary and passionate Brian Fanzo -- you need to hear:
⚡ IMPACTers at #INBOUND19
If you're also going HubSpot's annual INBOUND event, keep an eye out for three of our very own who will be taking the stage and delivering game-changing talks this year -- all on Wednesday, September 4:
While you can't register just yet for your INBOUND sessions, you can start favoriting those you want to attend (and adding them to your calendar!) by clicking on the individual session links above.
⏰ Throwback Thursday
In a recent article, IMPACT CEO Bob Ruffolo shared why we created our Digital Sales & Marketing Scorecard, and I think this was my favorite passage: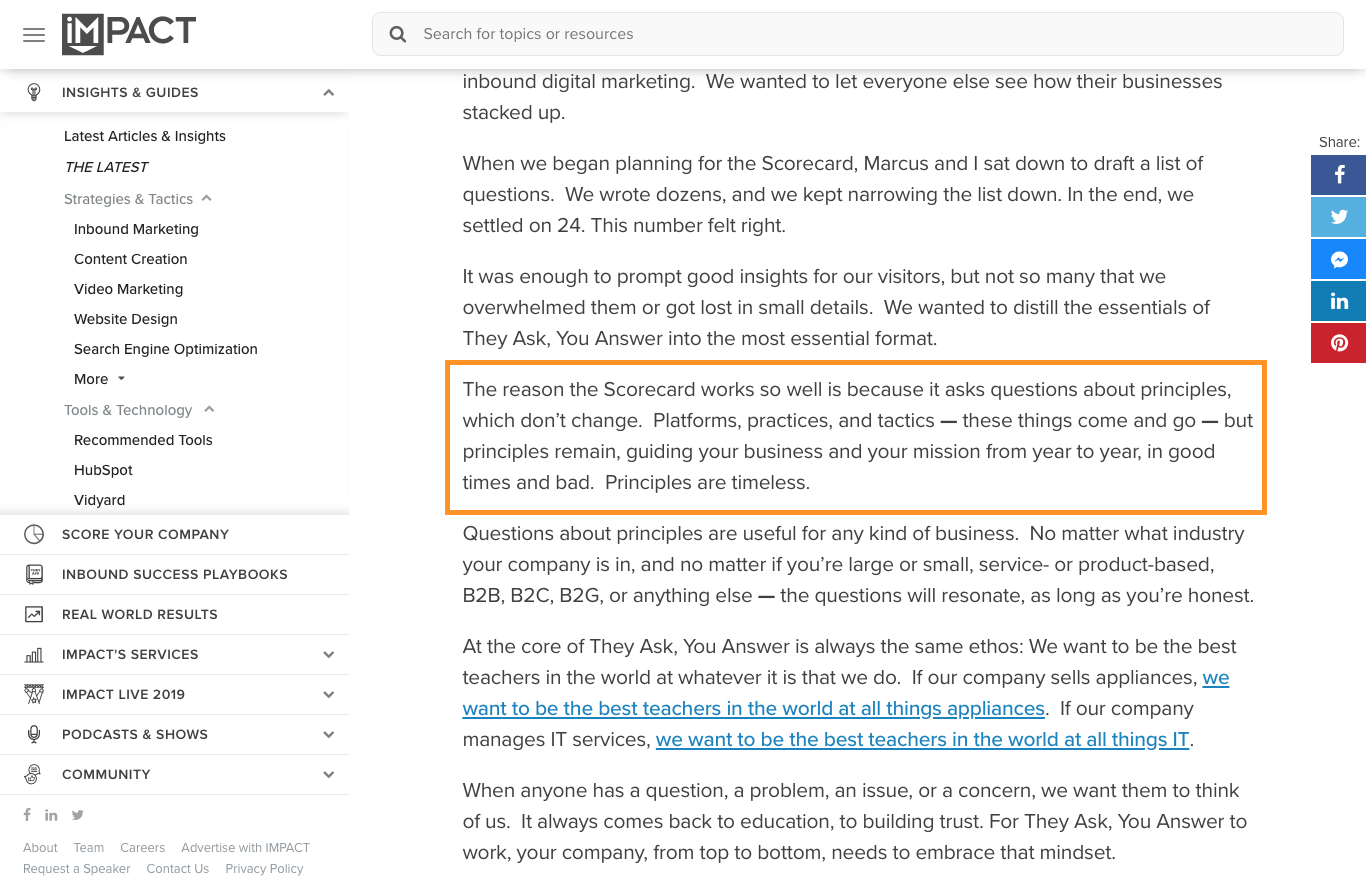 Teams from more than 280 companies have gotten their own Digital Sales & Marketing Scorecard -- now it's your turn.
🗞️ What I'm Reading
Finally, as always, without preamble or context, here is what I'm reading this week:
⚠️ Breaking News
I kid you not, as I was just writing this, a NEW IMPACT LIVE 2019 KEYNOTE SPEAKER was just added to our lineup -- and our team as bursting with excitement in our internal Slack company updates channel.
While I can't tell you WHO yet, what I can say is that it's going to be BIG!
So, get your tickets now (don't forget to use code LATEST100 for $100 off!), and then look for major announcement will be coming next week!
Ta-ta for now!

👋