Top 2020 digital marketing trends, Google's BERT algorithm update, and 10 blog layout best practices you need to know ...this is THE LATEST!
🔥 Hot off the presses




💯 "Sometimes inbound marketing feels like a big waste of time and money." Sound familiar? Whether you're just getting started with inbound or you're smashing the inbound reset button for a much needed fresh start, this webinar on January 27, 2020, at 2 p.m. Eastern is for you. Now is the time to learn how to do inbound the right way, so you can start hitting your most aggressive digital sales and marketing goals.
I know a lot of people hate it, but I absolutely love hopping in my Jeep for a long, solo road trip somewhere.
Aside from the fact that there's something very emotionally freeing about cruising down the highway, blasting my favorite tunes, and feeling the sunshine stream in through the moonroof, there aren't many places in this world where I am forced to just sit alone and ponder whatever happens to come into my mind.
When I'm behind the wheel, alone with my thoughts, that's when I feel the most present and in the moment. I don't have a phone glued to my hand as the miles of interstate roll out in front of me. And there's usually no one sitting beside me, chattering away.
I'm thinking about this today because, in a few hours, I'll be hitting the road to hang out with some of my favorite IMPACTers for an impromptu weekend jaunt to Cleveland, Ohio.
(And, according to all the little chicks with the crimson lips, Cleveland rocks!)
With six hours on my own, I'm wondering what I'll cook up before I reach my destination.
On previous drives, I:
Look, I know long, endless highway-driving is not for everyone. However, I would encourage each of you to find the space or an activity somewhere in your life that allows you to free-think, brainstorm, and be present and alone with your ideas.
Yes, turning to the great Google machine to answer our most pressing questions is a great and helpful thing. But sometimes you already know the answer; you just need to give yourself time to discover it.
And now, here's THE LATEST...
👉 "What are the most important digital marketing trends we need to be paying attention to?" (17-minute read)
When it comes to digital marketing, the landscape is always evolving — and sometimes spinning wildly off into new directions. For example, what most marketers ignored as a smartphone gimmick only a few years ago has now evolved into voice search, which is growing rapidly. But where should you spend your time and effort? What are the digital marketing trends worth capitalizing on? Don't worry, IMPACT Content Marketing Consultant Brian Casey has you covered with this incredibly well-researched and comprehensive overview of the 27 most critical digital marketing trends you need to know about.
💬 You asked, we answered
👉 "Uh, what does this Google BERT algorithm change mean for our content strategy?" (3-minute read)
BERT, or Bidirectional Encoder Representations from Transformers, is Google's most recent algorithmic update to how it processes queries and curates page results. It uses machine learning to process natural language and interpret the meaning of queries and page content. Whew, that was a mouthful, am I right? But what the heck does all that mean for us digital marketers trying to get our content to rank well on search engines? In this article from IMPACT Beat Reporter Rachel Denney, you'll get the inside scoop on everything you need to know about Google's BERT algorithm change and what it means for your SEO strategy... all in three minutes or less.
💬 You asked, we answered
📈 "How can we drastically improve how well our website ranks in search results right now?" (get the answer)
How your website ranks and performs in search is dependent on a number of factors, and the rules are always changing. Unlock the action plan to skyrocket your website's performance with our Technical SEO Audit, in partnership with Narrative SEO.
👉 "How should we structure our company blog's layout based on recent trends, data, and research?" (11-minute read)
To help shape and optimize the readability of your content you need it to be facilitated by a blog design that's able to draw customers into headlines, entice interactions, optimize for conversions, and create a lasting impression. But where do you start? How do you organize everything to increase your blog's subscribers while also keeping it aesthetically pleasing? Those are the exact questions IMPACT Creative Lead Christine Austin answers in this fantastic article (with loads of examples!) on the 10 blog layout best practices you need to keep in mind in 2020.
💬 You asked, we answered
🎧

Latest shows and podcasts
👋 Work for IMPACT
Currently, we're accepting applications for:
📅 Upcoming events
🌎 One last thing
I told you to keep an eye out for the big Digital Sales & Marketing World keynote speaker announcement in the last issue, but did you miss it?
Well, just in case, I am so, so, SO thrilled to finally be able to spill the beans that the one-and-freaking-only Ann Handley (CCO of MarketingProfs and author of Everybody Writes) is the latest keynote speaker reveal for DSMW2020!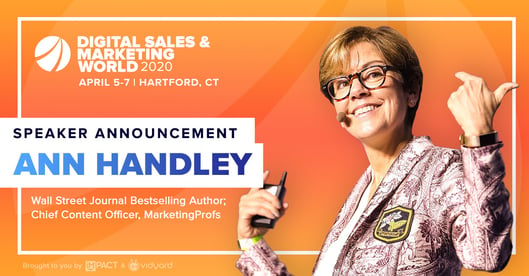 Who has two thumbs, speaks limited French, and is totally beside herself with happiness over this news? This moi.
Now, don't forget, super early-bird pricing (the lowest prices tickets will EVER be!) expires on January 31, so secure your registration today!
Au revoir!