Is your website a sales tool or a marketing tool, how HubSpot compares to 8 competitors, and why in-house finance is the key to business growth
...this is THE LATEST!
🔥 Jump right into the good stuff




🎨 Want to work for IMPACT? We're currently looking for an experienced, senior-level director to lead our award-winning web design team. Learn more about the role and apply today.
Over the holiday, I learned what a "toddler-proofed" Christmas tree looks like from a dear friend of mine: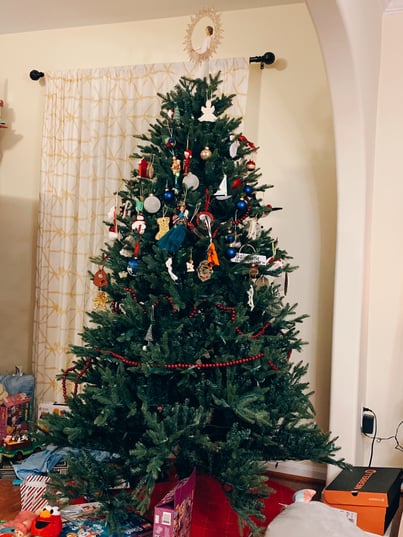 The culprits, of course, look so sweet and innocent on the surface: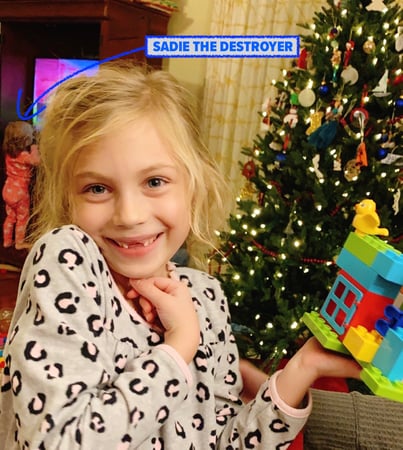 As Sena shares her latest creation, Sena, destroyer of worlds, attempts to conquer the entertainment center in the background. Next, the world.
It seems as if we're always trying to "proof" something. Future-proofing our digital marketing strategies. Recession-proofing our business. Cat-proofing my dresser, since Pumpkin's favorite thing to do is to ruin my life by napping in my clean laundry.
Don't get me wrong, these are necessary conversations we should be having. But we should all be wary of living exclusively in what is, essentially, a fear-based, protectionist mindset.
In addition to [fill in the blank]-proofing everything around us, we must also evaluate what preconceived notions about our strategies, websites, and processes need to be challenged, discarded, or turned around. Because, sometimes, we need to burn something down instead of safeguarding it, in order to achieve what we really want.
And with 2020 arriving next week, there's no better time than now to start.
Now, without further ado, here's THE LATEST...
👉 Learn why your website is a sales tool — not a marketing tool — and why that distinction is so critical (6-minute read)
Whose responsibility is it to create a website strategy and experience that is going to drive the right traffic and produce high-quality leads for your business? It is up to marketers, or is it up to the sales team? The answer is both teams. Marketing needs to create a traffic-driving, lead-generating site, but they can't do that without sales creating the content potential buyers are seeking. In this tactical, insightful article from IMPACT Principal Strategist David Little, you'll learn why this shift means your website is a sales tool, not a marketing tool, and what that means you should do in 2020 to create the lead-generating website you need.
💬 You asked, we answered
🏆 Get on the path to inbound success fast, without the long-term commitment (learn more)
You're looking for an inbound marketing agency to help bring your business to another level. All too often, however, the sales process goes too fast. And it doesn't take long for you to realize your agency partner never made enough time to get to know your business or its true challenges in the first place, so as to help you achieve your most aggressive growth goals with inbound marketing.
Don't get stuck in a long-term contract and then find out what your business really needs to be successful with inbound in the long-run. With IMPACT's Fast Start Program, you can get your inbound marketing on the right path fast, while truly getting to know us as your agency partner, risk-free.
👉 How does HubSpot hold up against 8 of its biggest competitors? (5-minute read)
HubSpot has completely transformed our agency and we honestly wouldn't be where we are today without their help, which is why we're strong advocates of their service and product. That being said, we know HubSpot isn't the right marketing automation solution for every business — factors like company size, marketing and sales goals, reporting needs, and so forth, will determine what you really need. In this article from IMPACT HubSpot Consultant Lexie Ward, learn how HubSpot stacks up against its eight biggest competitors (including Pardot, Marketo, Infusionsoft, Act-On, Mailchimp, and more), so you can make the best decision.
💬 You asked, we answered
👉 Why bringing your finance and accounting needs in-house is the key to business growth, according to the experts (5-minute read)
Most small and mid-size businesses outsource their bookkeeping, accounting, taxes, and other financial needs. However, according to IMPACT Controller Eric Choma, companies should seriously consider brining these tasks in-house, as it not only creates more stability, such a move will also empower you to make smarter business decisions faster. In this expert interview with Eric, learn why hiring your first financial expert needs to be done with care, as the right person can help your company grow intelligently.
💬 You asked, we answered
🎧 Latest shows and podcasts
📅 Upcoming events
👋 Work for IMPACT
Currently, we're accepting applications for:
⏰ Throwback Thursday
Did you miss the little Christmas gift John Becker and I made for you with this week's edition of the Content Lab podcast?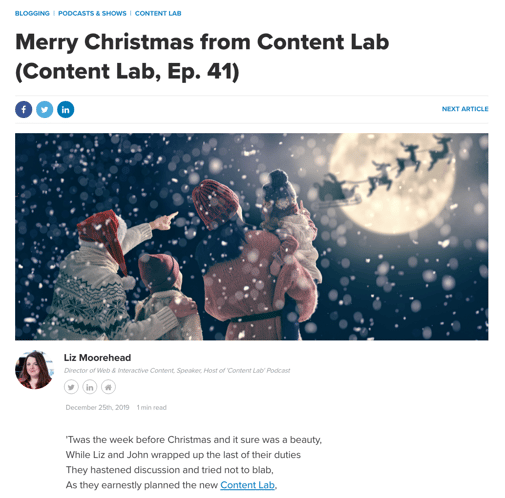 It's only two minutes long, check it out.
🎁 One last thing
Recently, IMPACT Director of Community and Events Stephanie Baiocchi was featured as a guest on the awesomely named Beer, Beats, and Business podcast:

Listen to this great discussion about online community management, where online communities will exist in a few years, and more.
Talk to y'all on Thursday!