Are toxic backlinks hurting your search rankings, consumers wasting

billions due to fake online reviews, and we've rolled out our editorial code of ethics ...this is THE LATEST!
🔥 Hot off the presses




👋We're getting ready to unveil our final Digital Sales & Marketing World keynote speaker — and I'm running an exclusive contest for LATEST subscribers! Want to learn more? Scroll to the bottom of this issue.
When I first saw that we published an article about how "toxic" backlinks can significantly damage content search rankings a couple of days ago, my mind immediately went to one thing and one thing only — "Toxic" by Britney Spears.

I've spent days trying to mentally move on from this. Because, more than anything, I wanted to inspire you with a thought-provoking anecdote or challenge in today's issue.
But, to quote the daughter of one of my best friend's whenever she's asked to do something like share, clean her room, or pick up her toys, "I just can't."
I'm sorry, but I'm a female whose entire high school soundtrack revolved around Britney Spears, NSYNC, Backstreet Boys, the Spice Girls, Hanson, and a lot of other musical acts who made highly questionable fashion choices.
I also 100% blasted "Toxic" on repeat driving back from Trader Joe's this morning, and I'm only 85% ashamed about it.
This is who I am. Take me or leave me.
And now, here's THE LATEST...
👉 "What are toxic backlinks, and are we being penalized by Google in our rankings because of them?" (2-minute read)
if your website appears on link-building pages with low credibility, you may struggle to increase your website traffic. And that could be true no matter how much keyword research or search engine optimization you do. Even worse, though, is the fact that sometimes these links appear without your consent. Website owners may pay a company to help boost their search rankings, only to discover they are using the toxic practice of link building. In this quick rundown from IMPACT Editorial Manager John Becker, you'll learn what toxic backlinks are, how to know whether these toxic backlinks exist for your website, and how to get rid of them if you do.
👉 "What do we need to know about fake online reviews, and why are they costing consumers billions of dollars?" (3-minute read)
Last week, TrustPilot released an alarming study that tells a very interesting story. The rise of fake or inaccurate online reviews has led to consumers wasting money on products that weren't up to par with their expectations. On average, American consumers wasted $125 last year due to inaccurate reviews. That totals to an insane sum of roughly $25 billion — yes, with a B — just in the United States. In this article from IMPACT VP of Marketing Vin Gaeta, get the answer to the question we now all have on our minds — are you being hurt by five-star reviews online?
💬 You asked, we answered
👉 "Why does IMPACT have an editorial code of ethics, and what's included in it?" (3-minute read + video)
When IMPACT Head of Editorial Ramona Sukhraj was originally asked to create a code of ethics for our publishing, she was somewhat intimidated. To her, a "code of ethics" sounded like something followed by the Night's Watch on Game of Thrones or ripped from the philosophy textbook gathering dust on my shelf since freshman year gen-eds. She soon realized, however, that a code of ethics is essential for anyone sharing content with an audience online. In this insightful article and interview with Ramona, learn why we created a code of ethics for our content (atypical for an agency) and exactly what's included in it.
💬 You asked, we answered
🎧
Latest shows and podcasts
💤 Weekend nonsense
It's all about branding...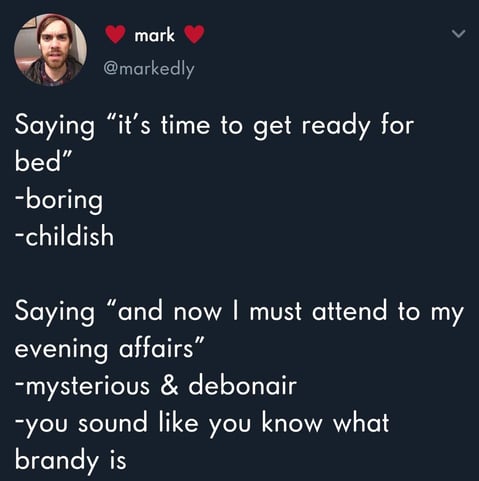 🤔 Who could our last speaker be?
Mark your calendars for March 10, y'all: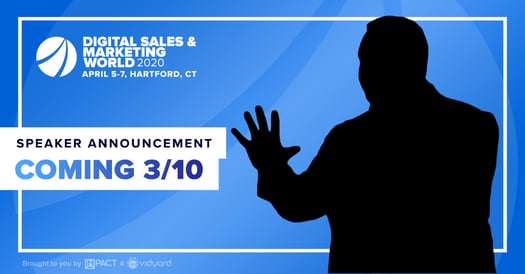 Because we're unveiling our last keynote speaker for Digital Sales & Marketing World 2020, which is going down in sunny, scenic Hartford, Connecticut this April! If you have any guesses as to who it might be, reply to this email with them.
Anyone who sends me a guess (right or wrong!) between now and the day of the announcement will be entered into a drawing for a copy of They Ask, You Answer, as well as a few other choice goodies from yours truly!
And don't forget to follow DSMW on Facebook, Twitter, and Instagram to get the latest updates.
Toodles!

💋