DIY Design Apps Can Hurt Your Brand, Shopify Dumped MailChimp (We Think) & Problems with the HubSpot CRM ...This Is THE LATEST!
We are mere days from the end of the quarter, and I'm more productive than I've ever been -- but I'm also vacillating between extreme pride and total panic whenever I think about the number of content projects I will have completed by March 31.
Which is this Sunday. Oh my gosh.
You know what frustrates me, though? How some (not all) marketers, work-from-homers, and agency wonks portray "the hustle" and "that agency life" on Instagram in a way that's perfectly styled, organized, and filtered.
That's not reality. That's not what what it looks like when you're in the weeds, pulling late nights, making thousands of words come out of your brain, and having your husband make jokes about how he can't remember your name.
This is what that looks like:
Yes, that's a bottle of salad dressing on my desk, and you do not get to judge me for it. This is the ugly "hashtag hustle hashtag agency life" truth that people try to pretend doesn't exist.
That's #TheRealHustle.
Of course, order was eventually restored... for approximately five minutes: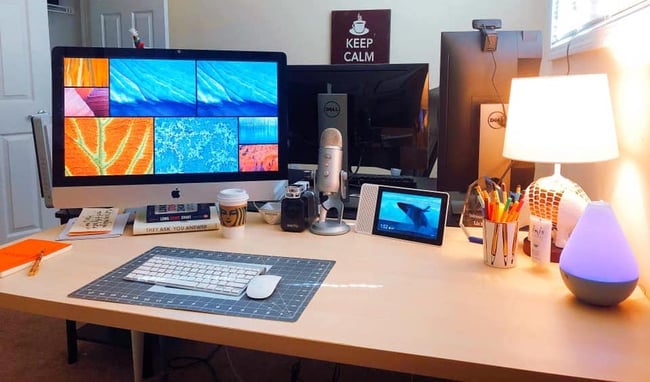 I share this with all of you to say I am 100 percent over this romanticizing of hustle culture. We should talk more about what hustling really feels like and show more of what it actually looks like.
End of rant.
Anyway, my petty internet grievances notwithstanding, there is one area I fail at during "It's go-time!" periods like this.
I'm terrible at remembering not to cut too many corners for the sake of "efficiency" (especially with design tasks) and staying on top of major blow-ups in the marketing world.
I mean, seriously... MailChimp and Shopify? What is going on?
🎨 Are You Hurting Your Brand by Using DIY Design Apps the Wrong Way? You Might Be...
Tools like Canva and Piktochart are amazing -- and ironic uses of MS Paint bring me joy -- but marketers, we need to have a talk about a few things. DIY design apps and tools have democratized graphic design to such a degree that more than a few of us are at risk of eroding the credibility and authority of our brands. Thankfully, IMPACT Designer Marcella Jalbert is here to help with an article that outlines the pros and cons of DIY design tools, as well as how we need to approach branded DIY design differently.
💔 Shopify & MailChimp Broke Up, What Does That Mean for You?
Don't look now, but we've got another case of "he said, she said" on our hands. This time it's Shopify and MailChimp, who both have contradictory stories about why MailChimp's integration will no longer be supported on the Shopify platform. While the theatrics of dueling press releases is intriguing, it's not really that helpful. Don't worry. IMPACT Account Executive Kristin Linde provides a succinct, actionable rundown of what the demise of Shopify's MailChimp integration means for marketers, and what you need to do about it if you've been impacted.
💥 The Only Definitive Guide to Marketing Data You'll Ever Need [Sponsored by ReachForce]
B2B marketing organizations collect a wide array of data about our customers; from basic demographic information through buying habits, preferences and products used. But do we use this information to its full potential? Marketers can take the guesswork out of creating targeted and effective marketing programs by using data that we already have at our fingertips. This guide dives into the holistic state of marketing data as it is today, the challenges within and the opportunities you can harness through using data to its full potential.
👎 Real Talk, What Are the Biggest Problems Sales Teams Have with the HubSpot CRM?
Can we talk about how exciting it was when the HubSpot CRM was announced at HubSpot's annual INBOUND conference back in 2014? Because of its accessibility and ease-of-use, thousands of sales teams around the world rely on the HubSpot CRM to manage their pipelines and close deals more efficiently. However, as IMPACT Client Success Manager Marc Amigone shares here, there are still five big problems with the HubSpot CRM we need to talk about.
👀 ... When You're All Ears (& Eyes)
🚨 Save Your Seat!
IMPACT Live Early Bird Pricing Expires in 5 Days! That's right — prices for IMPACT Live 2019 jump up April 1, so if you'd like to hang out with the greatest minds of inbound, learn how to become the most trusted voice in your space, and save some serious dollars, now's the time to register. Want to save even more? Use the code LATEST50 to knock another $50 from your ticket price. You can grab your tickets here. (And with a week left, there's still time to convince your boss to send you and your favorite coworker!)
How to Find Blog Topics Your Audience REALLY Cares About (Webinar): There are five key questions all buyers want answers to -- regardless of what they're shopping for. In this webinar hosted by SEMRush, IMPACT Content Marketing Specialist Kevin Phillips will show you how to solve the problems your customers have by addressing the topics and questions most relevant to them. This one-hour session on April 8 starts with a 20-minute long presentation by Kevin, followed by a panel discussion with Susan Moeller and Andy Crestodina. Sign up for the SEMRush webinar here.
Who's in Annapolis and Needs a HUG? (A HubSpot User Group, that is!) On April 10, the Annapolis HubSpot User Group will be getting together to learn all about mastering LinkedIn advertising from IMPACT's paid media specialist, Jason Linde. Registration is free, and there will be complimentary snacks and drinks, so reserve your seat now. (The room actually does have limited space.)
🌎 IMPACTers on the Move
⏰ Throwback Thursday
As we get excited over the agenda for IMPACT Live '19, I can't help but take a moment to look back at some of the amazing, inspiring talks we heard last year.
Particularly, IMPACT Director of Audience Engagement and Community Stephanie Baiocchi's candid, tactics-driven talk about what it really takes to build an online community that thrives and helps businesses achieve aggressive goals:
(Seriously, take 11 minutes to learn how to radically change your view your online community -- she packs an obscene amount of insight into such a short time, so you won't regret it.)
And if you want more IMPACT Live goodness, you can watch videos of all of our talks from last year's event here.
What Does #TheRealHustle Look Like for You?
I know I went off on a bit of a rant at the start of this issue, but these are the kinds of conversations I wish we were having more of.
So, I want to hear from you.
Reply to this email with a picture of what your hustle really looks like, or any thoughts (or rants) you have about your experiences or your feelings on how others portray hustling online.
(I may include it in an upcoming article I'm working on about the topic.)
OK, back to work... ✍️