Google Rolls Out New Search Feature, How to Lead Under-Performing Teams, & Brands Cashing in on "Storm Area 51!" Meme

...This Is THE LATEST!
💯 Jump Right into the Good Stuff!
🔥

We're four days from IMPACT Live! Use code IMPACT20 to

take 20% off your ticket price. There are still a few tickets left. So, if you're in the Hartford, Connecticut area, I'd love to see you join us for two days of digital sales and marketing education, networking, and unforgettable memories!
Earlier today in a meeting, I was asked to describe how I was feeling this week in one word. I said, "Surprisingly accomplished... and let's pretend that's hyphenated."
Truthfully, however, I shouldn't have felt surprised. I feel an incredible sense of satisfaction every day about the work that I do — both as an individual contributor and as a member of our team. (We work really hard, produce a ton of incredible content, and are constantly iterating and innovating on how we can take what we're doing now and make it better. It can be a lot, at times, but it's oh, so exciting.)
However, my sense of daily accomplishment is often eclipsed by... well, what some might consider to be a petty feeling.
I'm referring to those moments when I come across something so cool, I exclaim, "Man, why didn't I think of that?!"
For example: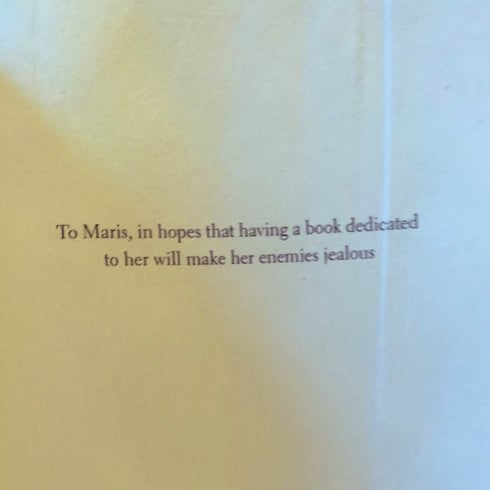 Just look at this dedication in Josh Gondelman's new book. First, why haven't I ever thought of something like that? Second, why don't I have any friends who are authors who could dedicate a book to me, so that my enemies would be jealous?
(I don't think that's too much to ask. Just be a good friend, OK?)
Or check this out — Arby's capitalized on the ridiculous "Storm Area 51!" meme by announcing on July 25 they will be at the event (which has ~1.8 million RSVPs on Facebook, by the way) serving delicious food:
To be clear, I'm not saying I won't champion and lift up others for their amazing ideas when it's deserved. But I'm a human being with flaws. So, sometimes I'm going to pout about it, OK?
Now, if you'll excuse me, I need to explore my network for authors... for no particular reason. 🙃
🚨 NEW Google Feature: You Can Now "Swipe to Visit" Google Image Search Results when Searching via Mobile



The team at Google has made it way easier for searchers to navigate from an image directly to a website with its new "Swipe to Visit" feature. So, when someone clicks on an image in the search results, the corresponding page automatically gets loaded right below it. This gives the searcher a sneak preview of the page before they have to click-through. In this article, IMPACT Account Executive Jolie Higazi has the full scoop about Google's new "Swipe to Visit" feature including how it works, feature exclusions, and implications for digital marketers.
⭐ RELATED CONTENT:
⚠️ How Do You Effectively Lead When Your Team Is Under-Performing & You're Always Putting Out Fires?
It's only 11 a.m., but you just snoozed your Slack and email notifications, put your phone on silent, and decided you "needed a break" — maybe you'll take a walk, or go to the kitchen, or hide out in an empty conference room. It doesn't matter, as long as you're away from your computer and people. How did you get here? In this radically candid article, IMPACT VP of Services Brie Rangel addresses how to handle team performance issues, and the importance of seeking commitment over compliance.
⭐ RELATED CONTENT:
👽 Almost 2 Million People Are Planning to "Storm Area 51" as Part of an Internet Meme & These 5 Brands Are Capitalizing on It
Currently, there are over 1.8 million people signed up to the Facebook event "Storm Area 51, They Can't Stop All of Us" taking place on September 20. The group intends to storm the top-secret government facility with one simple mission: "Let's see them aliens." It started as a joke, and now it's become a viral internet meme. And where there are memes, there are brands trying to capitalize on the moment. In this article, IMPACT Digital Beat Reporter Iris Hearn showcases five brands who are cashing in on the "Storm Area 51!" moment and the power of meme marketing.
⭐ RELATED CONTENT:
🎧 Our Latest Shows & Podcasts
📆 Upcoming Digital Sales & Marketing Events
⏰ Throwback Thursday
This past June, I shared my experience of acting as the internal editor and project manager for the second edition of Marcus Sheridan's ground-breaking book They Ask, You Answer.
I mention this because we recently launched a brand new website and resource center for They Ask, You Answer — a book and a movement that has been embraced by thousands of organizations worldwide:
Check it out and order your copy today!
🗞️ What I'm Reading Right Now
Finally, without preamble or context, here is what I'm reading this week:
Later, squares!