7 Best Social Media Management Tools (+ Video)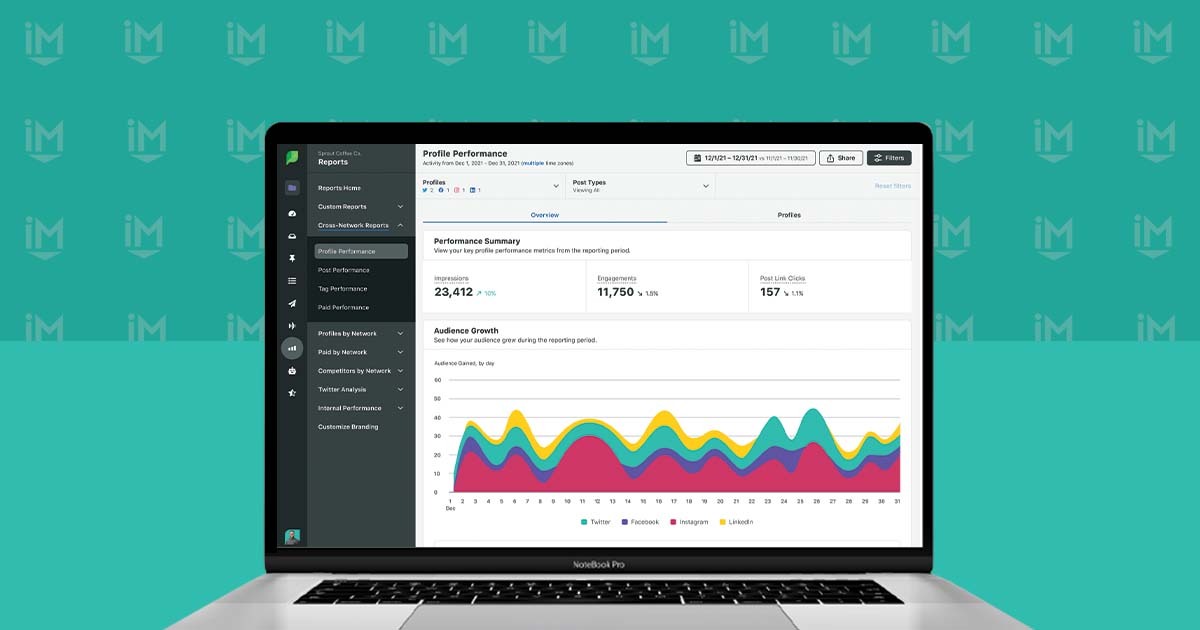 Best social media management tools
Sprout Social
Hootsuite
Loomly
Sendible
MavSocial
AgoraPulse
HubSpot
What are the best social media management tools for brands?
Back in the early days of social media — you know, when you had to walk uphill both ways in the snow to send a tweet about what you were eating for brunch — you could use each platform natively within each app as a brand. Now, centralized social media management tools are the norm — but which one is right for you?
But wait, there's more... let's go deeper
I'm not your typical social media junkie. I don't have a Twitter, Tumblr, or TikTok account — or as I call them, the "four social Ts."
I use Facebook and Instagram primarily to find memes or pictures of cute animals (dogs preferred but not exclusively). Snapchat collects dust on my home screen. I like LinkedIn the most and how many people proudly say that?
Now, of course, I do have my fair share of social media accounts. In fact, I just launched an account for one of my hobbies called Tumblin Rocks:
Yes, this is a shameless plug — give it a follow! 😉
Yet, even with my general aversion to social media, I run IMPACT's Facebook group, IMPACT Elite, which boasts more than 6,000 members. I also regularly post social content on behalf of IMPACT and our clients.
What I think makes social media such a great tool for any brand, personal or professional, is the opportunity it affords you to connect with customers, fans, and critics of your brand each and every day.
One example is a conversation I had with an Elite member named Pamela who posed a question asking how to build a following on different social media accounts.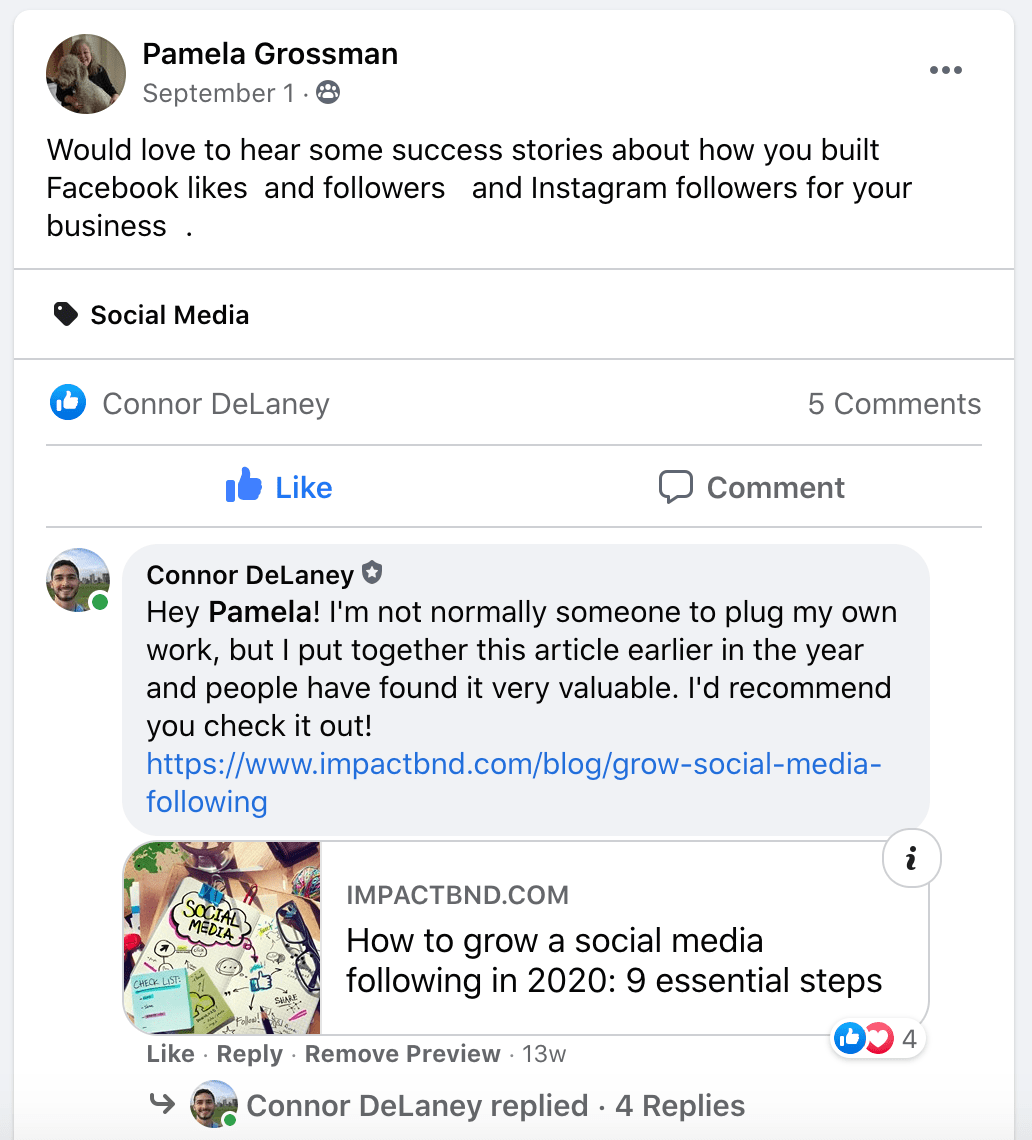 This post is where our whole conversation and friendship began!
I got a ping for this notification since social media is a phrase I monitor within the Facebook group. I sent over a couple resources I thought she'd find valuable.
She then asked to have a 30-minute conversation about one of the resources I had written. Long story short, we built a strong connection during our chat and she actually sent me a gift for taking the time to talk with her.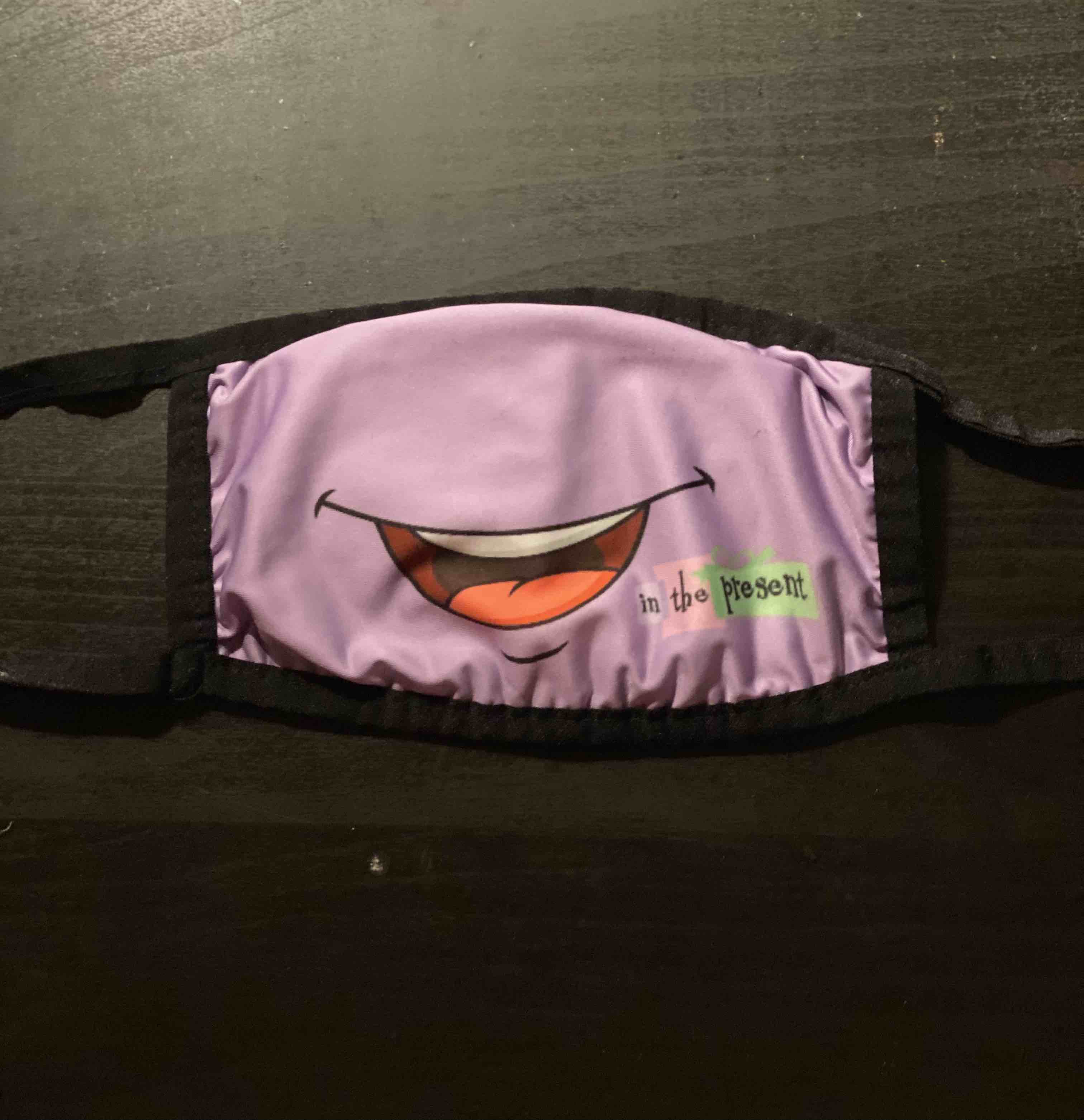 In COVID-19 times, it never hurts to have another mask. Plus, why not wear it with a smile!?
Pamela is now consistently one of our most actively engaged community members, regularly asking questions and helping other members. She also keeps in steady contact with me which I always look forward to!
Yes, this example was through an application-only online community on a social platform rather than a more traditional, public social media post or connection, but the moral of the story remains the same.
When you go out of your way to engage with your audience, you build stronger and more personal relationships. As a result, you'll not only make your company look good, you'll also open the door to new business opportunities.
But it's not easy building those relationships on your own
As my story illustrates, it's possible to play the long-game and build those connections by establishing an exclusive social media-based community like IMPACT Elite.
However, you may not have the time or perhaps even the desire to build an online community for your brand. (For some industries, building that kind of community may not be necessary or needed.) Instead, you probably would turn to building a social media presence for your organization as a more practiced and effective use of your time.
But that's not easy. You will be competing for the attention of your customers on social media with hundreds (if not thousands) of other social media accounts. That means you can't slack with posting, scheduling, reporting, and all of the other social media activities now required to be successful.
The rise of social media management tools
Think back five, 10, even 15 years ago when social media was just starting to take off. It wasn't so difficult to manage each of your brand's accounts natively on the platform that they were on such as Facebook on Facebook, Twitter on Twitter, LinkedIn on LinkedIn, etc. etc.
🔎 Related: The ultimate guide to online community management for brands
That is no longer the case. Now, that would be such a time-waster. That's why social media management tools — like Hootsuite and Sprout Social — which centralize all of your social media management efforts, have become so indispensable to brands.
Now, if I were to guess, you probably fall into one of these three buckets when it comes to your social media strategy today:
You've been patching together your social media strategy but the hours required to post content, respond to comments, and have next to no data to show your work is tedious and "less than ideal" for your well-being..
You already have a tool in place for managing your social media strategy but it's time for an upgrade so you can get things like data and performance analytics that will help you do your job even better.
You're a tech nerd like me who has a tool in place that they like and is just genuinely interested in what tools are out there for social media management.
No matter which bucket you are in, you want to learn more about the social media management tools that are available, the pros and cons of each, as well as the price point so you can determine which is best for your business — even if you are a fellow tech nerd!
With that, let's dive into my list of the best social media management tools for brands to use in 2022.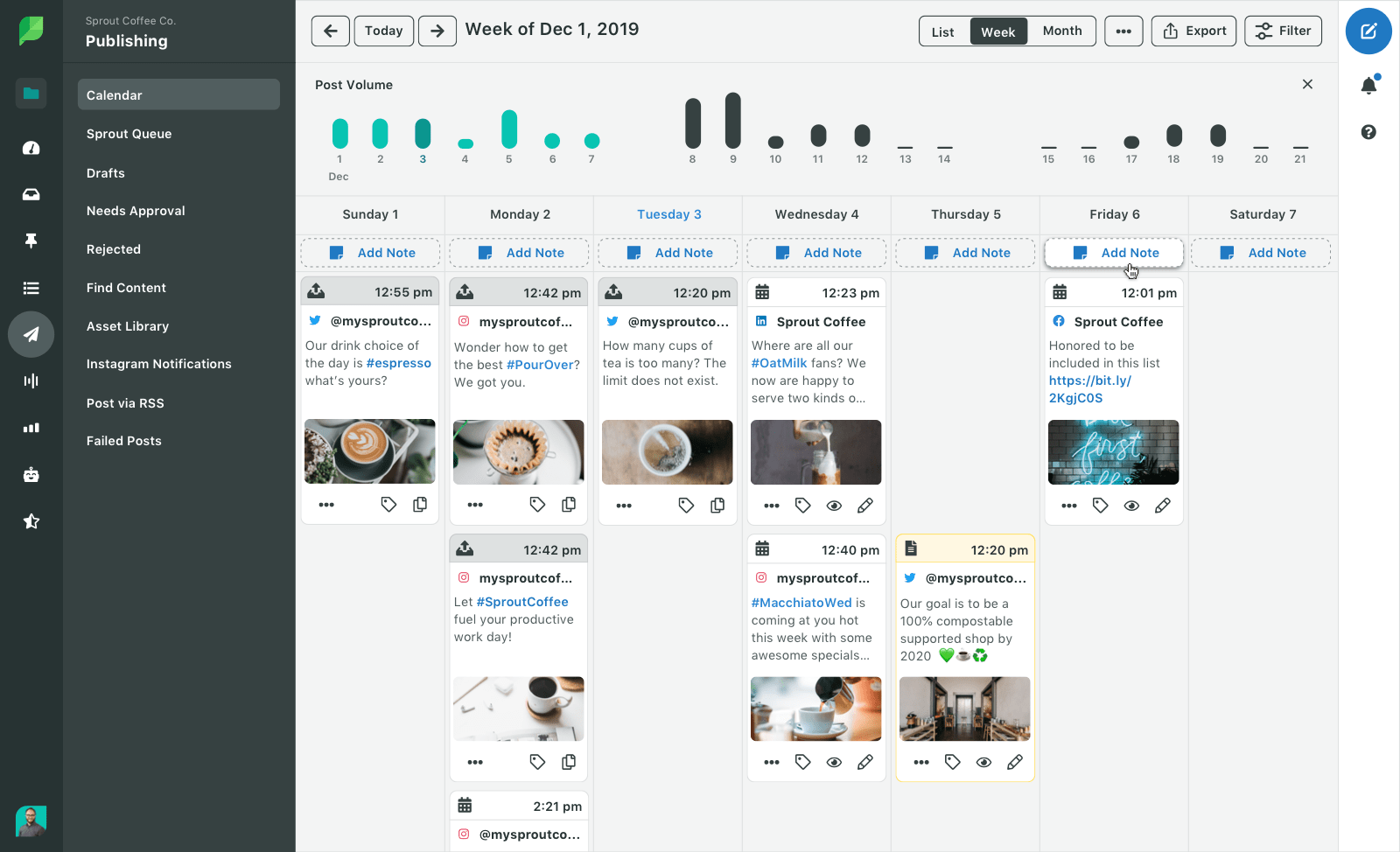 What is Sprout Social?
Built on the mission of championing human to human social, Sprout Social is one of the largest and most comprehensive social media management tools.
Their products include post publishing and scheduling, reporting and analytics, engagement monitoring, and social listening. All together, these tools provide a comprehensive experience when it comes to managing not only your social media game, but your online presence as a whole.
Sprout Social is available for the needs of different organizational sizes as well, including enterprise, small business, and agencies.
What social platforms does Sprout Social integrate with?
Sprout Social integrates with most major social platforms for brands including Facebook, Instagram, LinkedIn, Twitter, and Pinterest.
On top of these social platforms, Sprout also integrates with other platforms such as Google My Business, YouTube, and Reddit to help you manage other aspects of your online presence.
How much does Sprout Social cost?
Sprout Social offers three different pricing packages depending on what you need from the platform. Each package also includes a 30-day free trial to test the tools before committing.
Standard pricing is $99 per user per month. This package includes five social profiles you can manage, a social engagement inbox, content calendar manager, and basic monitoring and reporting functionality.
Professional pricing is $149 per user per month. This package includes everything in the standard package and adds additional features such as five additional profiles to manage, scheduling based on optimal send time, and more advanced reporting and analytics.
Advanced pricing is $249 per user per month. On top of everything in the professional package, you also get access to automated social chat bots, digital content libraries, and link tracking. capabilities.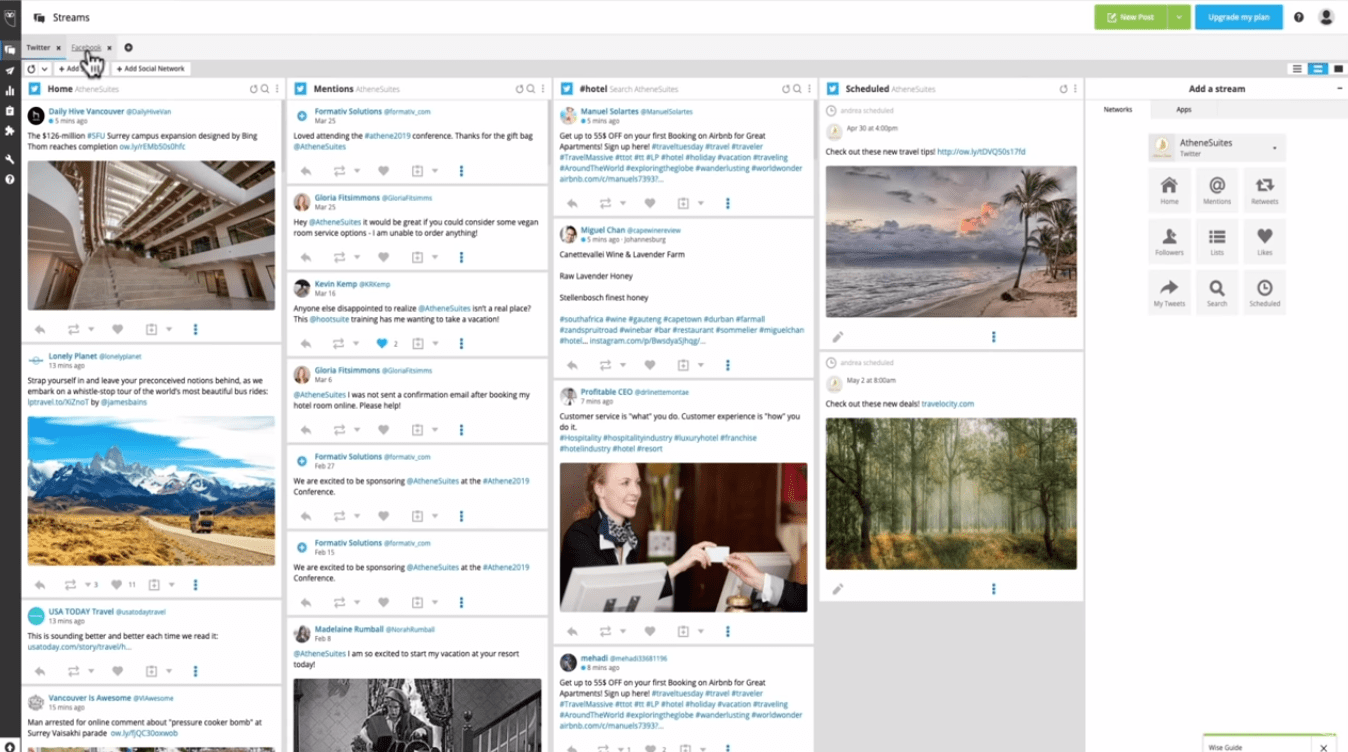 What is Hootsuite?
Hootsuite is one of the most popular tools in the social media management industry with over 16 million active users. It's primarily known for its ease of use in managing social content and effectively scheduling and posting content across a number of different platforms.
Hootsuite also offers numerous educational resources such as courses and certifications around using Hootsuite and helping your brand use social media and reporting analytics successfully.
What social platforms does Hootsuite integrate with?
Hootsuite integrates with all major social media platforms including Facebook, Instagram, Twitter, LinkedIn, Pinterest, and YouTube.
Hootsuite also integrates with a number of different apps including Trello, Google My Business, Slack, Canva, and Salesforce.
How much does Hootsuite cost?
Hootsuite's pricing is broken down into five packages: Limited Free, Professional, Team, Business, and Enterprise. All of these options come with a 30-day free trial to try out the tools and make sure you get the exact package you need.
Limited Free, as the name suggests, is Hootsuite's free option which includes 3 social media accounts you can manage, 30 scheduled posts, and 1 user seat. This plan is designed to help you test out the platform short term and determine if it's right for you before investing in any of the other tiers listed below.
Professional is designed for the entrepreneur or small business owners and costs $29 per month. With professional, you get one seat and can manage up to 10 different social media accounts and get a $500 monthly spend for boosting your content. Along with that, you get automated post scheduling and access to Hootsuite's reporting templates.
Team is built for small teams and priced at $129 per month. This package includes 3 seats as well as access to 20 different social media accounts. You also get a $2,000 monthly boost spend and access to customized reporting in Hootsuite.
Business is for marketing teams and small businesses and priced at $599 per month. Up to 10 team members are included in the Business package, 35 unique social accounts, access to post and image templates, and the ability to tag and report on specific campaigns.
Enterprise is built for very large teams or entire organizations and pricing is custom based on the situation. This package includes 50+ social accounts, all analytical reporting options including social listening and competitive reporting, as well as live platform training with Hootsuite for the whole team.

What is Loomly?
Loomly defines itself as a brand success platform, focused on teams being able to build a brand from the ground up. With an easy-to-use review and approval workflow built into the tool, Loomly will help your entire team be efficient and on the same page in crafting your brand presence online.
Struggle with coming up with content ideas for your brand? Loomly also helps you generate content by making recommendations based on trends, upcoming dates or holidays, and common social media best practices that you can use instantly.
What social platforms does Loomly integrate with?
Loomly has a wide range of social integrations available including Facebook, Instagram, LinkedIn, Twitter, Pinterest, YouTube, Snapchat, and TikTok. Loomly also integrates with other platforms such as Google My Business, Slack, and Microsoft Teams.
How much does Loomly cost?
Loomly starts with a 15-day free trial, then transitions into five pricing tiers: Base, Standard, Advanced, Premium, and Enterprise.
Base tier starts at $34 per month and includes 2 seats with the ability to manage up to 10 social accounts. This tier also includes a $500 ad budget as well as unlimited access to Loomly's content library and core features, including Post Optimization, Audience Targeting, and internal team review workflows.
Standard tier is priced at $76 per month and upgrades your account to 6 seats and up to 20 social accounts managed. It also doubles your ad budget to $1,000 and introduces advanced analytics based on the account, individual post, or URL that you are targeting.
Advanced tier jumps to $159 per month and includes 16 seats with the ability to manage up to 35 social accounts. Your ad budget again doubles to $2,000 and now enables you to integrate Loomly into two of the most popular instant messaging platforms in Slack and Microsoft Teams.
Premium tier starts at $332 per month with 26 seats, 50 social accounts, and a $5,000 ad budget. The key differentiator with Premium (other than the huge team and number of social accounts) is you get access to custom branding on not only the Loomly site but all exports and PDF documents you download from Loomly.
Enterprise tier does not specify a cost per month on their website but includes a $10,000 ad budget and practically unlimited seats and social accounts. It also includes an account manager from the Loomly team that will act as your full time support team. Contact Loomly directly to discuss the Enterprise package in more detail.
Note that I reference the month-to-month payment amount rather than the annual cost per month. See their pricing page for more details.
What is Sendible?
Sendible is a social media management tool built primarily for agencies. Does that mean I, the social media manager, can't use Sendible at my organization. Absolutely not!
On the contrary, what Sendible does differently to cater to agencies first is the massive amount of accounts you can manage depending on the plan you hold — check out Sendible's pricing section below for more details.
Sendible also gives you the ability to map out entire campaigns in the platform before scheduling posts and has a content recommendation tool that shows what types of content have worked best in the past and how to optimize that content to generate more engagement from your audience.
What social platforms does Sendible integrate with?
Sendible integrates with the key social platforms for brands including Facebook, Instagram, Twitter, LinkedIn, YouTube and Pinterest.
Although, Sendible has a very diverse integration network with blog platforms like Medium, WordPress, and Tumblr as well as Slack, Canva, and Google Analytics.
How much does Sendible cost?
All pricing tiers that Sendible offers start with a two-week free trial, then transition into one of four paid plans: Starter, Traction, Growth, Large.
Starter begins at $29 per month and is built for the solopreneur or a one-person team. With that being said, the Starter package has 1 user seat available and 12 different social profiles you can manage.
Traction goes for $99 per month which jumps to 3 users and 48 social profiles. The value for agencies quickly jumps based on the amount of accounts you can manage but this package also allows you to package social profiles together into specific brands rather than having them scattered throughout.
Growth increases to $199 per month, increases to 7 users, and takes a leap to 105 unique social profiles you can manage. It also gives you access to 35 custom report options and custom team workflows for content creation and review.
Large is for large scale organizations and costs $299 per month. With Large tier, you get 12 user seats in Sendible and can manage up to 192 social profiles. You also get 60 custom reporting options and an increased data retention timeline for yoru reporting.
Note that I reference the month-to-month payment amount rather than the annual cost per month. See their pricing page for more details.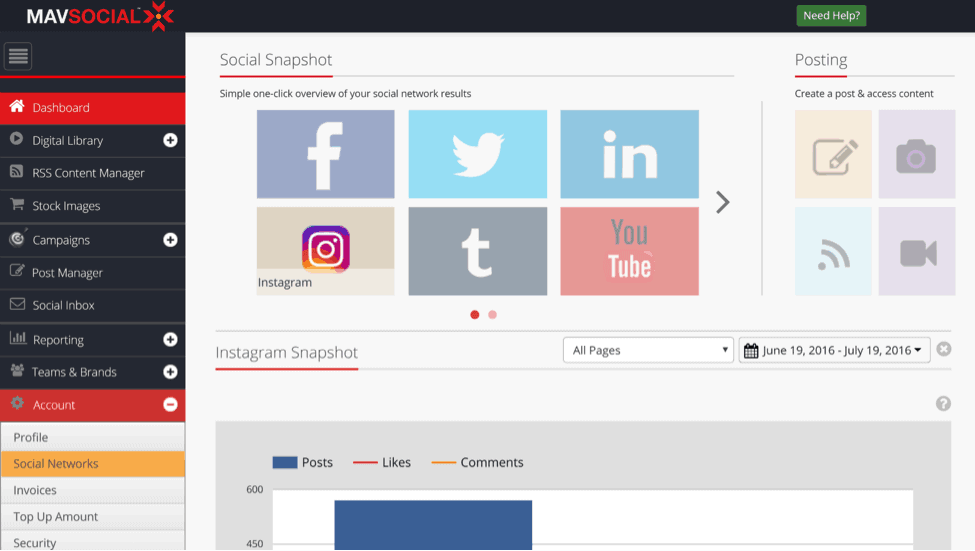 What is MavSocial?
MavSocial may look like every other social media management tool on the surface, but it has some very unique features I haven't seen from many others. Along with bulk scheduling and reporting functionality, MavSocial puts a significant focus on the visual side of social media management, including a stock image library, an integrated image editor, and the ability to manage a digital asset library.
On top of that, MavSocial also has AI image recognition capabilities (very fancy) that will help you manage and organize your images as well as a MavSocial mobile app so you can always track and schedule posts even when you are on the move!
What social platforms does MavSocial integrate with?
MavSocial integrates with all major social media platforms including Facebook, Instagram, LinkedIn, Twitter, and YouTube. MavSocial also integrates with other platforms such as Google My Business and Tumblr.
How much does MavSocial cost?
MavSocial starts with a 2-week free trial, then transitions into four pricing tiers: Advanced, Pro, Business, Enterprise.
Advanced is $19 per month and includes 1 seat and 10 social profiles to manage. Within that tier, you have access to all the visual tools I mentioned earlier as well as unlimited pre-built reports from MovSocial.
Pro tier goes up to $78 per month with 3 seats and 30 social profiles included. Adding to the Advanced package, Pro tier also includes social listening functionality where you can track specific keywords and terms to understand industry trends or what people are saying about your brand.
Business tier starts at $199 per month and has 5 seats with 50 social profiles included. The Business tier introduces more team-based actions such as request and approval workflows as well as the ability to assign comments and engagements to specific team members. Business also introduces the ability to manage paid advertisements on your social accounts from MavSocial.
Enterprise tier will cost $499 per month and is completely customizable to your unique situation. This tier includes 20 seats and you can manage 70 different social profiles. It will include everything within Business tier but allow you to customize the platform however your team needs.
Note that I reference the month-to-month payment amount rather than the annual cost per month. See their pricing page for more details.
What is AgoraPulse?
AgoraPulse is one of the more affordable social media management tools on the market, but also one of the most well-rounded. The tool includes scheduling one-time and recurring posts, detailed reporting and analytics dashboards based on your social media performance, as well as a social inbox that tracks your engagement and activity across all your social platforms.
What social platforms does AgoraPulse integrate with?
Agorapulse integrates with all major social media platforms including Facebook, Instagram, LinkedIn, Twitter, and YouTube.
How much does AgoraPulse cost?
AgoraPulse starts with a couple of free options including a 28-day free trial as well as free tools such as a Twitter Report Card and Facebook Ad Reporting.
After that, AgoraPulse has pricing tiers based on the size of your team or organization. Most tools are included across all pricing tiers with varying amounts of seats, accounts, and active ads available in each tier.
The Medium tier is designed mostly for small businesses or teams and is priced at $99 per month. This tier includes 10 social profiles and 2 users on the account
The Large tier, built primarily for agencies, is priced at $199 per month and includes 25 social profiles and 4 users on the account. On top of everything included in the Medium tier, Large increases the data retention timeline from 6 months to 24 months.
The X-Large tier is priced at $299 per month and is best for larger organizations with a high volume of social media marketing in their overall strategy. This tier includes 40 social profiles and 8 users on the account. Adding to Large, the X-Large tier comes with group training from the AgoraPulse team.
Finally, the Enterprise tier costs $499 per month and is for massive teams with lots of profiles to manage and many seats required to do so. This tier includes 60 social profiles and 20 user seats.
Note that I reference the month-to-month payment amount rather than the annual cost per month. See their pricing page for more details.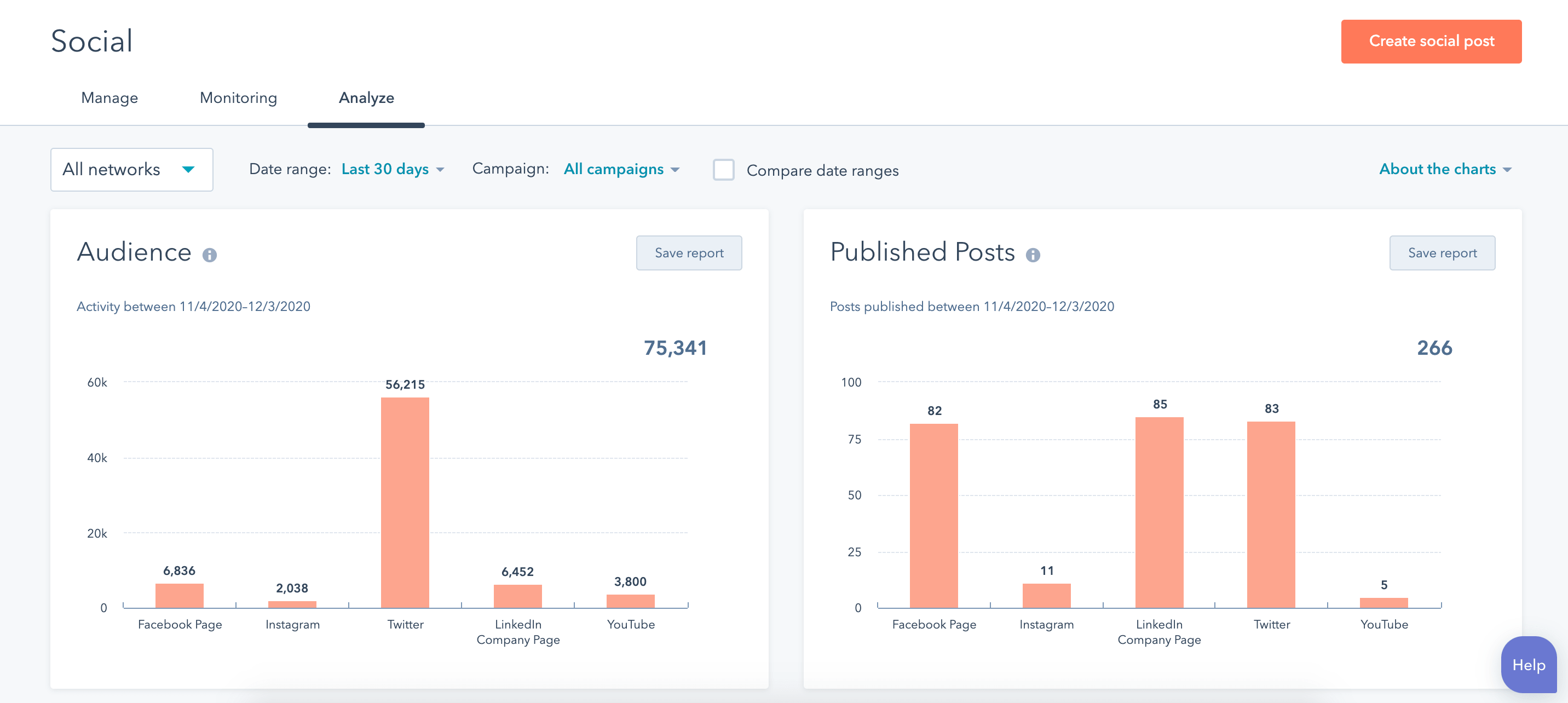 What is HubSpot?
HubSpot is an all-in-one CRM platform with Marketing, Sales, Service, and CMS services. Specifically looking at the Marketing Hub, HubSpot provides a wide range of options from social media scheduling and reporting to email nurturing workflows and campaigns.
What social platforms does HubSpot integrate with?
HubSpot integrates with Facebook, Instagram, Twitter, and LinkedIn. While HubSpot is not a social media specific tool, it does have a deep partner network with major social media management tools including some on this list like Hootsuite.
How much does HubSpot cost?
While HubSpot's Marketing Hub does have four pricing tiers, its Professional tier is the package that includes HubSpot's social media tools. The Professional tier starts at $800 per month and includes additional marketing features such as marketing automation, SEO tools, and custom reporting.
The right social media management tool will meet your specific needs
It shouldn't come as a surprise that in today's market, a brand's social media presence is critical for building meaningful connections with customers, advocates, and critics alike. Without a comprehensive social content strategy, it will be difficult to keep up with the demands of your presence and will reduce your effectiveness in building your brand.
On this list, you have seen tools that are built for all-in-one functionality as well as tools that are designed for more niche audiences such as visual storytellers and agencies. Whichever tool you choose, understand that the investment can and will be well-worth the results that you achieve by effectively managing your social media strategy.
However, it doesn't stop there. Having a great social media management tool doesn't guarantee results. Much like a CRM can't solve your marketing problems, your management tool doesn't create the strategy for you. You need to have a strong social media strategy that feeds into the larger strategy of your entire organization, meaning your tool needs to help the company achieve its goals.
As you set up your social media management tool, be sure that it feeds into your broader social media content strategy so you can become the trusted voice in your industry and build those meaningful connections with those who will drive your business forward.
Free Assessment:
How does your sales & marketing measure up?
Take this free, 5-minute assessment and learn what you can start doing today to boost traffic, leads, and sales.