Everything you need to know to build an extraordinary 2020 Facebook Ads strategy [expert interview]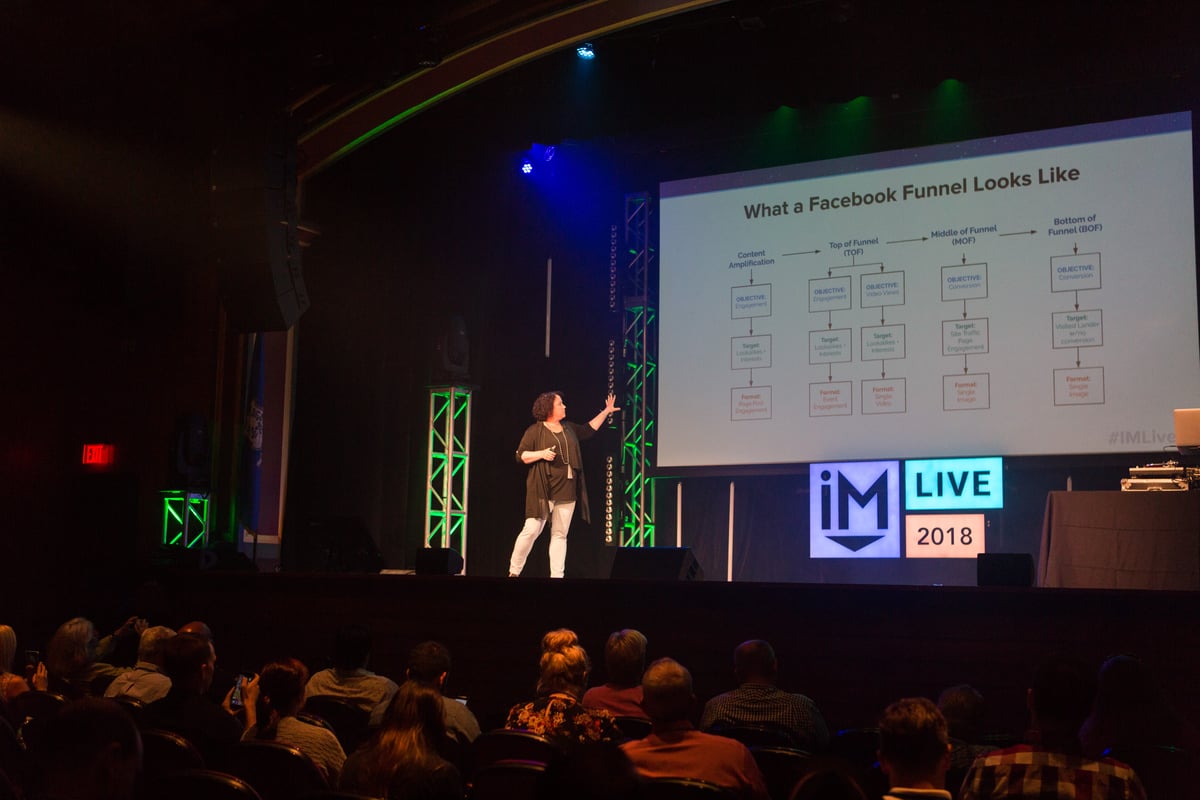 "I still think a lot of people don't understand all of the potential that's there for Facebook ads," says IMPACT Facebook Strategist Ali Parmelee.
Why? Because when Ali gets a chance to look under the hood of a business' Facebook ads account -- even if they've just come from another seasoned agency -- she's often surprised at how much they're not doing with the social advertising platform.
"They're still using Facebook ads as a standalone channel for one-off promotions and sales, instead of what they should be doing -- looking Facebook ads as a full-funnel solution."
After seeing Ali speak at IMPACT Live about full-funnel Facebook ad strategies, and having had the chance to pick her brain multiple times about Facebook since THINK merged with IMPACT last year, I had two thoughts.
One, she is a Facebook ads wizard. You only need to hear her speak for about 30 seconds before that fact becomes abundantly clear.
Two, given her "wicked New England smahts" about Facebook ads, I thought it would be a great idea to sit down with her to talk about how strategic and tactical marketing professionals should be looking at Facebook ads in 2020.
Her response?
"Absolutely! Marketers need to realize that -- most likely -- what they've been doing with Facebook ads is just the tip of the iceberg. There are so many more things they can and should be doing. I would love for them to start thinking about Facebook ads as part of their entire digital marketing strategy, not just a standalone piece."
Before we dive in, keep in mind that when we talk about Facebook ads, we're also talking about Instagram ads. The former owns the latter, and you manage both within the same Facebook ads portal.
OK, let's go!
What were some of the recent big "Headlines" for Facebook Advertising?
First, stories and bots
According to Ali, Instagram stories stole the show last year -- which is why no one should have been surprised by the fact that Facebook has been aggressively pushing their own stories feature with users. (In fact, one of Ali's clients saw more than $50,000 in product sold from a single 15-second story ad that ran during Black Friday and Cyber Monday.)
The other major innovation in the Facebook ads space was the rise of the bot.
"The other huge, huge story for 2018 are bots. If you do not have bots as part of your Facebook ads repertoire, then you are missing the boat. People are already using Messenger for the customer service, but bot advertising is massive."
Ali recommends that if you want to learn more about bots and Facebook ads, you need to get familiar with ManyChat -- they're the primary player in the space.
But for Facebook, 2018 Was Also Basically One Long Terrible, No Good, Very Bad Day
Of course, Facebook also spent the vast majority of 2018 mired in controversy:
Ali's take?
"I think people got really caught up in the idea that there's all of these privacy issues happening -- Cambridge Analytica, Zuckerberg is going to Congress, Facebook has been exploited by foreign actors, lawsuits. Those are all serious issues, of course."
She continued, "You're always going to have ebbs and flows in the marketplace where you're going to get people who say, 'I'm out. I'm done. I'm not going back there.' I mean, my mom even did it. She took a break. And now she's still back posting cat videos a month later. Facebook has become so important in so many people's lives for different ways. And I think human nature of FOMO will always help with Facebook, as well. Plus, Facebook has also diversified to the point where it is amazing to me how many people don't realize that Instagram and Facebook are one and the same."
So, bottom line, we can't tell you what you should think about Facebook. But we can tell you that it's a powerful platform with millions and millions of users -- and right now, those numbers that aren't dwindling.
It's your choice whether or not you want to leave money on the table.
What Should Marketers Focus on with Facebook Ads & Instagram in 2019?
So, we've already discussed bots. And we've touched upon Instagram stories. But what lives at the heart of the success of Instagram (and soon Facebook) stories is UGC (user-generated content) and a type of marketing many are claiming is out of fashion -- or at least soon will be.
Influencer marketing.
A New Kind of Influencer
But instead of looking toward influencers that live at the top of the celebrity stratosphere -- like Blake Lively or (cringe) Kim Kardashian -- 2019 will be the year of the nano- and the micro-influencer.
What's the difference between those types of influencers?
Ali used me as a non-Blake Lively example. Three times a week, I go to 24 Hour Fitness to pick things up and put them back down again for up to an hour. To make it fun and hold myself accountable, I post an Instagram story of my Apple Watch showing my completed workout. (I've earned the right to brag, which brings something positive out of the pain.)
I'm not at a micro-influencer level by doing that, Ali says.
"Let's imagine you're talking that to another level, where you're specifically showing video of what it looks like there -- or you're talking about how they have this brand new program -- and it's amazing. If you have a super strong following, that's where it takes your user-generated content brings you into the sphere of being a micro- or nano-influencer."
Still, it wasn't clicking for me.
If I'm a brand, why are nano- or micro-influencers more powerful than say, getting a Ryan Reynolds to do something for me?
"They're more accessible," Ali pointed out. "Because people love to see themselves in these aspirational ads, and that more niche, every day-person influencer makes that much easier."
Also, Video Is Still King (Duh)
Next, Ali says video is another massive opportunity for 2019. But in a much bigger way than most marketers think, because -- as she pointed out at the start of our conversation -- too many marketers leverage Facebook as a one-dimensional platform.
"Everyone thinks you have to do 15-second, 30-second, 60-second videos ads, and that's what's going to work. I can tell you from tons of experience, that's one way to do it -- but that's not the only way. We have hugely massively successful clients where, we take their Facebook Lives -- that are in essence like mini shows that are 30 to 60 minutes long -- we turn those into ads."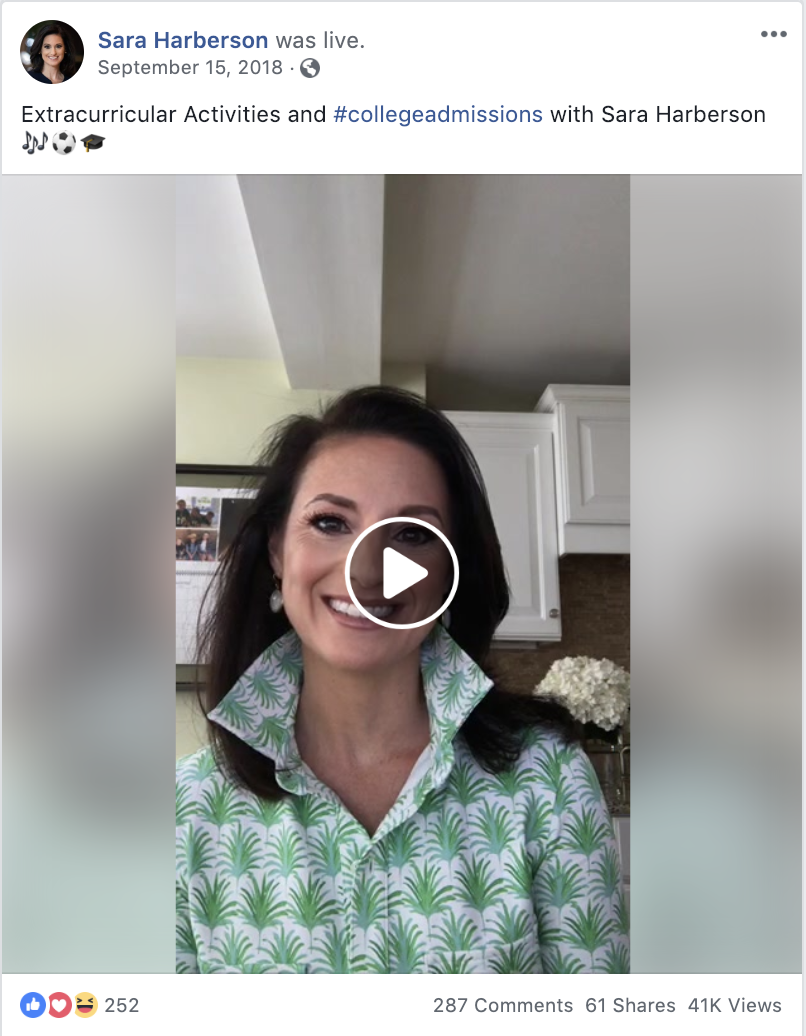 An example from one of our clients.
Why do these more top-of-the-funnel, long-form videos work for brands trying to drive revenue growth?
"Because it's content, and it's helpful," Ali pointed out. "It's inboundy. You're not selling something, but it's educational -- you're going out of your way to empower people with genuinely valuable knowledge. So, who cares if it's sponsored? I'm learning something."
That's why Ali says she wants to challenge marketers to think outside the box with video and Facebook this year. Facebook Live, long-format videos... any kind of video that you can think of! Keep playing with it all and exploring.
Bots, Bots, Bots!
Also, bots will carry through to this year -- and like video, Ali encourages marketers to pretend like they're scientists in a laboratory. Now is the time to experiment.
"It's kind of like the Wild West right now with bots. There's so little known, and it's all just theory. So, be bold. Try things. But I will say, follow the rules. There are very specific rules for engagement that you have to follow with this."
What are the rules? Again, Ali says, "Get thee to ManyChat!"
Also, Don't Mentally Glaze Over Mobile
The only thing marketers talk more about than video is mobile. Mobile, this. Mobile, that. Mobile, first. Mobile, now. Always. Forever.
Unfortunately, that repetitive refrain of "Give me mobile-first, or give me death!" means that us marketers may forget how important mobile devices are to the effectiveness of more niche strategies -- like Facebook advertising and Instagram.
That's why Ali says, "Mobile is absolutely something that you have to be obsessive about this year -- from your ads to your overall digital footprint. What does it look like? How is your site working? When you're dropping people to your site, is it optimized or a proper mobile experience?"
It's not enough to ask, "Is my website responsive?"
For everything you create -- especially ads -- you need to run through the user experience of going from your ad to your landing page to... whatever comes next. You have to evaluate your Facebook and Instagram ad collateral and digital footprints from the perspective of, "What would I think of my brand and the experience, if I were to never interact with these ads or pages on a desktop?"
Ali's testing process is rigorous:
"Whenever we bring on a new ecommerce client, I have them issue me a test promo code. Then I run through the purchasing process, and I will check it on every platform to see what the experience is like. I'm checking to see if there are going to be UX problems. Is there going to be a conversion issue where, once I lead the horse to water, they won't be able to drink? That's my worst nightmare, and you'd be surprised how often businesses miss obvious roadblocks that will prevent the action they want their customers to take."
Still, Your Results with Facebook Ads & Instagram Will Only Be as Effective as Your Mindset
"You basically need to sit down and look at your entire marketing plan," Ali says.
Because if you continue to approach Facebook and Instagram advertising as if they're islands you only vacation on occasionally, when it comes to your marketing, you'll never see the results you're looking for.
Yeah, you'll see some results, but they'll be fractured. Never quite reaching the potential of what could be.
You'll never be like Ali's current client at IMPACT who saw 20% of their sales for December 2018 come from a single Instagram stories ad.
So, Ali says you need to embrace Facebook as an equal player in your overall strategy.
"What are you doing for email? What are you doing for your blog? What are you doing for video? What are you doing for your Google ads? Then, you need to ask with the same level of importance and weight, what are you doing with your Facebook ads and Instagram? Because everything that you're doing goes together as an omnichannel experience."
Free Assessment:
How does your sales & marketing measure up?
Take this free, 5-minute assessment and learn what you can start doing today to boost traffic, leads, and sales.