Here's What We're Getting With the Latest Google Keyword Planner Updates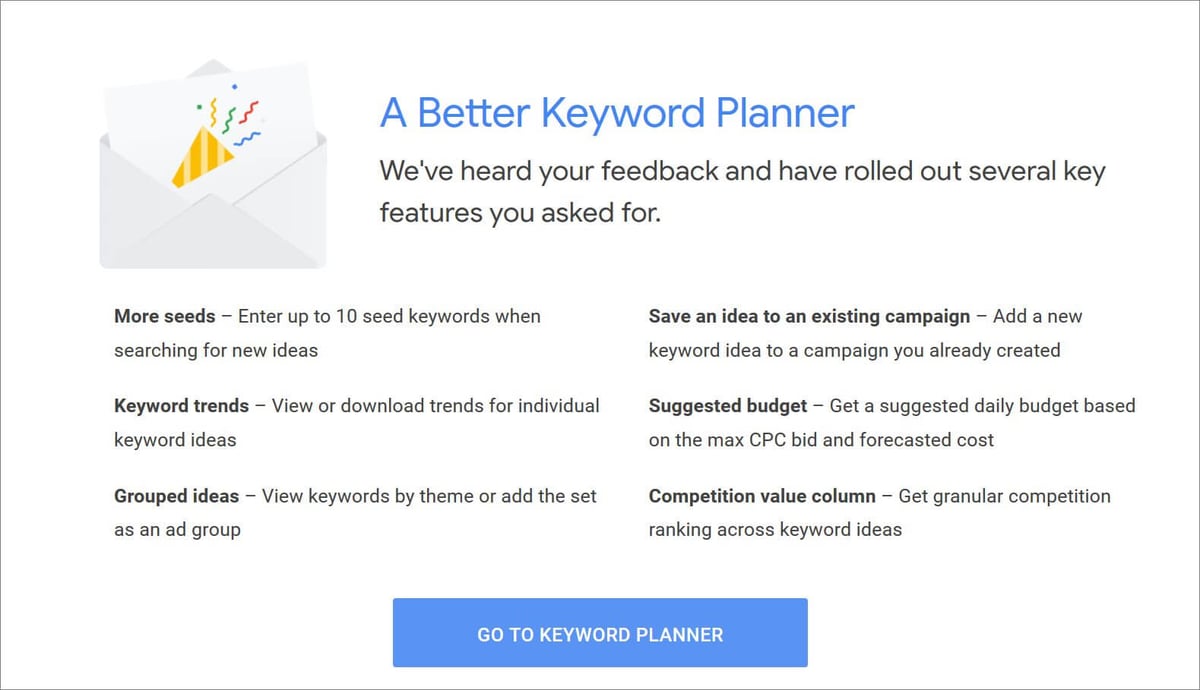 Google Ads users recently received a notification of new changes coming to the Keyword Planner Tool.
These updates were rolled out based on feedback given to the Google ads team and include both brand-new features and updates to existing tools that make data clearer and more actionable for marketers.
Keywords have been, and still remain, a key portion of your marketing strategy - paid or not.
These tools can help marketers run more effective Google Ad campaigns, and can also provide powerful insights to aid your organic marketing strategy.
Here's a breakdown of the latest updates.
Keyword Trend Data
Now, if you hover over the "average monthly searches" chart for individual keywords in the "Keyword Ideas" section, you can see a more detailed breakdown of monthly trends in a bar chart.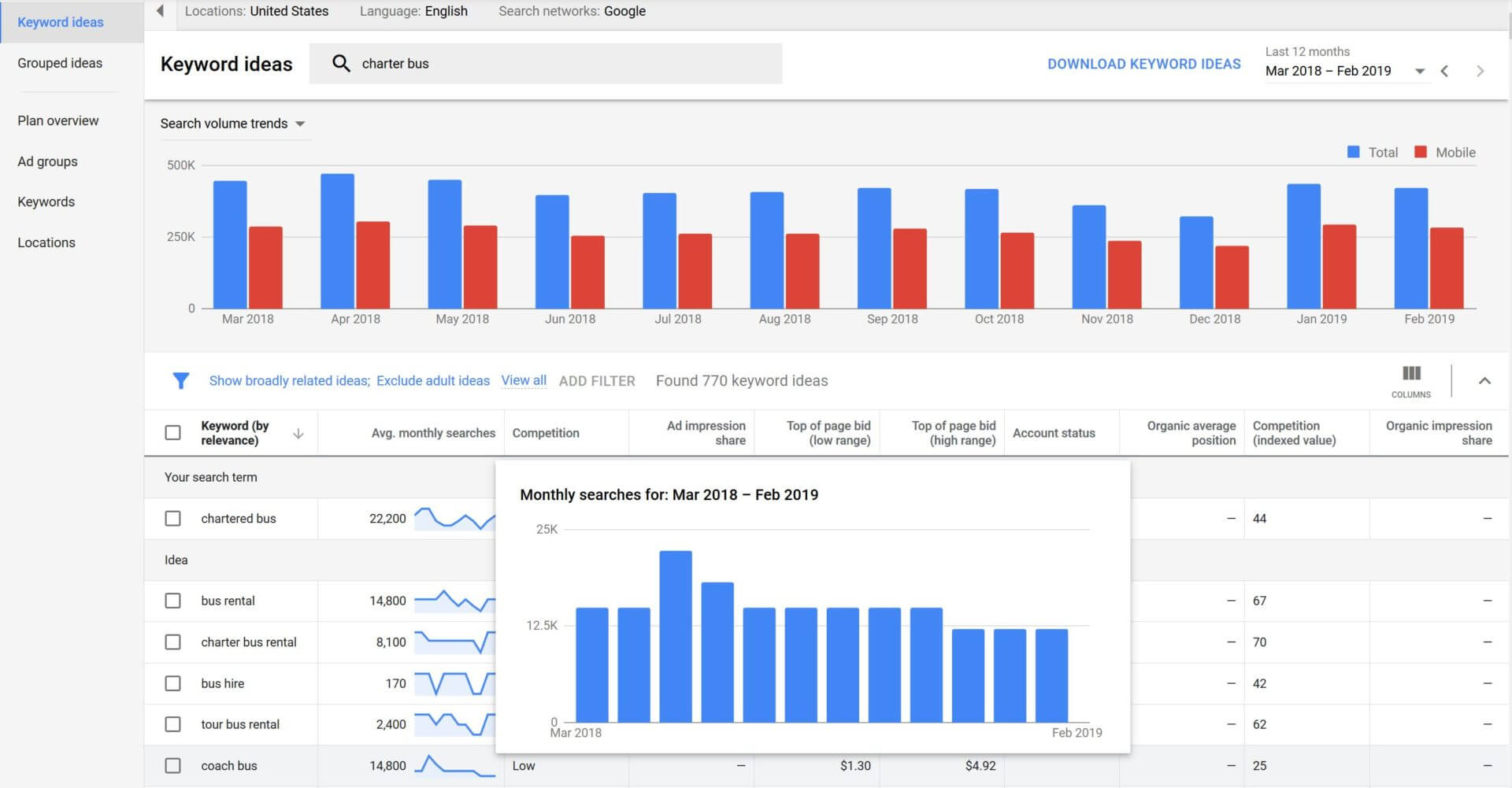 As seen by the photo above, you can view how search volume quantities change month over month.
This can be helpful for brands that have seasonality in their business.
For example, if you're a home contractor, you can see when homeowners typically begin researching for potential renovation projects and the keywords they're using to do so.
In that instance, you might see an influx of "home deck ideas" in the winter, and then see trends moving towards "home deck builders near me" towards the end of spring.
Information like this can help you better position targeted ads, and even help inform your content strategy.
Grouped Ideas
Grouped keywords, or clusters Google creates of queries related to your ad campaign, are now found under the new "Grouped Ideas" menu option.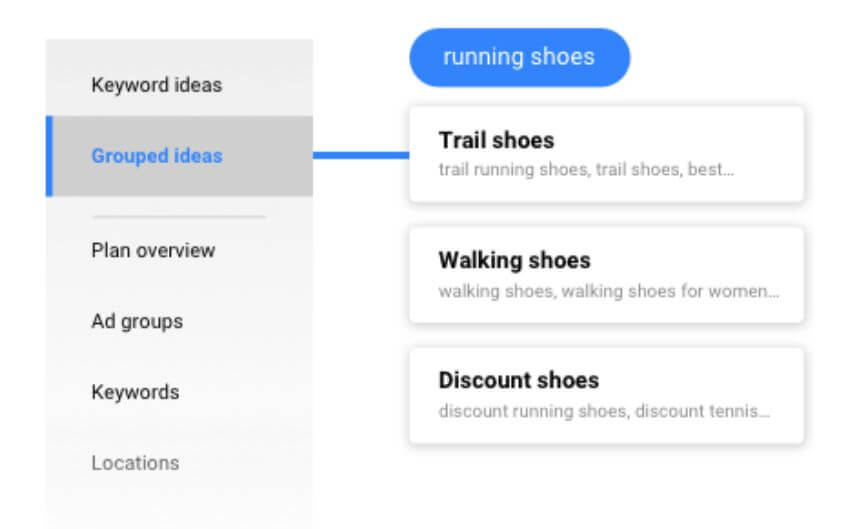 Here, you can view the keyword groups by theme, and select all (or just some) keywords from a group to add to your ad campaign.
This can help you cover the full spectrum of what your personas are searching for and discover related terms that may not have otherwise come up in your keyword strategy creation.
New Competition Column
Of course, with any keyword strategy, the competitiveness of your keyword will have a huge impact on how you perform in search results.
All other metrics can give you a good indicator of what terms people are using and how frequently it's used, but if it's a highly competitive term that your website does not already have established authority for, it will prove very difficult to rank for.
This is true for any keyword efforts you put forth, but it's especially important when it comes to paid ads.
To help advertisers better gauge how much competition is surrounding a particular query, Google introduced a new Competition Column.
This lives in the "Keyword Ideas" tab, labeled "Competition (Indexed Value)," and is represented as a score between 1-100.
While competition scores are nothing new in the keyword space, there are a few qualities that make this score more valuable specifically for Google Ads planning:
The score is calculated by the number of ad slots filled divided by the total number of ad slots available.

The value is specific to whatever location and targeting options you've selected in the search network.
This setup cuts out a lot of the clutter that many competition scores account for and allows marketers to gain a much more accurate idea of what the space looks like in terms of this specific advertising campaign.
Daily Budgeting Suggestions
Search volumes can vary from day to day.
For example, B2B companies will often see more searches related to their products during business hours on Monday-Friday, but may see a decline during weekends or holidays.
Once you've been running ads for a while, it becomes easier to pick up on these trends and spread out your budget accordingly.
Now, Google Ads is helping advertisers gain these insights early with Daily Budgeting Suggestions.
Located in the Cost Estimate tool, Daily Budgeting Suggestions will appear when you add new keyword's to a plan. The suggestions are based on your max. CPC bid and forecasted cost.
These recommendations help marketers ensure that your campaign won't be limited by your ad budget during high-activity days during your forecasted time period.
While it's still always good to monitor your own ad performance over time, this feature can help advertisers have a stronger start to their ad campaigns.
More Google Ad Success
These updates will help both experienced and new Google Ads advertisers create more successful ad campaigns.
As more people begin seeing the value PPC advertising has, we're seeing Google and many other paid ad platforms roll out features that make creating campaigns and making data-driven decisions more user-friendly.
This makes these platforms more assessable for companies with limited technical expertise - but it also means more competition in the space.
Some of these new metrics, like daily budget suggestions and competition score can help you better gauge the best ways to spend your ad budget.
However, you can't only rely on those tools.
Although we've seen great updates from these platforms, great ad campaigns rarely come from a "set it and forget it" approach. Marketers should still stay on top of campaign performance, test changes where needed, and analyze results to find their perfect formula.
Free: Assessment
Does your website build trust with buyers and bring in revenue?
Take this free 6 question assessment and learn how your website can start living up to its potential.
Score My Website
Free: Assessment
Does your website build trust with buyers and bring in revenue?
Take this free 6 question assessment and learn how your website can start living up to its potential.
Published on March 28, 2019