How to optimize your website for local SEO in 2020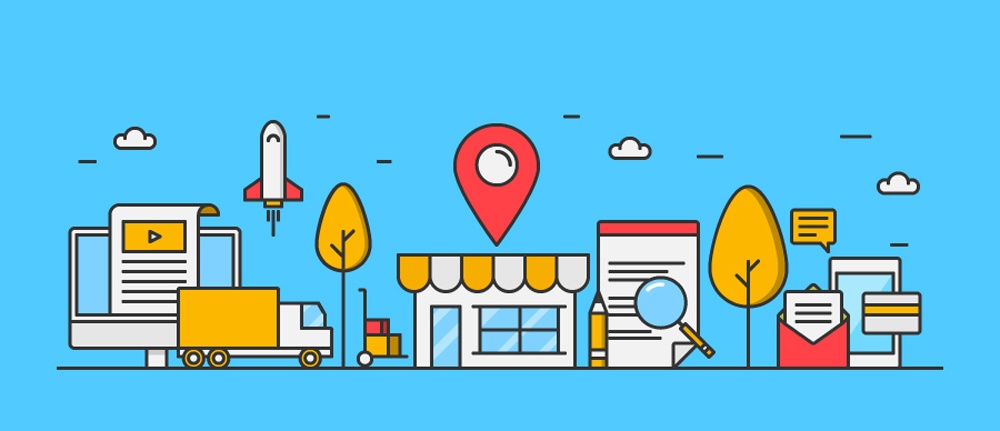 Local SEO is a search engine optimization tactic that lets you reach customers based on location.
When implemented correctly, it can help companies with a small footprint outrank larger competitors, but in the mobile world of 2020, it's not something just local businesses should be concerned about.
I'm not brick and mortar. Do I really need local SEO?
If your business only serves a certain geographical area, you need local SEO to help more people from within that area find you online.
If your business has multiple locations or serves multiple areas, a solid local SEO strategy will enable searchers to find your locations independently of each other and compete against businesses in those areas.
Think about it - when you're planning a weekend trip to Rhode Island, you're going to search for 'things to do in Rhode Island,' right?
Well, 'Rhode Island' tells Google to prioritize results that have the words these words in them. This is undoubtedly good for businesses in the Ocean State and makes sure you don't go hunting for a restaurant that's actually in New Jersey.
Now, if you're a location-based business or industry, this all goes without saying, but believe it or not, even if you aren't, you need to be optimized for it in the new year.
Here's why:

The rise of mobile search
Over half of searches are performed on mobile these days.
As most people searching on their phones are on-the-go, Google is looking to be one step ahead of their search intent by using location to find the most useful results in that moment.
Earlier this year, Google Hawk even swept in and reduced the geographical range of listings in an attempt to reduce the frequency of businesses trying to dominate local rankings with multiple listings for a single location. It's become that important.
From laptops to phones to smartwatches, almost every device is location-enabled these days, and by optimizing your website for where you are or the locations you service, potential customers will be more likely to find your business in their hunt for solutions.
That means, today, even if someone isn't looking for a location-based business, those that are optimized for it, are more likely to rise to the top of search engines.

Verification
Location is also one of the most common and trusted forms of verifying your business is, well, a real business.
Whether you're on Facebook, Yelp, or a host of other sites, they are likely to ask you to confirm your location to show that you are an established organization and not a catfish off in a warehouse somewhere.
How do I optimize my website for local searches in 2020?

To reiterate, local SEO is important for ALL businesses.
Many of the tactics employed here can and should be part of a larger search engine optimization strategy since the benefits reach far beyond your service area.
The easiest way to optimize your location is to utilize Google My Business if you haven't already. It's free, easy, and one of the quickest ways to tell Google where you're at (literally), but let's get more granular on optimizing your website for local SEO.
1. Make sure your address is in your footer
Though it can seem like a small detail, this is one of the biggest cues that search engines use to find your website and associate them with certain locations.
It's commonly abbreviated as NAP - name, address, and phone number, and it's important to make sure it's identical everywhere you use it. Google would read these two addresses as different:
IMPACT, 470 James Street, Suite 10, New Haven, CT 06513
IMPACT, 470 James St., #10, New Haven, CT 06513
The last thing you want is competition from yourself, so make sure that every place that your NAP lives is the same. This can be tricky with multiple social networks, citation pages, and even association or Chamber pages, but do not overlook this.
You can also add visual cues in your main navigation bar, header, or portions of the website, depending on where on your page your visitors usually go often.
2. Make your service areas clear (if applicable)
If a visitor cannot find the name of their town, county, or state, they will discount you as a potential vendor automatically.
If you have standalone service area pages, make sure they are optimized for area-specific keywords such as the zip code, town name, or major landmarks.
If there are regions you don't serve, it might make sense to include those as well, especially if you've received inquiries for those areas.
A good place to start is with a page that describes your service area, any history your company has there, and possibly clients in each of those areas.
It can be as simple as a bulleted list that names towns or counties, or it could even be an interactive map, embedded on your website that allows users to find exactly what they are looking for.
IMPACT Client, Presbyterian Senior Living, does exactly that on its Community Finder page:
Keep in mind, with a page like, you're solving for the user, so put yourself in their shoes and ask what they would be looking for, not where you want to send them.
3. Optimize specialized pages for certain locations
You already know all the basics of SEO — I won't go into that here, but I will emphasize that creating unique landing pages for local services areas will go a long way.
These local pages should be like mini-homepages, and contain almost everything for a user to decide if they want to get in touch with you.
Don't stop there, though. Keyword optimized is great, but user optimized is better. Search for your page once you've created it, and make sure that what you see from the SERPs is a realistic preview of what the user will get, and highlights that the page is focused on a certain geographical area.
Remember, Google ranks pages, not domains.
By having multiple pages for different locations on the same domain, you won't see any penalties. I've written another post about local landing pages in-depth - check it out!
The importance of citation pages to local SEO
"Citations are defined as mentions of your business name and address on other webpages—even if there is no link to your website."
Another important piece of local optimization is citation pages and off-site SEO.
Some of your visitors will never go to your website until the very end of the buyer's journey, and then will spend a half a minute on your page before converting.
What did they do before that? They looked at your business on a citation page, found the information that they needed, and then navigated directly to your website.
Citation pages are pages built for users where they can acknowledge and compare local businesses. You've heard of Yelp and yellowpages, but have you heard of Houzz or ServiceMagic?
Google your business. See what comes up. There will be more pages about your business than the ones you've created - and that number is growing.
There are hundreds of different citation sites, each with one or multiple categories that they specialize in.
My heroes at Moz have put together a list of pages based on category that is incredibly useful for identifying areas of opportunity for your business.
Those are all opportunities to grow your web presence, generate backlinks, and engage with potential customers before they fill out a form or make contact with your business.
How do I optimize my external citation pages?

Put your best foot forward
Here's what you need to optimize your citation pages and make them look great:
Images

. They're going to make a huge difference. Where do you think the popularity of handles like

@foodiefeedback

came from? There's a little bit of copy or text to bring it home and explain what's in the picture, but it's the picture that draws you in initially.

Use all the fields that are supplied to you.

There are a lot of them on some sites, so make sure that they are as filled as possible with your main value proposition, a description of what you do and how you do it, and most importantly, your service areas.

For sites like Houzz or Guild Quality — which are more like microsites — you have a lot to play with, a lot of information that you can display, and a lot of room to maneuver. Fill it in as accurately as possible.

Upgrade to a paid version.

This is optional, but a lot of citation sites have paid versions for businesses that are designed to help them gain more visibility, more reviews, and manage their business through the site. Find one that works for you, try it out, and see what the results are. If it works, you've got a winner; if it doesn't, try something else!
Ask for reviews
Sites like Google, Yelp, and many others all have reviews as part of their basic functionality. Reviews are some of the most valuable currency that marketers have, and it can make a HUGE difference in every part of the funnel - from inbound traffic to convincing a prospect to become a client.
It's not hard to ask your happy clients for reviews. You just need to do it. If they are as happy as they claim, then it's probably not too large an ask. Be upfront about the value it will provide to your business, and offer an incentive to leave a review if it will make a difference.
Google is a good place to start when asking for reviews - and it has built-in automation that asks users for it. For many others types of businesses, there may be other options - from Yelp to Clutch and more - that help them generate increased local traffic from qualified visitors.
How does it all work together?
Everything above contributes to your likelihood of appearing on Google in 2020, as well as how you appear in search.
It's important that your business information is consistent no matter where it appears.
A local SEO strategy is best placed as part of a larger strategy - since they are complementary. A lot of the tactics mentioned here are SEO tactics that you may be doing already.
It all depends on prioritization - startups and local businesses might not have the time and resources to optimize their existing website, but might have an amazing Facebook page with a ton of reviews. Larger businesses might have a strong organic search presence, but be missing a few of the basic local SEO tactics that could contribute to the larger picture.
Find what's right for you, put it in order, and get out there!
Free: Assessment
Does your website build trust with buyers and bring in revenue?
Take this free 6 question assessment and learn how your website can start living up to its potential.