How To Be Sure Your Marketing Agency Has the Right Pricing Structure
To help your digital marketing agency grow, you'll need to establish the right financial structure.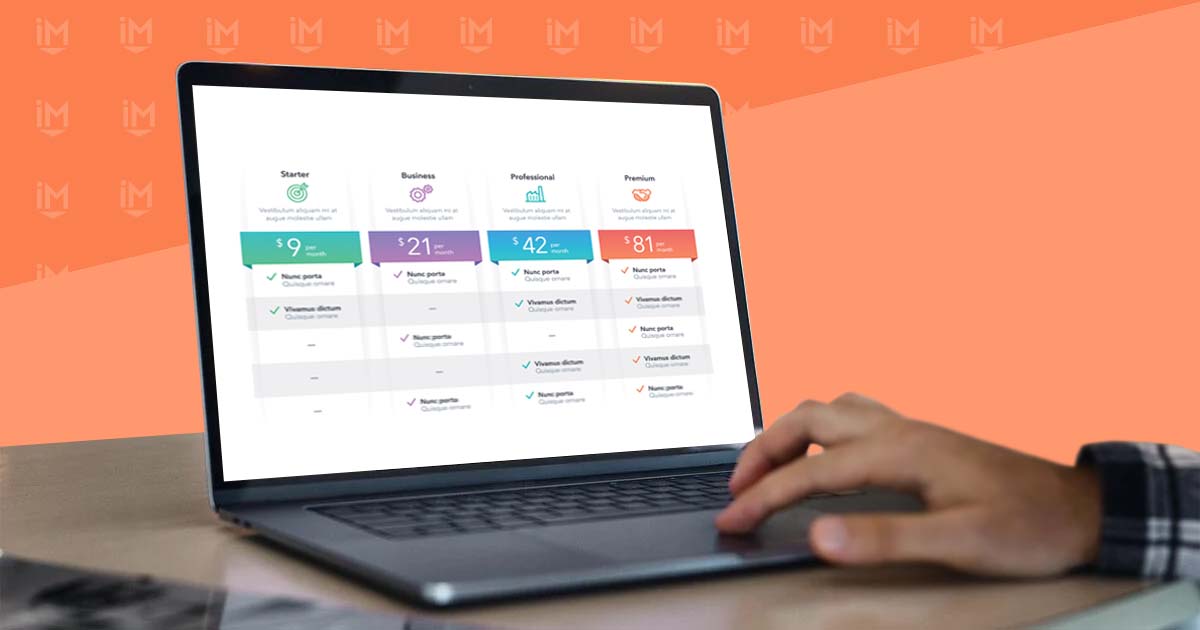 Under its unique exterior, a marketing agency is just like any other business. It needs to be run well to be profitable. This can be a challenge, especially for smaller and younger agencies, for whom client churn and employee attrition can be persistent financial challenges.
A service business lives and dies by the customer experience it provides. But for agencies, there's another layer. Not only must you provide an exceptional customer experience, but you also need to deliver results — in the form of increased traffic, better leads, and more sales — or whatever else you promise.
To survive and thrive as an agency, you need the right pricing structure. This means getting all of your financials in order, starting from when each new client talks with your sales team.
To set your agency up for success, you'll need to be smart. This means understanding the challenges that stand in the way of profitability — as well as how to plan backward to ensure what you're charging clients makes sense.
In this article, we're going to cover all of these big questions. We'll provide:
An overview of how most marketing agencies make money
The main challenges to agency profitability
Smart and dumb ways to try to save money
Ensuring your agency has the right pricing structure
Ready to start learning? Let's dive in.
How digital marketing agencies make money
Let's start at square one. How do digital marketing agencies typically make money? There are basically two ways: getting paid by the project or getting paid by retainer.
Getting paid by the project
This is the case with website redesign projects, standalone campaigns, and similar situations.
The client has a need, and they come to the agency for help. In preparing for the job, the agency does its research to try to determine the scope of the project. Then, the two sides sign a contract when they agree on the terms.
What's good about getting paid by the project?
In theory, this payment model works because everyone knows all the details ahead of time. Clients know what they'll pay and the agency knows what it will bring in. Also, agencies can clearly spell out all of the details of what is and is not included in their work, which can all be explained in the sales process.
What's bad about getting paid by the project?
As is often the case, the devil is in the details. Anyone who has ever been around a website project knows that it's often bigger than it first appears. Even seasoned project managers struggle to accurately scope a website project. Many of these types of undertakings end up costing more and taking longer than everyone originally assumed.
Who pays for the additional expense?
This added cost either gets pushed onto the client (who's not thrilled about the project being over budget) or eaten by the agency (which cuts into profit margins).
Add to that the fact that agencies sometimes underbid to get the job — or they try to close the deal without fully scoping the project.
Or, in an alternate scenario, the client gets upset when some things don't get done because they're not in the contract. The client thought they were included, the agency knew they weren't, and nobody is happy.
Getting paid by recurring retainer
Often, a client comes to an agency not for a specific one-off project, but for ongoing marketing help.
When it comes to marketing strategy, planning, and expertise, most agencies are paid a monthly retainer by clients. This fee is often converted to hours or "points" that are then used to organize the work the agency will do for the client each month.
Points might go to market research, content creation, strategic planning, or brand management. Clients and agencies meet regularly to determine monthly point allocation.
What's good about getting paid by recurring retainer?
The retainer model is good because both the agency and the client have a clear idea of monthly expenses. As an agency, it's nice to know you've already got planned revenue for each upcoming month. This allows you to forecast your budget more easily.
What's bad about getting paid by recurring retainer?
When you're paid by the project, you have a clear idea of when your relationship with the client will end. When you're on a retainer model, you sometimes forgo that certainty. Any month could be a client's last. And client attrition can be a killer.
In addition, you'll need to set aside time to plan each month — both internally and with each client — to make sure you're able to devote the right resources to each.
Lastly, a retainer model can sometimes cause clients to feel frustrated. Their budget might not allow them to accomplish their goals as quickly as they'd like. After all, they only have a certain budget per month.
The 5 biggest challenges to profitability that agencies face
Agencies must navigate a sea of challenges that threaten their ability to remain profitable. Some are more daunting than others:
Proper scoping: There are two factors to scoping. One is estimating how much time or effort it will take your team to achieve tasks. The other is identifying all of the tasks that need to get done to achieve an outcome. It's easy to move quickly and leave out important elements.
Agency management: You need to manage your people and set proper expectations of how they spend their time. Without the right processes and organization, you could see poor or duplicate work.
Quality work delivered for the price: You could be charging too much — or not enough. If customers are unhappy about what they're getting for what they're paying, they'll leave.
Client churn: For small agencies, losing a single client can impact your budget and profitability. And frequent churn could threaten to put you out of business.
Employee attrition: When someone on your team gives notice, they leave behind a tough hole to fill. For your clients, this could mean an interruption of service and a new relationship to build.
Each of these — or a combination — can make it hard to stay profitable. Either you're cutting into your own profit margins or you're alienating clients, threatening the financial stability of your agency. You've got to hedge against these challenges.
There are smart ways and dumb ways to try to save money
Like every other agency out there, you're in business to make a profit. Maximizing that profit is tricky, so be smart about how you try to save money.
Smart ways to save time and money:
Set clear expectations with your clients up front. The more that's understood by both sides, the less the chance of miscommunication.
Have someone on staff who knows how to scope really well. Remember, misjudging work is a big threat to profitability. An experienced employee will be able to foresee issues and plan accordingly.
Train your teams to stick to the scope you've planned for. Hold the line with your clients. You'll cut into your margins if you consistently do extra for your clients.
Train your team members to communicate before costs run over budget. The sooner your team knows, the better.
Dumb ways to try to save time and money:
Charging a premium but outsourcing the work to low-quality freelancers. This will likely result in poor work, which your team will have to cover for.
Underpaying your employees. Employees who feel overworked and undervalued will quickly become former employees, and you'll be left having to scramble and backfill. And you'll likely lose clients in the process.
Shortcuts rarely get you to the top. Growing your agency will only happen when you build the processes necessary to deliver great service. It starts with knowing how to charge clients.
How to make sure your agency has the right pricing structure
The average digital marketing agency earns a net profit margin between 6-10%, with some healthy agencies closer to 15% or higher.
To ensure you're on target, work backward.
Step 1: Determine what profit you want to achieve. Figure out your expenses and revenue so you can set a reasonable goal.
Step 2: Determine a manageable workload for your team. You want to get great work out of your employees, but you don't want to cause burnout or frustration.
Step 3: Using those numbers, determine what you have to charge each client. Figure out your fees for projects and retainers, based on how you scope work.
Step 4: Adjust accordingly. Are your numbers realistic? Are you at the market rate for your salaries and client charges? Are your employees delivering work that's commensurate to their salaries?
You'll want to make general plans for the year, specific plans for the quarter, and detailed plans for the month. Each month you close gives you more data to better predict the next month.
As time goes by, you'll get better and better at scoping work, satisfying clients, and keeping your employees happy.
A profitable agency needs profitable clients
At IMPACT, we spent years as a small up-and-coming digital marketing agency, dealing with all of the familiar challenges to profitability.
Eventually, we discovered a new way to serve our clients: Instead of producing the deliverables for our clients, we provided the strategy and the guidance so they could produce deliverables themselves.
We shifted our business to focus on coaching and consulting instead of implementation. As a result, we now operate at much better profit margins, and our customers experience significantly better results.
We were able to minimize client churn, which helped us become more stable. As a result, we were able to pay our employees better, and, in turn, provide even better service to our clients.
If you want to learn more about how we made this shift, you can read all about it here. Or you can talk with an IMPACT project coordinator to see how we could lead the same kind of transformation for your agency.
Whether you're ready to transform from a marketing agency to a marketing coaching business or not, the information above should provide some valuable guidance. When you fully understand your challenges, you can start to put solutions into place.
12 years of business coaching distilled into a weekly newsletter
Whether you're an agency owner, a coach, or a marketer, this weekly newsletter will be your secret to becoming the best you can be — and achieving greater results for your clients.
12 years of business coaching distilled into a weekly newsletter
Whether you're an agency owner, a coach, or a marketer, this weekly newsletter will be your secret to becoming the best you can be — and achieving greater results for your clients.
Published on April 13, 2022