Marketing and Sales Alignment When Using HubSpot and Salesforce [Infographic]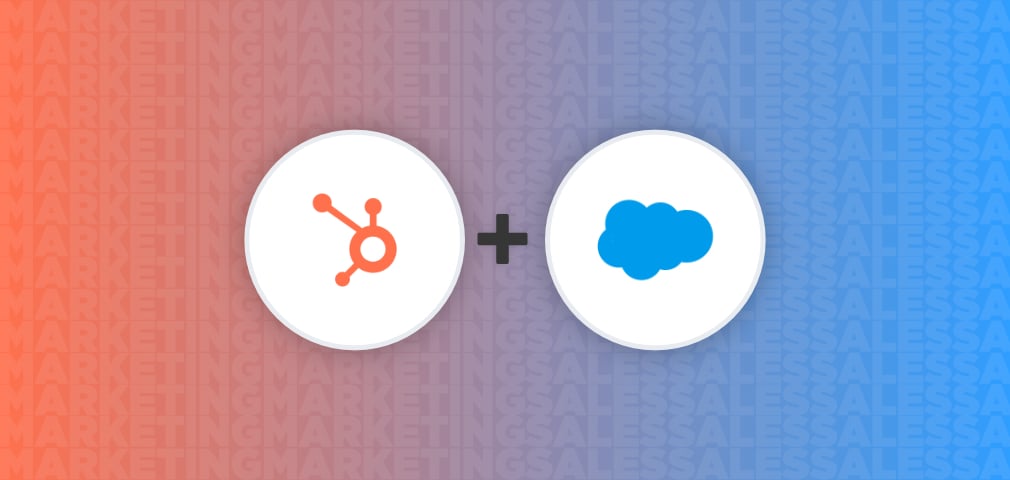 Having your marketing and sales team aligned is difficult enough.
It's common for each team to work on their own island and have a different goal they are working towards. This often means also working on different platforms which can make collaborating even more challenging.
The tools they are using likely don't speak the same language, data may not transfer back and forth well due to a poor connection, and for the most part, the marketing team likely may not be able to see what the sales team is doing, and vice versa.
If you are using HubSpot for marketing and Salesforce for sales, it doesn't have to be this way.
Sales and marketing communication
While it is likely that marketing handles the top-of-the-funnel or early stage interactions and sales handles the bottom or later stages, the teams should have a clear understanding of the entire process of generating web traffic, converting them into leads, and ultimately turning that lead into a customer.
Reporting throughout each stage of the buyer's journey is the lifeblood of understanding if the alignment is working.
While there are metrics that make sense for each team to look at, you need to make sure that when marketing sends a lead over to sales, they are hearing back from the team on whether or not that lead became a customer or not.
This will help the marketing team understand if they are bringing in qualified leads, and if the sales team's process is working properly. This means having HubSpot and Salesforce working properly together and having customer information sync between the two.
HubSpot and Salesforce integration
One major tool that can help in making sure that both platforms are working together is the HubSpot-Salesforce integration.
This integration helps sync data between both platforms so that your team in Salesforce is able to see contact data that is collected in HubSpot, and for your marketing team in HubSpot to see sales activity happening in Salesforce, including when a deal closes.
Below is an infographic breaking down exactly what the responsibilities are for the marketing and sales team and how each platform fits into the process.
Keep in mind that this is very high-level. Yes, there will most likely be overlap, and your marketing team might venture into Salesforce, and your sales team might be using some HubSpot tools to help sell better (as they should be, there are some great tools).
However, this is more to clearly identify which team is responsible for what, and how each platform can help.

Free Assessment:
How does your sales & marketing measure up?
Take this free, 5-minute assessment and learn what you can start doing today to boost traffic, leads, and sales.