Subscribe
Join 40,000+ sales and marketing pros who receive our weekly newsletter.
Get the most relevant, actionable digital sales and marketing insights you need to make smarter decisions faster... all in under five minutes.
Thanks, stay tuned for our upcoming edition.
Microsoft launches new Edge Chromium browser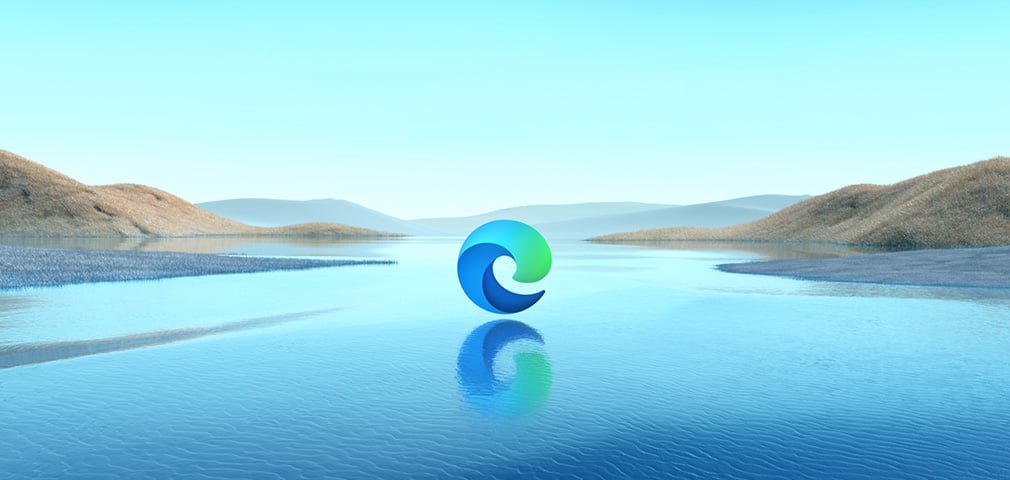 Everyone has a favorite, comfortable browser that just feels right. To most people, Chrome is that comfortable fit. In fact, as of December 2019, 65.40% of browser market share belonged to Chrome. The next closest browser is Apple's Safari, with 14.22% of the market share.
Microsoft Edge sits way below that at a whopping 3.47%.
But Microsoft is looking to change that with its recent release of the Edge Chromium browser.
It is available immediately for both Windows and macOS. Initially, Edge is being targeted at enterprise users of Windows and macOS, but consumers will be able to download and install it, too.
Microsoft is slow-walking this release to make sure all the bugs are taken care of before fully rolling it out to everyone this summer. It will eventually be part of a future Windows 10 update.
While it has some new features, it will initially be released without history sync and extension sync, which Chrome users are used to. However, addresses / contact info, favorites, settings, and passwords will all sync from the start. It will also have support for Chrome extensions.
Privacy is the name of the game
The new Edge is tackling privacy concerns head-on. Microsoft is counting on its robust built-in privacy controls to attract privacy-conscious folks. Google's Chrome always gets knocked for not allowing enough privacy control.
Tracking prevention
There are three settings of tracking prevention within Edge settings that help users avoid being tracked on the web — each one stronger than the next. On the strictest setting, some sites might not load properly.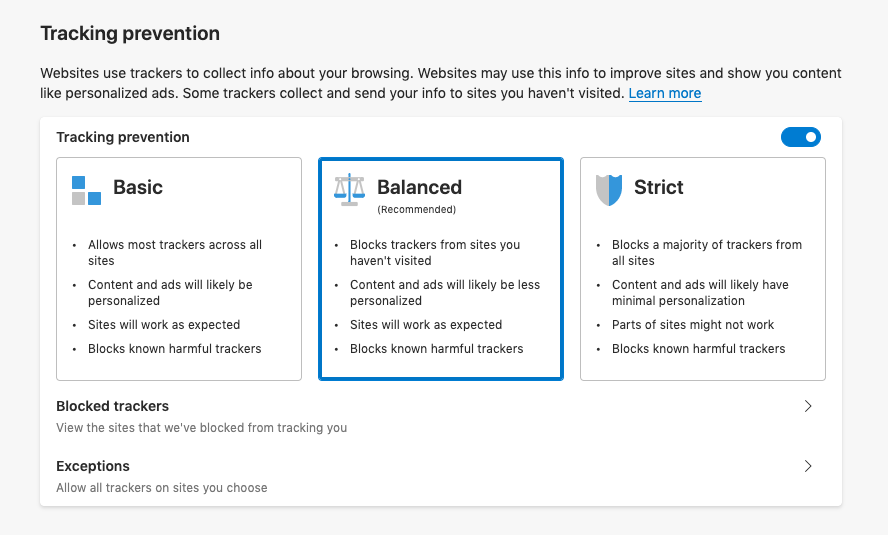 Private Browsing
When you use the InPrivate windows, your browsing data (history and cookies) aren't saved on your device once you're done. This is basically identical to Chrome's Incognito mode.
Malware prevention
Edge comes with Microsoft Defender SmartScreen built in. It protects from phishing or malware websites, and from downloading malicious files.
The future is private and these big companies are catching on.
Google is phasing out third-party cookies and trackers in Chrome but not for another two years. Last year's big Firefox update included blocking third-party tracking cookies and cryptomining, by default. Safari has always been the go-to for the privacy concerned Mac user.
At the moment, this gives Edge Chromium a distinct edge over Chrome for privacy —and provides another option for Mac users.
If you want to know more, read this interesting article from a Mac user who tested out the new browser.
Other features
Compatibility is key
Chromium allows Microsoft to bring its web browser elsewhere. It's available on all supported versions of Windows, macOS, iOS, and Android.
4K streaming
Edge offers high definition media on Windows 10 with support for streaming Netflix in 4K Ultra HD, Dolby Audio, and Dolby Vision — all with caveats, of course. The Netflix Ultra HD plan along with other PC requirements is required.
Collections
Integrated with Office 365, this feature allows you to organize, share, and export images and content collected from the web to Word or Excel.
How will Edge Chromium compete with other browsers?
This will all depend on the openness of the marketplace to another browser. How many people feel the need to try out another browser if they're perfectly happy with the one they use?
Every browser has its pros and cons. It just depends on what aspect is most important. If privacy is your main concern, Edge might be the right fit.
Edge is no longer just the default browser for Windows 10. It's now a viable option for all devices, on Windows and Mac. All this healthy competition between tech juggernauts is just going to create better web browsers as a result.
Microsoft is hoping Edge offers all the benefits of Chrome, but without Google having your data. And more and more lately, people want to keep their data close to the vest.
Free Assessment:
How does your sales & marketing measure up?
Take this free, 5-minute assessment and learn what you can start doing today to boost traffic, leads, and sales.