31 new video marketing statistics to fuel your strategy in 2020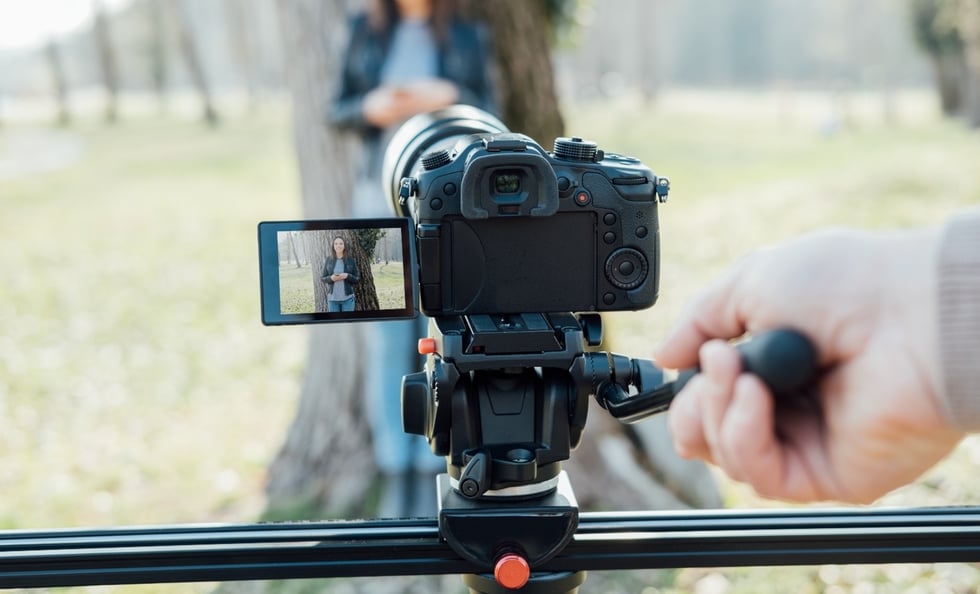 Account Receivables Manager, 5+ Years of Client Success and Project Management
December 20th, 2019 min read
It's no surprise that video is dominating as one of the strongest content marketing strategies to implement with your business.
As writer Matt Bowman put it in Forbes "The landscape of content marketing has changed....Today, content only succeeds if it delivers what consumers want, when and how they want it."
That's why video is a must.
In fact, 83% of marketers believe that video is becoming increasingly important.
That's partially due to the fact that 96% of consumers between the ages of 18-34 watch videos several times throughout the week, and 75% of millennials watch at least one video per day, according to a HubSpot study.
Okay, Millennials and Gen Z!
Video content impacts product and service purchases, particularly with Millennials.
So with that tidbit of knowledge, how will your organization best use video in your digital marketing strategies?
Here are some of the statistics that we and other industry experts think you should be taking into account in time for the new year.
Many of the stats, unless otherwise stated, were provided by Social Media Today's infographic with research conducted by BreadNBeyond.
What are we waiting for? Let's dive in...
Video statistics for 2020
Current state of video
As we already know, video marketing is booming, and implementing it into your marketing strategies has become key in both gaining your customers' attention, and keeping it.
What does this mean for marketers?
Statistics are showing growth year over year for video marketing. This is what consumers are asking for in their behavior, and as marketers, we must deliver.
1. 81% of businesses use video in their marketing strategy, a 63% increase since last year
2. 82% of consumer internet traffic will come from videos by 2022
3. Users spend 88% more time on websites that have videos
4. Emails are opened 7% more when they have the word 'video' in the subject line
🔎Learn why video is essential for building trust with your audience
Vertical video
Even the way video is consumed is changing, from the traditional horizontal orientation to the way consumers are predominantly viewing now: vertical.
While video has always traditionally been horizontal, as people are filming and consuming more video on-the-go, video has adapted to mobile behavior.
Smartphones are most frequently used and held vertically, so it is natural for people to do this while filming or watching, especially as Snapchat and Instagram built this orientation into their platforms.
As marketers, we need to adapt to consumer behavior and give them content in the way they want it most, and an example can be seen in the rise of vertical video consumption.
5. 82% of users find it off-putting to watch videos that are not optimized in their chosen orientation
Social media video statistics
More people consume videos on social platforms than through any other medium. Here are some statistics looking at the behavior and performance of each platform:
YouTube
YouTube is one of the most widely known search engine tools, second only to its parent company, Google.
6. 1.5 billion users play 1 billion hours of video each day
7. 65% of senior executives visit the website related to a video they viewed on YouTube
What does this mean for marketers?
YouTube is widely perceived to be a platform for more entertainment-based content. Your organization may not think that your audience is on YouTube. However, I ask you to reconsider.
8. 72% of consumers use video to learn about a product instead of reading the text in a user's manual
9. "How to" searches on YouTube increase by 70% every year
10. 95% of users watch an explainer video to learn more about a product or service
When it comes to the buyer's journey, video is shortening the consideration stage and is being used to help guide the consumer to the decision-making stage.
11. 97% of marketers report that video helps users understand their products or services better. It also helps to increase sales.
🔍For more tips on video marketing, check out our Film School for Marketers YouTube channel.
Facebook
Facebook came on the scene back in 2004, a year prior to YouTube. In recent years, however, it has become a powerful player in the online video space.
12. Users view an average of 8 billion videos on Facebook daily
13. Video promotions on Facebook are equally popular as image promotions
What does this mean for marketers?
Utilizing Facebook video ads is a great way to show off your brand's personality and connect emotionally with an audience.
14. Every day, 75 million users visit Facebook's video platform
15. 81% of businesses prefer using Facebook for their video marketing
With best practices in place, video marketing on Facebook can help boost audience engagement and drive valuable conversions.
16. Make your video last for two minutes. 60% of viewers will stop watching after the two-minute mark
17. Engaging the viewer's attention within the first ten seconds is vital since 65% of users will try to skip video ads as soon as possible
🔍Click here to learn what a full-funnel Facebook ad strategy consists of
Instagram
Now owned by Facebook, Instagram has evolved from just photo-sharing to being a powerhouse marketing tool with huge opportunities for better video engagement.
Instagram stories offer a variety of facial filters, stickers, and location tags.
Stories are so valuable to marketers because users love to scroll through them, seeing advertisements in the process.
18. Active monthly users on Instagram reach up to 800 million, which presents massive potential for your video to gain exposure
19. Instagram has the most significant growth over any other social media platform when it comes to driving purchases. Purchases made from the platform increased by 31% in 2017 and 48% in 2018
20. 72% of users on the platform buy a product after they've seen a video ad
What does this mean for marketers?
With consumers spending more time on Instagram, you will likely see businesses continue to put more effort into the platform.
The old saying goes a photo can speak a 1000 words. Video can help communicate even more. Video offers insight into your brand's culture, personality, team, and stories in an engaging way.
21. 65% of impressions from an ad on Instagram come from videos
22. 75% of users take action after viewing a brand's video
🔍Click here to check out our guide to Instagram ads in 2020
Twitter
Even on a text-focused platform like Twitter, video can be invaluable. The platform is actively pushing the importance of video in advertising.
23. 45% of users want to see more videos from celebrities
24. 90% of Twitter videos are viewed through mobile devices
25. 72% of video marketers use Twitter as a channel, 84% of those claiming success
26. 82% of users mainly watch video content on the app
LinkedIn
With a platform like LinkedIn, built for establishing business relationships, utilizing video is a great way to stand out, especially for B2B brands. Posting videos here can grab eyes and boost awareness for your professional and personal brand.
27. 51% of video marketers use this platform, with 84% saying it has been successful for them
What does this mean for marketers?
A successful LinkedIn video strategy doesn't necessarily mean you go viral with your video posts, but rather, you should focus on your reach and engagement.
28. Company page videos generate five times more engagement than other types of content
🔎Check out how much it costs to be successful with LinkedIn ads
Snapchat
Even though Snapchat is frequented mainly by a teenage and young adult audience, it still has amazing potential when it comes to video marketing.
What does this mean for marketers?
GreenBuzzAgency said it best:
"Snapchat is real, raw, and unscripted. That's why it appeals to younger audiences. Younger demographics have a deep distrust of advertising. Through a casual app like Snapchat, you can position yourself in a relatable light. Snapchat even allows for influencer marketing. By working with a popular Snapchat user, you can increase your brand recognition amongst their followers."
Here are some stats to know if this platform fits in your strategy:
29. Users watch 10 billion videos on Snapchat daily
30. The average user spends 25 minutes per day on the app
31. 12% of marketers use this as a channel
🔎See how Snapchat's new Dynamic Ads feature will streamline ad creation
How to take off with video in 2020
We have identified the current and future state of video, but in order for video marketing efforts to be successful for your organization, you have to get started.
With all this information on the importance of video and the platforms that we share it on, it should be a no-brainer. I mean, who wouldn't want to see that revenue chart going up and to the right from their video marketing strategy?
But how do you get started?
Baby steps, of course! One way you can start is by creating one-to-one videos that are more personalized to who you are and your brand.
Our friends over at Vidyard offer an amazing platform that helps you create and share videos that break through to buyers, and connect, convert, and close sales — and you can start for free.
If you need something on a more grander scale, we offer video production services here at IMPACT, with a great team that helps you tailor your message to attract customers through education on your services, products, and your company (and the people who are a part of it).
In some cases, you may be a company that already has a videographer on site. You are already sold on the importance of video for your organization, but you need help getting your message out there in the right way.
Video consulting may be the route to take, to help you with your in-house video marketing strategy.
Or, you might be looking to hire a videographer but don't know where to start. In that case, check out our menu of video sales and marketing services.
See? That was easy enough, right?
Once you have figured out your strategy and are ready to implement, the possibilities are endless.
So, what are you waiting for?
Want to learn more about digital sales and marketing?
Master digital sales and marketing when you join IMPACT+ for FREE. Gain instant access to exclusive courses and keynotes taught by Marcus Sheridan, Brian Halligan, Liz Moorehead, Ann Handley, David Cancel, Carina Duffy, Zach Basner, and more.
Access hundreds of FREE courses and keynotes