Top 7 questions to ask when hiring an inbound marketing agency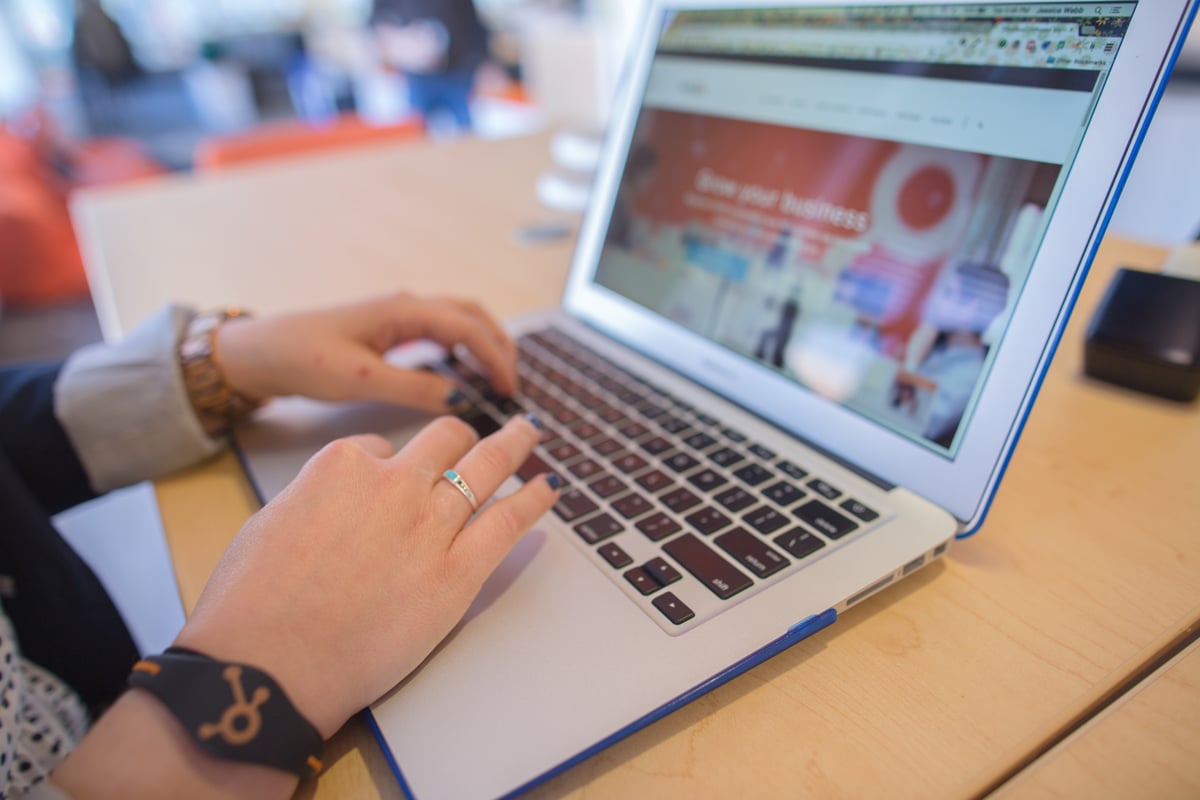 So you've decided that your business is ready to take your marketing and sales initiatives to the next level. You've set aggressive growth goals and are committed to making the changes necessary to reach these goals as an organization.
You also realize that you'll need to reinvest in your sales and marketing programs (and teams) and create a more customer-centric approach to how you educate, nurture, and sell to prospects.
Congratulations! You're ready to step into the 21st Century of digital sales and marketing.
The first step towards business transformation is to create the framework (and culture) for this change within your organization and then commit to putting it into action.
Not totally sure how you get there? Here are some key considerations and questions to keep top of mind as you determine:
A.) the approach you want to take (insource versus outsourcing); and
B.) which partner is the best fit for your organization.
Whether it's your first time looking for a partner or if you're in the process of replacing your current one, there is some basic prep work you and your team should complete before reaching out to an agency.
This includes coming to an agreement about:
what you're looking to accomplish as an organization,
how you'll dedicate the resources needed to see it through, and
commitment to having the right decision makers involved in the process to ensure team alignment and success.
As you prep for a sales call with a potential partner, your goal shouldn't be to compile the perfect lineup of questions to ask, but rather identify what critical information you haven't been able to gather through your own research and due diligence.
Having worked at agencies my entire career, I had my own assumptions about what the most important questions a prospective client should ask.
However, to make sure I had multiple perspectives, and particularly from those on the front-line of these conversations, I asked IMPACT's sales team what questions they receive most frequently, as well as what prospects should be asking to make an informed decision.
Here's a summary of the main categories of questions recommended by our team's collective experience.
Question 1: Do I want to insource or outsource our sales and marketing initiatives?
This is a question to ask your team before you get started. If your team isn't convinced one way or the other, adjust this question for the sales rep by asking them, "What are the advantages of [insourcing or outsourcing] with your company?"
One of the first decisions you need to make is determining how you envision your success coming to fruition. How will you create written and video content? How will you build and continuously update your website? How will you create an exceptional end-to-end experience for your buyers and evolve based on data, not assumptions?
Selecting one of the following two options will give you the direction needed to start researching and vetting potential companies. Or, you can select of mix of each and weigh out your options.
Option 1 Outsourcing: Are you looking to outsource your marketing to an agency and project manage their work? This is a more traditional approach and probably the solution other members of your team are most familiar with.
Under this structure, you'll still need a team member on staff to manage the work of an outsourced agency and hold that team (and yours) accountable for the work and performance. A large portion of this person's job function is project management.
If you've worked with agencies in the past, you know that this person will need to work with the outsourced agency closely to overcome their lack of industry and business-specific knowledge.
Also, it is important to consider the cost of outsourcing this work and the employee(s) needed to manage it, versus the cost of having entry-level employees on staff to manage your content, video, marketing automation, etc. from within the organization.
If you're looking to outsource, we recommend checking out the HubSpot Partner Directory for a list of top inbound marketing agencies that do outsourced work.
🔎 Related: Why is it a bad idea to outsource content creation? (+ video)
Option 2 - Insourcing: Are you looking to create and own success from within your organization? Meaning, are you and your teams prepared to do the work and drive growth through hiring and nurturing talent at your company?
This approach is best for businesses that understand the output of a full-time, on-staff employee creates enormous efficiencies and scales production much faster than managing the work of an outsourced firm.
Your in-house team knows your industry, business, and customer better than an outsourced partner ever could. They have exposure to the daily operations and changes in real-time, and they can hold their colleagues accountable for getting the work done. There's a lower risk of their being things lost in translation or misrepresented.
In order to do this successfully, you'll obviously need to have the right talent on staff. If you don't already have these roles filled, you'll want to hire a content manager and a videographer, as well as a digital marketing manager to own the entire program. Those are critical roles to fill in order to be successful with insourcing your success.
But even with these individuals, you may find you want the help of an agency.
If you're in the process of hiring for these roles or have recently brought someone on staff and need to get them trained up, you may want to hire a business consultant or strategic partner to align your teams, provide the framework needed to set strategy, and train your team to produce best-in-class inbound and customer-centric content.
Overall, knowing whether you want to insource or outsource your execution will help you determine what kind of agency you're looking for.
Question 2: How much do services cost?
Let's be honest — cost is one of the most important factors in your purchasing decision.
During the sales process, cost should be a transparent part of the conversation, with no surprises creeping up that cause your team to distrust a potential partner.
Some agencies may publish their pricing models (hourly, monthly retainer, project, etc.) to their website, while others will try to hide cost all together until they have you on the phone.
There shouldn't be any games when it comes to cost. You should know exactly how much working with an agency will cost and what is included.
More often than not, you'll want to combine, subtract, or negotiate a different combination of services, as well as the duration of their contract. Because this can vary substantially, you'll most likely need to request a proposal from an agency in order to determine the full cost of your investment, should you decide to go with them.
If an agency is in the business of building trust, they should publish pricing directly on their website. At a bare minimum, you should be able to estimate a range of the commitment cost during the early stages of the sales process.
Ideally, you'll find a company that is forthcoming about their products, services, and pricing (here's an example from IMPACT). If you're not readily finding this information on an agency's website, ask yourself, "why would they hide this information from a prospective client?"
Whether it's listed out clearly in black and white in a pricing chart, or explained in a way you can calculate potential costs based on your needs, you should be able to glean the cost of partnership.
As part of the budget or cost conversation, be sure to ask a few followup questions, such as:
Will my team need to purchase any additional software or assets to support this partnership or project? E.g. project management tools, marketing automation, or email software, stock images or video files, etc.
Are there any additional fees not included in your rate?
Do you offer any benefits or discounts for paying upfront or in-full?
All of these costs can add up and can potentially determine if your organization can afford to work with an agency or not.
Question 3: Who are your most successful clients and what have they done to achieve this success?
If the agency publishes business case studies, client success stories, or testimonials to their website, great!
Take time to look at resources that showcase the social proof of their work, and consider any if they show experience in addressing your concerns or challenges.
If you can't find this information on their site, or if the case studies are outdated or irrelevant to the work you're considering, ask.
Why? Because unless it's a brand new startup, every organization should have a catalog of their best work to reference. This helps other prospective clients learn more about their capabilities and see the results in-action.
You shouldn't have to wonder if the agency can actually deliver on what they promise — you should be able to see or speak with other companies who have experienced success as a result of working with this firm.
Additional questions under this topic may sound like:
What does a successful journey with your agency look like, and what services typically fall into that experience?
Is there a particular path you recommend starting on based on my team's level of knowledge, the lifecycle stage of my business, and/or the maturity of our inbound marketing program?

How long will it take

to reach a point of success or see a return on my investment (ROI)? This may also be a standalone question that makes the top of your list.
How do you measure client success? Specifically, how does your team measure progress and performance throughout our engagement? This could also be a standalone question, depending on the type of work being outsourced to the agency.
Question 4: Who is an ideal fit for your agency, and who isn't?
You should not leave a sales call without having an answer to both of these questions.
Why? It's just like dating — every agency should know who their ideal customer is and, even more importantly, who it isn't.
Ask the sales rep what their ideal customer profile (ICP) looks like (i.e. who is a fit for their services), as well as the types of organizations or relationships that haven't worked out well in the past and why. If they know their business and are honest, they should be able to paint a clear picture for you. Here's an example of how IMPACT describes our ideal client.
This is extremely helpful to know upfront, as it will potentially assist you with self-selecting in or out of additional conversations and a future partnership. The answer will vary depending on the agency, but the description of their ICP should cover items like:
Size of business
Size of budget
Size of and number of teams working on the project (how many points of contact can they easily manage and are they willing to work with other vendors)
Types and extent of work contracted (aka the level of support needed)
Retainer of project-based agreements
Possible niche industries (if they work with a specific vertical)
Level of knowledge or expertise in-house (at your business)
With this information, you as the prospective client can reflect on your own organization, team structure, how you work, the expectations you have of a client-agency partnership, etc., and decide for yourself if you fall into the "ideal fit" or "not a fit" category.
Question 5: What does the timeline look like?
Many businesses seek out an agency partner to accomplish a specific goal, within a specific timeframe.
🔎 Related: How quickly will we see results from They Ask, You Answer and IMPACT? (+ VIDEO)
That deadline, as well as any other critical milestones, should be mentioned upfront to determine if the agency can deliver on your project and meet your larger business goals.
Here are some similar or related questions to timelines:
When can your team get started?
How long will it take to complete this project or the total contract?
What could potentially alter or delay this timeline?
What will you need from my team in order to ensure we stay on schedule?
A common issue we see arise with clients is missing deadlines due to unexpected internal delays or additional steps that weren't accounted for at the project launch. Examples of this include a client team not accounting for:
Multiple levels of internal review and approval (including legal)
Having to coordinate multiple internal and external teams contributing to a project
Vacation time, holidays, PTO, or other scheduling conflicts that limit critical team members' availability
Before you set a deadline for a project, ensure that your team can do its part to bring this project to fruition.
Ask the agency how much time or what commitment is needed from your team to make it a success. If you need to pad in additional time or make adjustments to hit your deadline, it's better to plan for it now.
Question 6: What does your master service agreement (MSA) or statement of work (SOW) language include?
This question comes later in the conversation, but I cannot stress enough the importance of understanding the terms of your agreement with an agency partner.
You should know the details of a contract before making your final selection or signing a document, as it may ultimately change who you decide to partner with if it doesn't work for your business.
If the terms and conditions don't align with your organization's processes (such as billing and payment cycles), lack desired flexibility, or are not something you feel comfortable committing to, then this could lead to major issues during the relationship.
To understand what you're entering into and protect your company's best interest, there are a number of questions you should ask, or have clarification on, prior to receiving or signing a contract:
What are the payment terms? E.g. net 15, 30, or 45.
Do you offer flexible payment options?
What are your cancellation terms, and are there any associated penalties?
Can I pause services temporarily if needed, and what does that process look like?
What other penalties might I run into?
How do you account for changes of scope, and what is your process for notifying clients of those changes?
If legal language needs to be reviewed in advance, ask for a sample of the agency's MSA to run past your team.
At the end of the day, it is your responsibility as the client to understand the ins and outs of an agreement you sign. Asking these questions upfront will hopefully help you avoid any issues during the execution of the contract that could have been easily avoided.
Question 7: What questions do you have for me?
Surprised to see this one? You shouldn't be, and here's why:
When it comes to allocating your marketing budget to an outside partner, you want to ensure your investment yields:
High value and quality of work or services received
Produces a reasonable ROI to justify the expense
The agency you select should be as invested in your success as you are. Meaning, if they don't care to ask you questions about your business, goals, and expectations, then they aren't doing their part in the process and probably won't during the time you spend together.
When you're speaking with an inbound marketing agency sales or business development rep, they should be touching on the following:
What are your business, sales, and growth goals? What are the specific numbers you're looking to hit in the [BLANK] amount of time?
What does a successful agency partnership look like to you? What expectations do you have of an agency you work with?
Have you worked with another inbound marketing agency before? If so, what worked and what didn't work?
Can your team meet the project deadlines outlined in our agreement? What potential roadblocks could hold up work on your end that we should account for upfront?
The most important takeaway from this question or aspect of the conversation is that you feel confident the agency understands your business, goals, and objectives, and what is needed out of a potential partnership.
They obviously won't know every aspect of your operations, but they should have a grasp on what is needed to accurately determine if they're a fit to support your business.
The goal is to find the right fit for you
As you conduct your search for an inbound marketing agency, you may alter these questions to better accommodate the specific needs or considerations for your business. Regardless, this list should be a common starting point for many conversations.
Some additional questions we often hear from prospective clients include, but are not limited to:
Do you have experience in my industry or work with any of my competitors?
Who will I work with and how is that teammate or team selected for my business?
What tools do you rely on the support project management, client communications, and the overall partnership?
How do you track deliverables or work completed so my team has visibility into what has been received and progress made as part of our contracted work?
The list can go on and on. That said, use best judgment to determine what is most important for your organization and facilitate the conversation around your needs. If you do that, you should have everything you need to make an informed decision!
Free Assessment:
How does your inbound marketing measure up?
Take this free, 5-minute assessment and learn what you can start doing today to boost traffic, leads, and sales.
Get Started
Free Assessment:
How does your inbound marketing measure up?
Take this free, 5-minute assessment and learn what you can start doing today to boost traffic, leads, and sales.
Published on February 2, 2021