44 jaw-dropping social media statistics for businesses [New for 2020]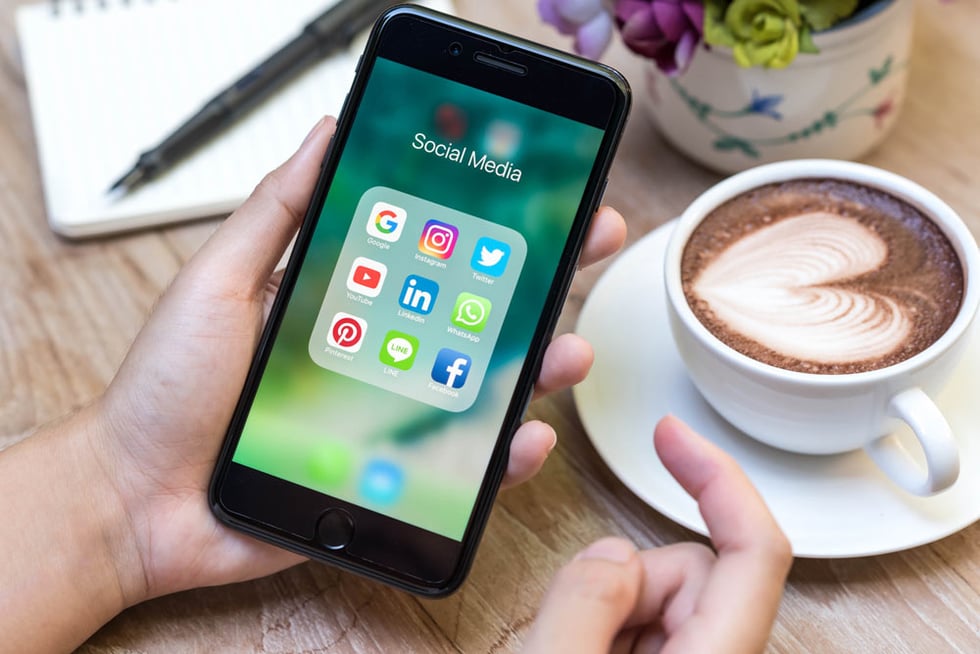 Head of Editorial Content, Strategized Initiatives That Increased IMPACT's Website Traffic From ~45K to ~400K
October 11th, 2019 min read
Social media is a phrase that makes many roll their eyes.
Shrugging the platforms off as just places to share birth announcements, pictures of food, and grammatically incorrect memes, many marketers aren't convinced that social media can be used for serious business — but the numbers beg to differ.
Facebook, Instagram, Twitter, LinkedIn. These platforms (among others) are no longer just for the young looking to pass time.
They are powerful networking and engagement tools that are as ingrained in our everyday lives as getting a cup of coffee.
With better data, community tools and shopping tools, more comprehensive advertising offerings, and ever-growing global user numbers, social media deserves more attention from your marketing team in 2020.
But what does that look like?
Many teams, like yours, still aren't sure which social media strategies work best, what content to create, how to measure ROI, or where their audience truly is.
To help you navigate this space, I've compiled 44 new social media statistics to give you better insight into how to succeed and how to start planning your strategy for the coming year.
Table of Contents
State of social media
1. There are over 3.48 billion social media users worldwide in 2019. (Global Digital Report, 2019).

That's roughly 42% of the world's population and 80% of internet users. If you're investing in digital marketing, this means your audience is likely using social media in some respect.
At the same time, however...
2. 60% of people no longer trust social media (Edelman 2018)
Despite using it, an increasing number of people feel uneasy about sharing their personal information on social media following a number of data breaches and privacy concerns surrounding many platforms, especially Facebook.
Platforms are working to combat this, but if it persists, this perception could affect engagement in the future or even your ad performance.


User behavior on social media
3. 90.4% of millennials report using social media, compared to 77.5% of Gen X, and 48.2% of Baby Boomers (Emarketer, 2019)
Again, major market consumers are using social media. So, you should be too.
4. The average person spends 2 hours 22 minutes a day on social media and messaging (Globalwebindex 2018)
5. 54% of users report using social media to research products (Globalwebindex 2018)

Social media isn't just for fun. More than half of people are actively using it as a part of their buying process.
6. 91% of all users access social media via a mobile device (Lyfe Marketing 2018)
Social media users are on the move. Make sure you keep this in mind when designing your experiences, campaigns, and content.
7. 45% of consumers say they're more likely to research a product or service when an employee posts about it, compared to only 32% saying they'll do so if a celebrity posts about it. (Sprout Social 2019)
The opinions of average people and consumers have more weight than those of celebrities for most. Explore employee advocacy or micro-influencers.


Consumer-brand interaction on social media
8. When consumers follow a brand on social media, 77% say they are more likely to buy from that brand over another. (Sprout Social 2019)
9. After following a brand on social media, 78% of consumers report visiting their physical store, if one exists, while 87% report visiting their website or app. (Sprout Social 2019)
Don't discount the weight of someone following your brand. Though small, this action shows investment.
10. 50% of consumers say they follow brands on social media to learn about new products or services, while 48% say they follow to be entertained. (Sprout Social 2019)
The third and fourth most popular reasons are to stay up to date on company news and learn about promotions or discounts.
11. 80% of brands believe that they are doing social media customer service well — but only 8% of consumers agree. (SmartInsights)
In fact...

12. 56% of consumers will unfollow a brand if they deliver poor customer service on social media. (Sprout Social 2019)
So, pay close attention to the experience you're creating when you interact with your audience on social media.
13. 51% of consumers will unfollow a brand if the content shared is irrelevant. Meanwhile 78% will unfollow if they see too many ads or promotional posts from the brand. (Sprout Social 2019)
Don't abuse your audience. When people follow you, they want to see quality content they can relate to, not a sales pitch.
14. 61% of consumers say brands can encourage purchases by creating posts offering discounts or trials on social media. (Sprout Social 2019)

15. 40% can be swayed by seeing how a product or service works. (Sprout Social 2019)
If you're going to talk about your product on social media, make it worth your audience's time. Educate them. Reward their attention.


Social media marketing strategy
16. 90% of brands use social media to increase brand awareness (Hootsuite)
17. 45% of social media practitioners say identifying and understanding their target audience is their biggest challenge. (Sprout Social 2019)
If you're having trouble understanding what your audience wants to see on social media, you're not alone. Making this a priority is a great opportunity to outdo your competitors.
18. Stories are growing 15x faster than feed-based sharing. (Block Party, Beyond the News Feed Report 2018)

Learn how to use and create content for Instagram and Facebook Stories. Organically, this is where most user attention is going.
19. Fewer than half of companies doing social media marketing have a documented social media strategy. (Buffer, State of Social 2019)
Many companies are using social media, but few have formalized their strategies. This is another huge opportunity to surpass your competitors.
20. 85% of businesses use third-party tools to help manage their social media presence (Buffer, State of Social 2019)
You don't have to do it alone. There are a ton of tools like HubSpot, Buffer, and Sprout Social to help you schedule posts and monitor your social media engagement.
21. Over 95% of the time, social media ads are viewed on mobile. (Social Bakers 2019)
Considering statistic #6, this should come as no surprise. Optimize for mobile.


Facebook marketing statistics
22. Despite recent controversy, Facebook is still the largest social media network in the world with 2.4 billion users (Buffer)
23. 68% of U.S. adults use Facebook (Pewinternet 2018)
24. 77% of Gen X-ers are most likely to follow or engage with a brand on Facebook. (Sprout Social 2019)
If you're trying to engage a Gen X audience on social media, Facebook is your best bet.
25. Only 16.6% of posts on Facebook are video (Social Bakers 2019)
Facebook has admitted to prioritizing video on the platform, yet the majority of people are not taking advantage of this.
26. Every month about 1.4 billion people participate in Facebook Groups (TechCrunch)
Facebook Groups are growing in popularity and the platform is giving them higher priority.
27. A typical American Facebook user clicks on 8 Facebook ads per month (Hootsuite)


Instagram marketing statistics
28. 41% of Gen Z say Instagram is their preferred social media platform for following brands. (State of Gen Z 2018, Center for Generational Kinetics)
According to Fast Company, by 2020, Gen Z will account for 40% of all US consumers. Start incorporating them and Instagram into your strategy if you aren't already.
29. Members of Gen Z report using Instagram, Snapchat, and YouTube more than other social media. (Business Insider 2019)
Don't stop at Instagram. Snapchat and YouTube are also big players.
30. At the beginning of 2019, only 0.8% of brands reported using TikTok for marketing. (Buffer, State of Social 2019)
If you're feeling proactive (which you should be), TikTok is one of the fastest growing social media platforms, especially among Gen Z.
31. Carousels get more organic interactions than both video and images on Instagram. (Social Bakers 2019)
Carousels are blasphemy on websites, but on Instagram they actually attract more engagement.
32. Instagram Stories alone see 400 million daily active users. (CNBC)

LinkedIn marketing statistics
33. Posts on LinkedIn that contain images have a 98% better comment rate (LinkedIn), and posts with links have a 200% higher engagement rate.
34. 605.4 million people can be reached through LinkedIn advertisements. (LinkedIn)
LinkedIn Ads have strong reach and some powerful targeting options.
35. "How" or "How-to" posts perform best on LinkedIn Publishing. (Search Wilderness)
36. LinkedIn articles with titles between 40-49 characters in length perform best. (Search Wilderness)

Pinterest marketing statistics
37. By 2020, Pinterest ad revenue is projected to surpass $1 billion. (eMarketer)
Pinterest Ads have been proving more and more promising especially for e-commerce brands.
38. On average, Pinterest posts have the longest life span of the most popular social networks at 3 months. Twitter posts have the shortest at just 15-20 minutes. (MToM Consulting 2019)
Pinterest's longevity makes it a promising platform for distributing content and driving traffic, especially visual content.
39. 93% of Pinterest users plan their purchases on the social media platform. (Pinterest)
Arguably more so than any other social media platform, Pinterest engagement shows intent to buy or act.


Twitter marketing statistics
40. 500 million tweets are sent each day. (Twitter)
41. 74% of Twitter users say they use the network to get their news. (Pew Research Center)
Twitter users want to be in-the-know. They are looking for the latest information, which means they'll likely be interested in your latest content and product updates.
42. 80% of users have mentioned a brand in a tweet. (BrandWatch)
The platform is all about conversation. Even if they're not speaking directly to you, Twitter users may be talking about your brand. Pay attention.


Messaging app statistics
43. WhatsApp recently hit 1.5 billion monthly active users. (TechCrunch)
Work with an international audience? WhatsApp is a major player in Asian and Latin America.
44. 71% of brands have not used any messaging apps in their marketing strategy. (Buffer, State of Social 2019).
Advertising and marketing via messaging apps and live chat is a huge untapped opportunity for marketers. The audience is there; brands just need to understand how to reach them.
Key trends and takeaways:
The majority of internet users use social media.
Organic reach on social media is increasingly hard to come by, but Stories and Paid Ads can help dramatically.
Gen Xers and Baby Boomers are best reached on Facebook. Millennials and Gen Zers lean more towards Instagram.
You need to provide good customer service on social media. Consumers demand it.
Personally, followers want to be entertained by you on social media. Professionally, they're looking for discounts and promotions.