54 jaw-dropping social media statistics for businesses [New for 2021]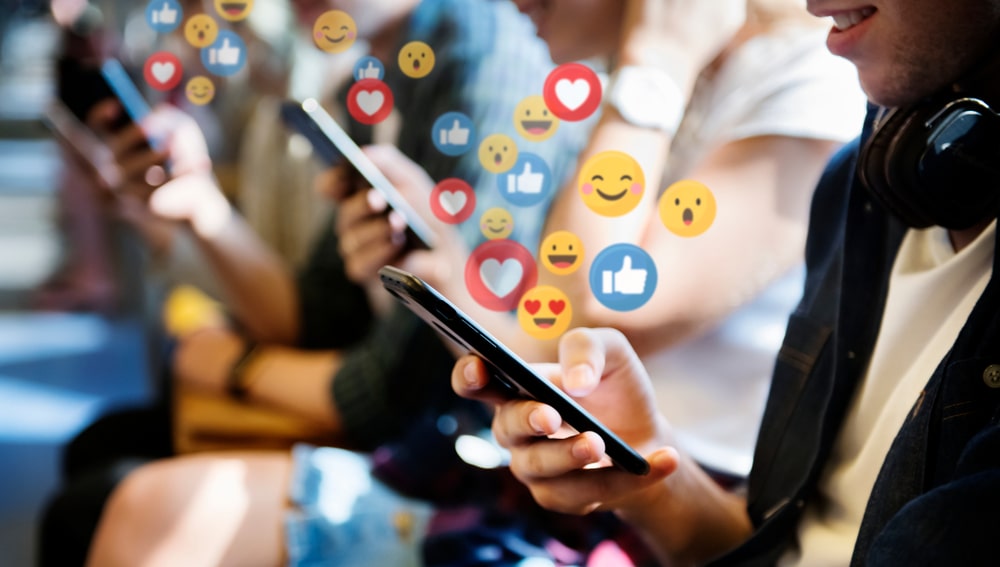 Social Media Statistics
There are over 4.2 billion social media users worldwide in 2020
98.8% of social media users are accessing social media via mobile devices
Facebook has the lowest trust rating (53%) of any social platform when it comes to data, privacy, and security
Pinterest is the fastest growing social platform in revenue with year-over-year revenue grew 48% of 2020
83% of users say Instagram helps them discover new products or services
Tweets with video get ten times (10x) more engagement than tweets without video.
45% of consumers like and follow accounts suggested in their feeds or use discovery tools
90% of all TikTok users access the app on a daily basis
WhatsApp surpasses 2 billion monthly active users and is delivering 100 billion messages per day
YouTube (50.9%) and Facebook (48.5%) are the most common social media platforms used for B2B research
Social media has become the premier destination for building relationships between individuals and brands.
From the growing number of trends on TikTok and Instagram to business-focused features from more established platforms like Facebook and LinkedIn, it's no wonder that taking on a more digital-first approach to connecting with prospects and customers has become a necessity for brands.
With better data, community tools and shopping tools, more comprehensive advertising offerings, and ever-growing global user numbers, social media platforms are powerful networking and engagement tools that are as ingrained in our everyday lives as getting a cup of coffee, and they must be a core element of your marketing strategy.
But where do you actually start when it comes to social media?
For most, it comes down to these three simple questions:
What platforms should my brand be on?
What content should I be posting (and how often)?
How do I know it's actually working and delivering value?
To help you create and execute an effective social media strategy, here are 54 social media statistics to give you better insight into how to answer these questions and start planning your strategy for 2021.
Table of contents
State of social media
1. There are over 4.2 billion social media users worldwide in 2020. (We Are Social + Hootsuite).
That has well surpassed the 50% mark of the global population. To take this even further, we are seeing big user behavior trends from those 4.2 billion people.
User behavior on social media
2. Research shows 98.8% of social media users are accessing social media via mobile devices (We Are Social + Hootsuite)
When it comes to anything regarding social media, you need to be in a mobile-first mindset so you can make the most of users checking in via mobile devices.
3. Internet users average more than 8 social accounts (Influencer Marketing Hub)
4. The average person spends 145 minutes a day on social media and messaging (Statista)
5. In the U.S., 64.4% of Gen Z report using social media, compared to 90.8% of Millennials, 77.5% of Gen X, and 50.9% of Baby Boomers (E-Marketer)
Don't be surprised if you see a spike in Gen Z over the course of 2021 as they come of age to have mobile phones and a greater online presence. They will be the next generation of shoppers and are quickly penetrating the e-commerce market.
6. An impressive 98% of internet users age 16-64 have visited or engaged with a social media platform in the past month (Influencer Marketing Hub)
While Gen Z is on the rise, don't forget to keep an eye on older users already powerful in the consumer market. They're actively using social media as well.
7. Seventy percent (70%) of internet users aged 55-64 purchased something online in the last month (Hootsuite)
While not all of these purchases came through social media itself, the fact that they are online and buying means that the opportunity to sell to older demographics may also grow on social media.
8. Studies show 45% of consumers like and follow accounts suggested in their feeds or use discovery tools (Social Sprout Index)
The prominence of recommended accounts, related hashtags, and discovery tools on platforms like Instagram and LinkedIn are leading to more organic exposure and relevant, engaged followers for individual and brand pages.
For brands, this means organic reach is not dead! If your account is well-optimized and focused on the right subject matter and audience, algorithms on the platforms will help put you in front of the right people who are looking to engage with your content.
Consumer-brand interaction on social media
9. After following a brand on social media, 91% percent of users visit the brand's website or app, 89% will buy from the brand, and 85% will recommend the brand to a family or friend. (Sprout Social Index)
Don't discount the weight of someone following your brand on social media. Though small, this makes them an active audience, and if they stick around, it shows investment and loyalty that can bring in new customers for you.
10. About 44.8% of social media users turn to social media when searching for products or services they are considering buying (We Are Social + Hootsuite)
11. Fifty-seven percent (57%) (+7% vs 2019) of consumers say they follow brands on social media to learn about new products or services, while 40% (-8% vs 2019) say they follow to be entertained. (Sprout Social Index)
More than ever, consumers want to be educated about what you can offer them and more specifically, what problem you can solve for them. Don't be afraid to make your content about your offerings. However, at the same time...
12. Sixty-eight percent (68%) of people feel that brands don't share interesting social content. (Hootsuite)
13. The top four reasons consumers will unfollow a brand on social media are poor quality of product or support (49%), poor customer service (49%), irrelevant content (45%), and too many ads (45%). (Sprout Social Index)
It's all about balance. Don't share sales pitches, but also don't just share content because you like it. Take the time to build a strategy around your content so that it delivers value, not unfollows.
Social media marketing strategy
14. Fifty-six percent (56%) of marketers use social data to better understand who their target audience is (Sprout Social Index)
To figure out who that audience is, you need to do your research on who is out there.
15. YouTube (50.9%) and Facebook (48.5%) are the most common social media platforms used for B2B research (Influencer Marketing Hub)
16. Sixty-nine percent (69%) of brands say their biggest social media priority is to increase brand awareness, with 52% aiming to increase web traffic (Sprout Social Index)
17. About 57.8% of B2B companies use social media is to communicate directly with customers (Influencer Marketing Hub)
Over and over we hear that B2B just isn't on social media, however, every purchase is made between people, and a vast majority of people are on social media today. Take advantage of that behavior to connect with even B2B customers on a human level.
18. Fifty-nine (59%) of consumers message a brand to share a great experience, followed by 37% for customer service issues (Sprout Social Index)
Consumer loyalty is built on social media and if a customer has a great experience with you, they'll want to share it with the rest of the world. In order to build that loyalty, you'll want to have the tools in place to build that strategy.
19. Eighty-one (81%) of organizations use social media publishing/analytics tools. (Sprout Social Index)
20. Content creation/collaboration/workflow tools increased from 48% in 2019 to 58% in 2020 (Sprout Social Index)
21. Influencer marketing ads grew 10.8% year-over-year (Social Bakers)
The growth in influencer advertising was fueled by platforms like TikTok, which saw huge growth in 2020.
TikTok marketing statistics
22. The TikTok app has been downloaded over 2.6 billion times worldwide (Sensor Tower)
23. Ninety percent (90%) of all TikTok users access the app on a daily basis (Oberlo)
24. About 38.8%% of TikTok's US Users Are Aged 18-24 and 26.5% being 25-34 (Influencer Marketing Hub)
TikTok has also surpassed Instagram as U.S. teenagers' second-favorite social media app.
25. Sixty-one percent (61%) of TikTokers mentioned that they tend to buy from brands that they see advertised and 63% consider themselves to be brand conscious. (GWI)
Facebook marketing statistics
26. Facebook has 2.74 billion monthly active users (Facebook for Business)
Facebook is still by far the largest social media platform out there and it's only growing as the global audience becomes more and more involved.
27. Facebook has the lowest trust rating (53%) of any social platform when it comes to data, privacy, and security (E-Marketer)
Even with Facebook's huge growth and audience, it's clear that a rocky past and a courtroom full of legal fees have reduced the trust in the platform.
28. About 79.9% of Facebook users only access the platform on mobile (Hootsuite)
As I mentioned at the beginning of this article, mobile is at the core of social media success and you need to cater your content to meet those demands.
29. Fifty-five percent (55%) of branded content on Facebook is visual (15.09% video and 34.73% photos). (Statista)
Visual content is important on every platform, and video, in particular, is becoming more and more critical to having success on Facebook.
30. Facebook posts with images see 2.3X more engagement than those without images. (BuzzSumo)
31. Every month, 1.8 billion people use Facebook Groups (Facebook)
Groups have grown significantly in popularity since COVID-19 began, becoming one of the main ways to connect with others and build long-term relationships with your community.
32. E-commerce advertising spend grew 57% YoY on Facebook (Social Bakers)
33. Roughly 18.3% of U.S. adults made a purchase through Facebook in the last year (E-Marketer)
Instagram marketing statistics
34. Instagram has 1.16 billion active users (Hootsuite + We Are Social)
35. Eighty-three percent (83%) of users say Instagram helps them discover new products or services, with 81% of users use Instagram to help research those products and services. (Facebook)
36. About 130 million Instagram users tap on shopping posts every month (Hootsuite)
Shopping and B2C have become huge points of interest for brands on Instagram and with the integration of product tagging and in-app shopping, Instagram is a fantastic opportunity for discovering and delivering for customers.
37. Instagram Stories alone see 500 million daily active users. (Statista)
LinkedIn marketing statistics
38. There are 310 million monthly active users on LinkedIn, nearly tripling since 2016 (Website Builder)
LinkedIn is a huge opportunity to connect with a professional, business-focused consumer and the right offer could pay huge dividends.
39. LinkedIn is the most trusted social network in the U.S. (E-Marketer)
40. Eighty percent (80%) of LinkedIn users drive decision making for their business (LinkedIn)
41. Publishing long-form content on LinkedIn — 1,900 to 2,000 words long — performs better than shorter content. (Ok Dork)
While short and snappy content is valuable on other platforms, LinkedIn still fosters longer-form content and is a leading platform for industry thought leaders.
42. LinkedIn Pages with complete information get five times more views compared to others (LinkedIn)
If you are looking to fill a position or build a following for your brand on LinkedIn, make sure your company page has all the information your audience needs.
Pinterest marketing statistics
43. Global monthly active users grew 37% year over year to 442 million (Pinterest)
44. Pinterest is the fastest growing social platform in revenue with YoY revenue grew 48% of 2020. (Pinterest)
With the growth in users and revenue, Pinterest is definitely the sleeper platform with huge upside for brands. In particular, users are making big purchasing decisions directly on Pinterest.
45. Seventy-eight (78%) of users say content from brands on Pinterest is useful, including ads. (Social Pilot)
46. Pinterest users spend 29% more while shopping than non-users. (Market.us)
This tells me that Pinterest users are more likely to make a spontaneous purchase. If you have a product that fits the bill, make sure you are looking at Pinterest.
47. Eighty-seven (87%) of people on Pinterest have bought a product because of Pinterest, while 93% use Pinterest to plan a future purchase. (Market.us)
Twitter marketing statistics
48. Tweets with video get ten times (10x) more engagement than tweets without video. (Twitter for Business)
Part of that content marketing effort includes video, which is also performing very well on Twitter.
49. Video views on Twitter increased 62% with a 72% year-over-year increase in watch time (Twitter)
Even Twitter, the once character-limited, fast-paced platform is embracing video content and seeing results from posting video on the platform.
50. Companies using Twitter for customer service see a 19% lift in customer satisfaction (Brand Watch)
51. Ninety-three (93%) of brand followers on Twitter plan to buy from them, with 69% of brand followers on Twitter have already purchased from them (Twitter)
Followers on Twitter are building stronger relationships with brands than ever before and by delivering a great customer experience, those followers are becoming long-term customers.
Messaging app statistics
52. WhatsApp surpasses 2 billion monthly active users and is delivering 100 billion messages per day (Messenger People)
WhatsApp continues to be the largest messaging app on the market and while Messenger is growing, WhatsApp still holds a pretty large lead.
53. About 1.3 billion people use Facebook Messenger (Hootsuite)
54. Every month, businesses exchange more than 20 billion messages with people on Facebook Messenger. (Hootsuite)
Key trends and takeaways:
Your social media strategy has to be mobile-first and heavily visual.
Selecting the right platform for your audience is critical.
Building loyal, long-term customers comes from great content, personalized engagement, and strong customer service across social media platforms.
Shopping on social media is becoming increasingly desirable for consumers.
As you dive into your 2021 social media strategy, be sure that you are looking at the right platforms where you know your core audience base currently exists. While some of these statistics may look very appealing to the eye, that doesn't mean they'll apply to your unique business case.
That is one of the most crucial steps of building out a social media marketing.
Once that's in place, use the statistics in this article as well as the fundamental best practices shared in Stephanie's Free IMPACT+ course to build a strong, revenue-driving social media strategy for your business!
Free Assessment:
How does your sales & marketing measure up?
Take this free, 5-minute assessment and learn what you can start doing today to boost traffic, leads, and sales.