Squarespace Review: Is It Right for Your Business Website?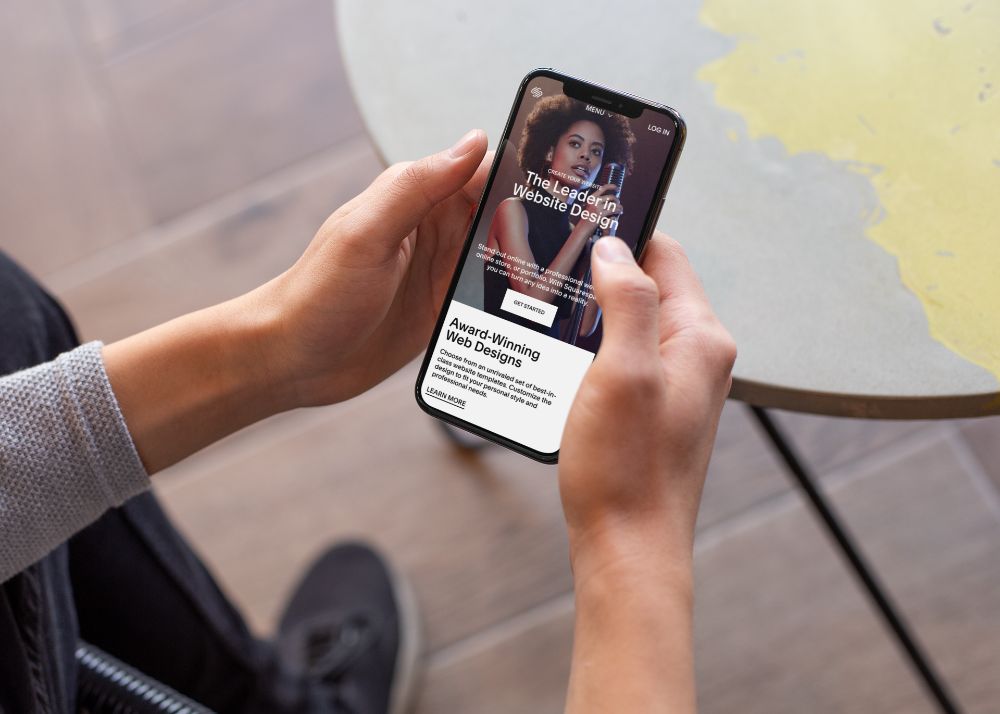 The number of apps promising a seamless and intuitive website building experience continues to increase year over year. Many of us are already familiar with some of the big players: WIX, WordPress, Shopify, Squarespace, BigCommerce, HubSpot, and Weebly.
Yet understanding which of these options is best for your business can take a lot of time to research and learn to use.
With over 3 million websites currently using the website builder, Squarespace is one of the most popular web hosting platforms in the United States.
But numbers only go so far — what matters is understanding whether or not the platform is right for your business.
To help you arrive at your decision, we're going to give you:
An Overview of Squarespace
Ease of Use
Design & Interface
SEO
Pricing Plans
FAQs
By the end, you'll have a more comprehensive understanding of the features Squarespace offers and who the ideal audience is for those wanting to use it.
Overview of Squarespace
Squarespace is a website publishing and editing platform that helps its users create beautiful modern websites without the need for code or web development experience.
They have built a reputation on being a all-in-one system (similar to HubSpot), that's easy for users to navigate. They also take care of any security updates and changes to their backend without you needing to update constantly.
While they don't pigeon hole themselves into any particular industry, they have templates for those who identify as solopreneurs, creative professionals, or small business owners.
Onboarding Experience
Without even needing to initially make an account, Squarespace will ask you what type of website you want to create.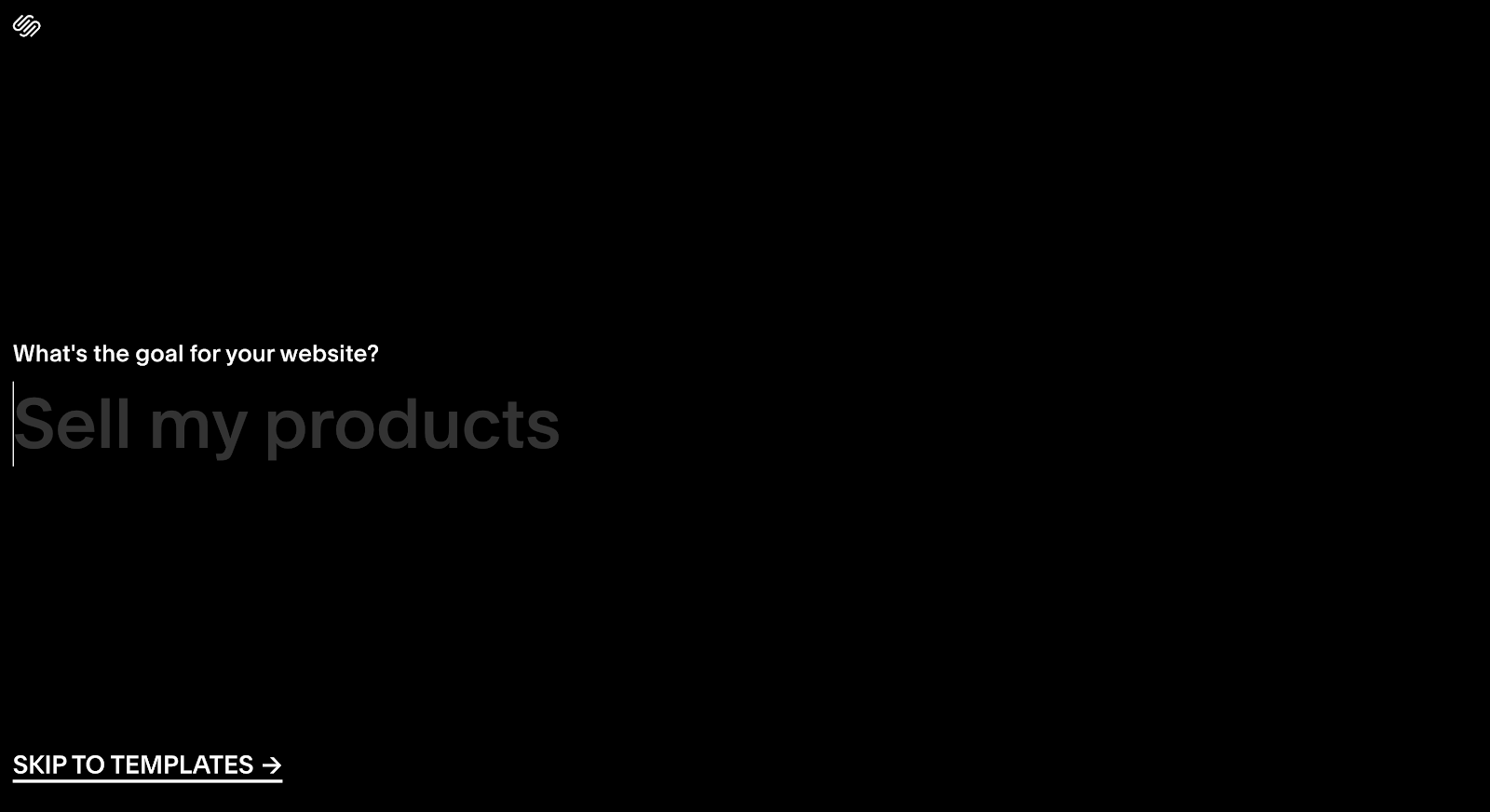 Once you enter in those details, Squarespace recommends a variety of pre-built templates for you to choose from with the option to preview as well.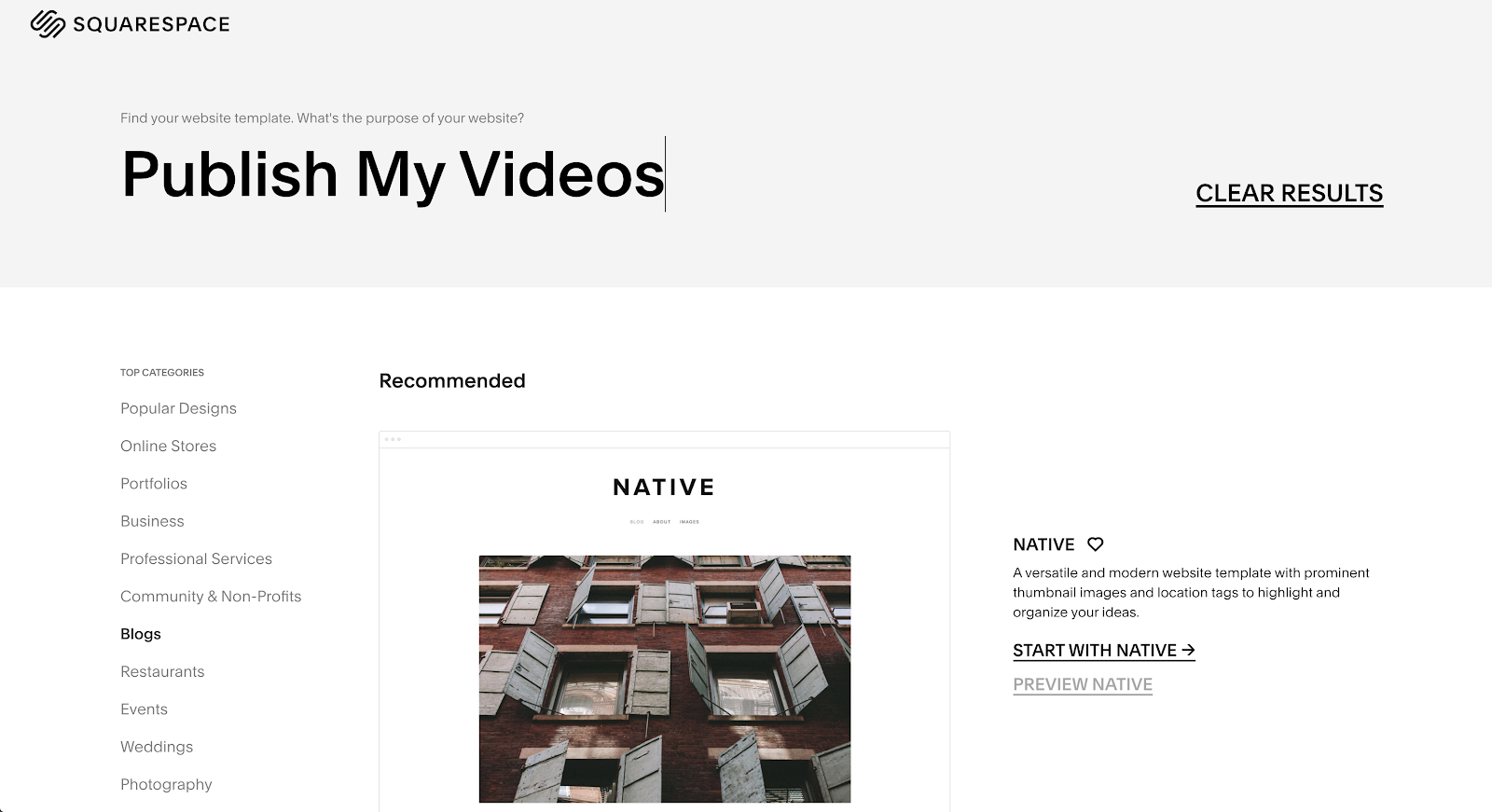 After you make your selection, you then create your account (which takes no more than a minute) and enter into the website editor to start the real creation of your site.
At this point, you are entered into a 14-day trial period which can be upgraded to a paid plan at any time.
Squarespace has advertised itself as being a great option for those looking to generate leads, provide information, or set up a small store, but it struggles to stack up for those looking for larger online stores (more on this in the eCommerce section).
Ease of Use & Design Customization
Like other website builders in the space, Squarespace is a drag-and-drop selection builder, which means you create and modify website pages by dragging modules into places on the page, rather than having to manually alter or enter code.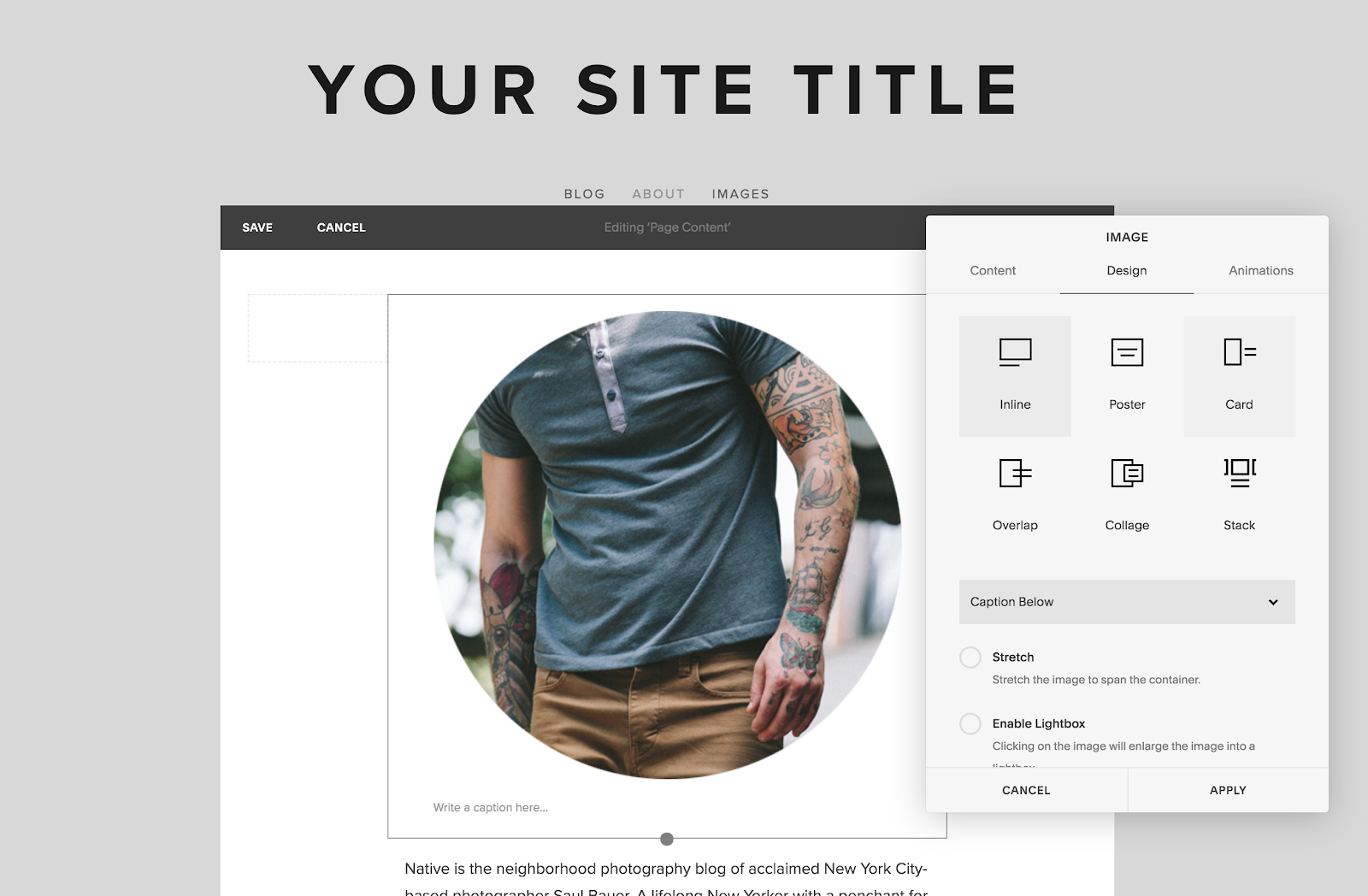 Squarespace's "What You See Is What You Get" (WYSIWYG) editor also enables you to see what your published page will look like as you edit it.
This is more user-friendly than tools like WordPress where you need to publish to see any changes in real-time.
Squarespace even has an app that allows you to make updates from your phone, perfect for the busy entrepreneur.
The best part is you can work offline if the internet is a no-go then publish later when it's available.
From a high level, I think it can be confusing for people to gain an initial understanding as to what certain modules are supposed to do unless they start experimenting.
Templates & Designs
Squarespace has about 60+ templates you can choose from, which is pretty low compared to how many WIX or WordPress offers you.
This is because all templates are built by their internal design team so they are specially configured to always work with Squarespace and can be modified in the same way, regardless of what template family you choose. This means you don't need to be worried about selecting a new template and having to learn a whole new interface that goes along with it.
Templates are also organized by industry, which is great if you need a place to start helping you choose the best template option and if you ever want to change it, you can jump right back into the available choices and switch to a new one.
When it comes to editing the templates, Squarespace is a little different than its competitors.
The template editor focuses on modifying sections, known in the tool as blocks. Examples of blocks could be an image and text next to one another, an image slider, or just some text.
The level of customization of the template is dependent on what it allows and the version of Squarespace you are on.
Some allow you to change a multitude of smaller details, while others are more streamlined and minimize the need for you to change all that much.
All changes are done via a sidebar where you can edit your pages and your design.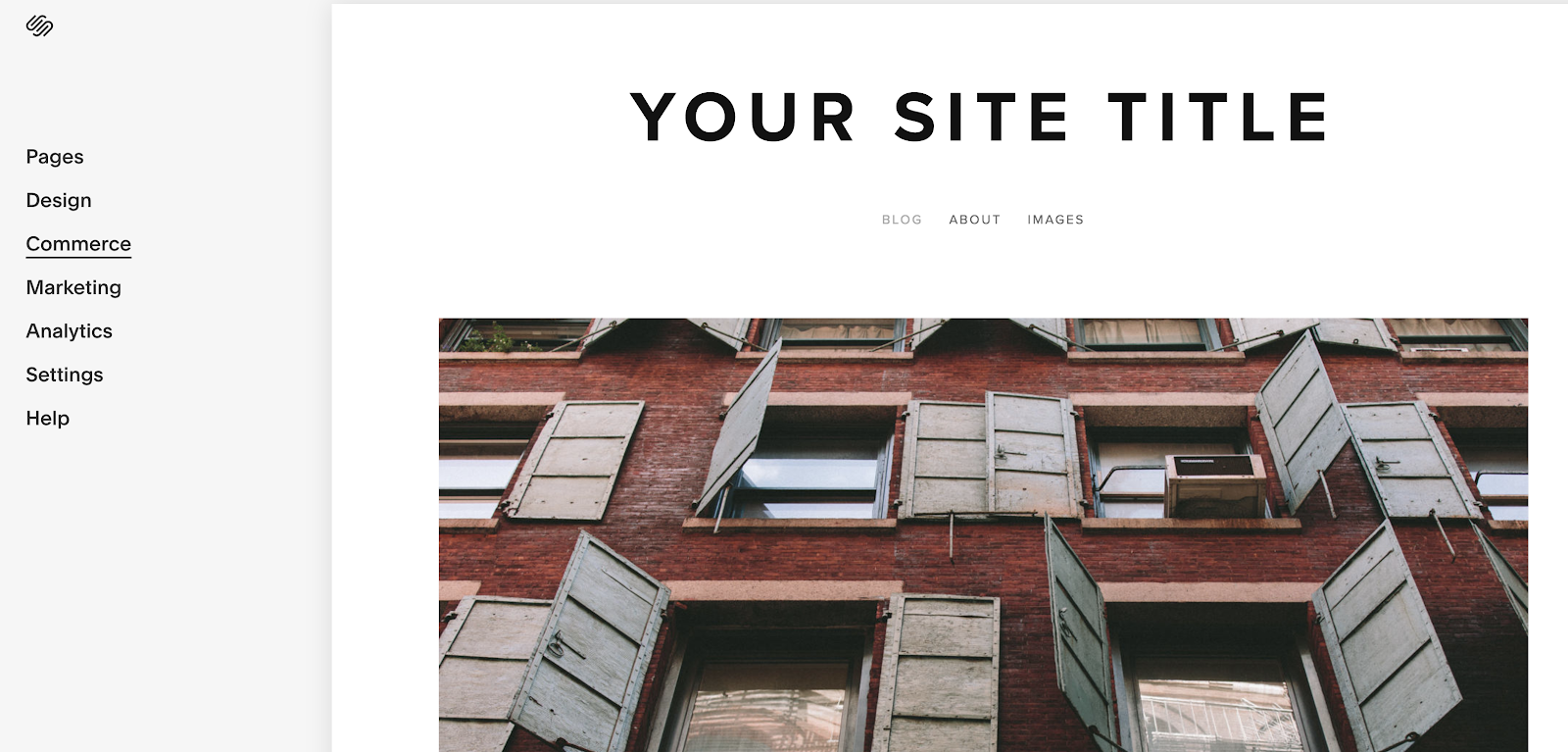 Main Sidebar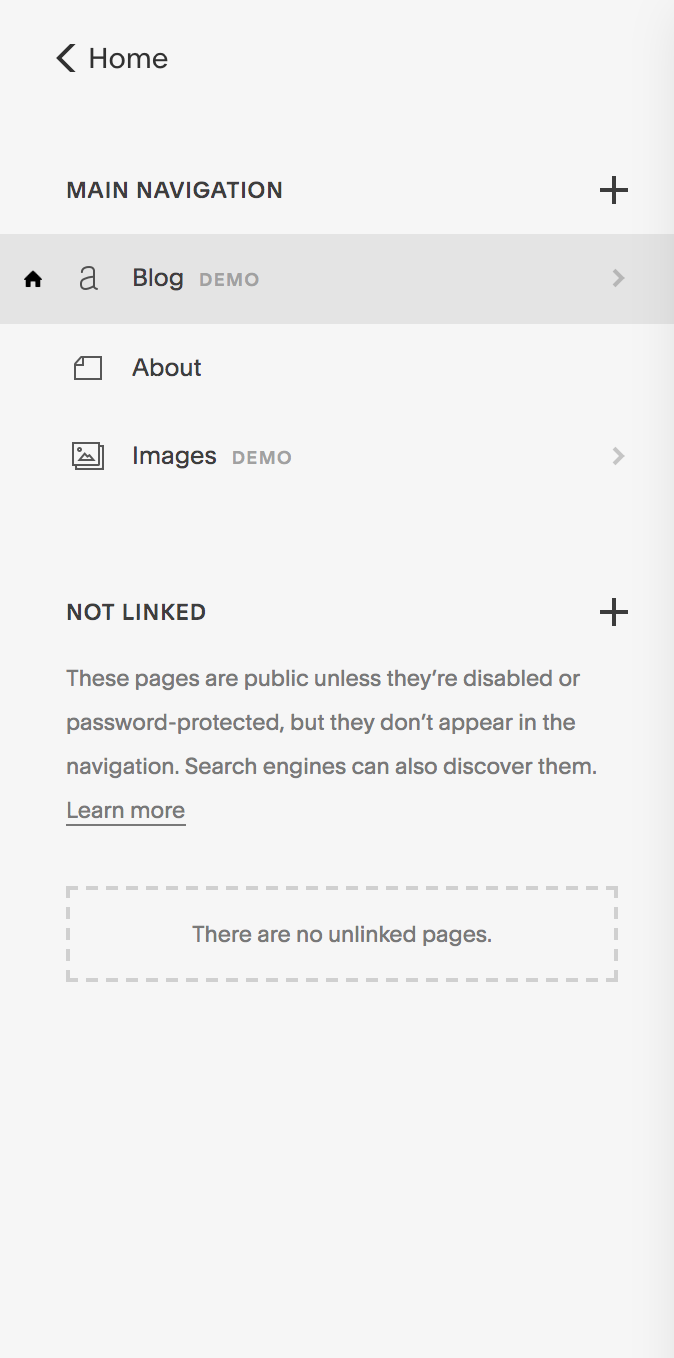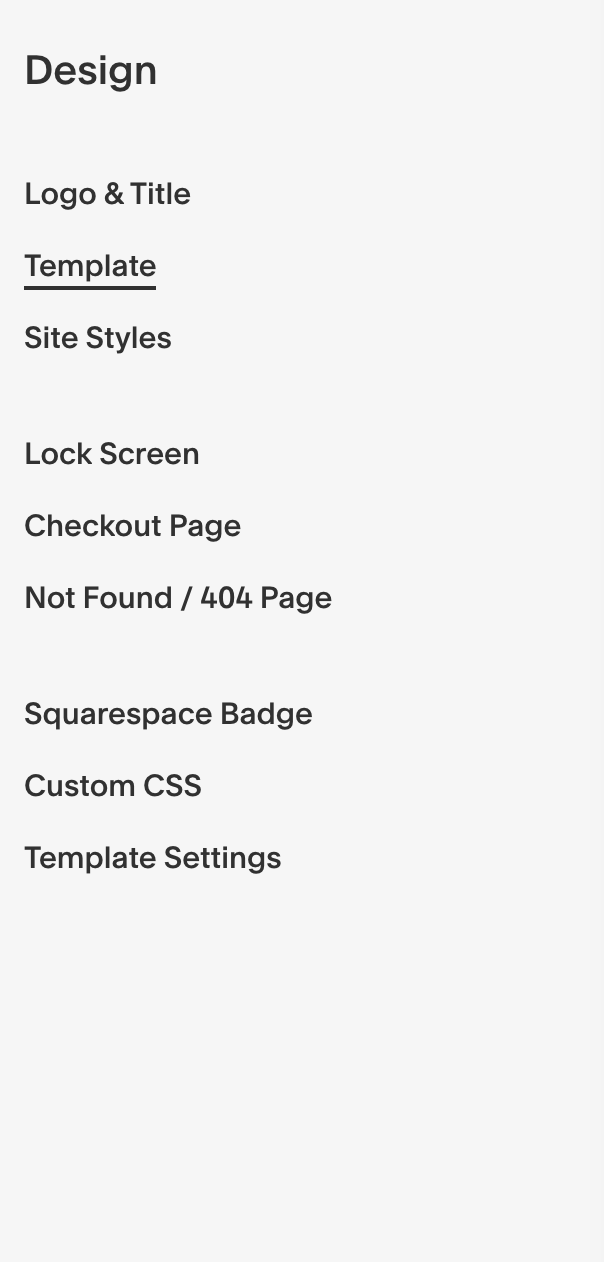 Pages Inner Sidebar & Design Inner Sidebar
The pages sidebar gives you a list of pages on your website. Here, you can jump into each individually so you can modify the blocks.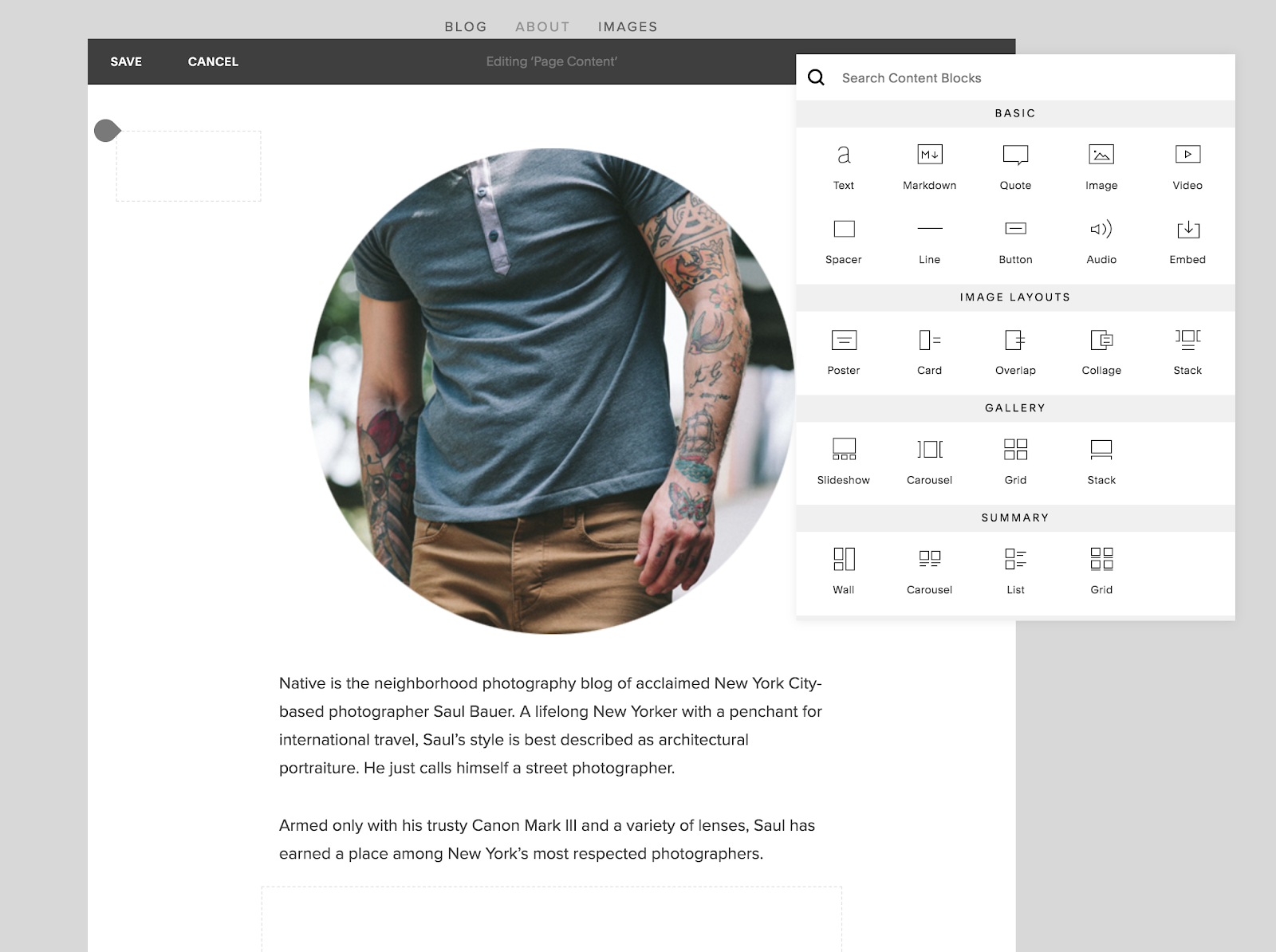 With so many areas to hover over and change, it can be a little complicated at first to understand what does what, but after you get your bearings, the editor becomes fairly intuitive.
But it isn't perfect.
I noticed some modules looking just plain broken when you add them in, but then magically fix themselves once you start editing them (which worried me a little).
With the particular template I selected, I noticed you didn't have control over specific header sizes. Instead, you just have a 'headings size' option that seems to change all of them.

As a designer and developer, this frustrated me since now all hierarchy seems non-existent. While it might not matter to the newcomer to website creation, this is limiting for those who desire more control over font styles.
SEO
Squarespace has managed to incorporate a variety of SEO standards to make sure your website is checking off all the basics.
Sitemap
All Squarespace sites come with an automatically generated XML sitemap; a document "containing a list of pages on your website that you have chosen to tell Google and other search engines to index."
Tools, like Google Search Console, use this to measure the performance of your site, so having one generated for you is pretty helpful.
Basic On-Page SEO
Squarespace supplies the fundamental on-page SEO basics so your pages can be indexed and ranked properly in search engines. Those basics they list are as follows:
SEO titles - title tags for individual pages.
SEO descriptions - Meta description tags for individual pages
Site title - Creates the title tag for your whole site.
SEO site description - Creates the meta description tag for your homepage.
For anyone selling on their site, Squarespace also supplies metadata for rich search results for products.
This allows products on your website to be displayed in a special card layout on Google. These search results can include the product name, a product image, description, price range, availability, and product page URL.
SSL Certificate
Have you ever seen some websites with HTTPS or HTTP in the URL accompanied by a closed or open lock next to it?
All SSL secure sites still have that 's' in the HTTP along with the closed lock.
This means the site is secure and can be trusted when browsing it and giving it information (such as your address, email, or credit card). Squarespace and third-party domains are supplied with a free SSL certificate.
This is ideal seeing as buying an SSL certificate on its own could cost you upwards of $200 a month if purchased from other providers.
Mobile Optimized Templates
Since the original introduction of Squarespace 6, Squarespace has mandated that all templates use unique styles for mobile devices. This means all templates with being formatted properly for anyone accessing your site on a tablet or smartphone.
Since Squarespace 7, templates are also scanned through Google's Mobile-Friendly Testing Tool and to double-check it meets their standard before being put out to the public.
With Google making a push towards mobile-first indexing, meaning Google ranks your site on its performance on mobile before reviewing desktop. this is great for those who are particularly concerned about technical SEO and search rank. .
E-Commerce
Along with its fairly intuitive website builder, Squarespace offers a fully-integrated ecommerce solution for those with little technical skills and limited budgets.
With over 100k people using it, it's certainly a viable option for some, yet lacks in some of the more complex marketing and business management areas larger companies may care about.
At a high-level, Squarespace allows for an unlimited number of products to be added with options to add in variations too. Your sales tools are also built in, so there is no need to venture outside of the platform for add-ons, but Squarespace falls short on payment options.
The only gateways it supports are PayPal, Stripe, and Apple Pay. Other platforms like Shopify have hundreds of options, including Amazon Pay, Square, and even cryptocurrency.
Even shipping is not ideal. Right now, they work with UPS to help calculate your shipping rates and even amend shipping costs depending on the country you're shipping to or what the package's weight is.
If you want to print labels or send invoice emails, you'll need to use Squarespace's ShipStation integration, which is an additional $9/mo. This means if you are having issues with ShipStation, you'll need to contact them for help, which can add some complications depending on what the nature of your problem is (such as Squarespace and ShipStation pointing fingers at one another).
Plans and Pricing
Squarespace's plans start as low as $12 and max out at $40 a month. There is no option for a free plan, although you are welcome to demo the product for 14 days. The four listed on their website are:
Personal - $12/mo
Business - $18/mo
Basic Commerce - $26/mo
Advanced Commerce - $40/mo
All plans give you free domain registration for the first year so long as you're on an annual payment plan. Once over, domain pricing runs between $20 to $70 a per year depending on the URL you have.
Other important items all plans support are Unlimited Bandwidth and Storage, 24/7 Customer Support, and website metrics.
Depending on your needs, there are some items to be worried about when choosing plans.
For example, although the personal plan is the cheapest option and may seem great for a basic website, it has a variety of limitations such as:
No e-Commerce functionality
No ability to add CSS, or modify styles such as fonts and colors on the site
Unable to add any javascript (<script> tags) to your site, which restricts your ability to customize the sites functionality, or to add particular embeds from sites (tweets or facebook comments, videos hosted on 3rd party platforms, etc)
Challenging to make the site GDPR compliant because adding any additional functionality to the site is restricted
No pop-ups (which is especially cumbersome if your someone that has seen success from them in the past)
I suggest you only use the personal plan if you aren't too concerned with metrics, and don't want to have anything to do with customizing your website styles.
Once you move into the business plan (their most popular) you can then start selling online, but it's important to note that there is a 3% transaction charge. So it's not recommended for those looking to make a purely e-Commerce site.
The basic plan unlocks additional tools, such as mobile-optimized checkout experiences, or the option to sell on Instagram. You even have accounting dashboards and visibility into customer accounts.
In the advanced plan, you can now focus on cart abandonment, flexible discounting, and shipping tools to help you handle some of the more daunting areas of managing an online store.
So is Squarespace right for you?
Since its early days, Squarespace has certainly come a long way in creating an experience that's easy to learn for the newcomer to website creation.
It has also established itself as a viable option for those looking for a comfortable to manage a business website that gives you enough bells and whistles so it isn't too overwhelming.
It's also important to reiterate it is priced higher than average in the advanced commerce category compared to other options, and it does not have a backup feature other than export of product and blog data (which makes other platforms like WordPress or WIX winners in this category).
Overall, Squarespace is an excellent option for those with some budget and looking for a platform that's less technical than WordPress.
It's ideal for businesses that aren't as concerned or affected by technical page performance and isn't a full-on tech geek/web developer who wants the power to customize.
Free: Assessment
Does your website build trust with buyers and bring in revenue?
Take this free 6 question assessment and learn how your website can start living up to its potential.