9 Best Customer Feedback Tools for Businesses of Every Size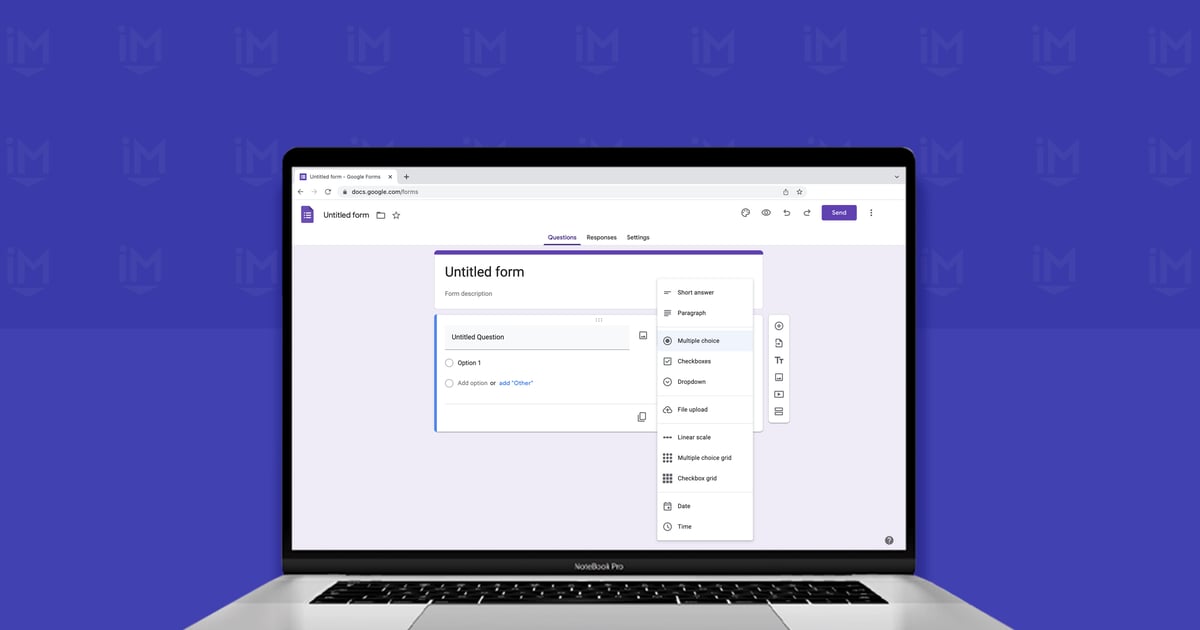 We live in a buyer's market.
Thanks to the internet, buyers can do their research independently and learn all about your product or service without ever speaking to a member of your sales team. Heck, with Yelp, Angi, and G2 among others, they don't even have to turn to you to necessarily get that information.
In other words, power is firmly in the hands of the consumer to choose where, how, and with whom they spend their money.
This is one of the many reasons marketers and businesses as a whole need to be putting their customer's interests first in everything they do.
We need to answer their most urgent questions, give them more of what they want and need to see and do, relieve their pain points, and help them make the best decisions for themselves.
Putting the customer first is how you can not only build trust with potential buyers, but close more sales.
But what does this look like?
Collecting customer feedback can be one the easiest and most effective ways to inform and shape your strategy.
Why is customer feedback so important?
Whether you're offering a product, service, or even both, knowing how your customers feel about you is essential.
Customer feedback — be it offered explicitly or gathered through data and behavior tracking tools — can help you understand where you're struggling and succeeding and course-correct problems.
With feedback from your customers you'll be able to:
Understand what motivates them and how you can better help them reach their goals
Gain a better understanding of how they perceive you and your company
Improve your performance and their satisfaction based on their feedback
But to be successful in this any of this, you first need to effectively gather these insights. A good customer feedback tool can help.
Best customer feedback tools for 2023
While there are many customer feedback platforms and tools out there, not every one will be the best fit for any company.
Depending on your needs and the nature of your product and your marketing and sales strategies, you may find yourself needing a specific solution.
In no particular order, here are nine of the best customer feedback tools (covering a wide range of needs):
1. Typeform
Typeform is known for its unique approach of displaying one question at a time in its finished products. It's quite popular and with good reason — it's extremely versatile.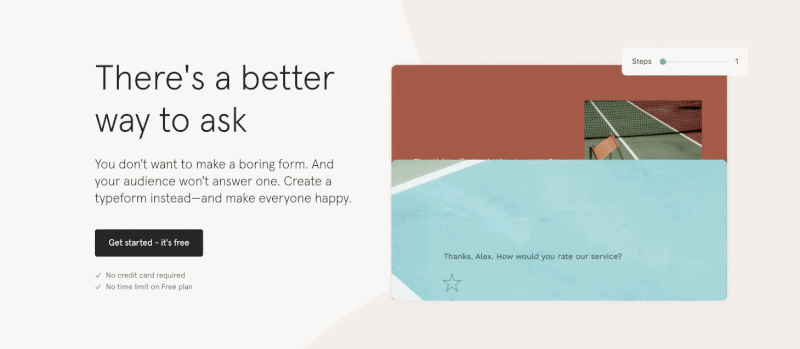 Brands have used it to create quizzes and dynamic interactive experiences on their websites, but it can also be used to create forms, surveys, and quizzes to gather feedback from your customers.
For example, you can inquire about what they like about your brand, products, and services, and what needs improvement.
To add to its sleek design, Typeform also has built-in video and photo libraries that let you add more visual depth and context to surveys and questions.
Price: Free to get started, then $25-83 per month depending on the plan
2. UserTesting
With more and more business being done digitally, it's important to know how you stack up in that department. In terms of customer feedback, UserTesting is unique in that it focuses on your digital presence, specifically your websites, apps, and platforms.
It's also not simply a survey or form customers "fill out" or answer.
With UserTesting, you actually get to see recordings of how a customer interacts with what you've created. This means you get to see their facial expressions and hear any verbal reactions in addition to their clicks and navigation behaviors.
All of this helps give you a more complete vision of the kind of experience you are creating for your customers and give you real-time feedback on to help improve.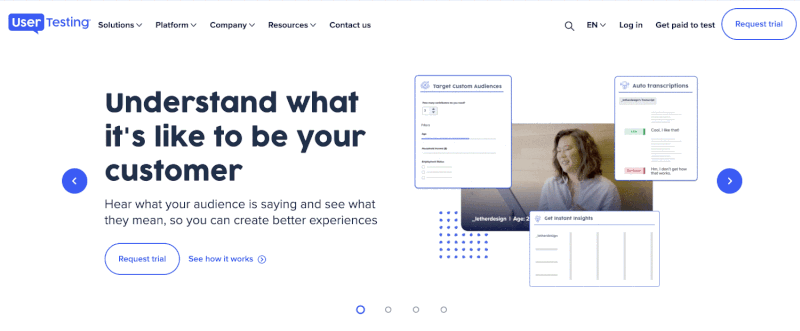 Price: The specific price is unlisted, but according to PollthePeople, "They offer tests that cost $49 per test, but only if you're testing with 15 users or less." Three plans are available and the price for varies depending on the number of users, types, and features.
3. Hotjar
Hotjar is another tool that focuses on collecting website feedback from your customers.
It's most widely known for showing you the "hot spots" on your webpages — where users are spending most of their time, which buttons they click on, and what they avoid — using heat maps.
But it also helps companies dig deeper with recordings and on-page feedback widgets and surveys.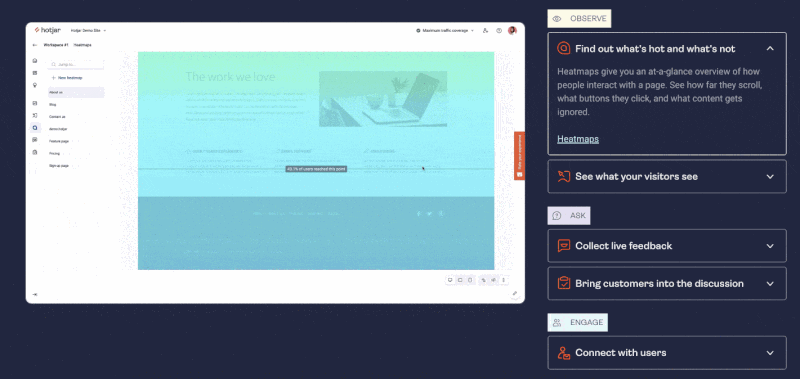 Overall, Hotjar combines visual and analytical product experience insights, user behavior analysis, and customer feedback to connect the dots between what's happening on your site and why it happens.
This information can then be used to improve the experience on your website by removing friction and giving users more of what they like.
Price: Free to get started, then starting at $32 per month depending on the plan
4. Qualaroo
Context is top priority with Qualaroo. It is a survey tool that strives to ask the right questions to the right users at the right time as they navigate through your website or app.
With its tools, you can target visitors based on where they are your site, who they are, how much they pay, as well as visit history (among other things) to gather actionable user insights to improve your product and performance.
Users can choose from professionally designed questions and templates or create their own. They can also create custom "nudges" with your company colors and branding for a less disruptive experience.
Price: $69-299+ per month (billed annually) depending on the plan
5. Instagram Stories
This may seem like an unexpected addition to our list, but if you have a large audience, Instagram Stories can be one of the most effective, free feedback tools available to your business.
Within Instagram Stories, there are a number of interactive "stickers" you can use to engage with viewers and, in this case, gather feedback. Some of the most effective are "polls" and "questions."
First, the "polls" sticker allows you to ask a question and give your viewers options to choose from, like South Asian brands HoliChic by Megha Rao and BeautyByTamanna did in these examples: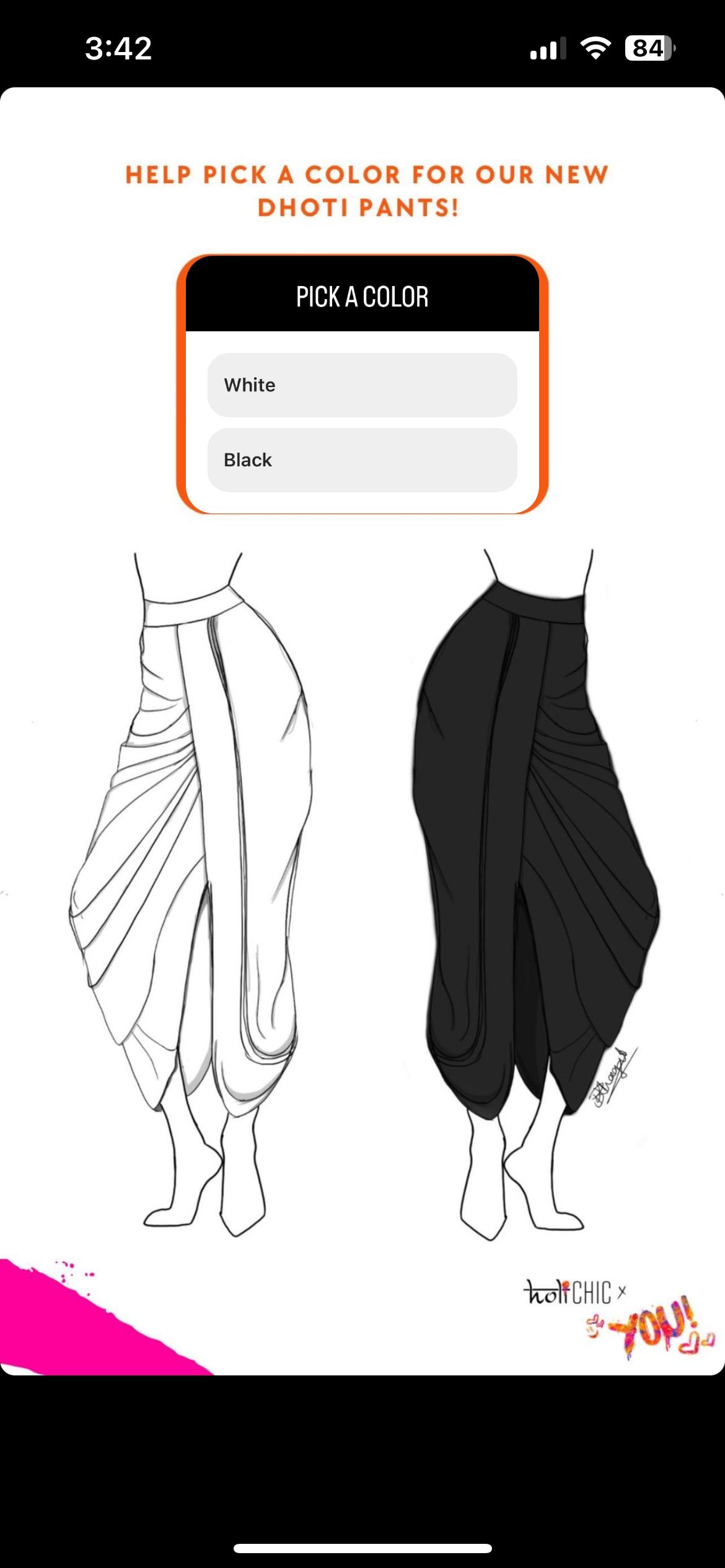 HoliChic, a clothing brand, asks its audience what color it prefers for an upcoming design, while BeautybyTamanna, a makeup artist, asks her audience what type of hands-on classic they would like her to hold.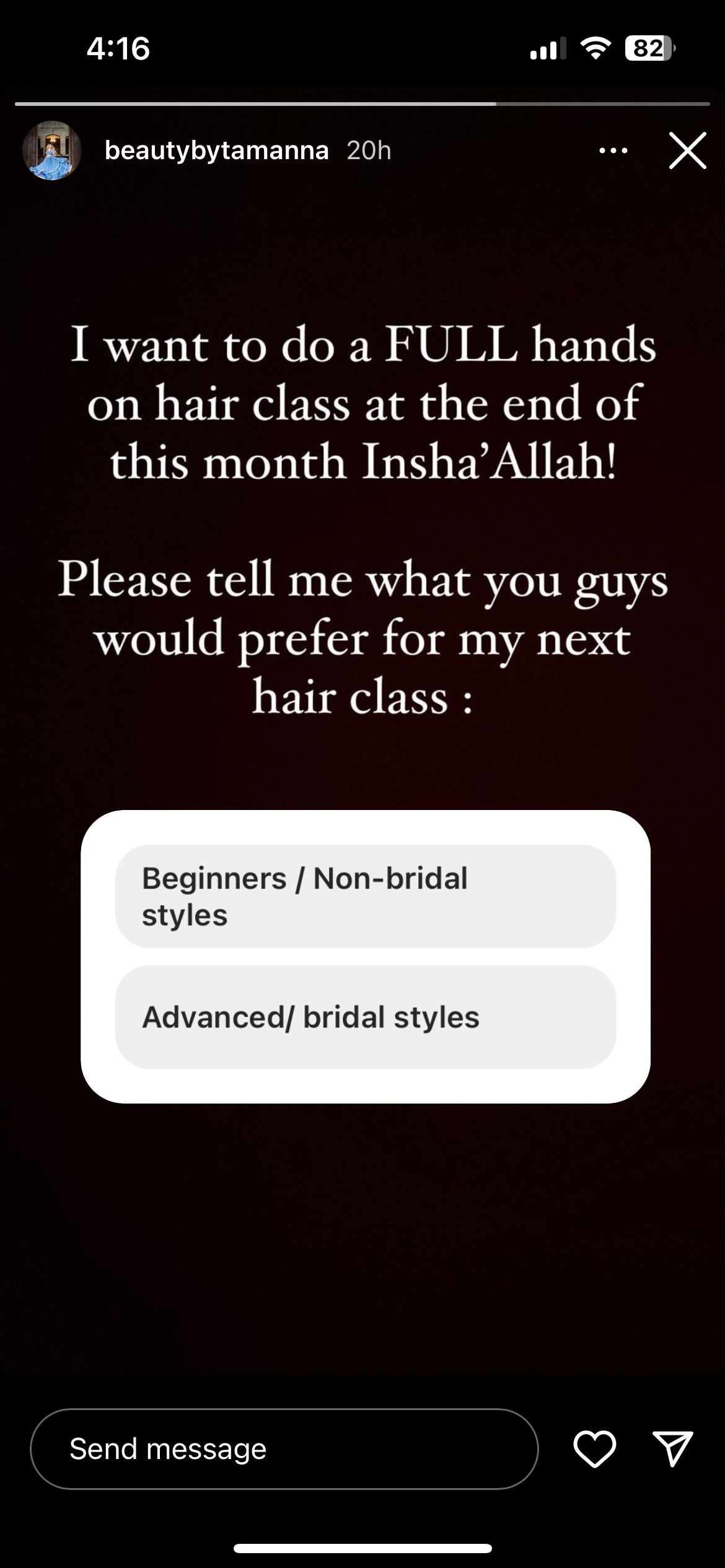 Both of these polls allow each brand to gather feedback from their customers on which product they like more to ideally create something that will be more profitable. It also helps customers feel "heard" and, in turn, closer to the brand.
While with the "questions" sticker, you can give your viewers a question and collect open-ended answers: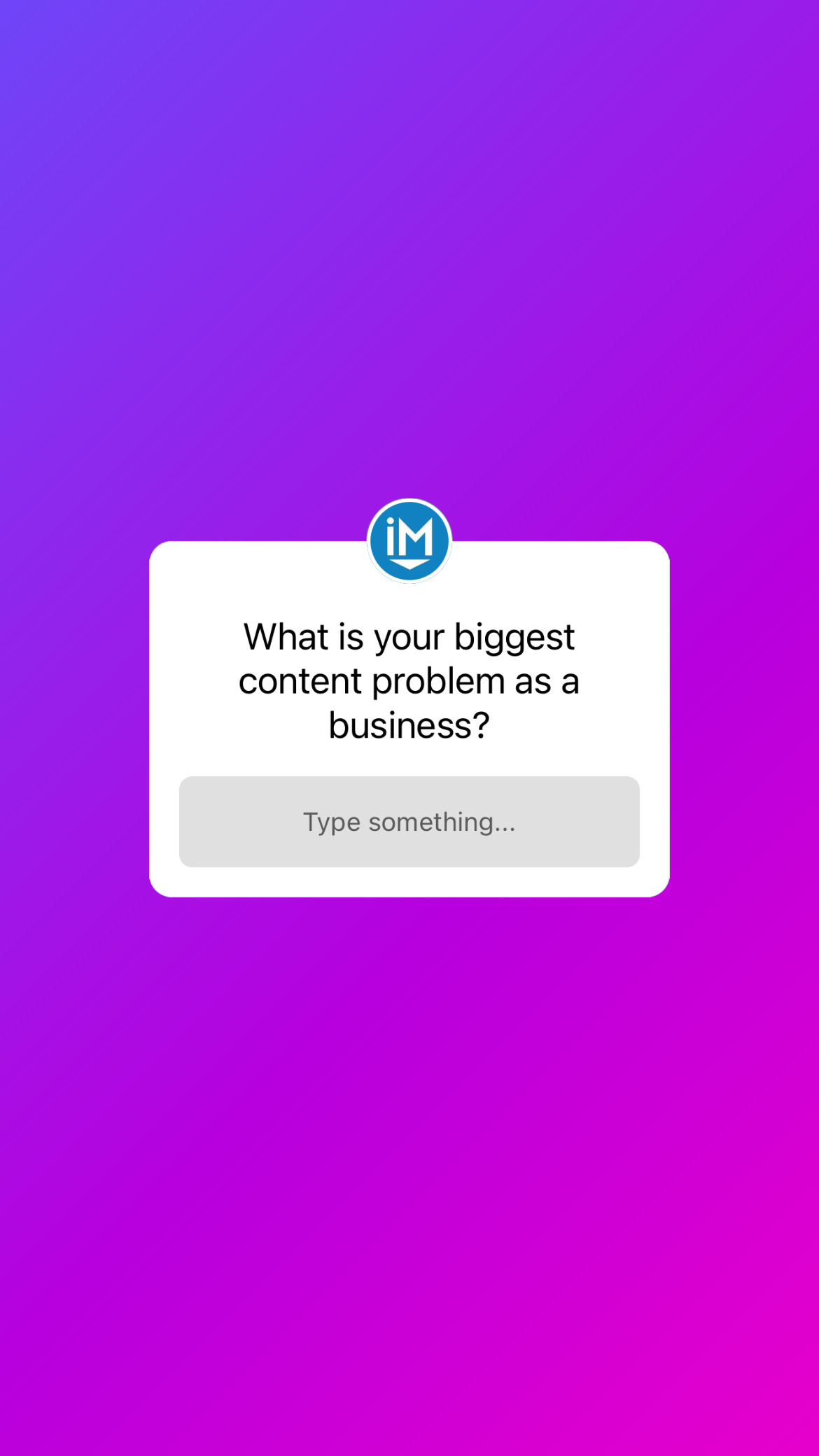 Both options can also be included in "Reels" you create.
It is important to note, however, that either option will only be able to collect responses for 24 hours. So, if you don't have a large or active following, you may not collect a large enough sample size to make truly informed decisions.
Price: Free
6. Delighted
Unlike traditional surveys where you might want to ask them a number of different questions, with Delighted you're only going to ask them one to help you measure:
Product/Market Fit
Customer Overall Satisfaction (5-star surveys, "smiley" surveys, "thumbs up/down" surveys)
With this tool, customers receive your question via email, app or web popup, link, or in-person kiosk. They rate your product/service in one click and the result appears instantly in your dashboard.
For each option besides the kiosk, they can even add feedback in their own words if they like. It's quick and easy for your customers and gives you a quick "pulse" of how you're doing.
Need a little inspiration? Here's a look at what an NPS email survey from IMPACT may look like:

Price: Free for their basic plan, then starts at $224 per month (billed annually) depending on the plan
7. Poll Everywhere
Are you giving a presentation? Or even giving a product demo? Wouldn't it be cool if you could get feedback in real-time from your audience or customers?
That's possible with Poll Everywhere.
Poll Everywhere allows you to ask questions in the following formats:
Q&A / brainstorm
Clickable image
Open-ended
Multiple choice
Once you've created your survey, you have the ability to embed the poll into a presentation or share a link, allowing your audience and customers to engage with you in real-time.
All you have to do is have your audience send a text message and the results will automatically appear on screen.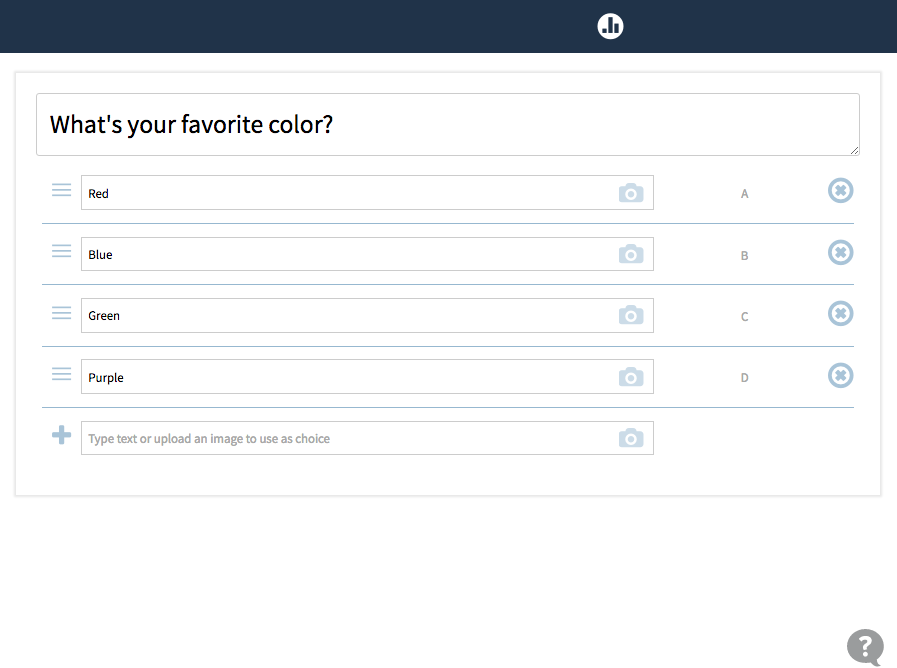 Poll Everywhere is a great tool for companies hosting events or routinely giving sales presentations. It gives your customers a quick and easy way to provide feedback so you can adapt in the moment or take note for improvements next time.
Price: Free for their intro plan, then starting at $120 per year depending on the plan
8. Google Forms
Google Forms is a great option for teams looking for easy data collection and collaboration.
Not only is the platform free, but with it you can create unlimited forms, send them to as many participants as you want, and you can even embed the form into an email or a site page.
Once people start replying, all of the data is automatically collected within a Google Spreadsheet. No need to lift a finger.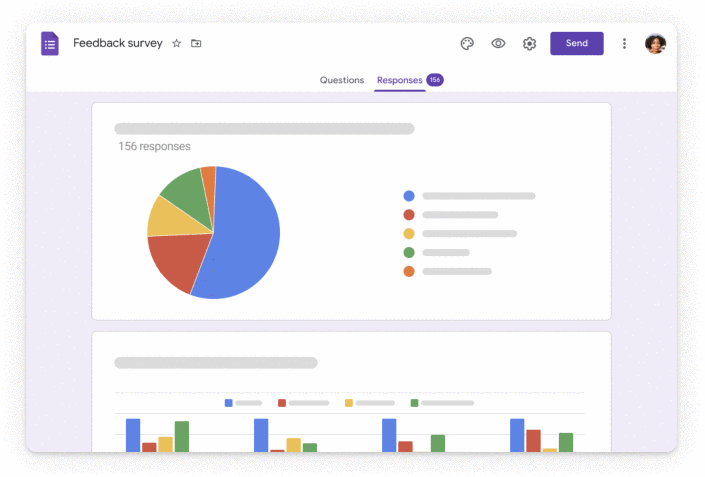 In addition to this, you can invite as many team members to collaborate and edit the survey or view the data as you like.
Plus, you can easily upload your own photo or logo and Google Forms will pick the right colors to complete the overall look and feel of your form, should you not like any of their curated themes.
Price: Free
9. Survey Monkey
While last on our list, SurveyMonkey is one of the best-known customer feedback tools on the market.
It's a great option for beginners as it has hundreds of expert-written templates available for you to choose from, where you need a "market research survey, customer satisfaction questionnaire, a political poll—or anything else."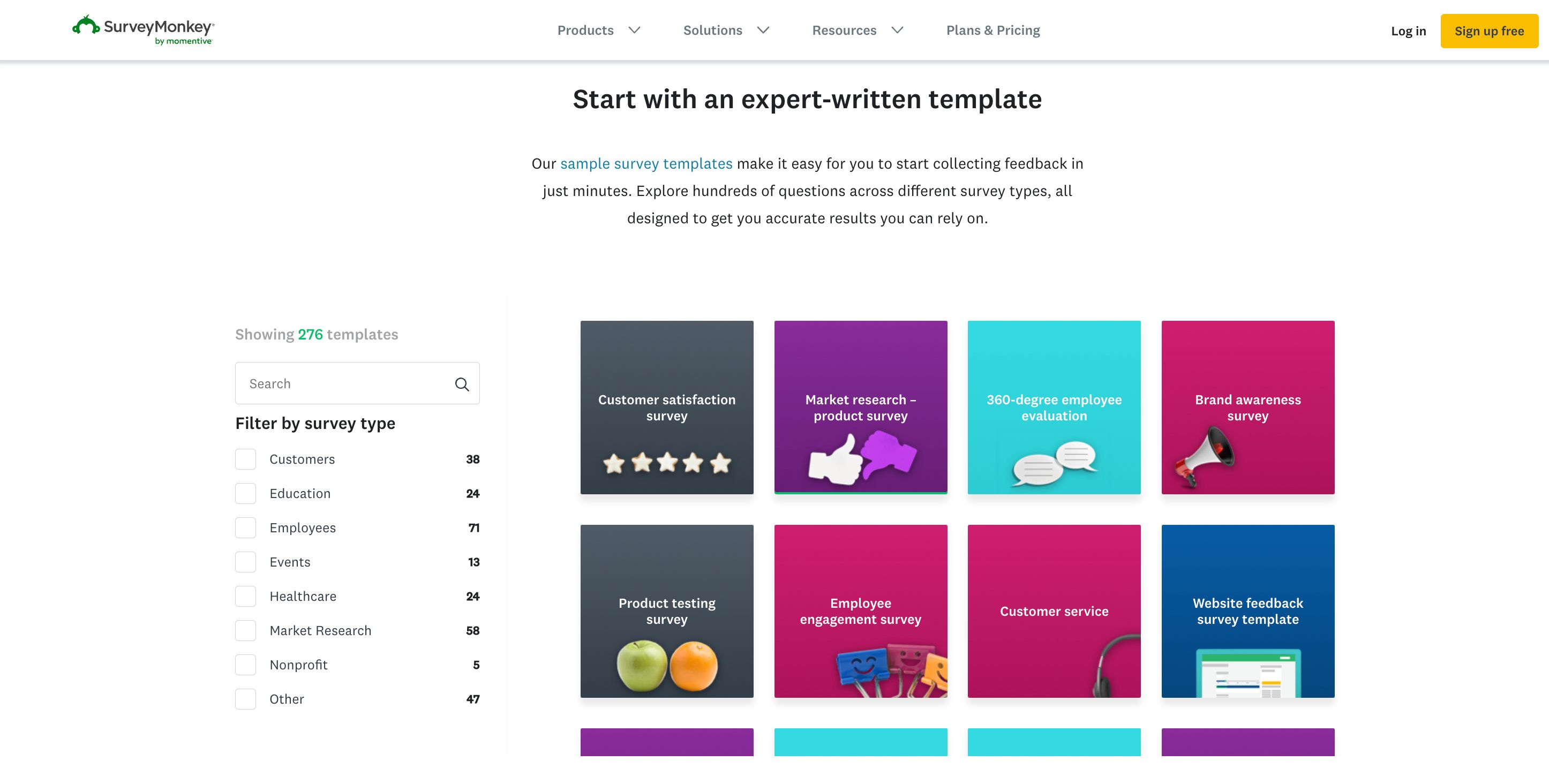 Plus, the tool basic plan is free, allowing users to send unlimited surveys with up to 10 questions (via links, email, or by embedding surveys and forms on your website), though response limits apply.
The tool is easy to use and lets you "analyze responses at scale using simple, built-in reports or advanced dashboards that you can customize and share with your team."
Price: Free for their basic plan, then starting at $39 per month
Give your customers more of what they want
At the end of the day, your business cannot thrive, let alone, survive if its customers are not happy.
Using the tools above will help you gather invaluable customer feedback on your product, services, website, sales process, and marketing among other.
These are the first-hand insights you need to give your customers more of what they want and need now and stay proactive about their needs in the future.
Want to learn more about what your customers want from your marketing? Check out our course, "4 Content Guides to Convert Leads, Close Deals, and Delight Customers" in IMPACT+!
Free Assessment:
How does your sales & marketing measure up?
Take this free, 5-minute assessment and learn what you can start doing today to boost traffic, leads, and sales.