10 Tools that Should Be On Your Radar for 2021 [IMPACT Toolbox Dec 2020]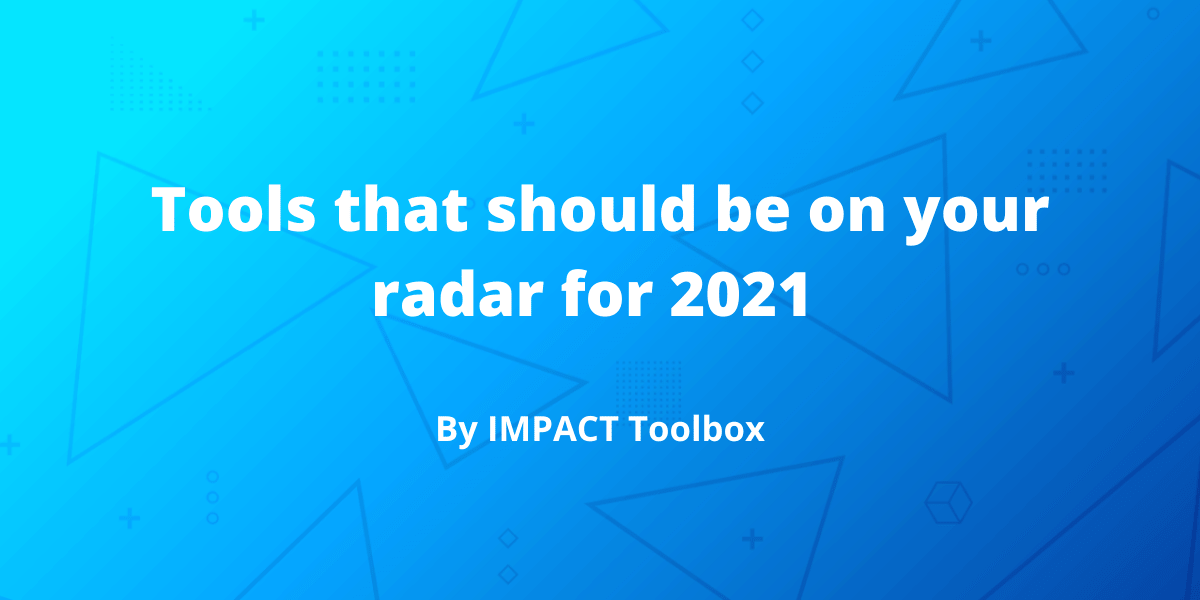 As we round the final bend of 2020, it's only fitting to take the time to pause.
Pause to think about all the events of this year. To be grateful that we're seeing the end of 2020. And that we have the opportunity to make 2021 better.
If we boil it down into one, cliche thought...
Maybe the real treasures of 2020 were the friends tools we made used along the way.
I'll see myself out.
But since I'm in a reflective mood, it seems like the right time to look back over the new launches, fresh updates, and all-around tools that were most impactful (at least to me!) in 2020. Let's dig in.
This article is part of our IMPACT Toolbox series.

With IMPACT Toolbox, we discuss all of the latest (and sometimes underrated) sales and marketing tools that you need to try. We make recommendations by category, helping you figure out what tool is best for your situation, and introduce you to tools you may not hear of otherwise.
Have questions about a marketing tool? Want to know whether or not we've reviewed it? Reach out to @morganandrewv on Twitter and we'll see how we can help.
Today we're going to look at:
1. HEY - A delightful new take on email that has me looking forward to my inbox
Price: $99/year personal account, $12/mo/person for HEY for Work (Q1 2021 launch)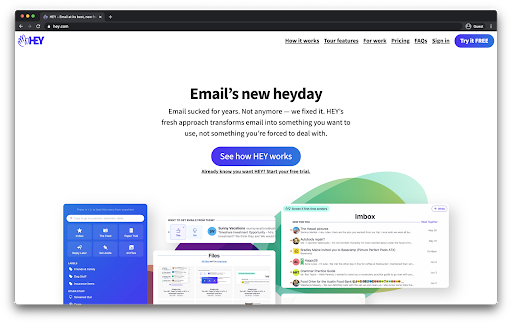 A decade ago, my inbox was different.
Frankly, there was a lot less junk. The email I got was often meaningful, and I even looked forward to it, but over time, that drastically changed.
Until recently, email had become this dreaded hole where hope and time met together to die a slow, agonizing death. From the constant battle to hit "inbox zero," to sorting out who was actually important, to folders and flagging so I could come back to the emails that mattered…Email became exhausting.
Luckily, I wasn't the only one who felt that way. The folks at Basecamp had enough of the constant slog of email, and they had some ideas to do it better.
And, boy, did they ever deliver.
In June 2020, the Basecamp team introduced HEY, their total re-imagining of email how it should be. A hat tip to how things used to be, but mostly a methodology that puts you back in control of your email.
The features of HEY include:
Notifications off by default (you control who grabs your attention outside of the app)
Easy filtering of your emails into uniquely designed areas based on purpose
Blocking spy trackers so you don't expose anything you don't want exposed to senders
Editable subjects, thread merging, and much more
I'm about six months into my use of HEY for all of my personal email. And my goodness, what a difference.
My email is calming. It's easy to pop in and read through recent newsletters in their own designated space. Receipts are easy to find.
Those frustrating emails with no unsubscribe button never make it back into my inbox again.
HEY comes in two flavors: Personal and HEY for Work. Personal comes with an @hey.com email address, while Work allows you to bring your own domain (and has a ton of team features and benefits layered on top).
Who is not a fit for HEY?
If you're not willing to break up with your current email app, HEY is a no go. Using HEY requires using their dedicated email client (available on all major devices).
HEY also isn't a good fit if you really don't want to pay for email. Yes, we all know that "free" software really just means we're the product, but if you can't justify almost $100/year for an email service, then you'd just put yourself in a frustrating financial situation.
I highly encourage anyone who wants to enjoy their email again to try HEY. And I would love to hear if your company wants to use HEY for Work!
2. Mailbrew - Your favorite content in a personal digest without losing yourself to the feed
Price: $96/year after a two-week trial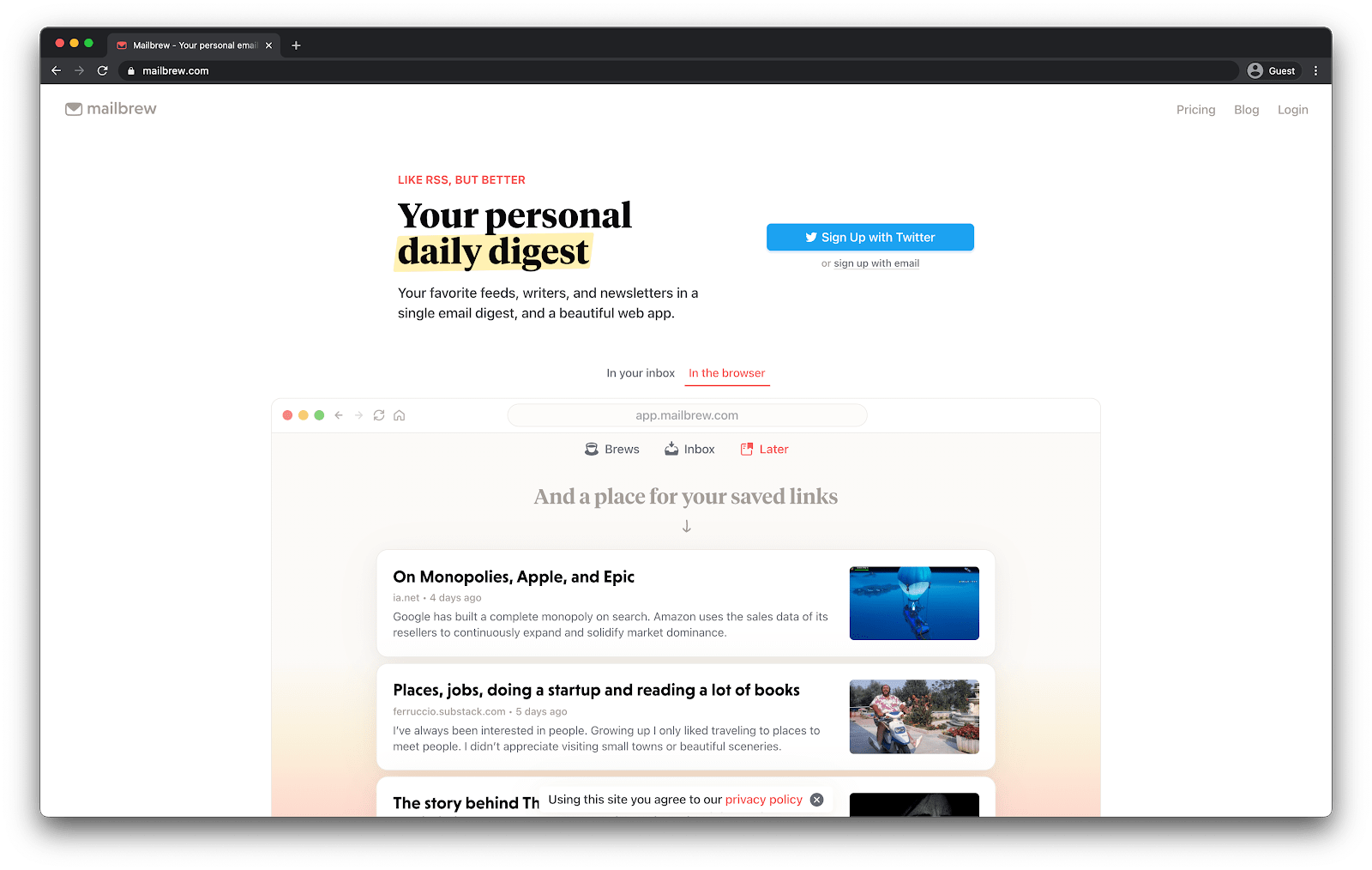 Continuing with my "take control of your digital life" kick, Mailbrew solves an interesting problem.
Raise your hand if you have ever gone to check your social media of choice, and instead of spending 30 seconds, you spent 30 minutes? Or worse?
Or maybe you went to Google or YouTube for a particular topic, and found yourself looking up out of a rabbit hole at the end of the afternoon?
Mailbrew can help with that. Mailbrew helps you setup digests for all of the information you want to consume and provides it to you via a beautiful email (or web app), devoid of all other distractions.
Instead of you going to check those social platforms, or checking if your favorite blogger posted a new article, or what's the top posts on Reddit, Mailbrew can handle all of that for you.
Never miss a tweet from your mentor-from-a-distance. See the hottest news in your hand-selected subreddits. Catch a new article just after it's published. And never once do you need to fall down the rabbit hole of some company's algorithm.
Who is not a fit for Mailbrew?
If you're looking for a digest from Facebook or LinkedIn, you're out of luck. While that could possibly come in the future, it's not a current feature so wouldn't help you right now.
Mailbrew currently includes these sources: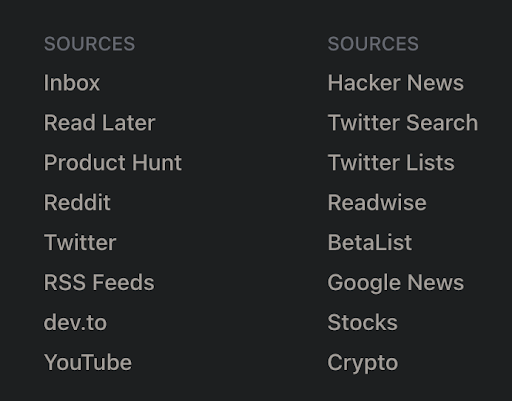 If you don't see your usual content consumption on that list, you can still treat Mailbrew like an RSS reader or read-it-later service.
How do you manage your content consumption? I love using Mailbrew because I don't feel the need to check Twitter in case I miss something from my list. And I'd love to hear how you stay productive as well.
3. Typefully - Draft, schedule, and tweet full threads in a distraction-free environment
Price: Free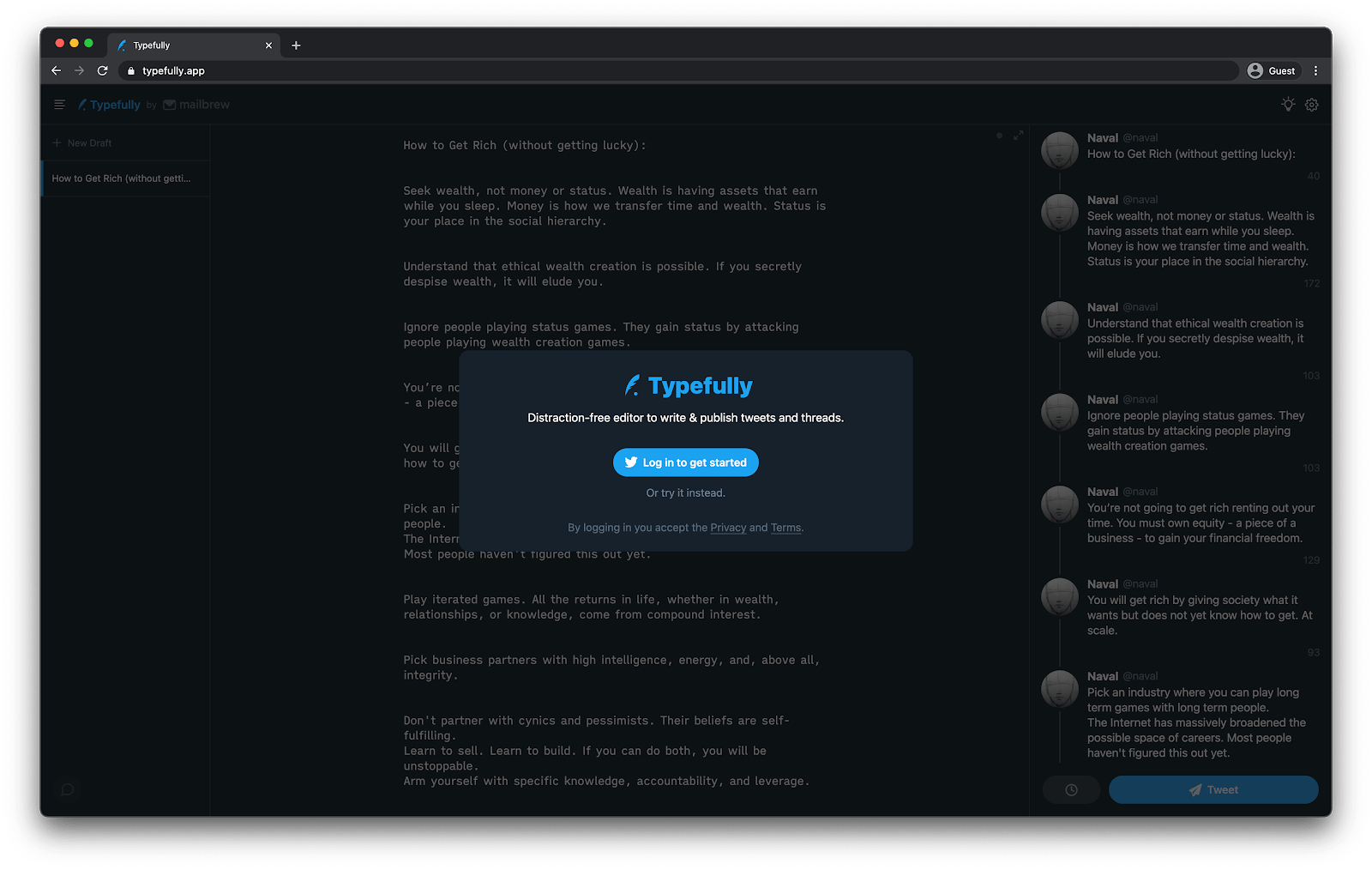 One thing Mailbrew has made glaringly obvious is that while consuming content can happen on your terms, it can be difficult to produce content without falling right back into the rabbit hole.
Their team is on a mission, however, and they just launched Typefully, a Twitter writing tool that feels like it belongs in Twitter without all the distractions.
While there are still some features incoming (image uploads should be coming soon!), one of the best parts of Typefully is the large writing area. It seems almost hypocritical… this is Twitter, right? The land of 280 characters and pithy remarks?
Well, yes and no. While an individual tweet is that small, there are a ton of use cases for threads (a collection of tweets in reply to the previous one). Unfortunately, the native thread editor can be kind of a pain, and moving text in between individual tweets to form a cohesive message can be frustrating.
Typefully just lets you write. And as you go over the character count, it shows a preview in the sidebar of what your thread will look like.
Get your entire thought out of your head, tweak to your heart's content, and then massage any final changes on a per tweet basis. Need to split up a thought? Just add an extra new line. Boom, new tweet.
Who is not a fit for Typefully?
It's hard not to recommend Typefully. It's definitely in its infancy, but the experience is smooth and intuitive.
That being said, it won't do you any good on other social networks. So if you aren't just focused on a Twitter presence, you'll probably want to use another tool to craft your social media postings that can handle more than just Twitter.
4. Descript - The most user-friendly way to record and edit your video and audio content
Price: Limited Free plan, then $12/mo and up for paid plans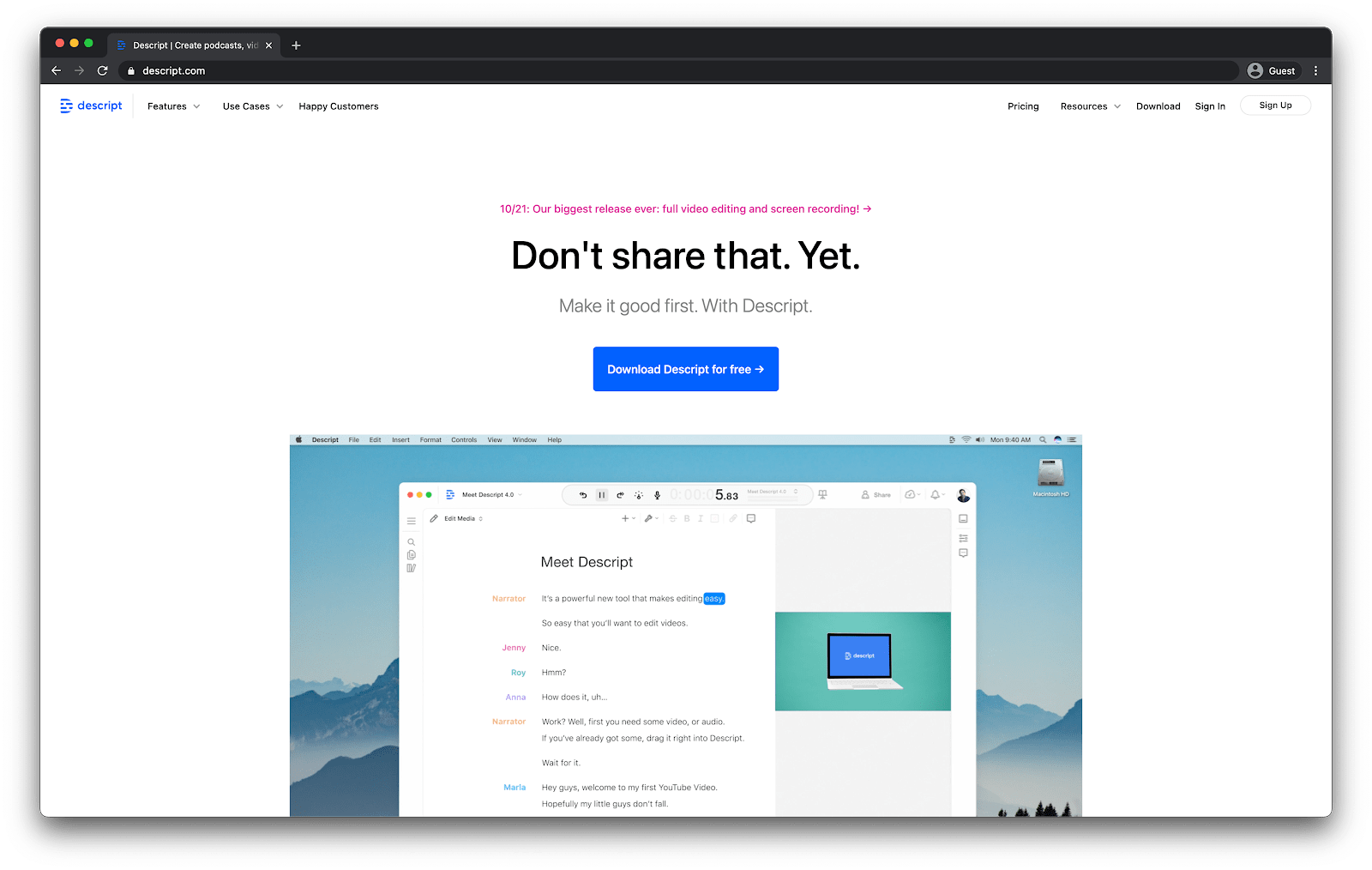 If you're an avid IMPACT Toolbox reader (virtual hug) you know I've written about Descript a few times. It's their fault really. They should quit making their tool so damn useful.
Where it used to be a drop-in video editor, and then added more audio-specific features (hey, podcasters), now they've added direct recording.
Instead of relying on some other app for video or screen recording, you can do it all within Descript. Edit multiple video and audio tracks, fade things in and out, and as always, clip sections of your video by just editing the text.
Oh, and did you flub some of your script? The Pro plan includes the Overdub, which creates a realistic text-to-speech model of your voice from the rest of your audio.
And just like clipping content but in reverse, typing words in Descript will create the audio to match.
Finally, you don't need to re-record an entire section of audio or include one of those floating "notes" boxes on your video where you messed something up. Just fix it and move on.
And did I mention transcription? Automatic (limited total per month based on your plan) is included and additional human-created transcription is available as needed.
Who is not a fit for Descript?
If you're doing full-blown video editing with a production team, Descript probably isn't a great fit.
It can enable a non-videographer to produce good content and enable quick rough cuts that can be exported to your final production software, but Descript isn't meant to be an Adobe Premiere or Final Cut Pro replacement.
5. Shapes 2 - Over 5,000 customizable assets for your next website development project
Price: $59/year or $109 for a lifetime license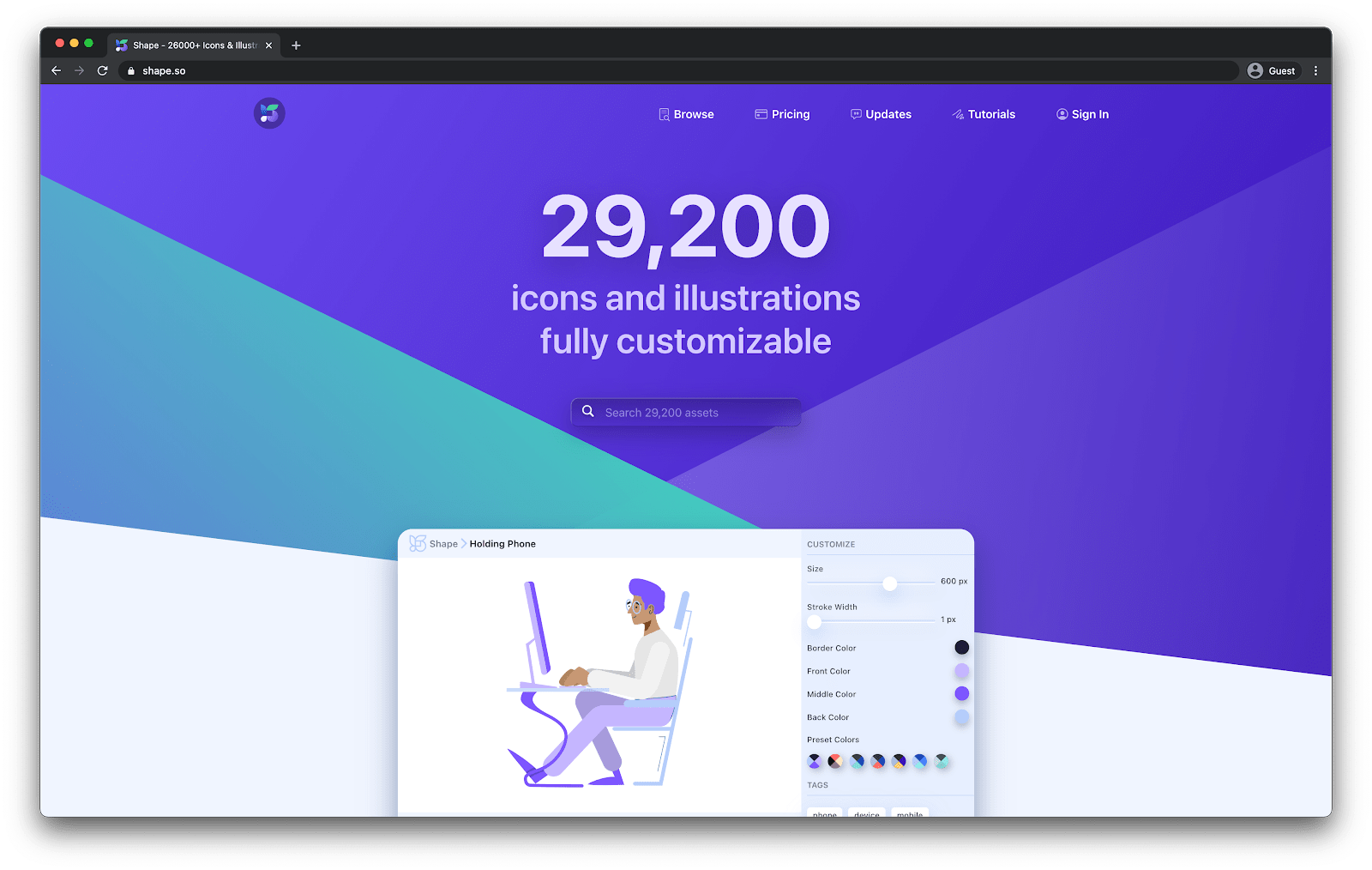 Everyone wants their website to be unique to their business.
Elements like font choice, background colors, and gradients can go a long way in achieving a desired look, but sometimes you want icons, illustrations, and even animations to level-up your game. That's exactly what Shapes enables you to do.
With a huge library of static and animated icons and illustrations, Shapes can help you create a nicely branded website even without the use of external design tools.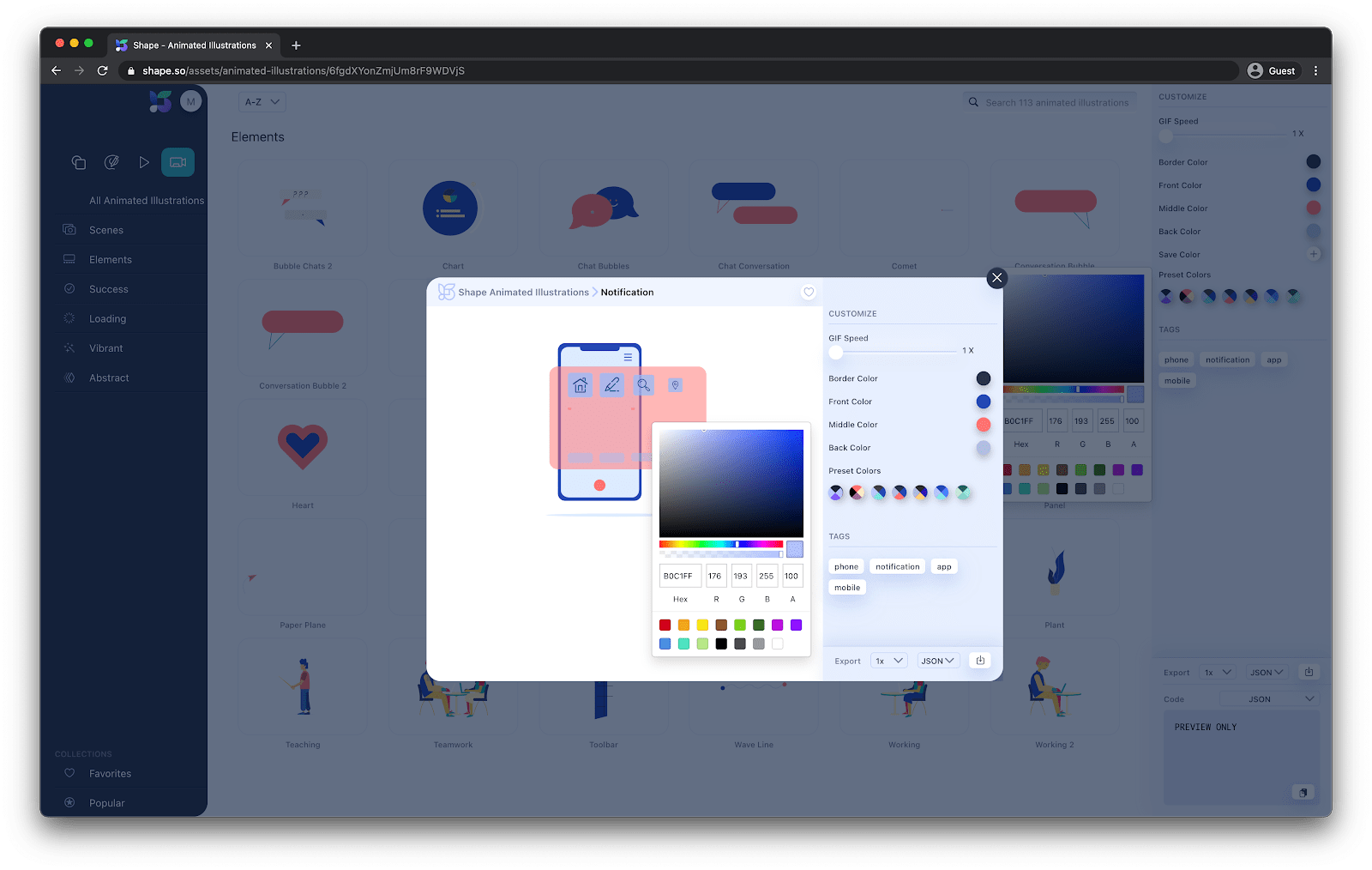 Once you're logged in, you can use their app to filter the available elements, apply color changes (or use a preset), and finally export in whatever common format you need.
I would recommend setting one (or a few) preset color options so you can quickly preview some branded options.
Who is not a fit for Shapes?
If you're not creating or fully updating your website, then shoe-horning in some Shapes elements may not look quite right with your site.
They definitely have a unique look and feel which can work really well when it fits the aesthetic you're looking for, but not if they're mindlessly thrown in. A potential option may be using some graphics for a landing page and seeing how well it converts compared to your normal design elements. Always worth a test!
6. SavvyCal - Get lovely, personalized scheduling links that put you and your guests first
Price: $12/mo per person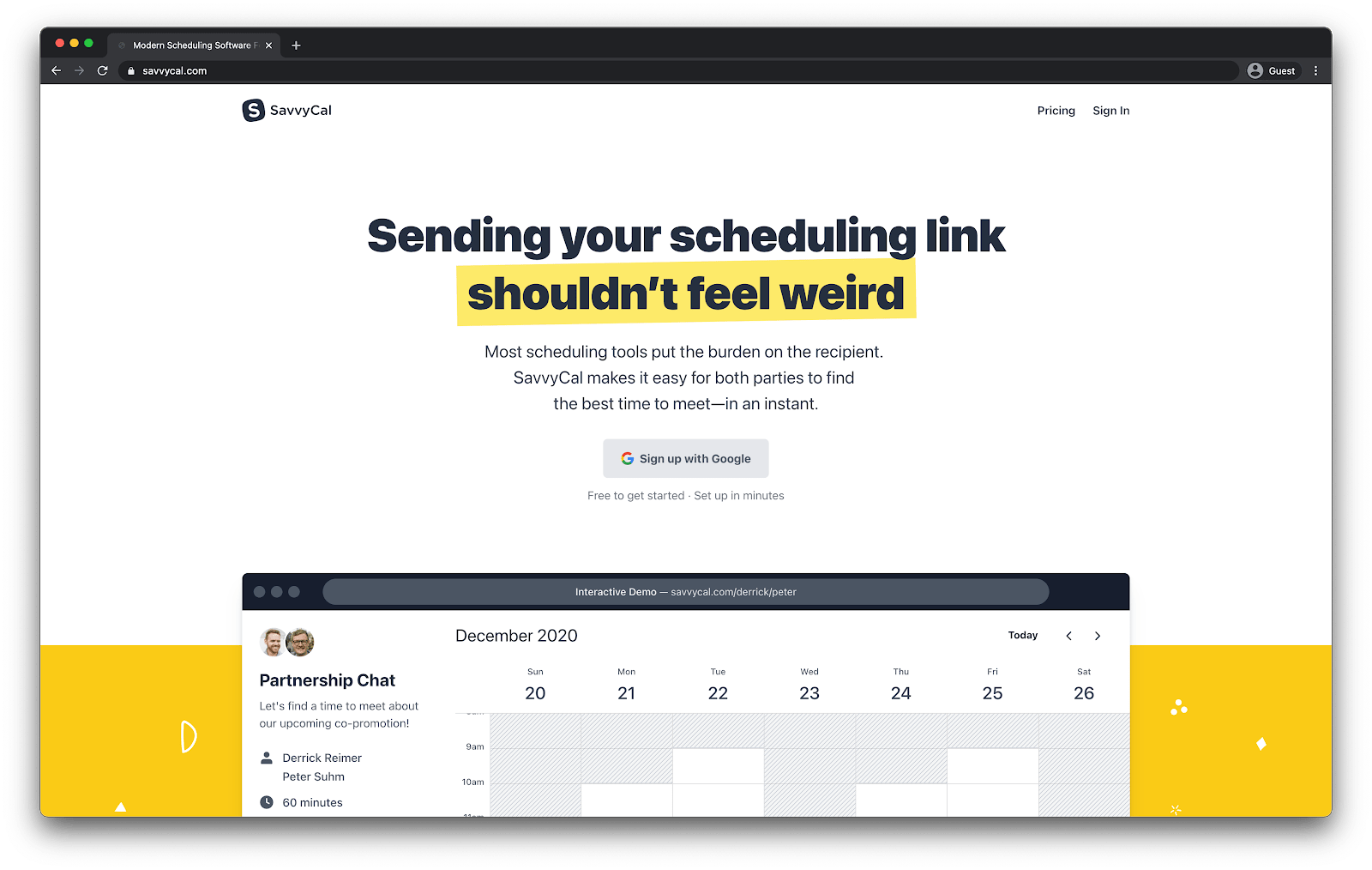 Scheduling meetings has always felt like a hassle. From creating the meeting link to finding additional time, from getting it on the right calendar to switching tabs trying to find your schedule to book on someone else's… Ugh.
Luckily, there's a new kid on the block.
SavvyCal brings a number of unique features to the table with a singular focus in mind: making the scheduling experience better for both parties. From the time I signed up to SavvyCal to my first link was probably five minutes, and that's because I poked around in the settings and added basically every Google Calendar account I have.
It's incredibly easy to clone meetings, create new links, and personalize them (if you know the person's name or email).
And the scheduling experience is just as smooth for the recipient. I've gotten in the habit of personalizing as many links as I can, and saying "I created this workspace for us to find a time to meet" instead of just "here's my schedule, find a time."
Who is not a fit for SavvyCal?
The biggest drawback right now is that SavvyCal requires a Google account (won't currently work with Exchange or iCloud emails), but those are publicly posted on the roadmap, so hopefully won't be too much longer before those are supported.
If your meetings are currently wired up to your CRM, you may not get the same functionality out of SavvyCal. While there is a Zapier integration, there will be some manual work involved to get that level of connectivity onto your contacts.
Also, if you're looking for team functionality, that's still in the works (as of December 2020). You can create a team with a different set of links, but it's missing features like round-robin meetings and assigned contacts (some of which may not be a focus of SavvyCal).
7. Circle - Build your community under your own brand on a fantastic platform
Price: Plans range from $39/mo to $199/mo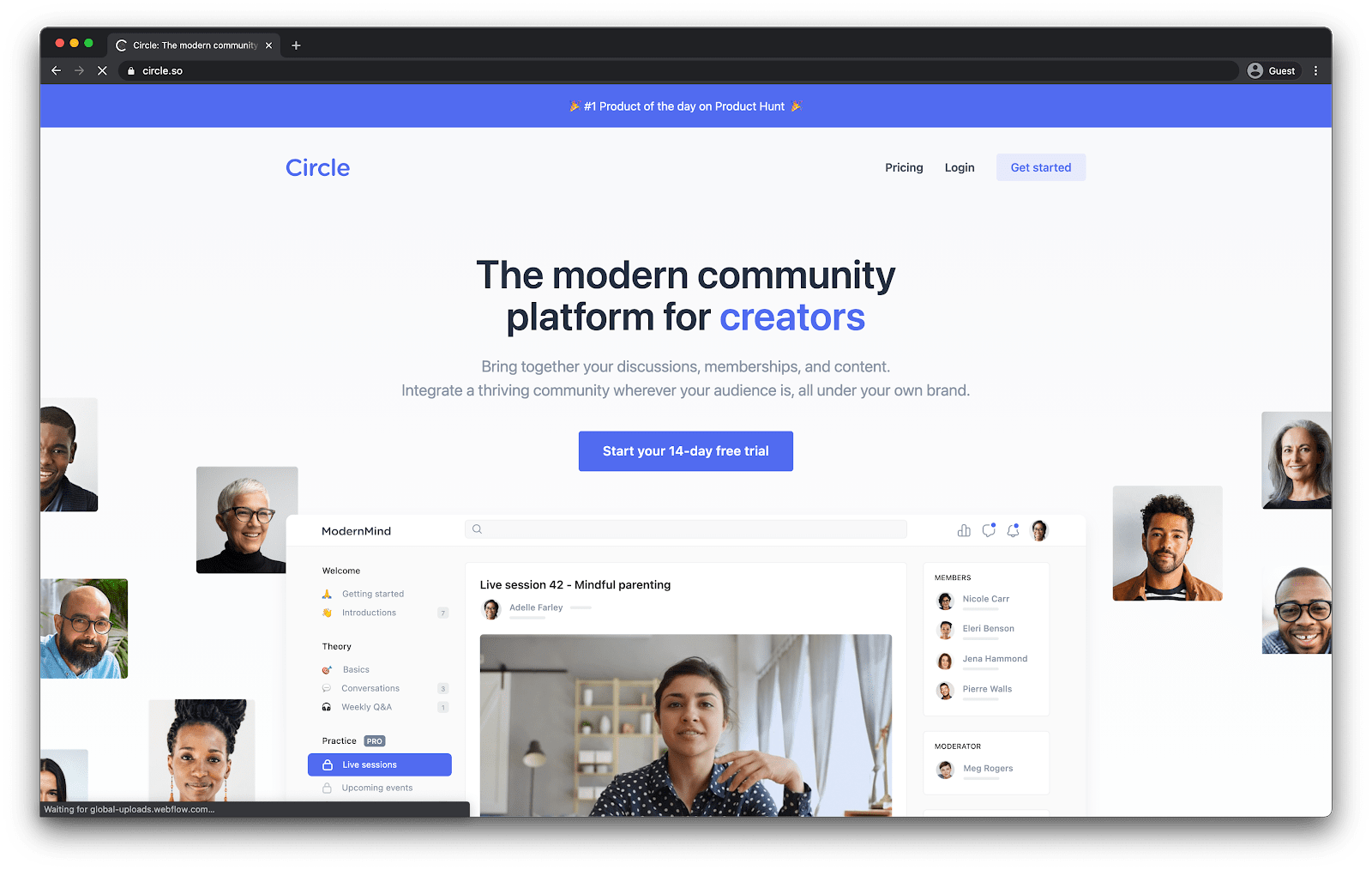 All things virtual and digitally social have had a huge boom this year, and Circle came at the perfect time to enable all kinds of businesses to create their own social experience.
With a clean, white-labeled interface and simple pricing structure, Circle is easy to get started with and your community members will love it. It enables you to create an entire experience for your community. You can organize discussions, create private spaces behind a membership, and enable personal interest groups to create their own sub-communities.
More than just a "forum," Circle community members can easily meet, discuss, have live meetings, and direct message one another.
Who is not a fit for Circle?
If you're not ready to build and support a community, then you're not ready for Circle and if you have a very customized experience in mind, then you may want to build something more custom.
While Circle is a phenomenal product, our vision for IMPACT+ is highly customized and integrated into so many areas of our business that it made sense to build our own community and social tools.
8. Notion - The modern workspace with a fully customizable document structure
Price: Free plan option, Personal Plan is $4/mo, Team Plan is $8/mo per person
Spoiler alert: This is not a new tool, but Notion has launched a lot of new updates this year.
And this is the year I also went full-force into Notion (kudos to their very generous free plan!).
What is Notion?
Simply put, it's a note-taking application. Think of it like Evernote or even Apple Notes, except it's been taking steroids for years and would no longer qualify for a professional note-taking competition because that just wouldn't be fair.
Notes and pages are just scratching the surface, as Notion allows you to structure your documents almost however you want.
Need a page with a bunch of sub-pages? Done. Need a table to track statuses? Done. Need to use a table to track other pages that get updated when you update the metadata on those pages? OMG done.
I am far from a power user, but I'm very much bought into this toolset.
Instead of worrying about where something should live, I just have a few high-level pages that have tons of sub-pages. And their global search is phenomenal for jumping to whatever I'm looking for.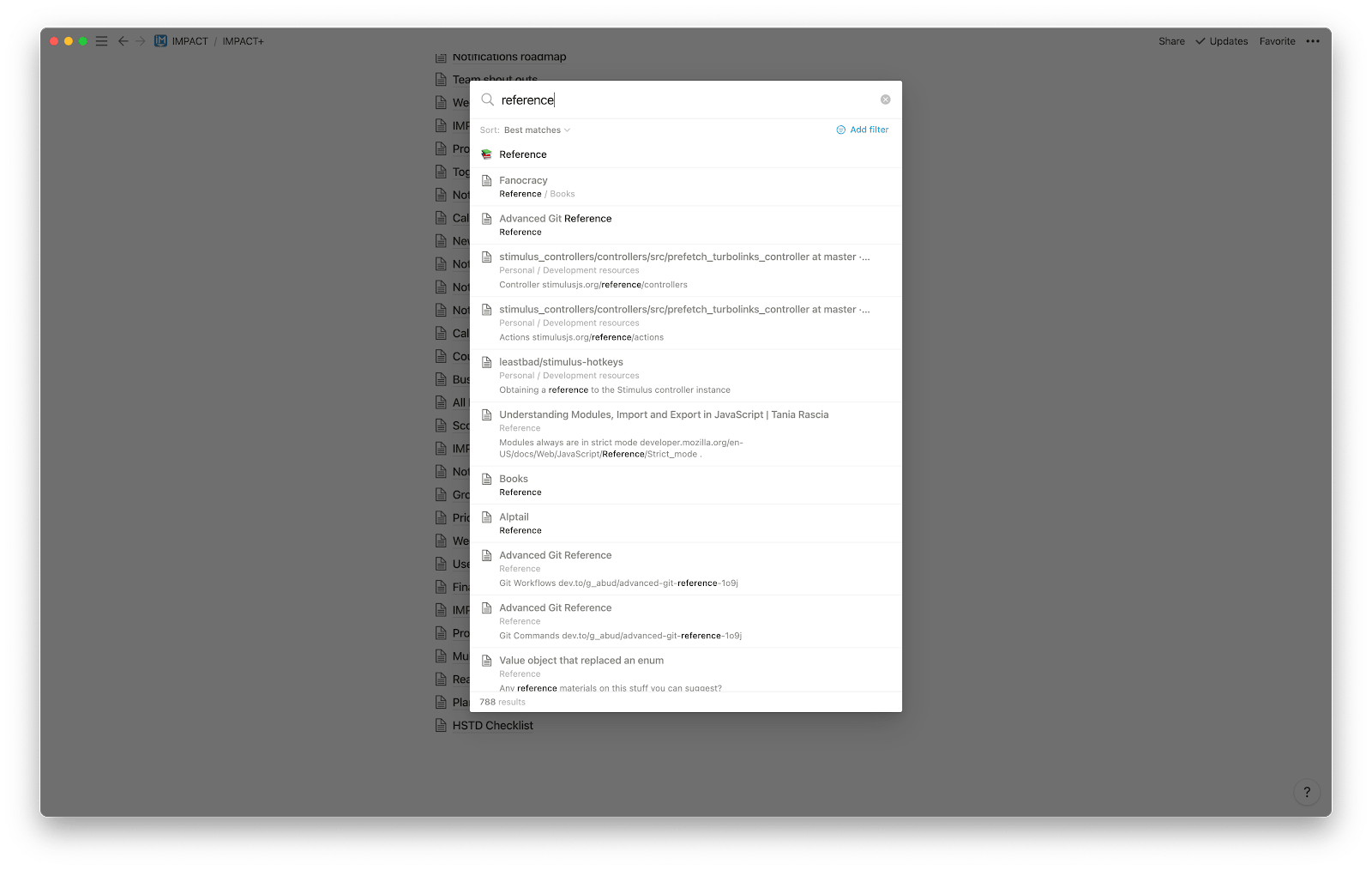 I mention Notion less as a marketing or sales-specific tool, and more as a "this is how I run my life" tool.
The handful of people I've shown within IMPACT are blown away by what you can do. Needless to say, I highly recommend it!
Who is not a fit for Notion?
All the above being said, Notion isn't the best fit for everyone.
If you or your company has a place where you're supposed to take notes, then the additional duplication may not be worth it. Also, you'll want to make sure that you are allowed to take notes in a separate system (some industries or companies may not want proprietary information in a personal note-taking system).
It can also be a little overwhelming. There's nothing wrong with going with your devices' default note-taking app if you want something straightforward. But if you're a little tech-savvy, check out Notion.
9. Super - Turn your Notion documents into full-blown web pages
Price: Starting at $12/mo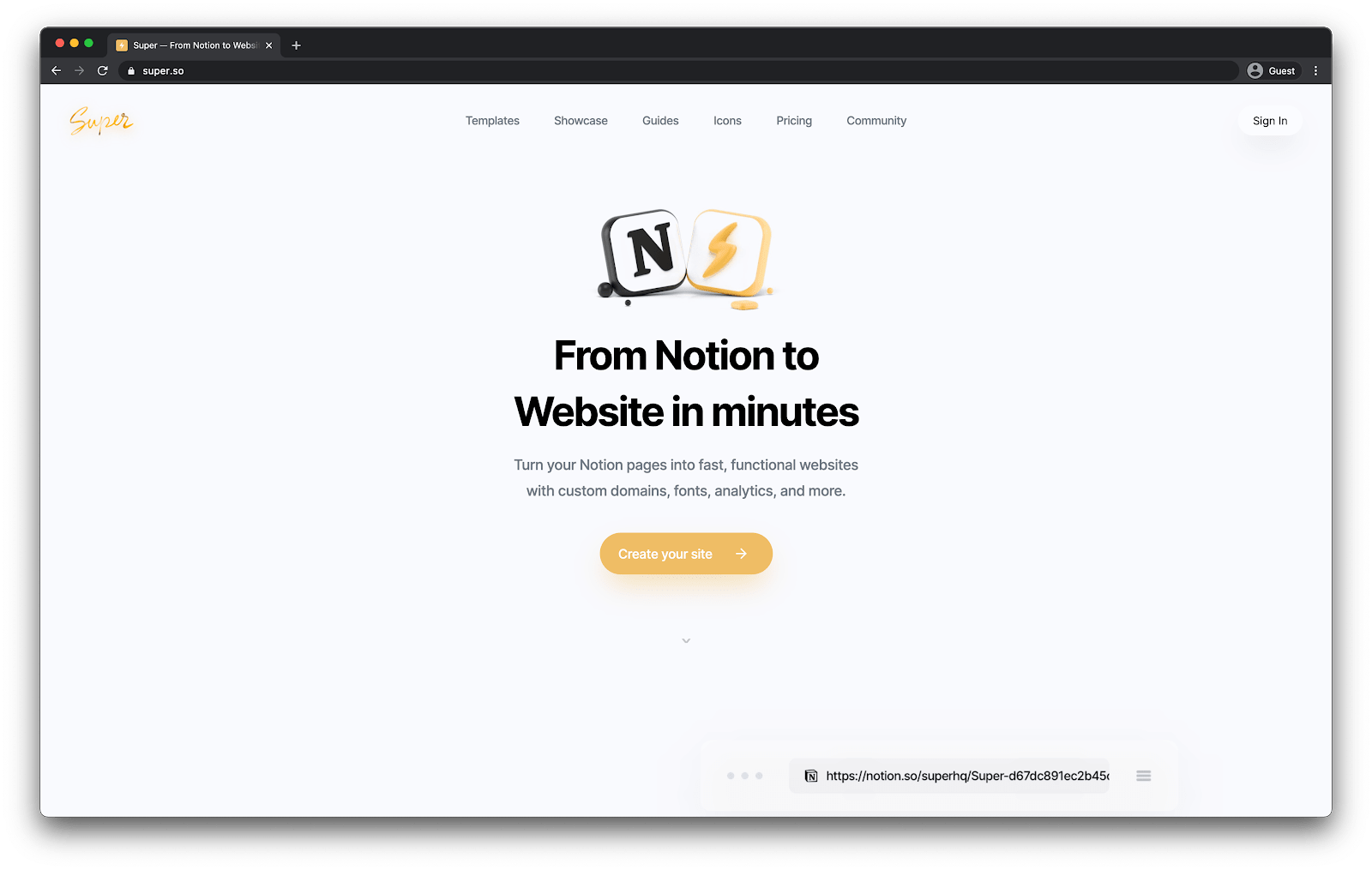 If it's not clear already, I'm a bit of a Notion fan. So when I found out you could use it to build fast, responsive websites, I almost collapsed.
Super enables you to create a website from a Notion document. In other words, updating your note-taking application could update your website in almost real-time.
You don't even need a paid Notion plan. Just connect an available domain/subdomain to Super and point to a Notion page (they walk you through this process beautifully). Boom. You're online.
Why is this a big deal? Because the barrier to getting your content out on the internet is getting smaller and smaller. If you're struggling to get off of a dated website CMS, or you just want to test out some landing pages, combining Super with Notion can get you online in minutes instead of days or weeks.
That is unbelievably powerful.
And if you want to go even further, check out the Makerpad tutorials that enable you to sell digital products or run your community from a Notion-backed website (paired with Circle for communities!).
Who is not a fit for Super?
Obviously not using Notion puts a damper on Super, but if you're already using another website CMS, or if you can pretty quickly spin up a new landing page, then Super isn't worth it.
Also, complex designs are difficult in Super. As you can see from their home page, it's absolutely possible to have a nicely designed page using Super, but it's more useful for ease of updating as opposed to an end-all beautiful website.
10. Webflow - The no-code website builder capable of any size use case
Price: Limited Free plan, then $12/mo and up for paid plans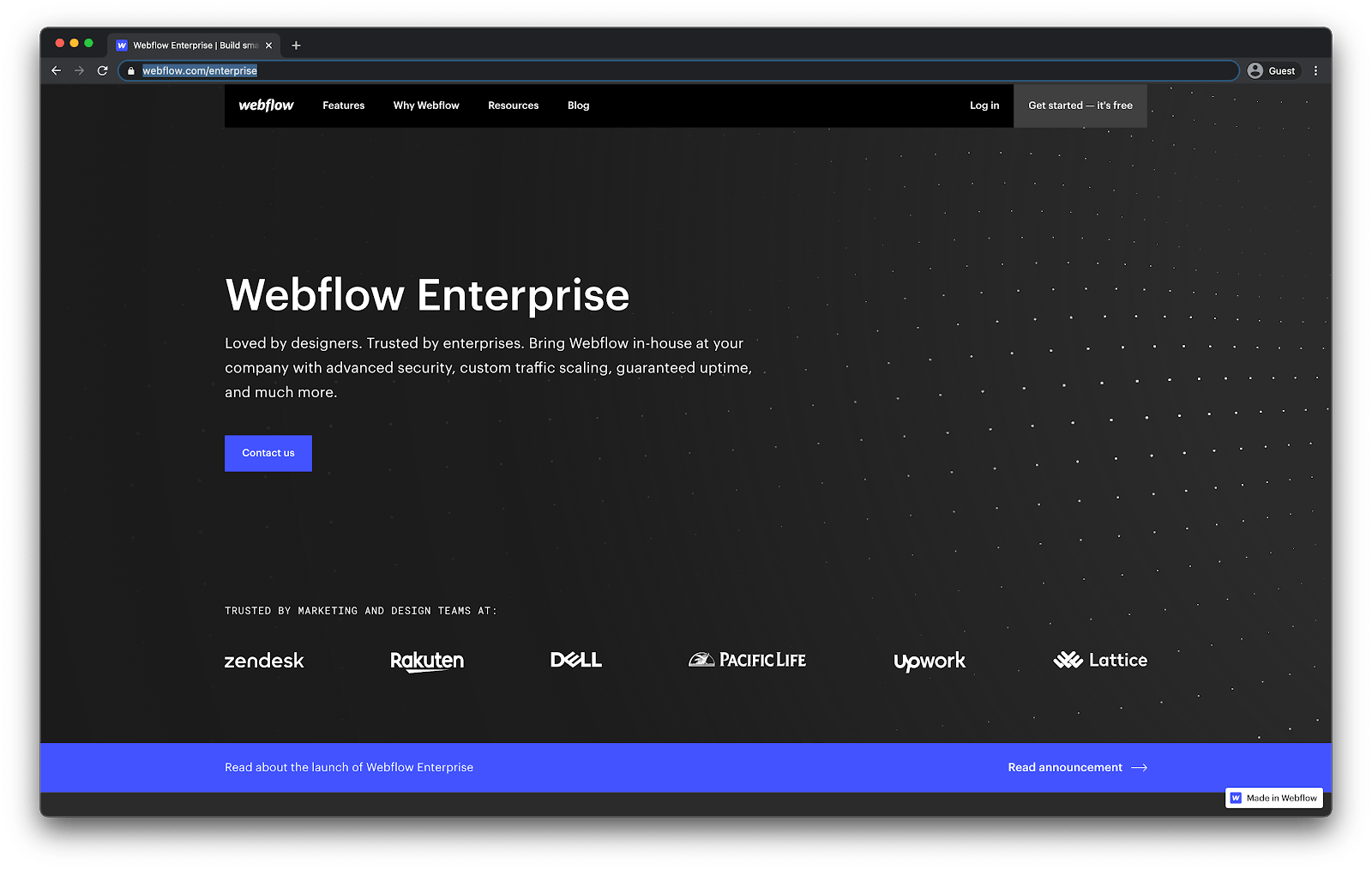 Need something more advanced than Super, but still want to have an easy to update and fast website? Webflow may be a great fit for you.
With the recent launch of a fully-featured Enterprise package, Webflow is competing with some of the big website CMS options (think WordPress, Squarespace, even HubSpot CMS).
Chances are you don't even need the Enterprise plan level, but know that the capability is there for when your website needs top-tier infrastructure and support.
What is Webflow?
Webflow is a no-code website builder. If you've ever used a graphic design tool like Adobe Photoshop (or even something like Google Slides), then the interface will be familiar.
If you have a designer on staff (or someone you can work with), you can build just about any website design you need. If you don't have a designer, you can start with one of their templates and get a long way without any kind of creative help.
Even as a developer, I've built a number of sites on Webflow and most people are incredibly happy with the results and the editor over something like WordPress.
That's one of the biggest wins: the Webflow Editor.
Instead of logging into an admin panel and editing some fields in the background, Webflow enables you to edit your website right on the page. Click into text to edit, swap images, and when you're ready, publish to the world.
If you're currently on WordPress, it may be worth switching for that functionality alone. It's no longer a hassle to update your site. Just click, type, and publish.
Who is not a fit for Webflow?
If you don't have the budget to outsource or have someone on staff who can build your site, you may run into some headaches like parts of your site not being responsive on different devices, links breaking, etc. While you can go a long way without needing a developer, it still helps to have someone who understands building websites to be controlling your Webflow site.
Also, if you need additional complexity (maybe some dynamic features or a specific integration), then you likely need to use some code on your site. That's completely fine, but again you'll want to work with someone who knows what they're doing.
Find the tools that make you better in 2021
When we're forced to adapt to situations, we come up with some pretty unique ways to handle them. Even if it means doing something we thought we'd never do.
I would put money on the fact that you used at least one new tool in 2020.
What was it? What was the effect it had on your work or personal life?
Did you find something useful in our round-up? Let us know how one of these tools helped improve your business in IMPACT+! And if there's a specific tool you have questions about, let us know and we'll see if we can help you figure out the best option for you.
Free Assessment:
How does your inbound marketing measure up?
Take this free, 5-minute assessment and learn what you can start doing today to boost traffic, leads, and sales.
Get Started
Free Assessment:
How does your inbound marketing measure up?
Take this free, 5-minute assessment and learn what you can start doing today to boost traffic, leads, and sales.
Published on December 31, 2020