What does SEO stand for?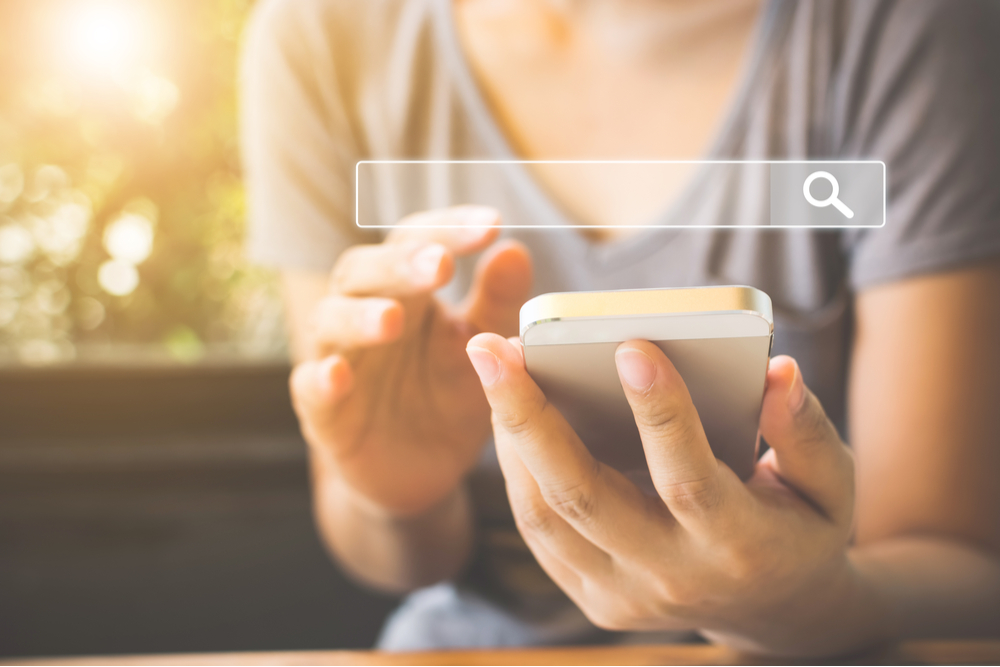 What is SEO?
SEO is an acronym that stands for "search engine optimization," which is the strategic optimization of website pages and other types of digital content (i.e., blog articles) so they can be found by people searching for relevant topics via search engines like Google and Bing.
Bottom line, what is SEO and why does it matter?
Search engine optimization (SEO) is one of the most critical disciplines a digital marketer can master — or, at the very least, they need to make friendly with an SEO specialist, while still maintaining an understanding of the basics.
That's because search engine optimization is how digital marketers and website owners quite literally optimize or tailor their website pages and other types of digital content (like blogs, podcast show notes, and so on), so search engines like Google and Bing can index it and serve it up in search results to relevant queries by actual people.
Search engines use proprietary algorithms to constantly map, index, and rank content for display in search results for users. For example, Google now has a fancy, machine-learning-based bit of tech called RankBrain.
I'll show you what I mean by my definition of SEO with a real-world example.
Let's pretend for a moment that I'm a sales manager who is interested in learning more about how to use video to help my sales team close more deals.
I'd probably go to my web browser and fire up Google and search for content using the keyword "video for sales":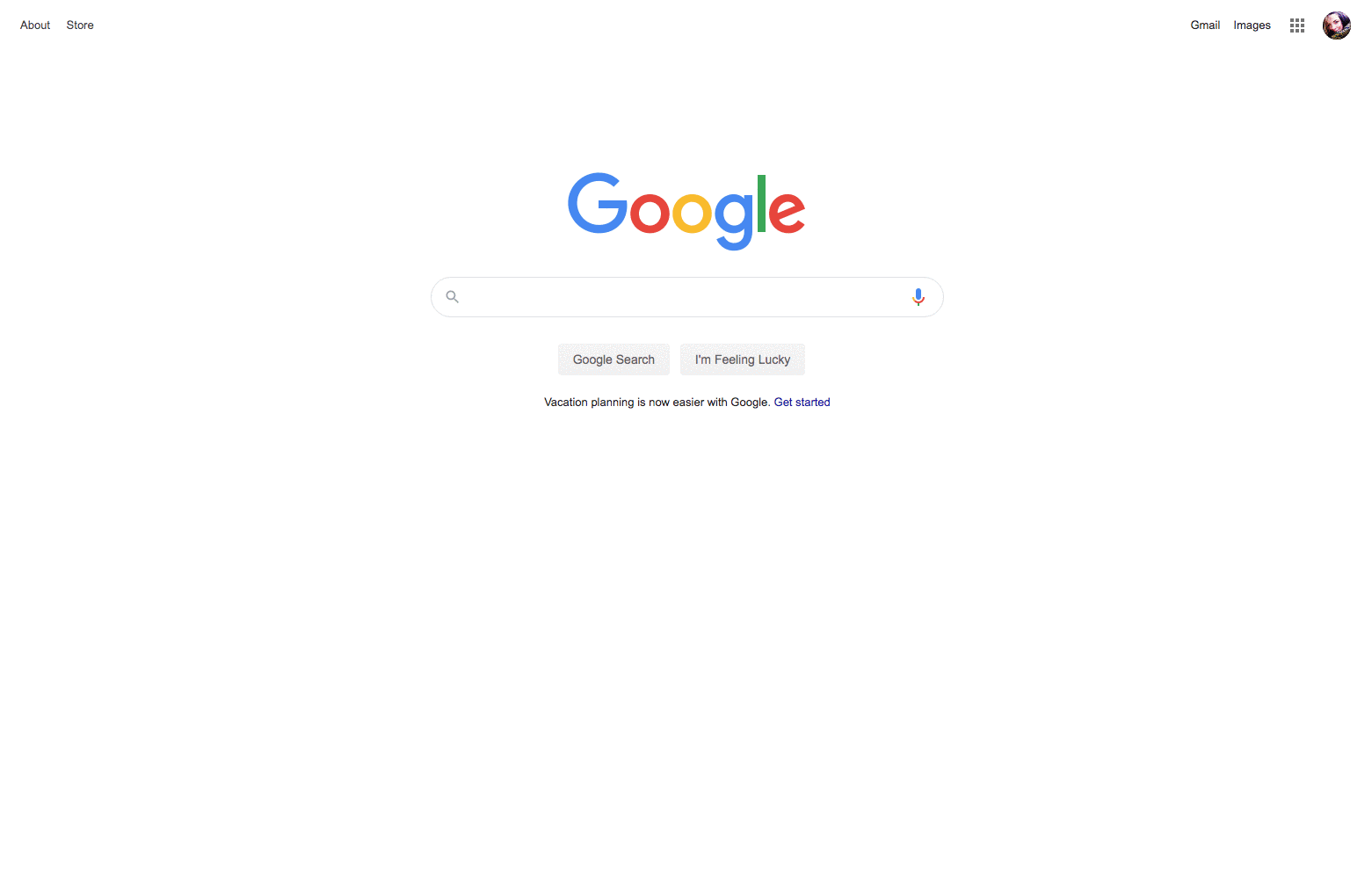 From there, I'd scroll past the ads (most likely) and click on one of the most relevant options in that first set of search results:
In this case, IMPACT's video for sales guide is an ideal choice for Liz the Sales Manager because it is the #1 organic search result for that term, and the title...

....as well as the description underneath (known as a meta description) match my intent as the searcher — what it is I'm really looking for — and clearly describes what it is I'll be getting.
But it didn't show up in that #1 spot by accident.
How you create content and optimize it for search engines (and people)
Here's the tricky thing about search engine optimization.
Your ultimate goal is to have your content show up as high in search results as possible. That's why so many pieces of content talk about "How to get to #1 on Google" — because the higher up you are in results for high-volume search terms, the more traffic you're going to see to your content.
Unfortunately, as a result, a lot of marketers spend too much time thinking with what I call a "robots-first" mindset. Meaning, they want to please the Google and Bing search engine gods above all else. Their goal is to drive traffic first, above all else.
☠️ Related: Is SEO Dead?
Optimizing the blog articles, content pillars, and website pages for search engines is necessary, but robot-first tactics — like keyword stuffing and clickbait-y, shallow content that isn't helpful to humans — should not be how you approach search engine optimization in your digital marketing strategy.
You should always solve for humans (focusing on their intent) and people problems first and then optimize your content for the robots second.
Even the act of keyword research (SEO's related discipline) is using SEO tools to simply evaluate data that represents very human behavioral trends. For example, how many people are searching for topics, and what search queries are people using the most to get the answers to their questions around a given topic?
Those are the questions you seek to answer with keyword research, but it's just finding data to back up what human beings are doing.
Now, with that important bit of context out of the way, let's look at that "video for sales" example, so you can see how keyword research and search engine optimization work in action...
Here's what search engine optimization looks like in action (example)
With an understanding of search engine optimization — and discipline, keyword research — we identified "video for sales" as a search term opportunity, because keyword research showed people are searching for it; people who we want to create content for, because this is an area of expertise.
Then, we built a piece of content around that keyword, where we spent a lot of time on the strategy.
And by strategy I mean answering questions like:
Who is the person searching for something like "video for sales"?
Why are they searching for it? What are their challenges or goals that may be tied up emotionally in searching for that term?
OK, now that we understand who they are and why they're searching for this term, what exactly do we need to give them in order for them to say, "Wow, these guys (a) know their stuff, and (b) really helped me in the way I was hoping someone would"?
...before we started outlining or writing. In fact, our answers to those questions informed what we would be writing about.
So, when someone like Liz the Sales Manager saw our piece of content in search (and then read it upon clicking through), they would feel satisfied that we are helping them with relevant content that matches the challenge or goal behind their original reason for searching for "video for sales."
If a lot of people click-through on a piece of content of yours but immediately bounce off, that sends a signal to search engines like Google that your content is not relevant to the intent of the searcher and it will fall in rank faster than I fell off the stage singing "Memory" from Cats in during a sixth grade Broadway revue.
🔎 Related: How to Do Keyword Research the Right Way (+ Templates)
Once we started creating content, the search engine optimization piece came into play in a few ways:
Using our exact match keyword and semantic keywords in-text and H2 headings, as they fit naturally.
Compressing images and working with our web development team to make sure our page load time wasn't too bulky. (Site speed and page load time are huge factor in how well your content does or does not rank.)
Optimizing our page title and meta description for the keyword phrase and to entice click-throughs, based on intent.
Since the video for sales guide is a piece of pillar content, I also made sure all of the blog articles in the topic cluster linked to it and that the pillar linked back to those articles. (And then I continued to link to it in other relevant articles, even if they weren't in the cluster.)
Let's walk through each of those in a little more detail.
Exact match and semantic keyword inclusion (on-page SEO)
In addition to including the "video for sales" keyword (our exact match search term), I also did a little keyword research to identify what semantic keywords (terms, phrases, and so on that are related to the topic) that should also be included.
I do this with SEMrush's SEO Content Template tool, which spits out a list of semantically related keywords like the set below related to the "video for sales" search term:

The nice thing is that if you're creating your content like a human being — meaning you're addressing the topic as thoroughly as possible, based on the needs and the intent of the humans you're trying to reach, you'll naturally include most of the terms that come up in-text.
🔥 Related: A Massive Review of SEMrush for Digital Marketers
For example, it's rare that we're ever going to write a piece of content about sales teams without talking about "sales reps" "closing deals" for a "product or service." And since the delivery of video during the sales process is primarily completed via email, you can bet terms like "subject line," "click through rates," "sales emails," etc., are going to naturally show up in my copy without me even trying.
From there, it's good to just do a quick skim of your subheadings (typically in H2) to make sure any exact match and semantic keywords are integrated in a natural (but robot-friendly) way, as it makes sense:
"Sales process" is an important keyword...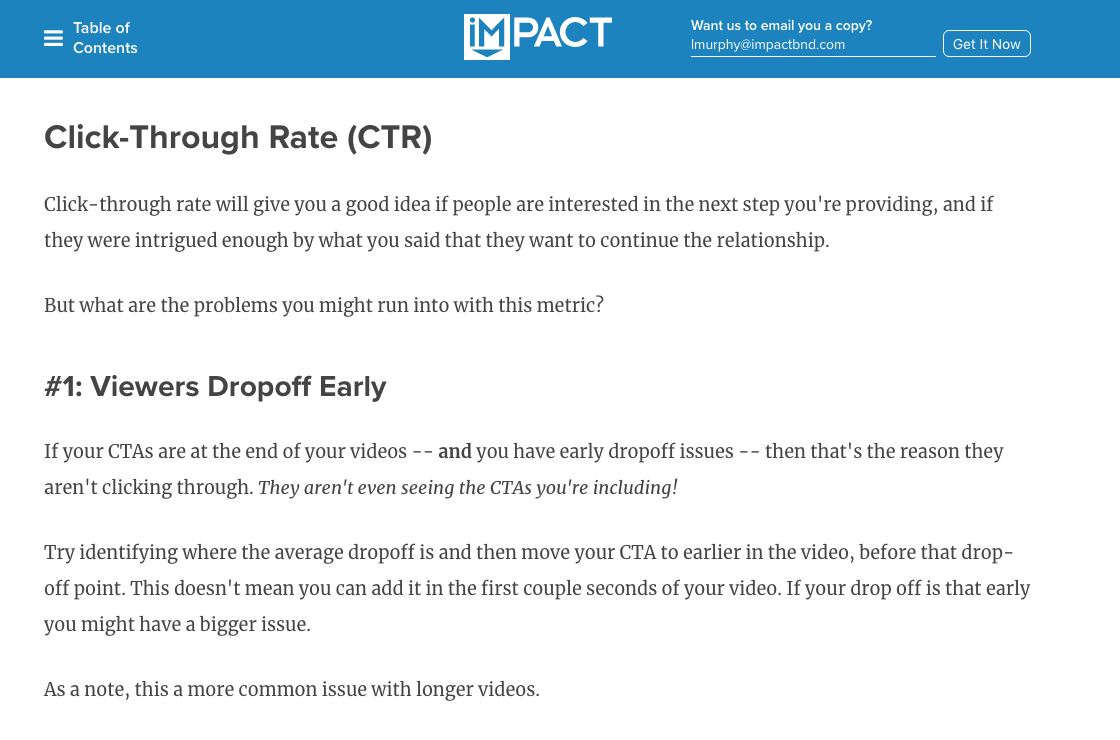 ...so is "click through rates."
Site speed and page load time (technical SEO)
I'm going to make this really fast, because while the solutions may end up being complex, the explanation for this search engine optimization line item is very straightforward.
One of the ways Google and other search engines evaluate your website — beyond keyword relevance and content quality — is the speed of your website and how long it takes a page to load.
If you're a digital marketer who doesn't have a ton of technical SEO expertise, you will need to work with your web team to evaluate how quickly your pages load and the speed of your website overall and implement any required fixes — maybe your images are too big or you just need to be using Google Tag Manager — if you don't engage with an outside technical SEO specialist.
What you need to understand, however, is that just because you need outside help to address site speed and page load time doesn't mean this is something that should be back-burnered.
🏆 Related: Our Top Search Engine Optimization Resources for Marketers
Site speed is a super critical factor that can severely and catastrophically impact your search rankings with your website and digital content. No matter how good your content might be.
I cannot overstate how important this is.
Titles, meta descriptions, and URLs (oh my!)
In the backend of your CMS (HubSpot, WordPress, etc.), you will need to update your page title, meta description, and URL to be optimized for search engines (keyword-focused) and click-throughs (the humans).
If you have HubSpot, you can do this in the settings tab of your blog article or landing page. If you use WordPress, a plug-in like Yoast will help you with search engine optimization.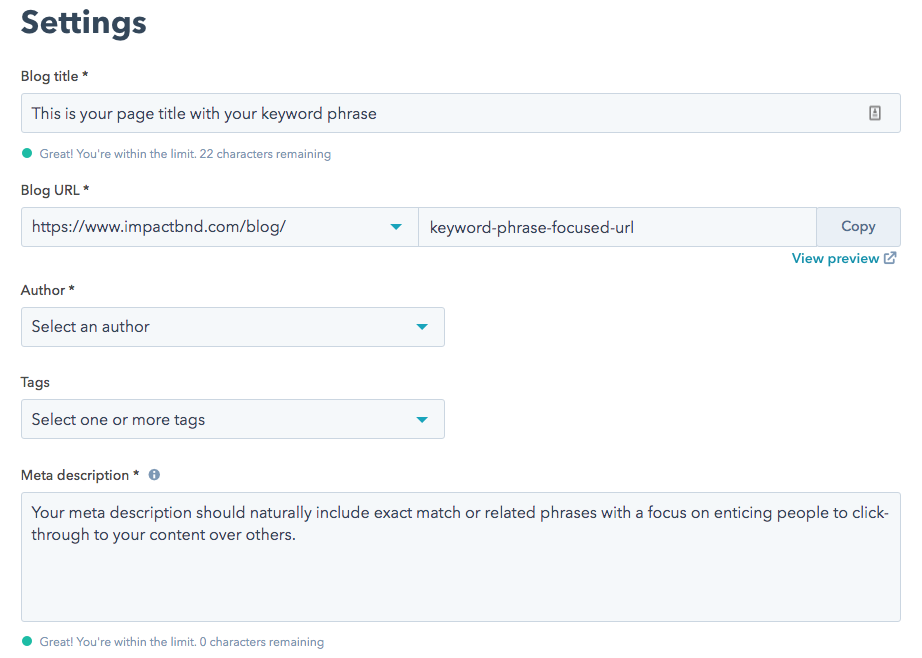 Your page title shouldn't be too long (otherwise it'll get cut off in your displayed SERP result), your URL should be trimmed to the essential keyword phrase you're going after (it shouldn't just be your full blog post title), and your meta description should make the content irresistible to searchers.
If you're optimizing a content pillar for search engines
One of the most common mistakes I see people make is a tragically simple one. If you build out a piece of pillar content at the center of a topic cluster, and you fail to link the pillar out to the sub topic pieces (blog posts, usually) and vice versa, you will be doing a whole lot of work for nothing.
The content pillar needs to link to all pieces of content in your topic cluster.
Then, all of those pieces need to link back to the pillar.
The linking must be bidirectional. If you don't do this, search engines will not be able to map the cluster as the content architecture you've put in place is intended to enable.
Now, if you have no idea what I'm talking about, and you want a better way to optimize your content strategy for search engine visibility, here is a pillar content resource center to help you get started.
Search engine optimization strategies will continue to change and evolve
Here's the thing to keep in mind with SEO. And, quite frankly, what I'm about to say is what makes the topic of search engine optimization equal parts fascinating and infuriating.
How you optimize your content so it ranks well in search engines is going to change constantly. What works today may not work tomorrow. Why something ranks well and something else doesn't may not seem to make sense, based on what you know about the rules.
Just remember the one strategy that will never change or go out of style with search — start with the people you're trying to reach. Solve for their needs first, and you'll be surprised how much easier it is to have your content rank well.
Because, if you spend your time chasing the robots instead of focusing on the needs of your audience, you've already lost the battle.
Free: Assessment
Does your website build trust with buyers and bring in revenue?
Take this free 6 question assessment and learn how your website can start living up to its potential.