What Will Be Covered in a They Ask, You Answer Workshop? (+ Video)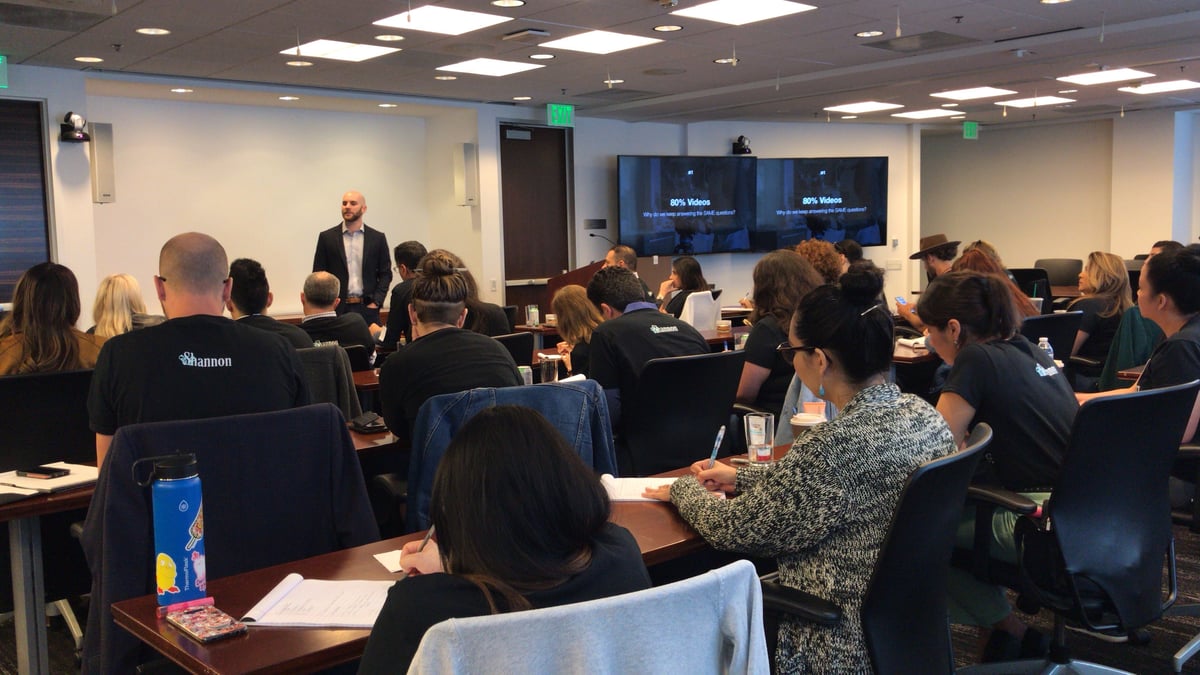 Let's face it; you know that it's time for a change in the way that your organization approaches content marketing.
You have felt enough pain to know that it's time to get your leadership, marketing, and sales teams aligned about why being the best educator in your space will help you build trust with prospects and close business faster.
The first step in ensuring this happens is to conduct a They Ask, You Answer workshop to help all company leaders catch the vision.
Now, some companies might have insiders who will want to develop and facilitate a similar workshop. We don't recommend this approach for a couple of reasons that we'll explain in the video below.
Whether or not your organization decides to go-it-alone or you opt IMPACT to facilitate the workshop for you, you need to know what should be covered in an They Ask, You Answer workshop and why.
Meet Zach Basner — a They Ask, You Answer coach. In the 21-minute video below, Zach and I discuss the eight principles that need to be covered in a workshop and how to know if your company is in need of one.
*Note: We refer to the workshop as an "inbound culture workshop" — a more generalized way of describing what we do with clients.
For those of you not interested in the video, here is an abridged transcript that covers the essentials of what we discuss in our interview.
Why do we recommend companies participate in a They Ask, You Answer workshop?
Zach: If you want long-term success with anything, you've got to start it off with the right momentum and really get all the buy-in you need.
What you don't want is to get started on this journey and realize there's a lot of things you should have done to get started and you didn't. It's [the workshop] going to cut down on the time to see results because you are all starting on the same page.
What problems does it solve?
Zach: It's buy-in. When we say buy-in what we mean by that is, everybody understands the importance of this and sees how it directly impacts their job and the way that they're interacting with customers because this [content marketing] isn't just a marketing play.
This is really an organizational play; how are we going to get better at earning the trust of our customers, and how are we going to become great educators in our space. And that doesn't just apply to marketing, it applies to sales, customer service and leadership. Everyone's got to see exactly where they fit into that.
Regardless of whether someone goes it alone or hires a third party, let's talk about the key items that must be covered in a They Ask, You Answer workshop.
Principle 1: Consumer Expectations have Changed
Zach: At the end of the day, the way we [as consumers] buy things has changed.
Really understanding what that means and what those changes have been over the past five to ten years is going to create a really good foundation to continue to build your content marketing strategy.
Principle 2: The way Google and Other Search Engines Work
Zach: Yeah, we're all familiar with Google, or at least most of the population is familiar with Google, but many don't know how it works.
There's actually a very simple way of understanding the way Google works. There's a lot of changes that Google makes on a regular basis, many of them that some don't hear about. But the underlying thing that we've got to wrap our heads around is that search engines help people make decisions.
And so understanding how [people are] using it to make decisions and how to leverage that is really, really important.
Principle 3: The way Consumers Search and The Big 5
Zach: The Big 5 is based on the teachings of They Ask, You Answer. There are the five [topics] that consumers really want to know about and what they are looking for. Yet those are the things that businesses, most often, are not willing to address on their website.
This dives into why The Big 5 makes such a difference to the buyer and why most companies aren't willing to address those things, and if you do, what will be the outcome. [The Big 5] is literally the type of content that will drive more traffic leads and sales.
Principle 4: Group Brainstorm of Content Ideas
Zach: Having a group brainstorm for content ideas is going to give you over 100 ideas during the course of the day. And that's going to give a great place to start with this whole education and content marketing journey.
Facilitating it during the workshop takes advantage of the momentum and ideas that are going on in people's heads.
With the proper brainstorm exercises you really do uncover the things that you should have been talking [and writing] about a long time ago.
Principle 5: The Impact Content Can Have on the Sales Process and Closing Rates
Zach: This is so important because most companies really do underestimate the amount of time a prospect is willing to spend to become educated. What we've learned time and time again here at IMPACT in working with our clients is that great content, assuming that it's honest and transparent, is the greatest and most underutilized sales tool in the world.
It has a tremendous impact on sales and becoming a more trusted contender. If you're going head to head with competitors, it's going to help you earn trust.
So, learning how to use content directly in the sales process to increase closing rates to shorten the sales cycle is as a massive part of this workshop and is a great result of doing great content marketing.
Principle 6: The reason why everyone's voice, talents, and knowledge are critical for success
Zach: The best way to fail with content marketing is to make it a marketing thing. If a person doesn't really see where they can contribute, that's going to be a problem.
When you get sales, marketing, services, and leadership into a room, each group has their own expertise. They have a perspective on how to help the customer or what the customer is going through. Each has ideas on how to present that knowledge.
And although it's a collective effort of everyone's unique voice, skills, and perspectives each group will have a different way of viewing things. Sales will see things differently than customer service does, than leadership does, than the subject matter experts — and that's critical [for great educational content.]
Principle 7: Your editorial guidelines
Zach: Having guidelines for anything that you do is important, especially if you're creating a lot of content and you have a lot of people contributing to it. It is important that there's some consistency.
The guidelines will also help people learn how to contribute as well because, oftentimes, we get paralyzed by not knowing what to do next.
To keep [up team] momentum, make sure nothing's going to slow them down in review of content or the editing of content. You want that to be quick and streamlined, so guidelines are imperative.
Principle 8: A look into the future
Zach: After you've had a day like this where you're going over all these principles and getting excited about it, and are ready to get started, it's really important to know what's going to happen if you're really [going to be] successful. But it's also important to know what could cause this to fail.
You want all these things to happen. You want to make this work. This is an organizational priority. But, what would stand in your way of actually doing it?
By looking at the future and being able to vision-cast, it's going to ensure that everyone is aware of what could happen if you do it well and what can make it go off the rails if it doesn't go well.
You can't run your own workshop — Here's why
Zach: [Doing it internally] doesn't seem to have same effect. There is a famous quote, "a prophet is never accepted in his own hometown." Really what that is saying is that it's very hard for somebody who is not a fresh face [in your company] to be a catalyst for massive change.
Think about your own organization, what was the last big cultural shift that happened or big strategy that changed? [Change] typically comes from outside the four walls [of your organization.] Someone goes to a conference or a speaker comes in really inspires people. Everyone gets behind it and [your company] starts moving forward very quickly.
That doesn't seem to be the case when [try and inspire change] internally. It's not to say that it can't be done.
Have you ever worked with someone that's tried to do it themselves?
Zach: Yeah, I would like to say that it went well. But I've yet to hear a story of an internally-run workshop going really well.
We've all been parts of companies that have programs meant to [inspire] change and six months down the road, everyone's going, "Whatever happened to that one thing that we were talking about?"
That's not a cultural shift, that's just a program. A cultural shift is where everybody looks back and says, well, can you believe we ever did that any differently?
How would a company know if it would be a good fit for this type of workshop?
Zach: The major symptoms that you'd be experiencing are
You're not generating enough leads right now
You're losing a lot of deals
Your sales cycle is very long
You may know content to be the fix, but when you go to your sales team, leadership team or subject matter experts and ask them for help, a very small percentage of them are willing to help or even know how to.
It could be that a leader shows resistance. It could be a marketer who is resistant, or the sales team.
But as long as that resistance is occurring, it's going to slow down sales progress and organizational change.
To learn more about hosting a They Ask, You Answer workshop at your company, talk to an IMPACT advisor.
Free Assessment:
How does your sales & marketing measure up?
Take this free, 5-minute assessment and learn what you can start doing today to boost traffic, leads, and sales.