Here's What We Love About the New Facebook Ads Manager Experience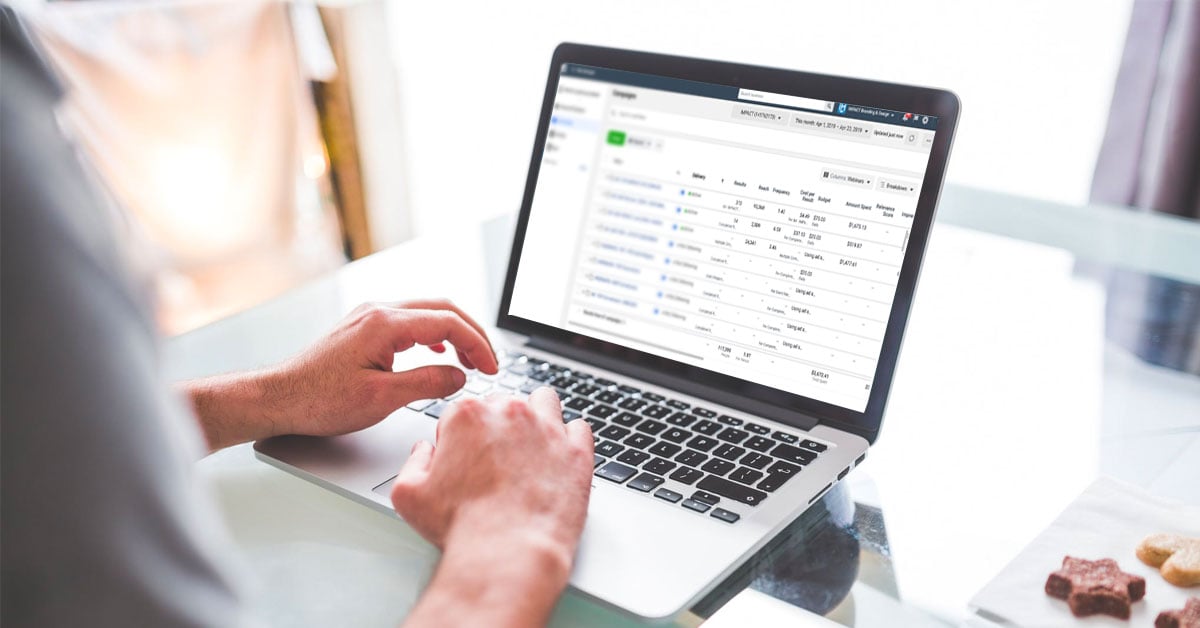 In an effort to improve the user's experience and help advertisers manage campaigns more efficiently, Facebook announced it is refreshing the Ads Manager interface. Changes began to roll out to users early last week.
As with most platform updates, Facebook is pushing the changes out in batches and some users may not see the update for a few weeks.
Lucky for you, our team at IMPACT saw the changes immediately and are excited to share the newest features with you.
A Deeper Look into The New Facebook Ad Manager
Last Tuesday evening, a message came across our Facebook team's Slack channel from our main Ads Strategist, Ali Parmelee
"What the heck just happened to ads manager!?!?"
The rest of the team and I immediately jumped in to see what Ali was talking about and sure enough, the whole interface had changed!
As Facebook Ads Specialists we live in Ads Manager.
We know it like the back of our hands and can navigate it pretty much with our eyes closed. The previous version of Ads Manager definitely had its flaws, but we were used to them…
After a few minutes of navigating and clicking around, we all jumped on a call to chat.
The overall consensus from the team was that while the updates were disorienting and very different, they were actually great.
So What's Changed...
There are three main updates to the Ads Manager I think are worth highlighting:
1) the standardized navigation
2) the integrated search and filter bar, and
3) the new nested campaign view.
Let's take a look at each:
1. Standardized Navigation
The most visually jarring change to Ads Manager, in my opinion, is the adjustment to the way you navigate through campaigns, ad sets, and ads.
Instead of the tabs going across the top of the page, the navigation is now standardized and moved to the left as a sidebar, which can be expanded or collapsed depending on your preferences.
While this is an adjustment at first, it does make navigating from one area of the campaign to the other much easier.
In fact, after using the upgraded Ads Manager for just a few days, it's hard to imagine going back to the old version (but don't worry, you will have the option to revert to the old version, at least for a few weeks).
Old Ads Manager

New Ads Manager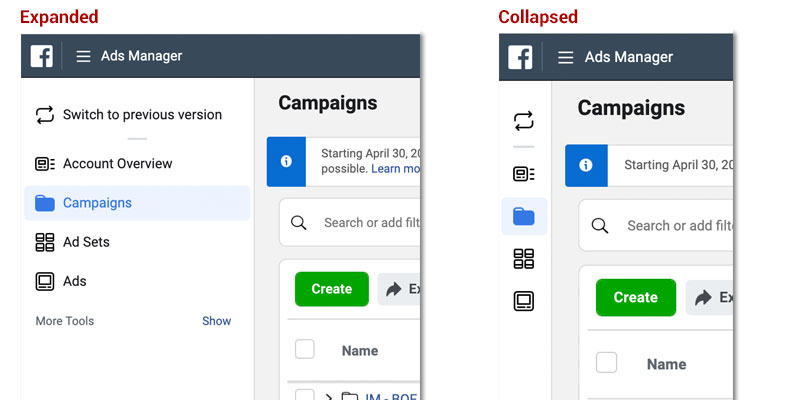 2. Nested Campaign View
With the new standardized navigation, Facebook also added a new nested campaign structure. This is a really nice feature as you can navigate down to the ad right from the top level dashboard.
You will now notice an arrow next to each campaign.
When you click the arrow, you will see the ad sets within that campaign (they also now have arrows next to them).
When you click the arrows next to the ad sets, you will see the ads it contains.
This is a great way to quickly navigate to make changes or monitor performance.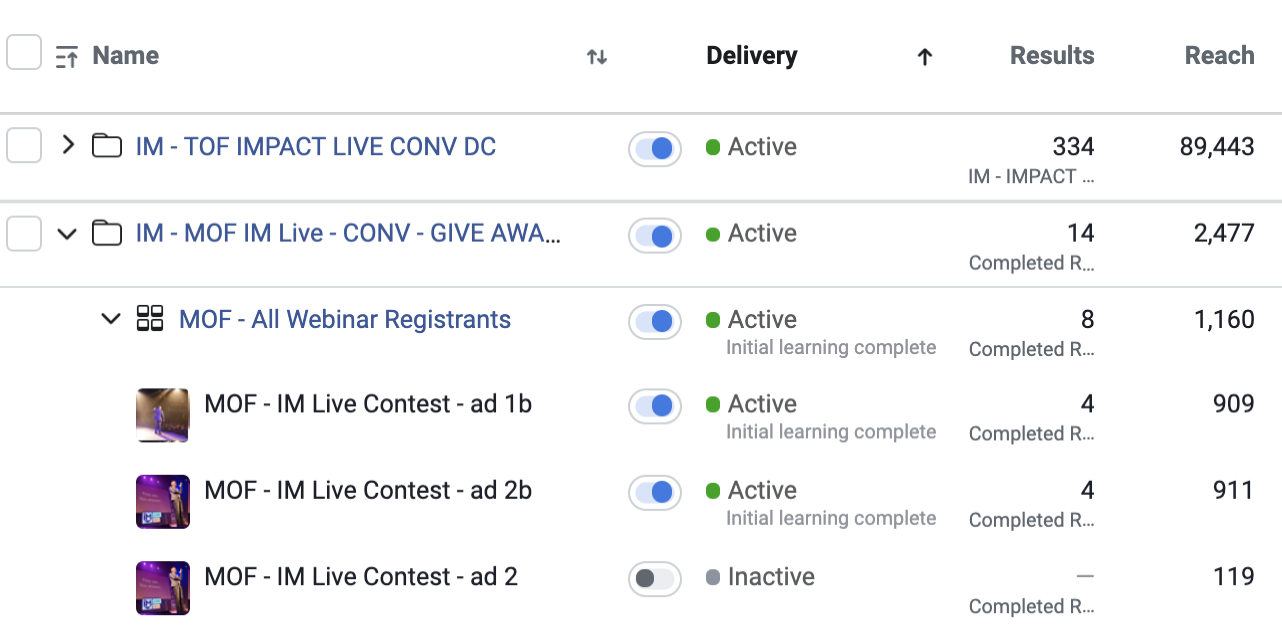 3. Integrated Search and Filter Bar
This is by far my favorite feature of the Ads Manager update. The integration of the search and filter bar makes finding what you are looking for so much easier (and faster).
In the past, you would have to use a combination of the search and filter options to locate an ad that's name contains "live" or otherwise.
With the new search and filter bar, Facebook intelligently offers you all the options when you start typing in the search bar without having to add in a separate filter.
As you can see below, I typed "live" and was given the options of
Campaign Name contains live
Ad Set Name contains live, and
Ad Name contains live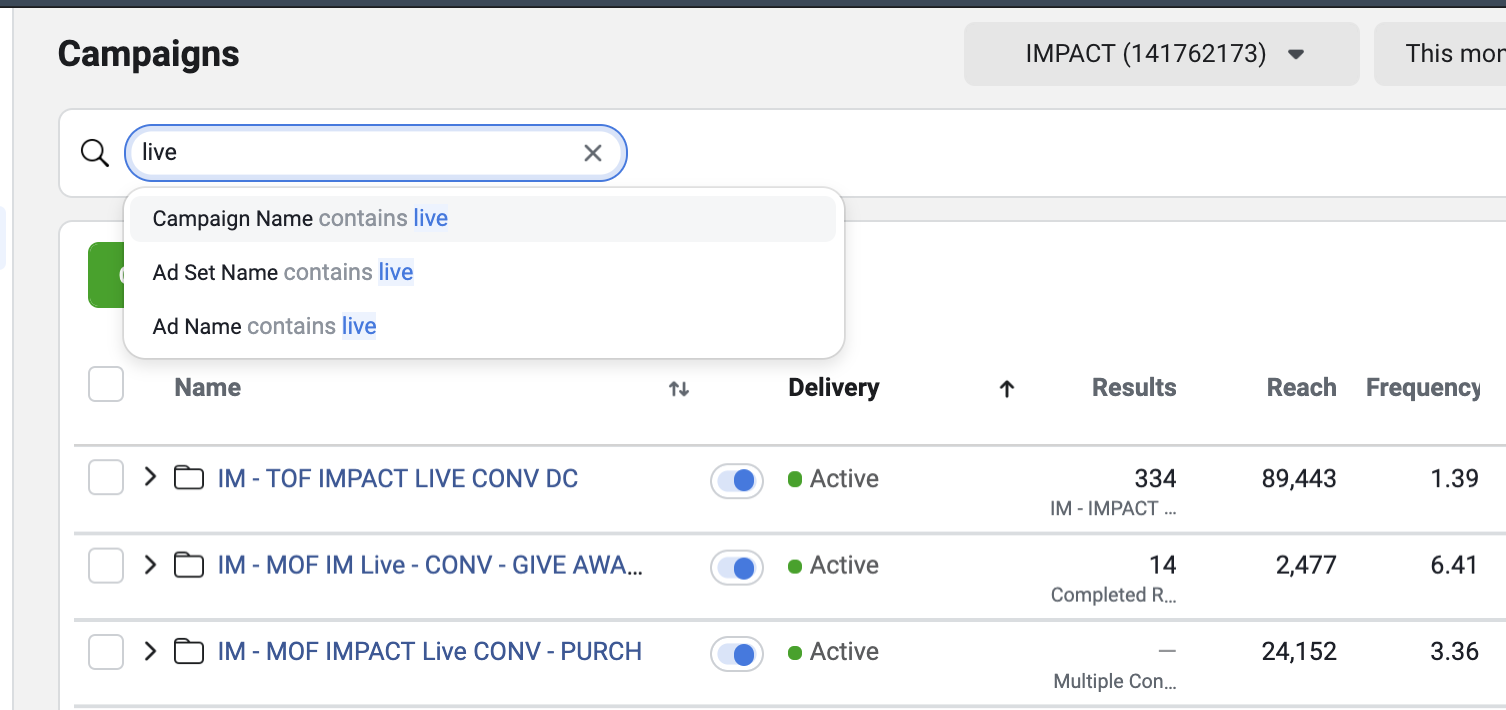 When managing large accounts with tons of ads, ad sets and campaigns, this feature definitely comes in handy!
4. Cost Cap Bidding
The last update worth noting is the new bidding strategy Facebook is rolling out for advertisers called cost cap bidding. Cost cap bidding in a new option for advertisers who are looking to maximize both cost-efficiency and results.
Traditionally, bidding options included only bid cap (which focuses on conversions) or target cost (which focuses on cost predictability).
"We've heard from businesses that in order to achieve certain campaign goals, it would be helpful to have a bid option that both controls cost and drives volume," wrote Facebook on its business blog.
Cost cap bidding will give the advertiser the ability to set a maximum CPA/CPI (via an updated, guided bid experience). This feature will be rolling out to advertisers throughout 2019.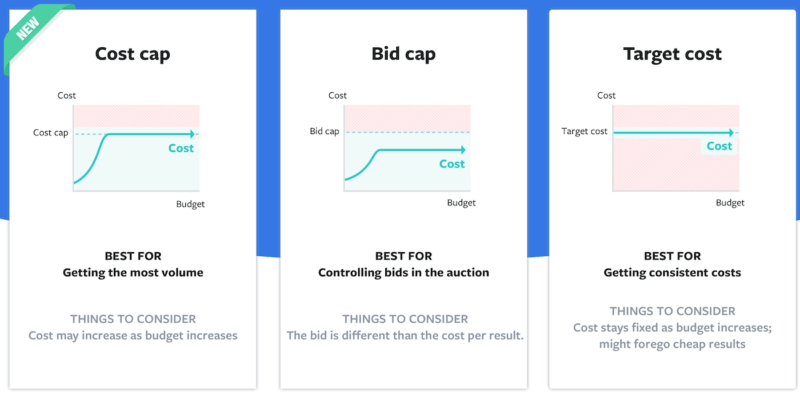 What Does This Mean for You As a Facebook Advertiser?
Taking the time to get familiar with the new Ads Manager will make you, and your team more efficient when it comes to managing your (and your clients) campaigns.
We covered the main changes that Facebook is making with this update, however, there are others you will discover as you navigate around.
As a team, we already feel that these changes have helped us streamline our time an effort when it comes to creating and managing ad strategies. I am confident that you will feel the same way.
Stay Tuned… More Changes to Come from Facebook
In conjunction with the Ads Manager update last week, Facebook also announced their plans to release an updated Business Manager platform that will make it easier for agencies to onboard new clients within the system as well as their plans to launch "more intuitive" ad-level creative and placement editing tools.
These updates will not be available for all advertisers until later this year or even next year, however.
So, for now, log into your Ads Manager account and see if you have received the update.
If you have, we would love to hear your thoughts on the changes via social media or pop over to IMPACT Elite and join the conversation.
If you have not received the update yet, stay tuned, it's on its way!
Free Assessment:
How does your inbound marketing measure up?
Take this free, 5-minute assessment and learn what you can start doing today to boost traffic, leads, and sales.
Get Started
Free Assessment:
How does your inbound marketing measure up?
Take this free, 5-minute assessment and learn what you can start doing today to boost traffic, leads, and sales.
Published on April 23, 2019